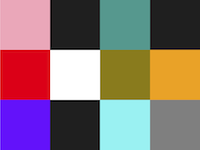 Computer Vision and Image Processing
If you are here you probably want my
MATLAB and Octave functions for Computer Vision and Image Processing.


Research Interests
Local frequency domain image analysis.
Image enhancement and visualization.
Analysis of geophysical and geological images.
Feature detection, description and matching.
Shape from texture, texture segmentation and recognition.
Photogrammetry and bundle adjustment.
Projective geometry.
Current Position:
I am an adjunct senior research fellow with the Geodata Algorithms Group within the Centre for Exploration Targeting in the School of Earth Sciences at The University of Western Australia.
My current work involves applying computer vision techniques to geological and geophysical images, with particular interests in feature detection, texture analysis, and visualisation techniques.