How to Camp on the Beach at Old Dunsborough
Peter Kovesi
In January 2016 Paul Rickets and I took our boats down to Geographe Bay for some camp cruising. The idea was to explore around Dunsborough and Eagle Bay to see what the place offered for dinghy cruising. Noting that setting up tents on the beach in this part of the world would be likely to attract the attention of a ranger we had spent some time improving the sleep-aboard capabilities of our boats. Paul had updated Araluen's boat tent and had improved his sleeping platform arrangements. Meanwhile I had spent some time designing a boat tent for Whimbrel and getting it made. We were both keen to try out our new gear.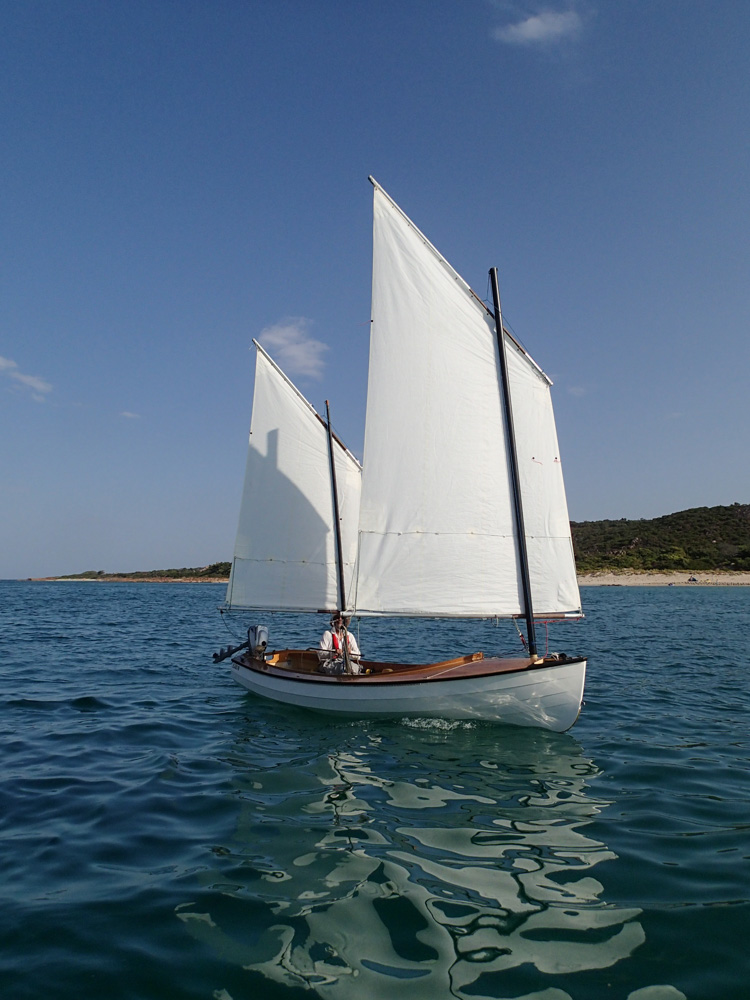 We rigged up our boats at the Quindalup boat ramp and after the usual launch ramp conversations with curious onlookers as they watched us load food and camping gear into our boats we launched and set off. Just down from the launch ramp was the summer time flotilla of yachts and power boats at the Quindalup anchorage. We had a very enjoyable time weaving our way through the anchorage chatting to people as they lounged on their boats, and collecting arm waves and smiles as we passed through.
Not wanting to get caught up in the metropolis of Dunsborough we stopped short of the town and found a quiet spot to anchor just off the shore. We had plenty of daylight left and used the time to fiddle with our boat tents and get our sleeping arrangements just so.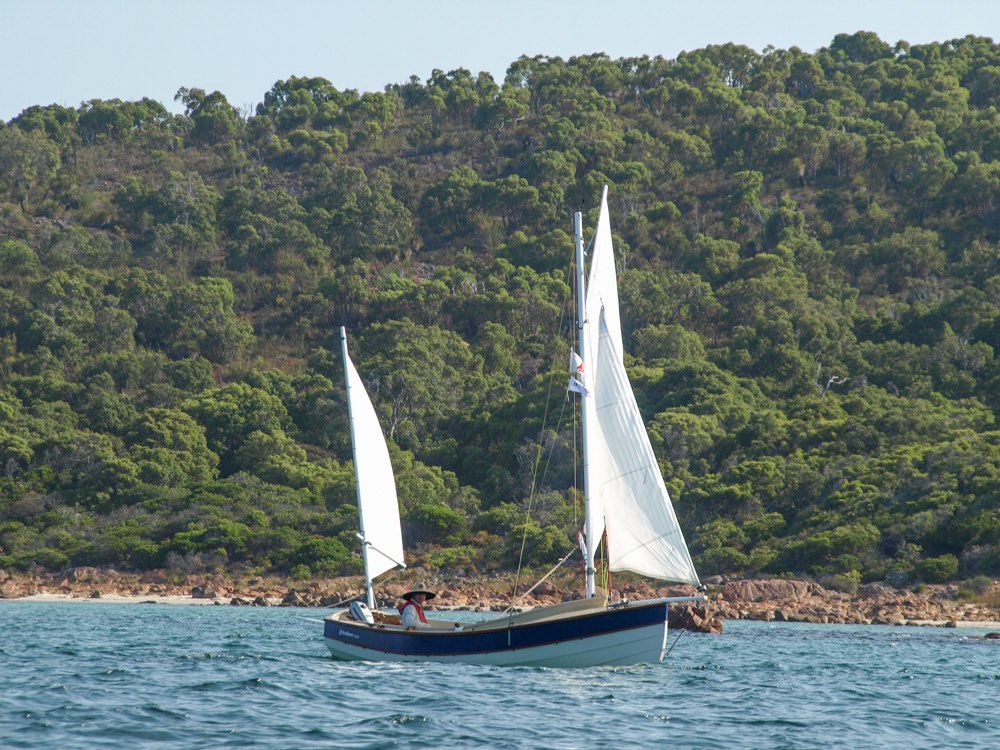 The following morning we set off again cruising back up through the Quindalup flotilla for fun and then, in a dying breeze, sailed across the bay past Dunsborough towards Meelup. Here the easterly filled in and we enjoyed a lovely run past the beautiful coastal scenery into Eagle Bay. The beach was packed with holiday makers and we did a lap around the bay wondering where we might set ourselves up for the night. We picked out the quietest section of the beach and went ashore. There was a bit of a surge on the beach so we anchored out a bit and swam in. As we stood on the beach looking around and wondering what we were going to do we were approached by a local who introduced himself as Chris.
"What wonderful boats you have. You looked marvelous as you sailed round the point. I've been watching you come in. What are you doing with your boats tonight? See those two moorings out there, they're mine. You can hang your boats off them tonight. Where are you staying? What? on your boats! My wife has built a boat like yours. Come up to the house for a beer. Look, that one there just behind us with the steps that lead down to the beach."
Wow! Soon Paul and I found ourselves clutching a beer and being shown through Chris and Anny's magnificent house. Out the back in Anny's huge workshop we inspected her beautiful Oughtred boat that was currently being refurbished. We were not quite sure of the design but perhaps she was an Acorn 15.
A short while later our kind hosts were inviting us to join their family picnic dinner on the beach. We were overwhelmed by the generous welcome we were receiving. The food was delicious and was made even more so by the fact that we were spared the task of having to negotiate the small shore break to get food and cooking equipment from our boats only to prepare something that would have been very bland in comparison.
The sun was setting, the easterly was building, and we needed to sort ourselves out for the night. After thanking our wonderful hosts we swam out to our boats and motored out to our respective moorings. The easterly breeze that we had enjoyed for our sail to the bay was now a major liability that we should have anticipated. We were quite exposed and our boats were rocking violently as we set up our boat tents and sorted out our sleeping gear. Goodness knows what our new friends on the beach thought of our folly.
What followed was one of the most uncomfortable nights on a boat I have ever had. The wind howled and the waves battered us, it was horrible, it was dark and there was nowhere to go and nothing we could do but sit it out. We were, at least, very grateful to be securely attached to moorings and not relying on our anchors, the wind was that strong. Sleep was impossible, every wave threw us from side to side on our sleeping platforms. We both wondered if we were going to be sick but fortunately we were spared that misery. Somehow we endured the night and at first light we slipped our moorings and sailed out to get to the shelter of Dunsborough. We were troubled not to have said goodbye to Chris and Anny but there was now an awkward shore break and we could not endure our unsheltered position anymore. We subsequently sent them a thank you card.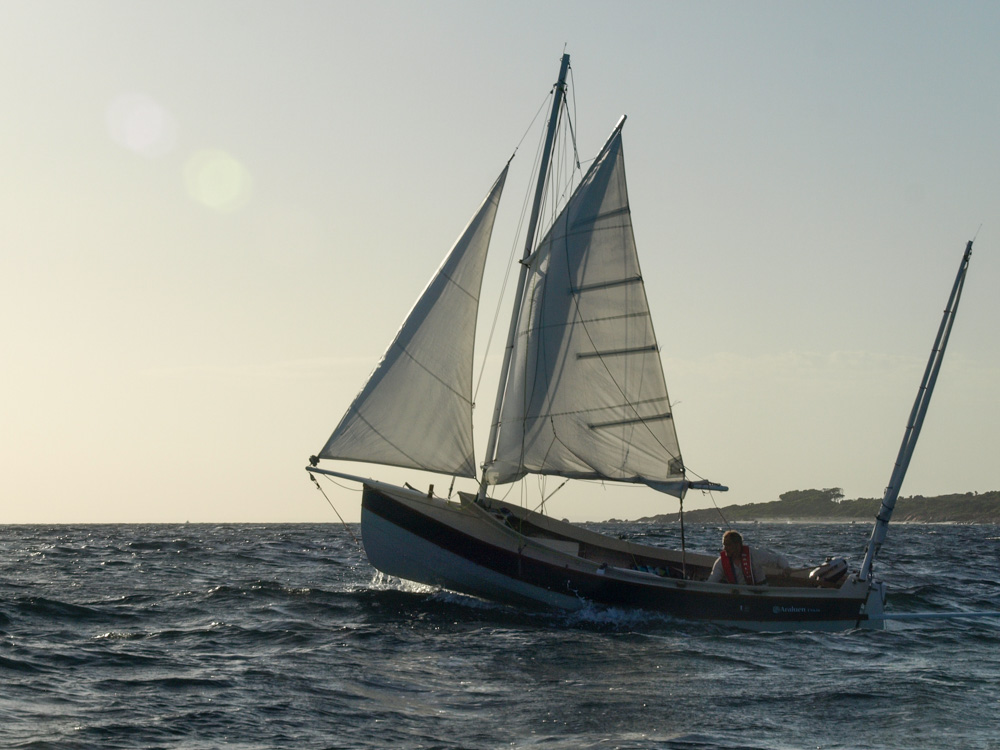 It was a relief to be sailing again but we had to punch our way into a solid easterly all the way back to Dunsborough. Eventually we beached our boats and after making them secure we headed into town. It was now late morning and we were famished and somewhat shattered from our uncomfortable night. Our mission was to find a cafe and have the largest possible breakfast we could order. Fortunately there is no shortage of cafes in Dunsborough and an hour or so later we were back at the beach sitting under a tree feeling much better.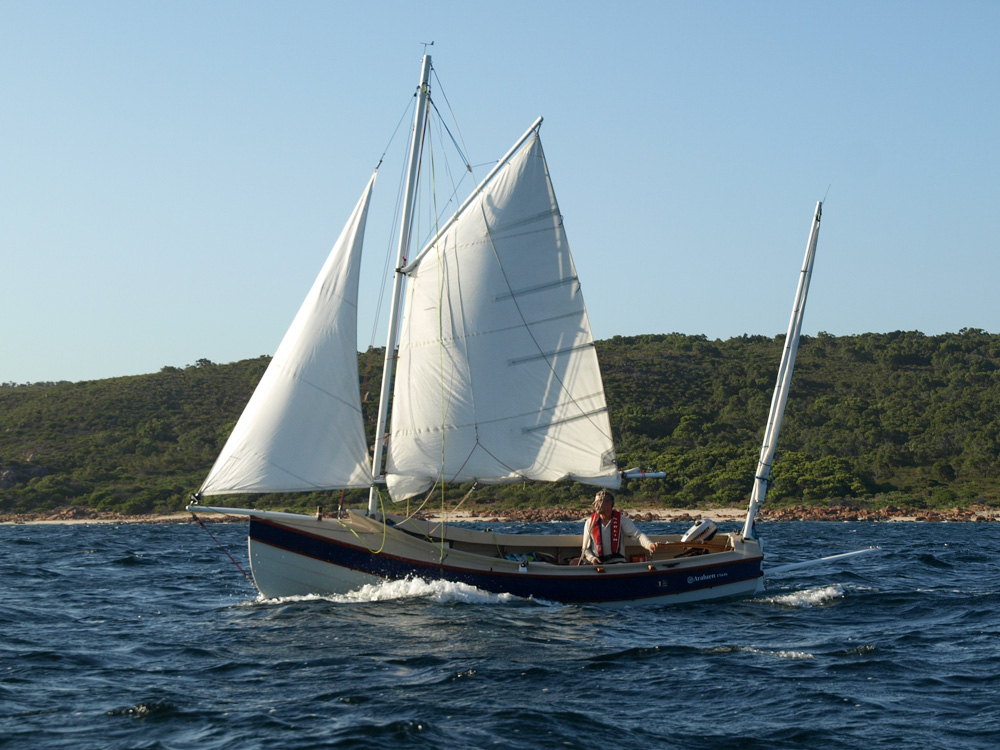 We had parked our boats in the shallow waters at the corner of the bay in front of the old part of town simply because that was where we had ended up. Looking around we realised that we were, in fact, in a rather good spot. The very shallow water ensured that we would not be troubled by the easterly chop, we were close to cafes, we had trees and grass, a public toilet and showers not too far away, and a nice lagoon to swim in.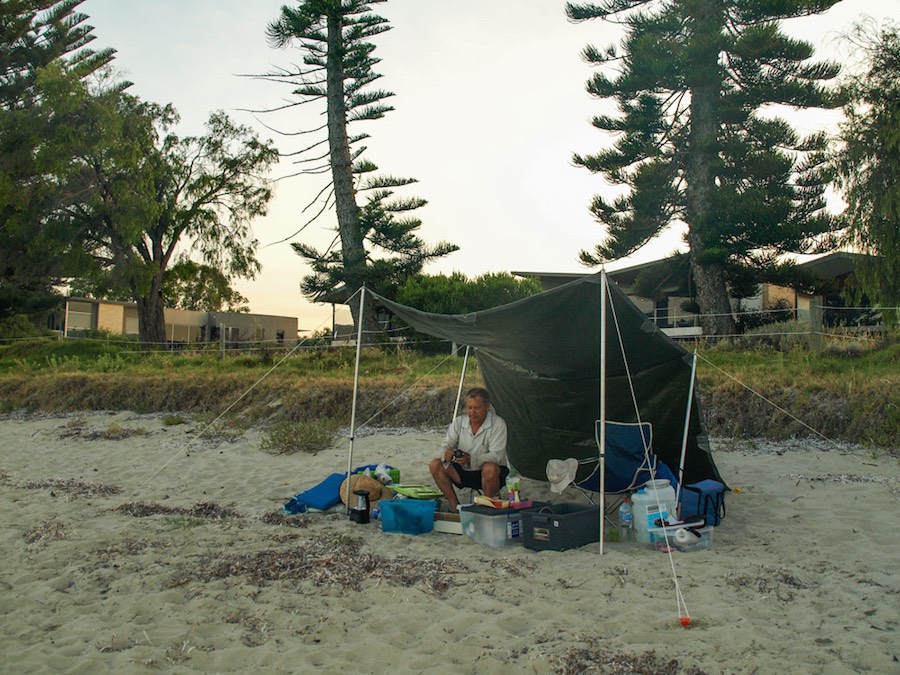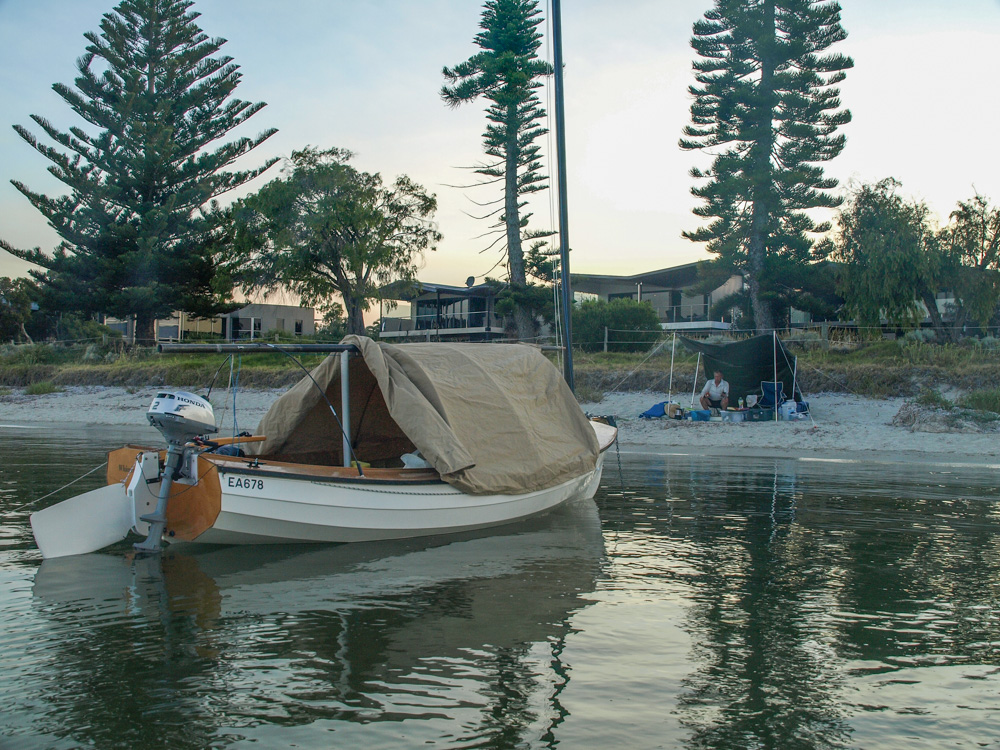 Around us people had set up their umbrellas and sun shelters on the beach, we could do that too. So we set up our tarp lean-to, got out our chairs and cooking gear, and made ourselves at home. With our floating accommodation anchored just a few metres off the beach we had the perfect camping spot! In this manner we stayed for a couple of nights. Locals walking past would stop for a chat, admire our boats, smile at our arrangements and carry on.
Sadly while we were enjoying the good life in Dunsborough the disastrous Yarloop bushfire was taking hold to our north. After our two nights at Dunsborough we realised we should be heading home. With the sky grey with smoke, and ash falling into the water around us we packed up and, as the wind was totally still, motored our way back to the Quindalup ramp. Both the Forrest and South West Highways were closed by the fire and we had a long, slow drive home picking our way across to Albany Highway via Collie and Williams.
We certainly hope to be back in Geographe Bay but in future we will be avoiding the easterlies and looking for south westerly forecasts!