Sail Caledonia 2019
In 2019 Jim Black, Dave Cliff and I took part in Sail Caledonia, an event where you sail and row your way across Scotland from Fort William to Inverness via the Caledonian Canal which passes through the Great Glen.
It was Jim's idea to enter the event, which we agreed to readily, despite having no boat for the event and not being really sure how we would obtain one. We had a vague idea of hoping to buy a boat that was in reasonable condition that would not need too much time to prepare for the event. After the event we would try to sell it or possibly find somewhere to store it for others to use at future events.
In the end, through a fortuitous chain of contacts, we were lent a boat! Ian and Fay Waddell very generously provided their beloved Drascombe Lugger Two Brothers to us for the event. Ian and Fay competed in Sail Caledonia 2018 on Two Brothers (winning in Class 3) but this year they were going to be on board Ian Whittaker's Ros Donn, a support vessel for the event. Here are Ian and Fay competing in the 2018 event as seen on the cover of Small Craft Advisor.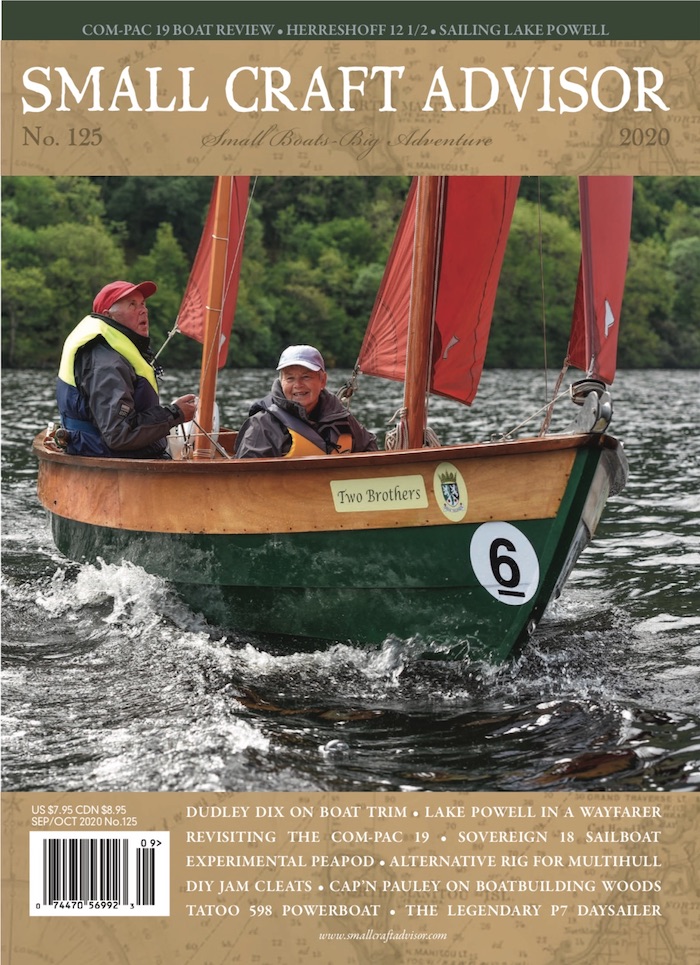 We are forever grateful to Ian and Fay for entrusting Two Brothers to three strange Australians so that we could take part in this extraordinary event. We would also like to thank the organisers of Sail Caledonia for conducting the event so well and for being so helpful and supportive of our remote entry.
What follows is the blog that I wrote during the event. Entries were written on my mobile phone at the end of each tiring day, typically in a rain soaked tent.
There is also an extensive Gallery of photos that I took.
---
Arrival in Fort William
Monday was spent driving up from Glasgow to Fort William. At the yacht club we caught up with Ian Waddell who had driven across from the east coast with Two Brothers. It was great to finally meet after all our emails. Ian showed us over the boat, we rigged and launched her, and took her out to a mooring in front of the club. In addition to bringing Two Brothers across Ian had also brought his beautiful tender Sweet 1 in the back of his van for us to use to get in and out of our mooring.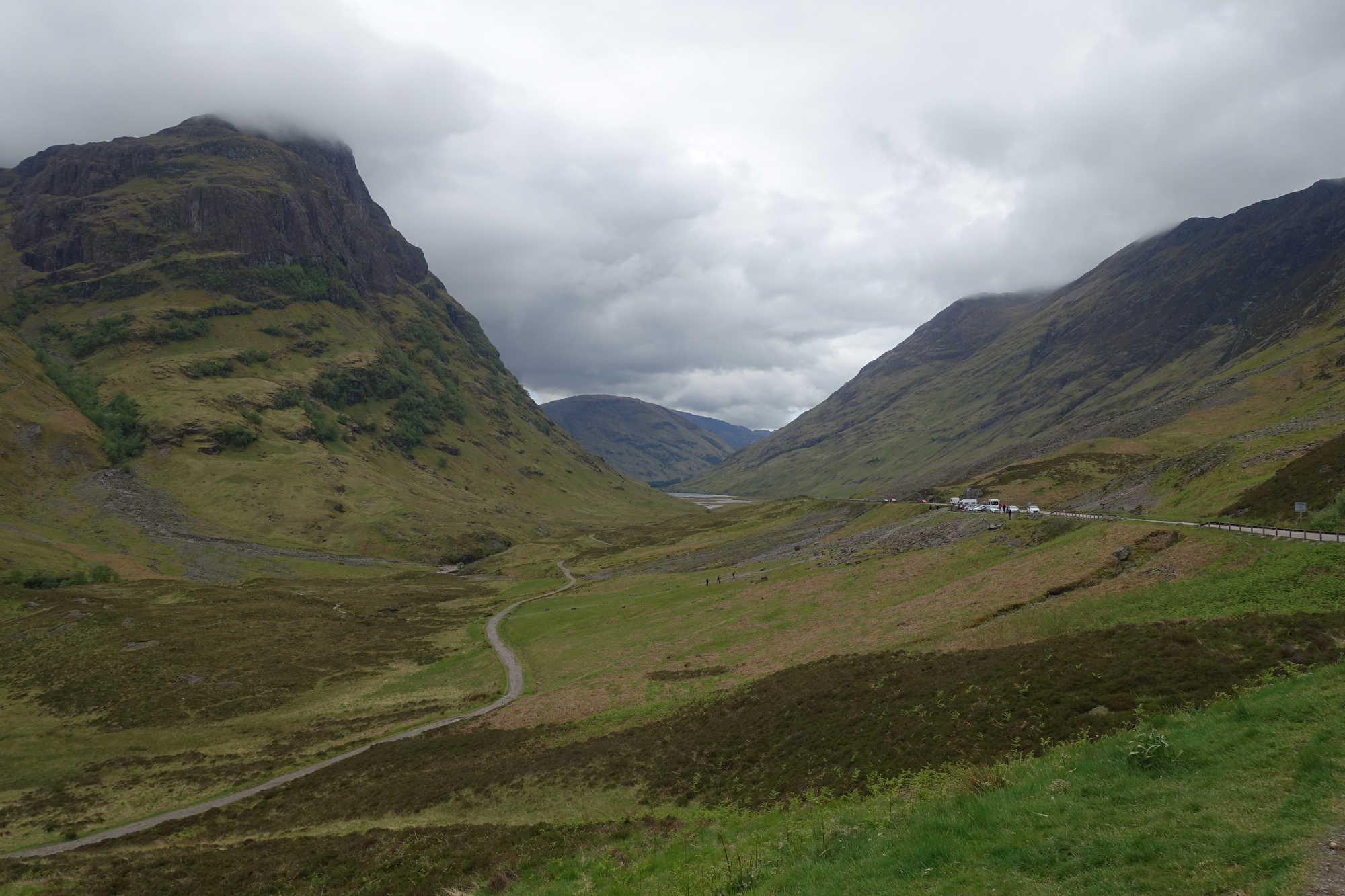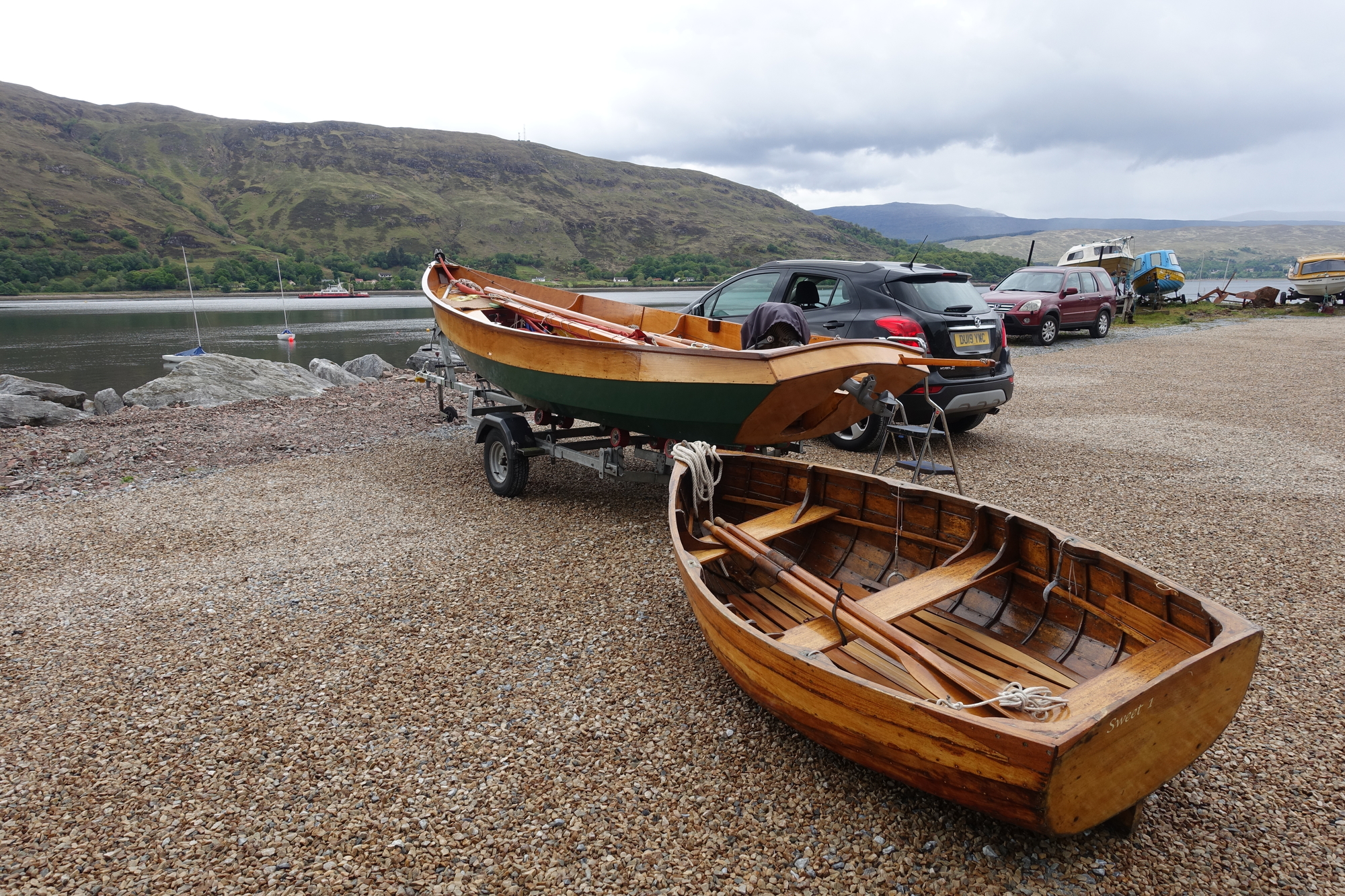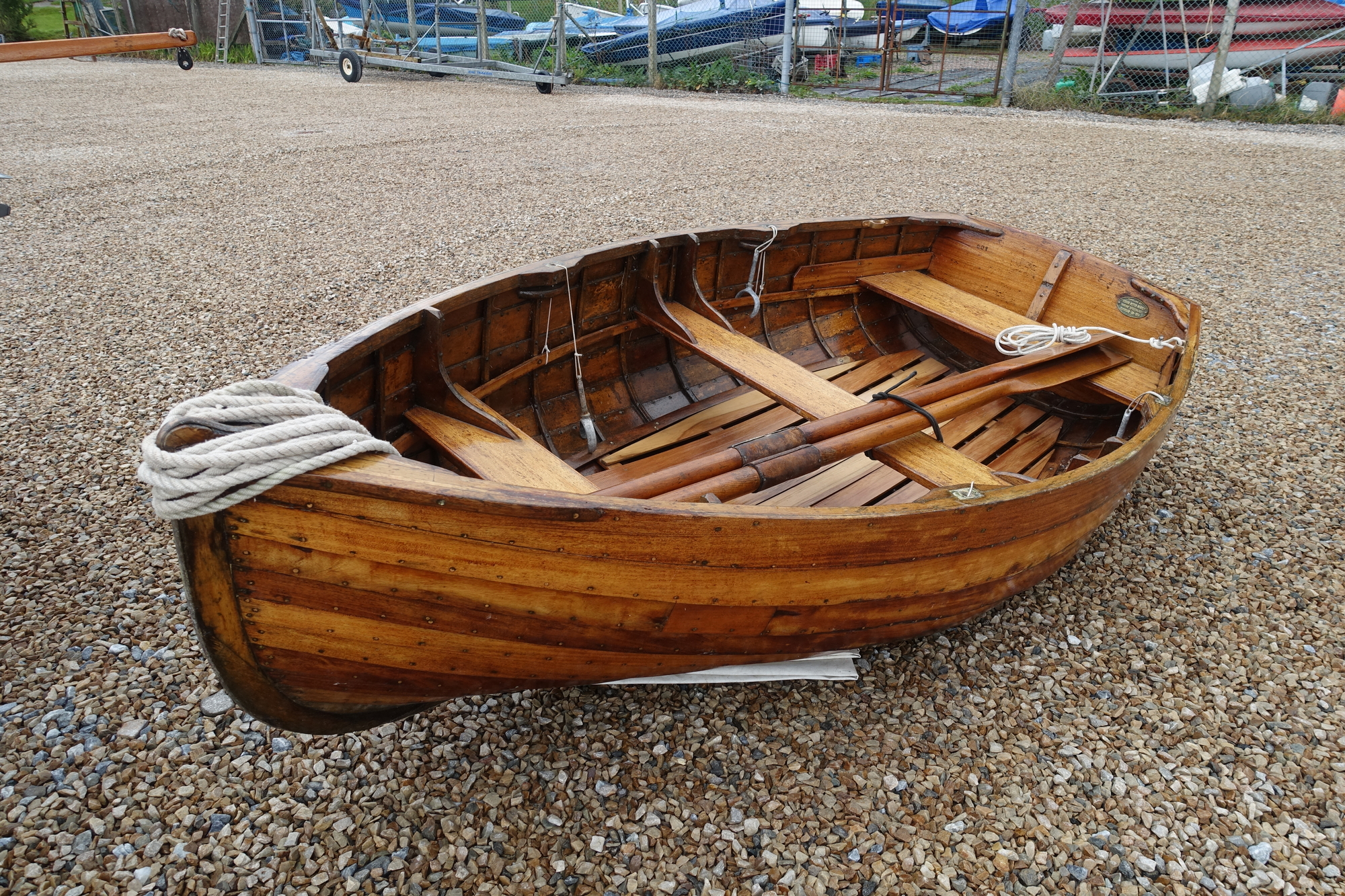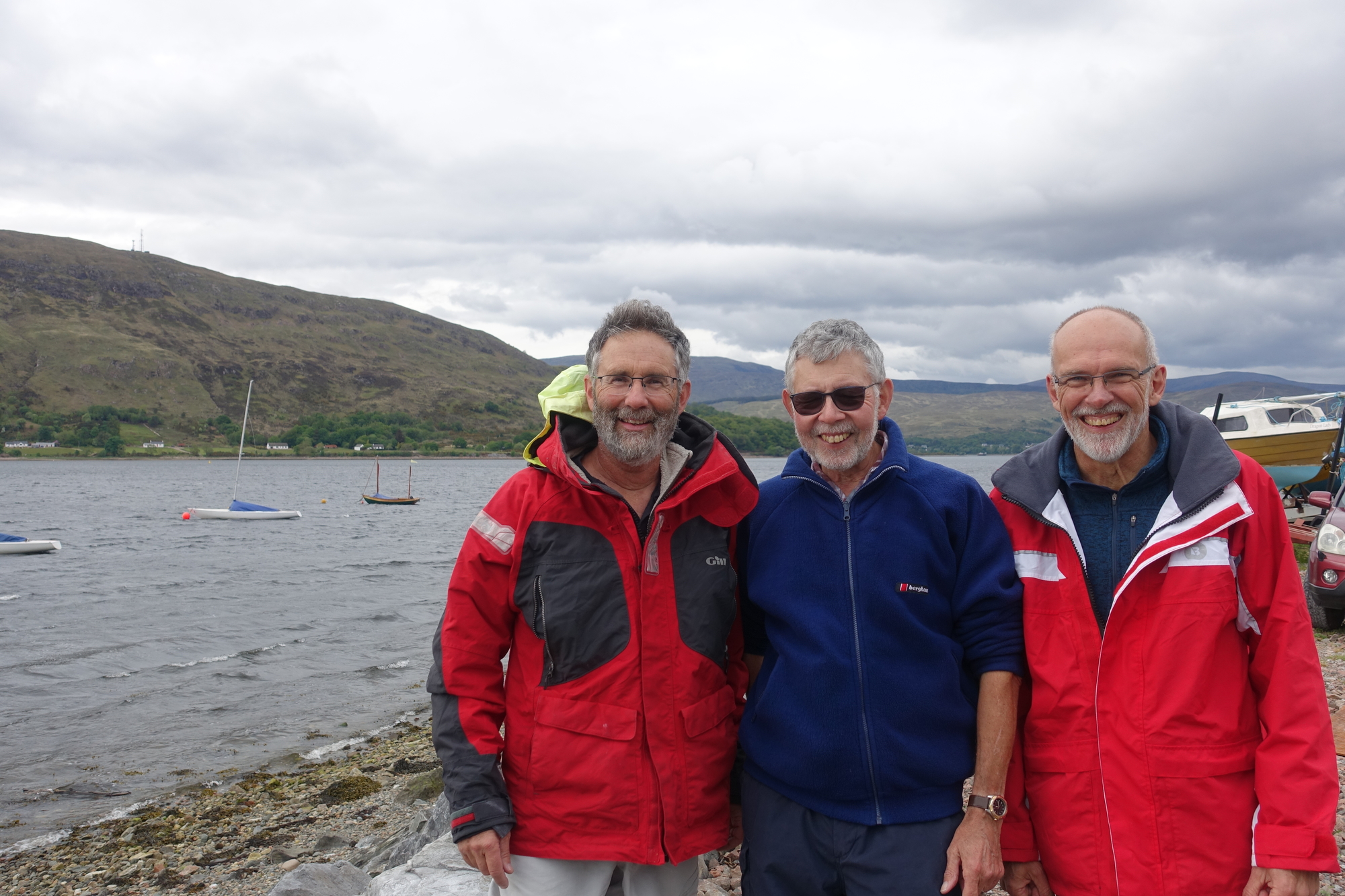 First Sail
Today we headed out to start getting to grips with sailing and rowing Two Brothers. Drascombes are a bit different in the way they are set up and the Lugger is better suited to carrying a crew of two rather than three. We had a wonderful day working out the ergonomics of sailing the boat with three, fiddling with sail settings and otherwise having a great time messing about in a boat surrounded by stunning scenery.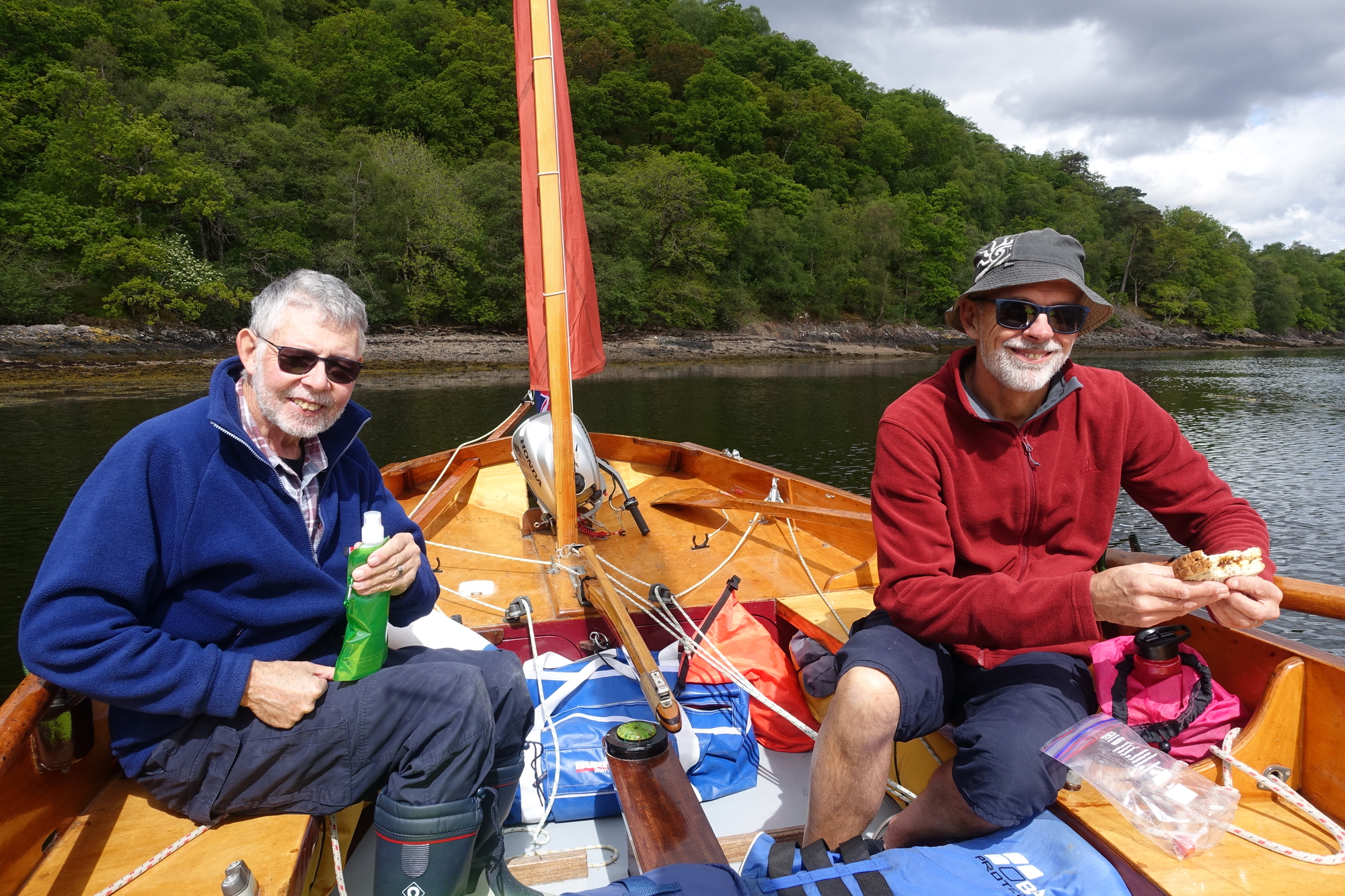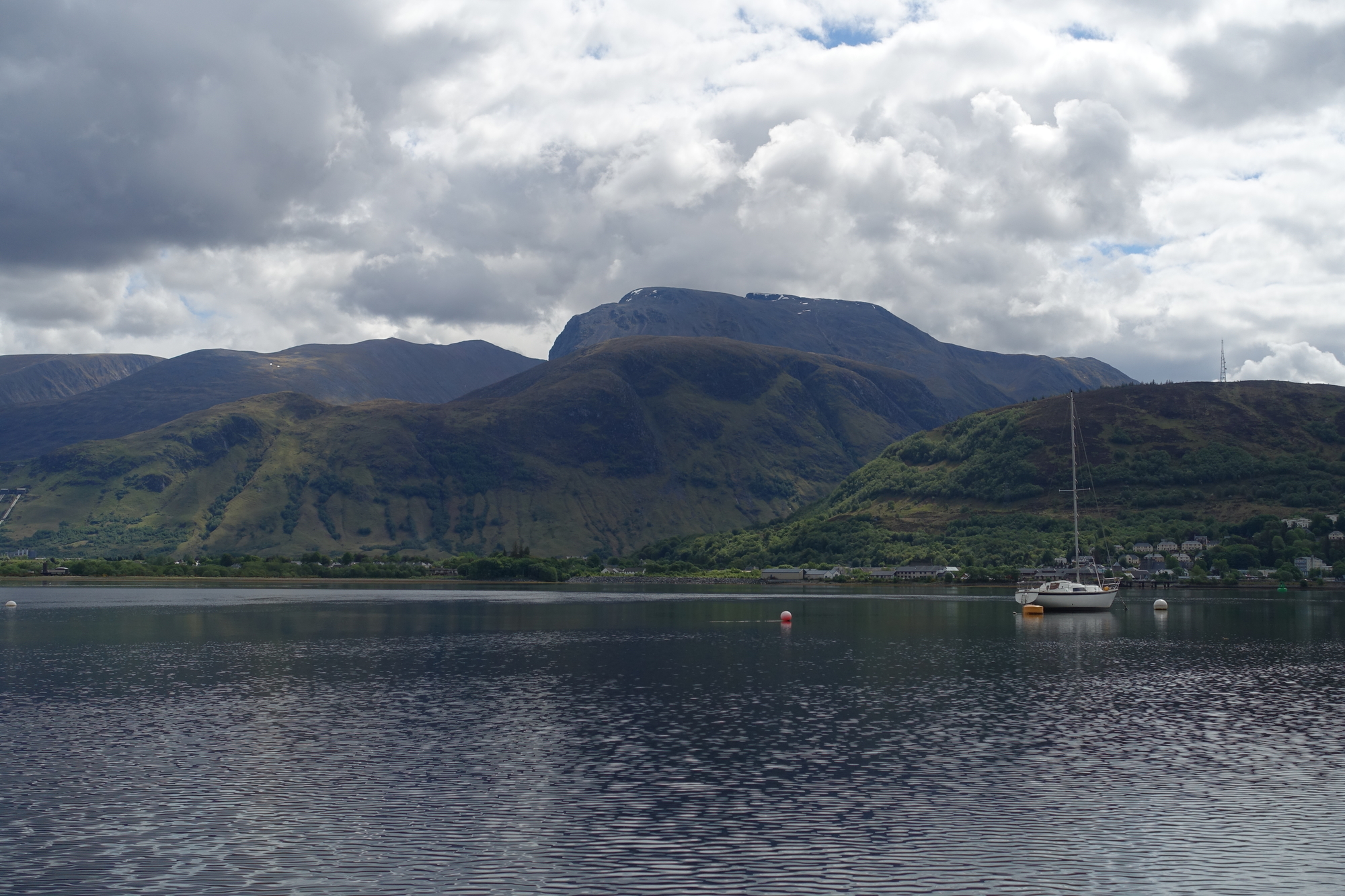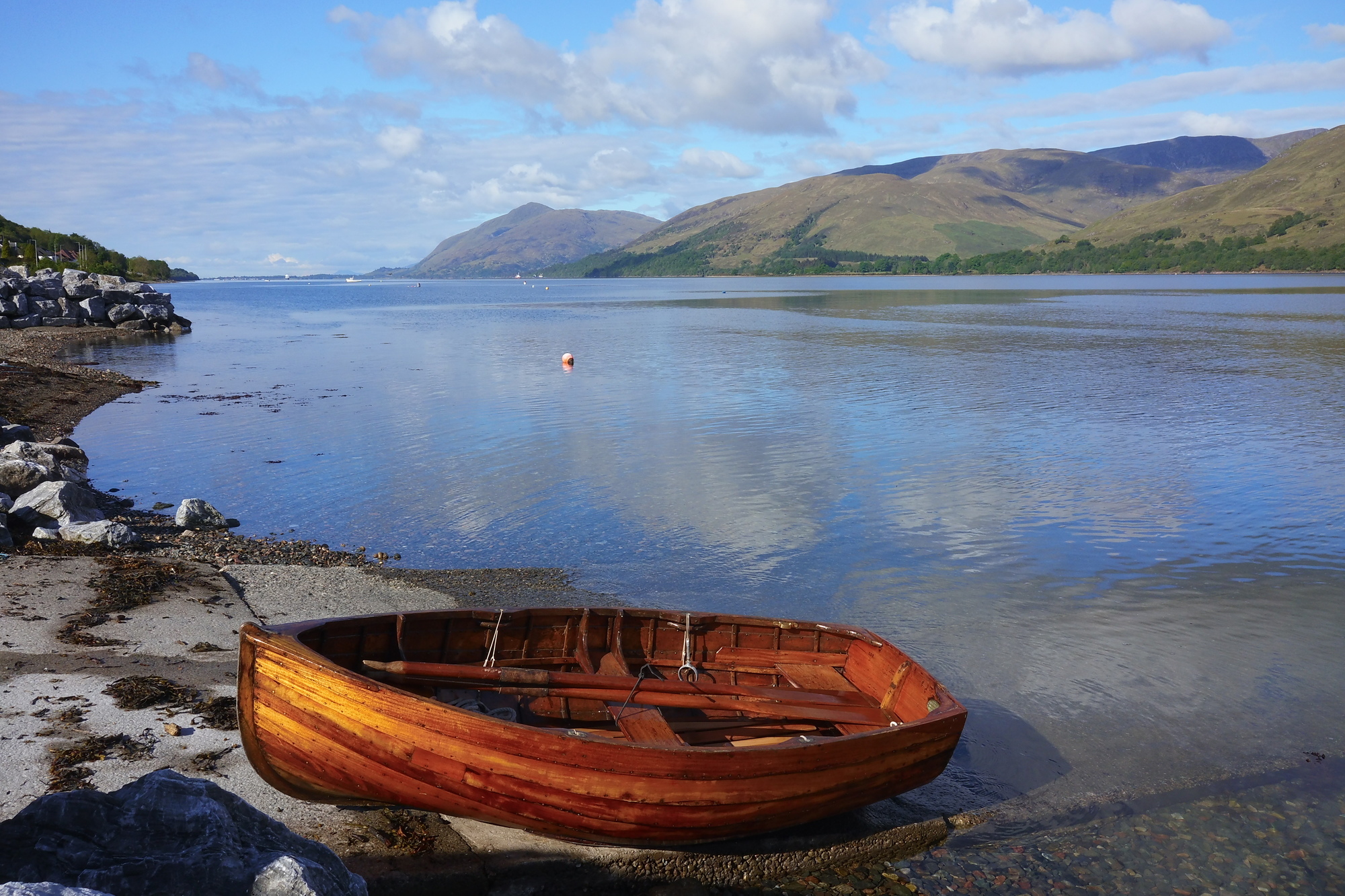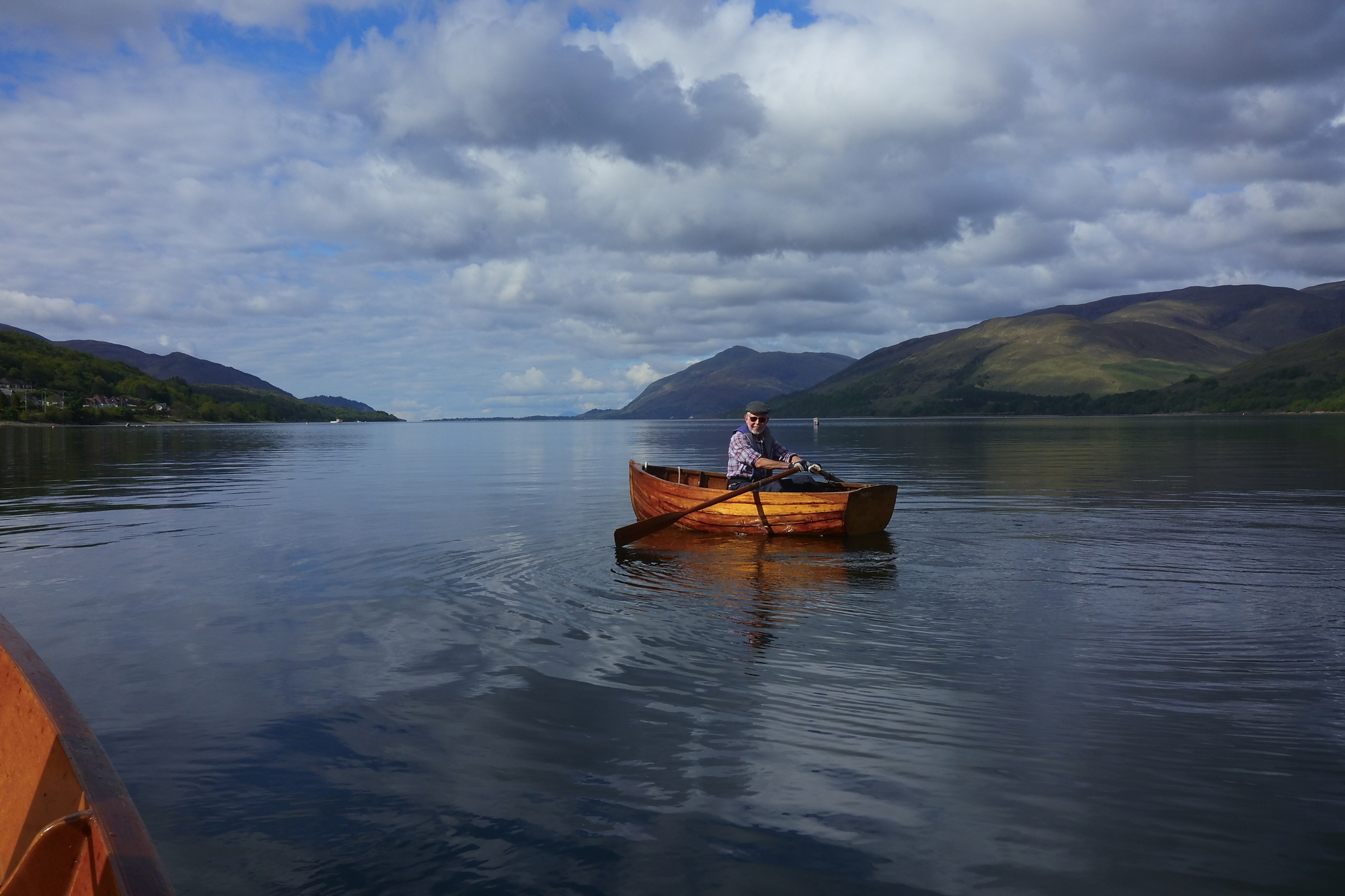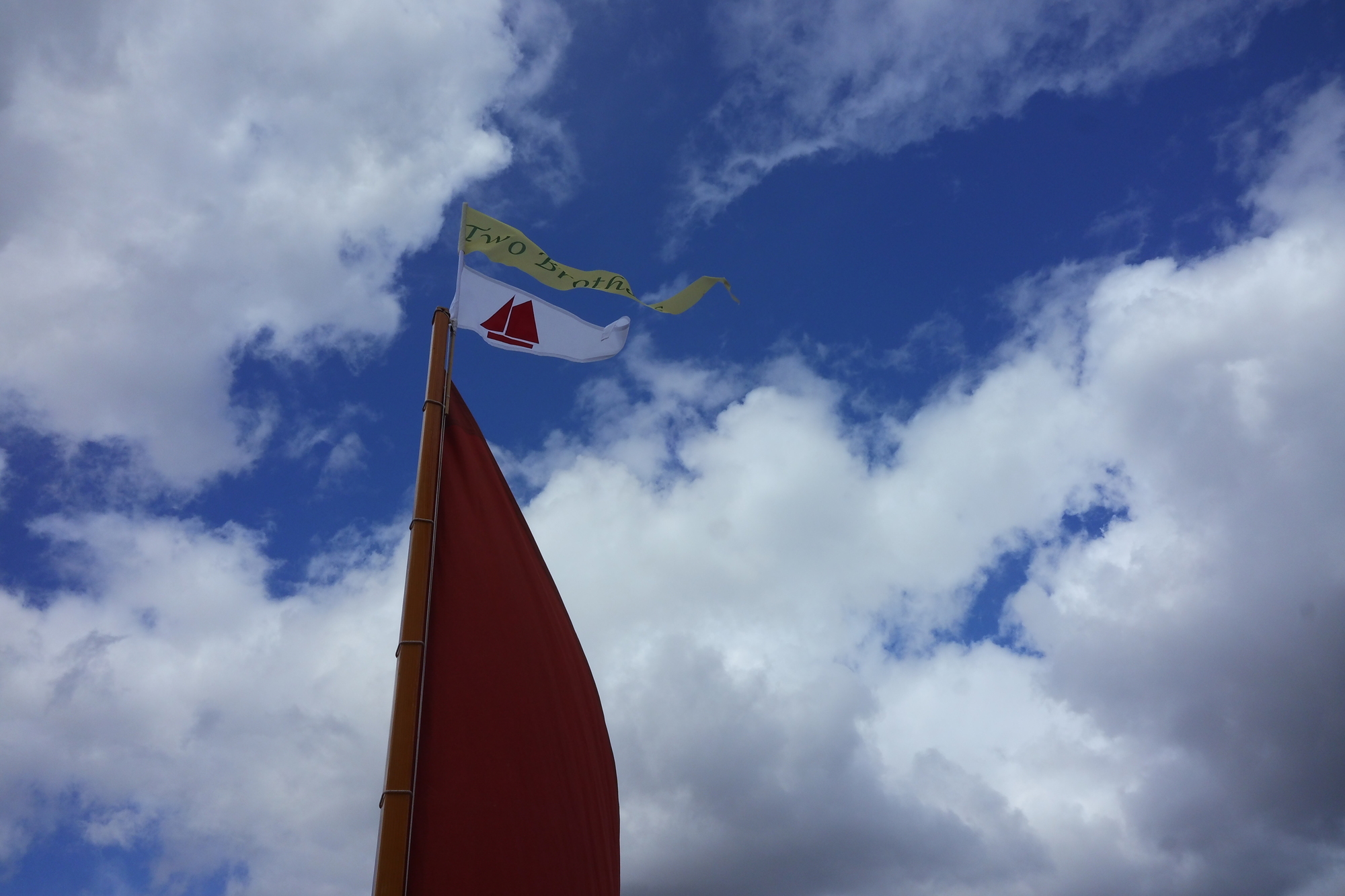 A Cool Day
The forecast was for a maximum of 11C and rain. The Scots would describe it as dreich! So, of course, we had to head out for another sail. Well it was cold but it did not rain. In fact we had brief moments of sun and we had another great day out on the water.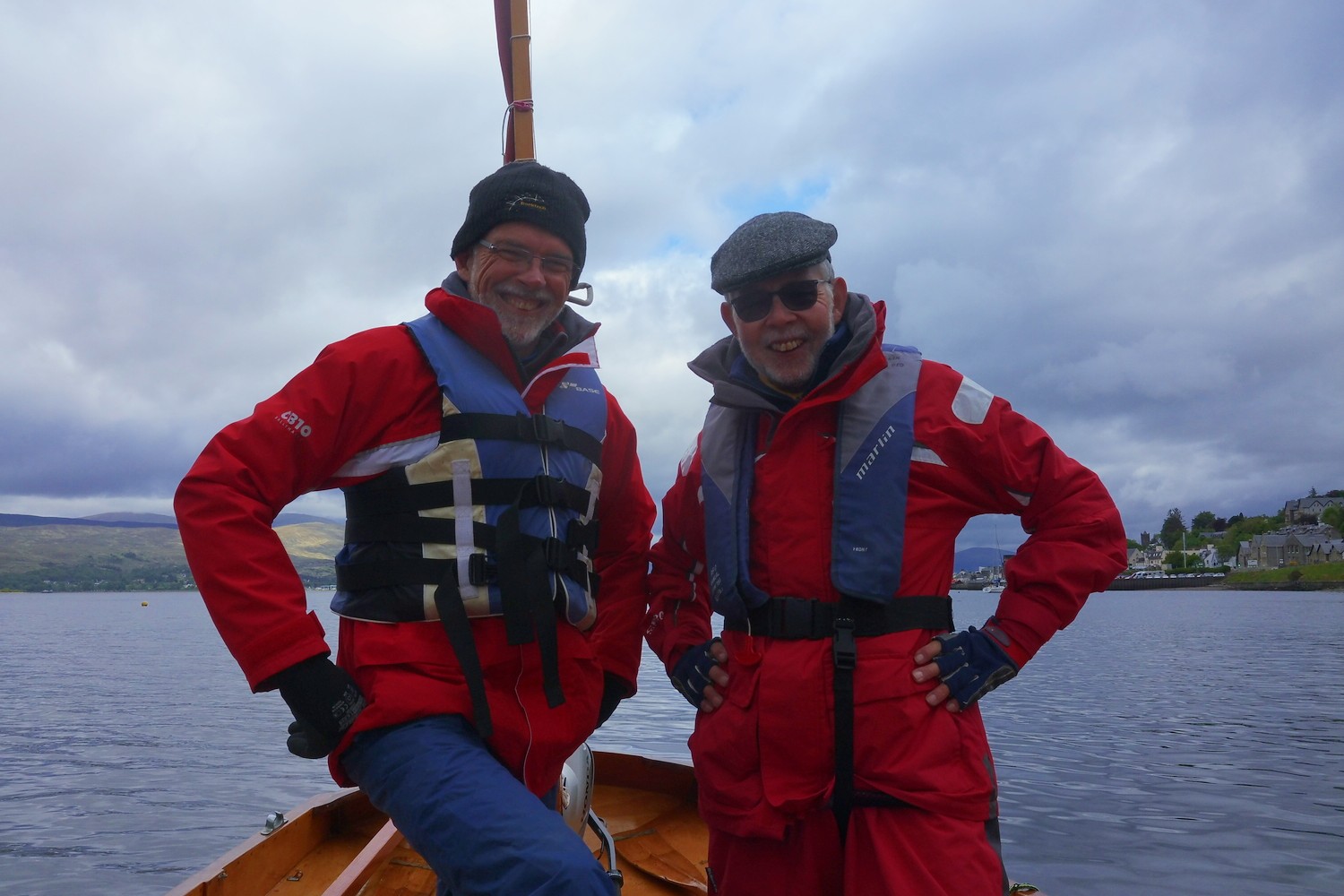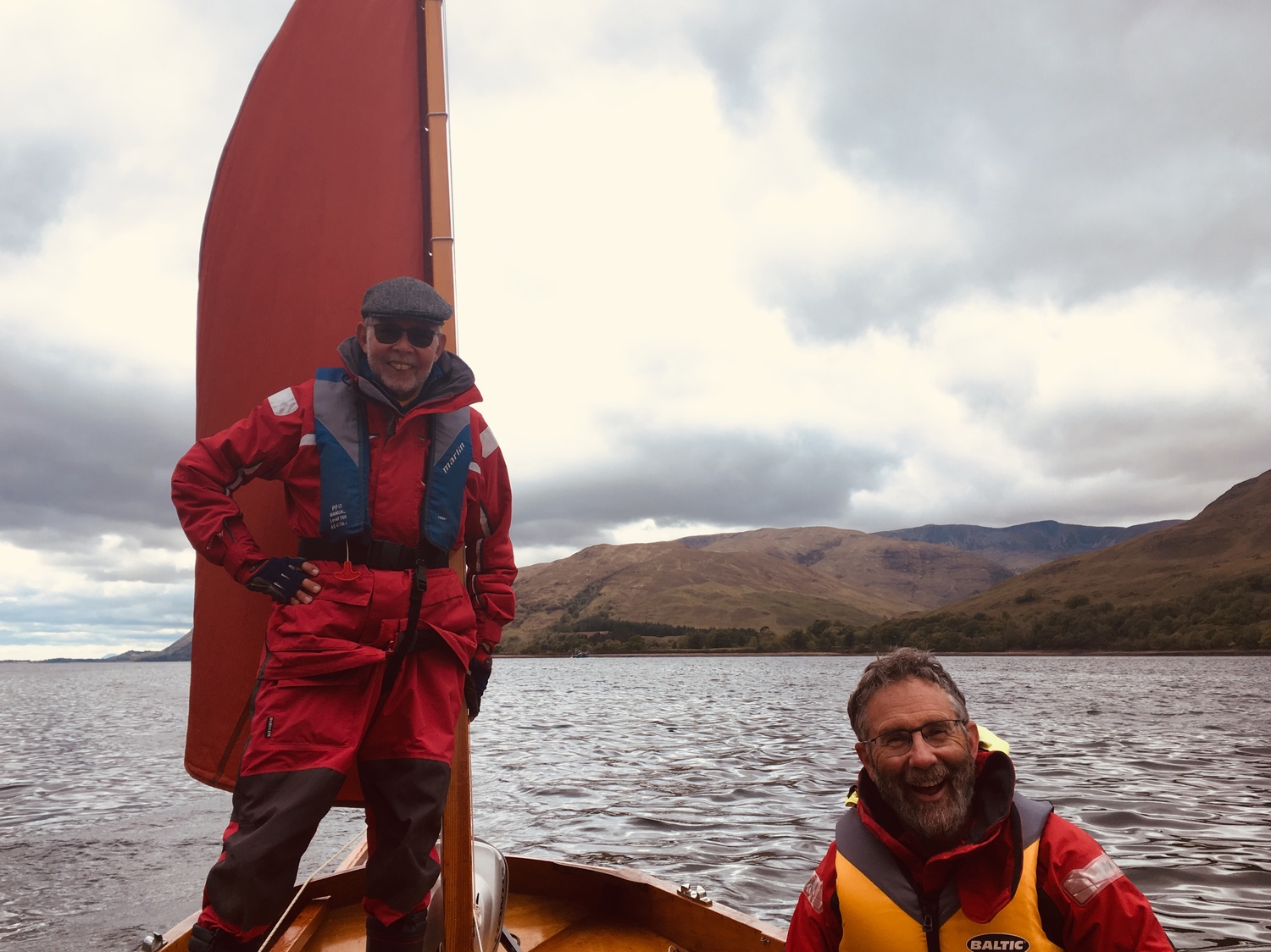 Sightseeing
Today was for sightseeing. We headed south west out of town and caught the Ardgour ferry and drove out to the lighthouse at Ardnamurchan Point, the westernmost point of the UK mainland. After enjoying the lighthouse and lunch we headed north to Camusdarach Beach which was the beach featured in the movie "Local Hero". We returned via Glenfinnan which is famous for its monument to Bonnie Prince Charlie, and the Harry Potter Viaduct.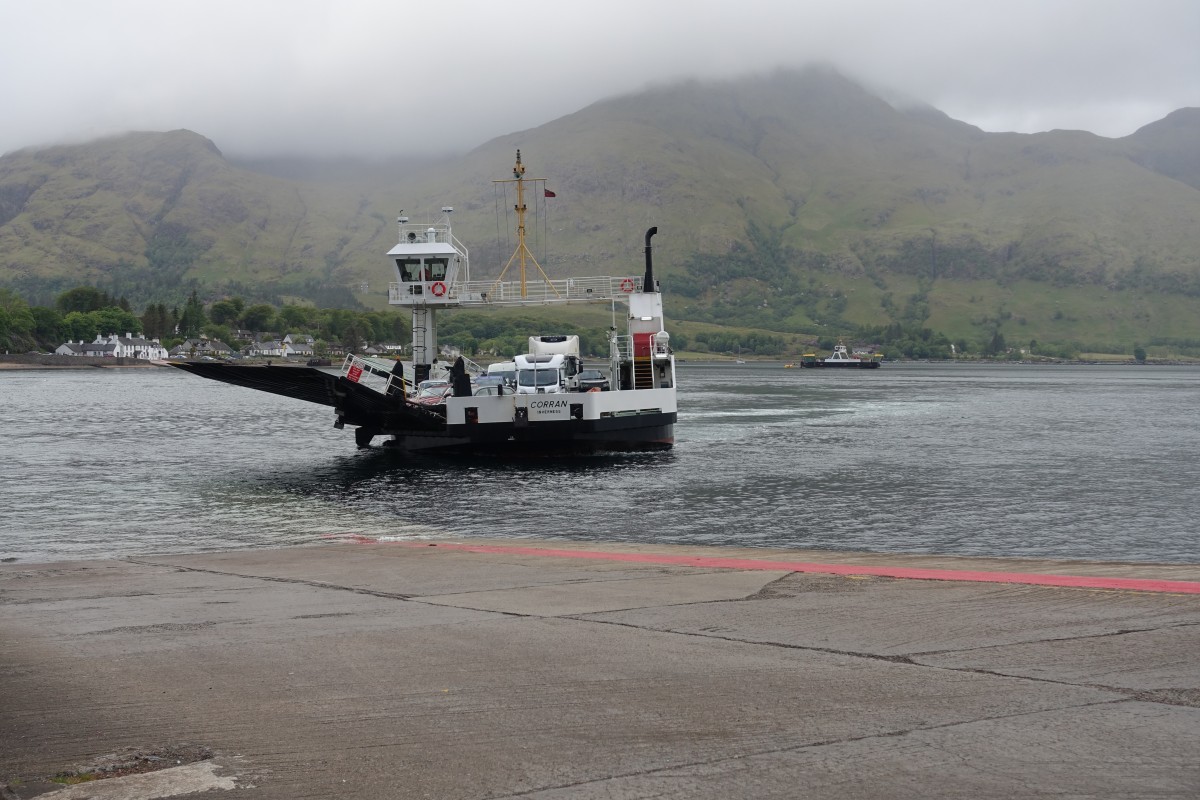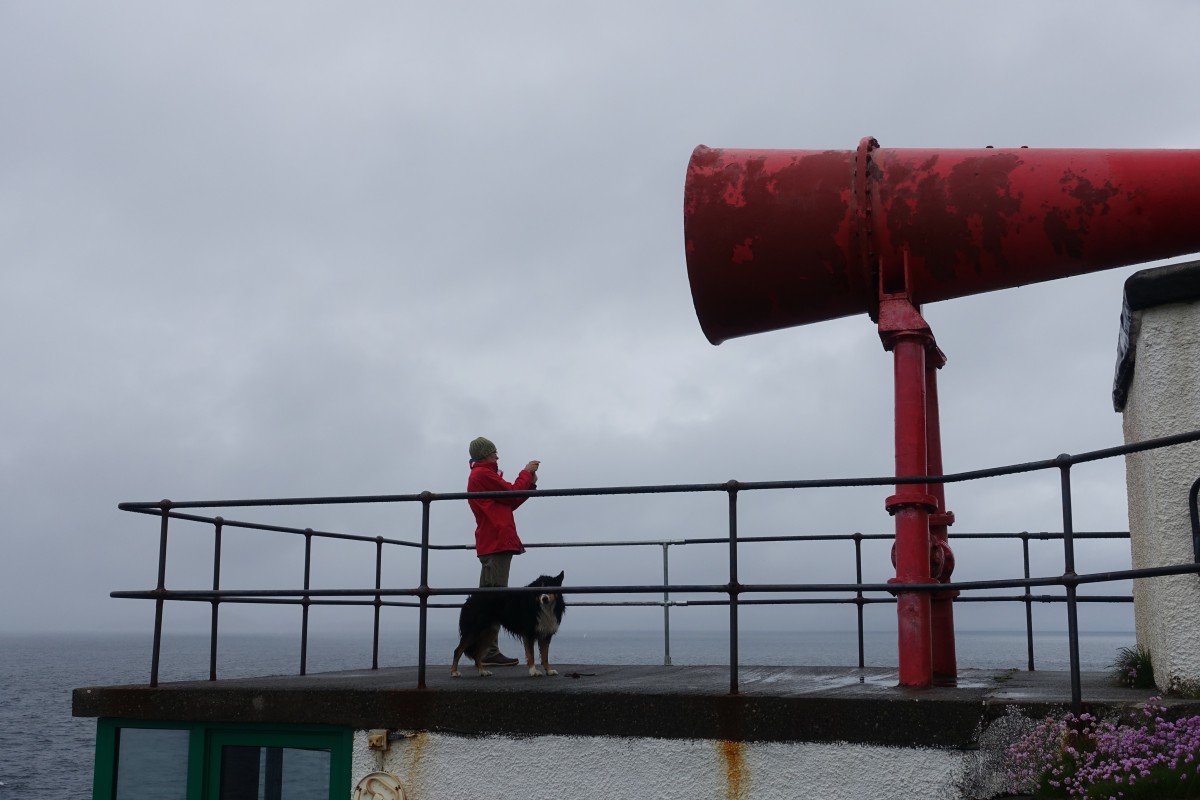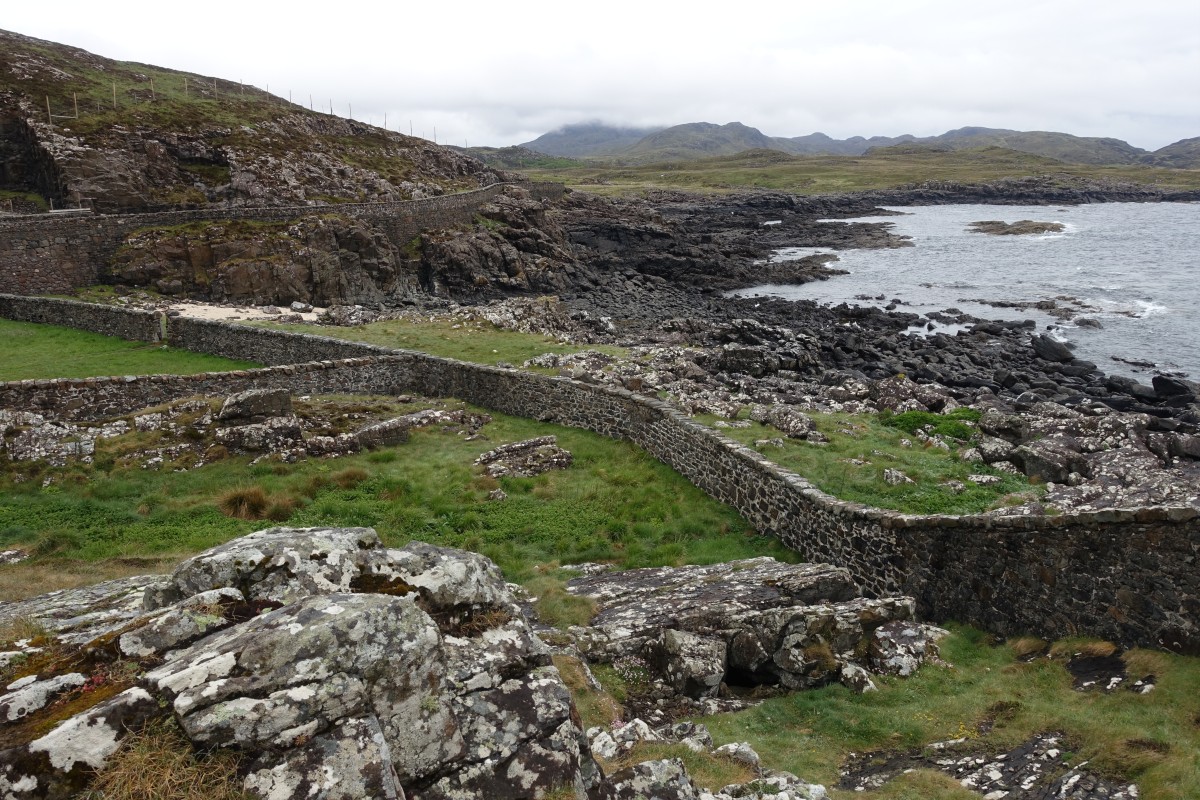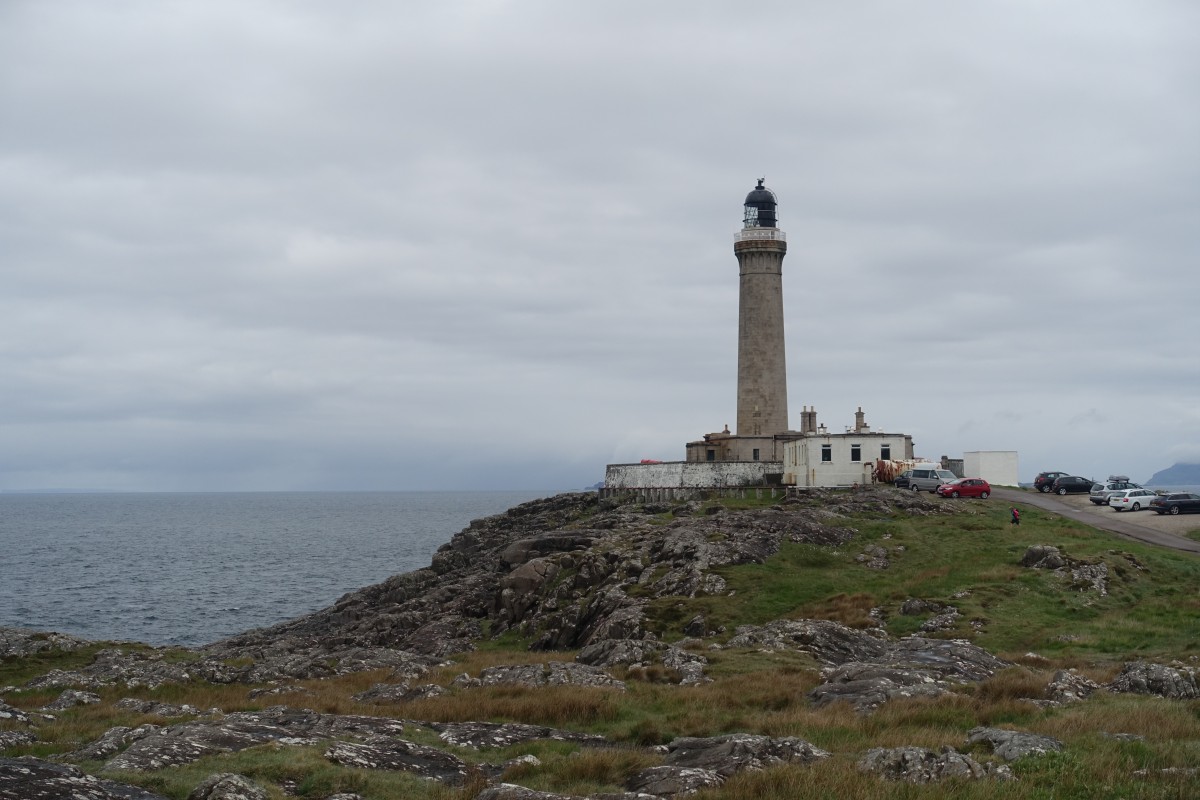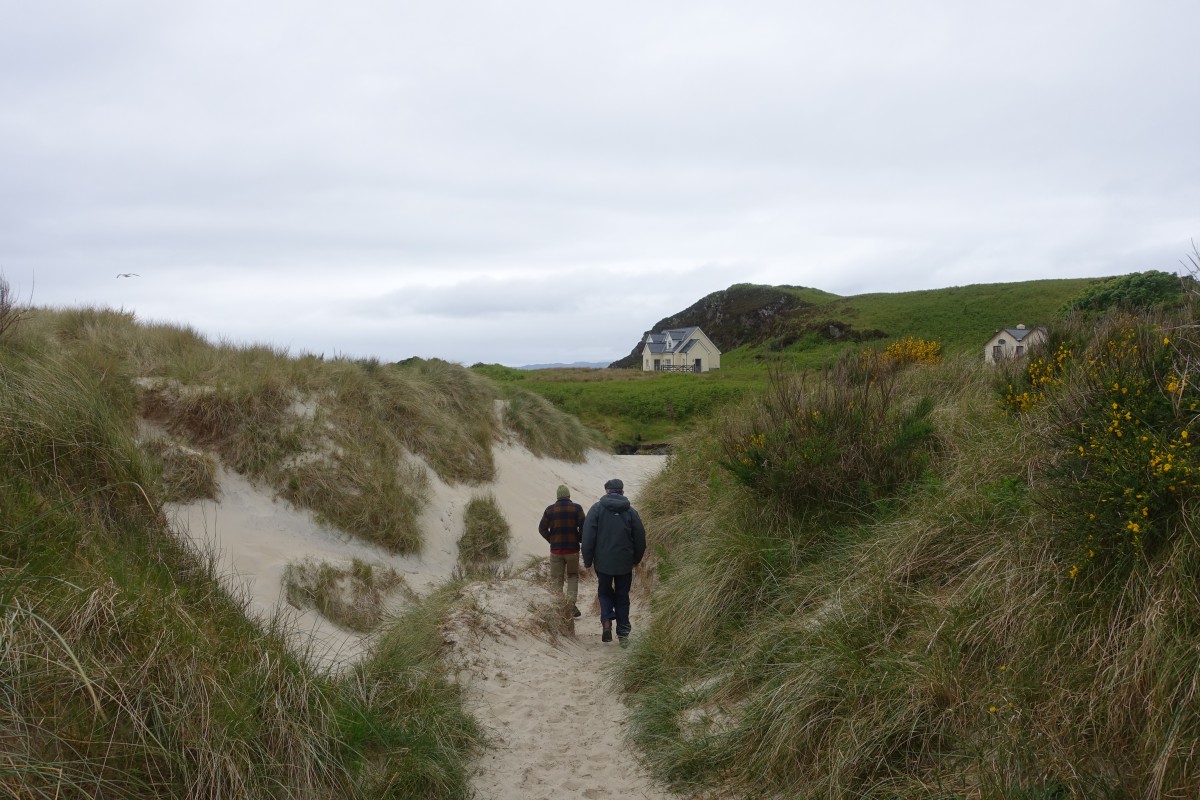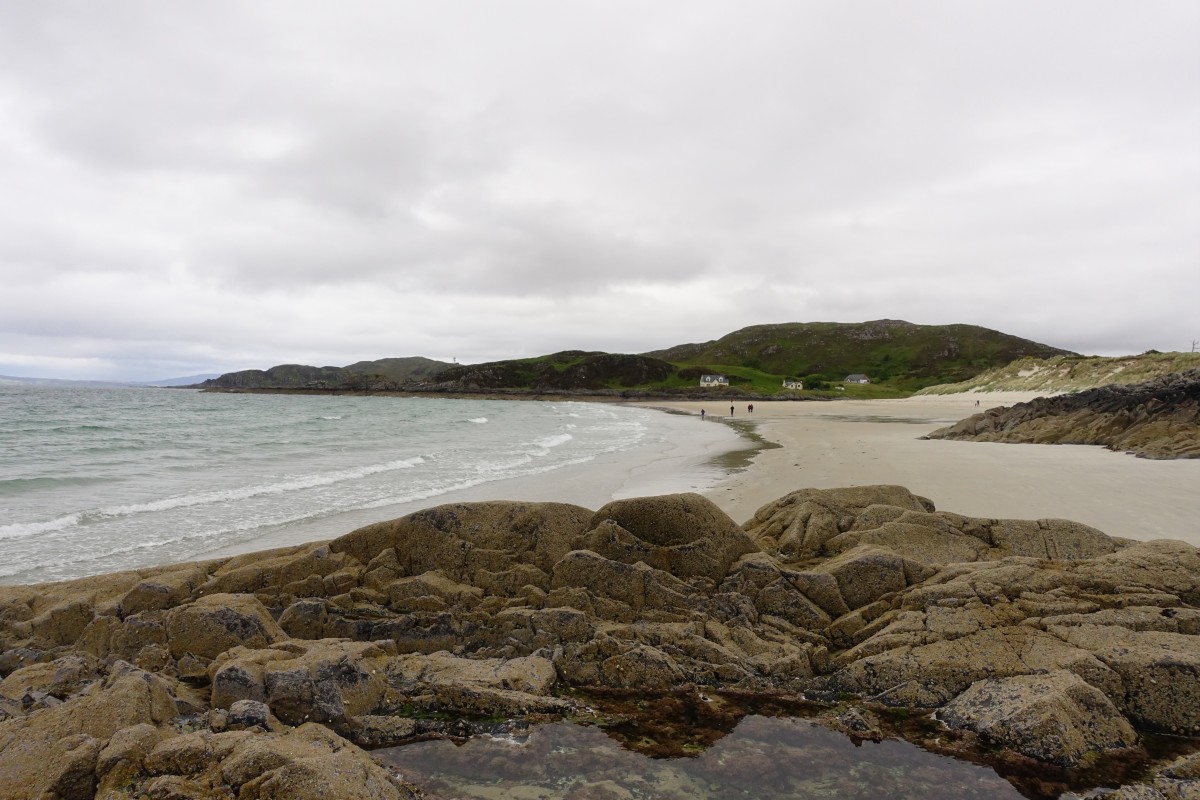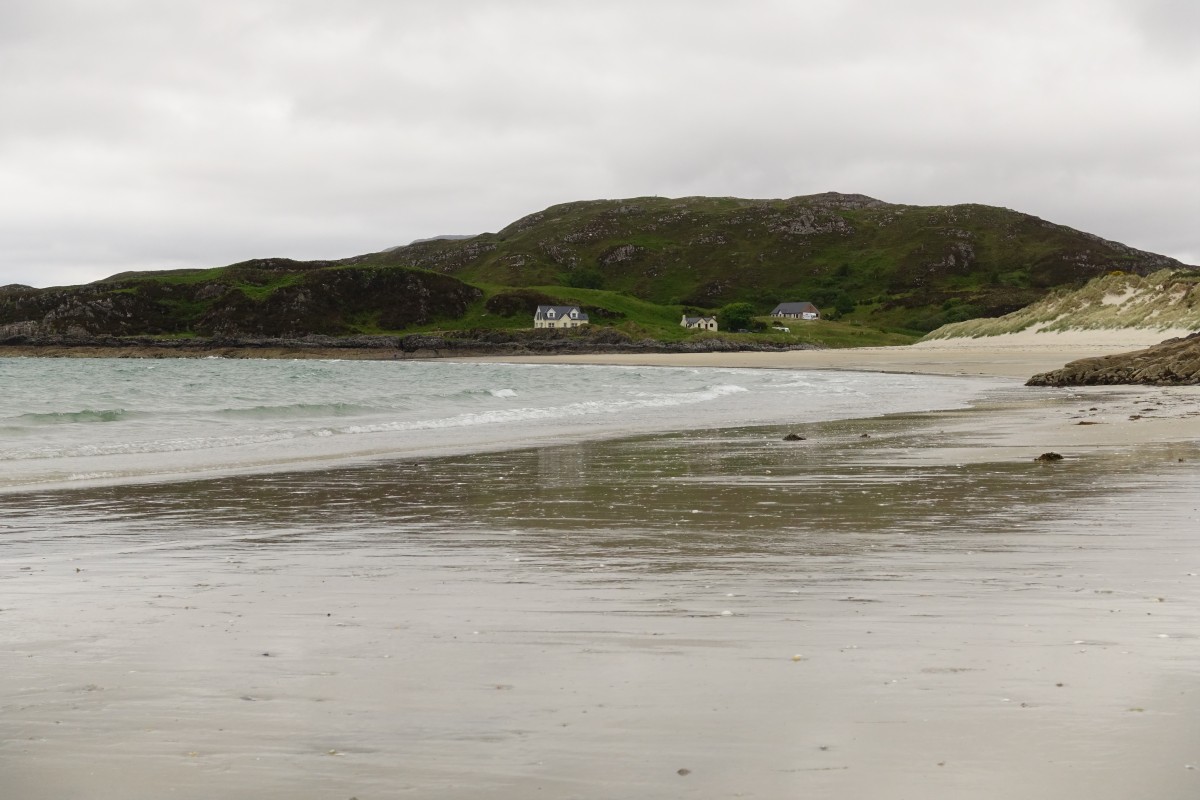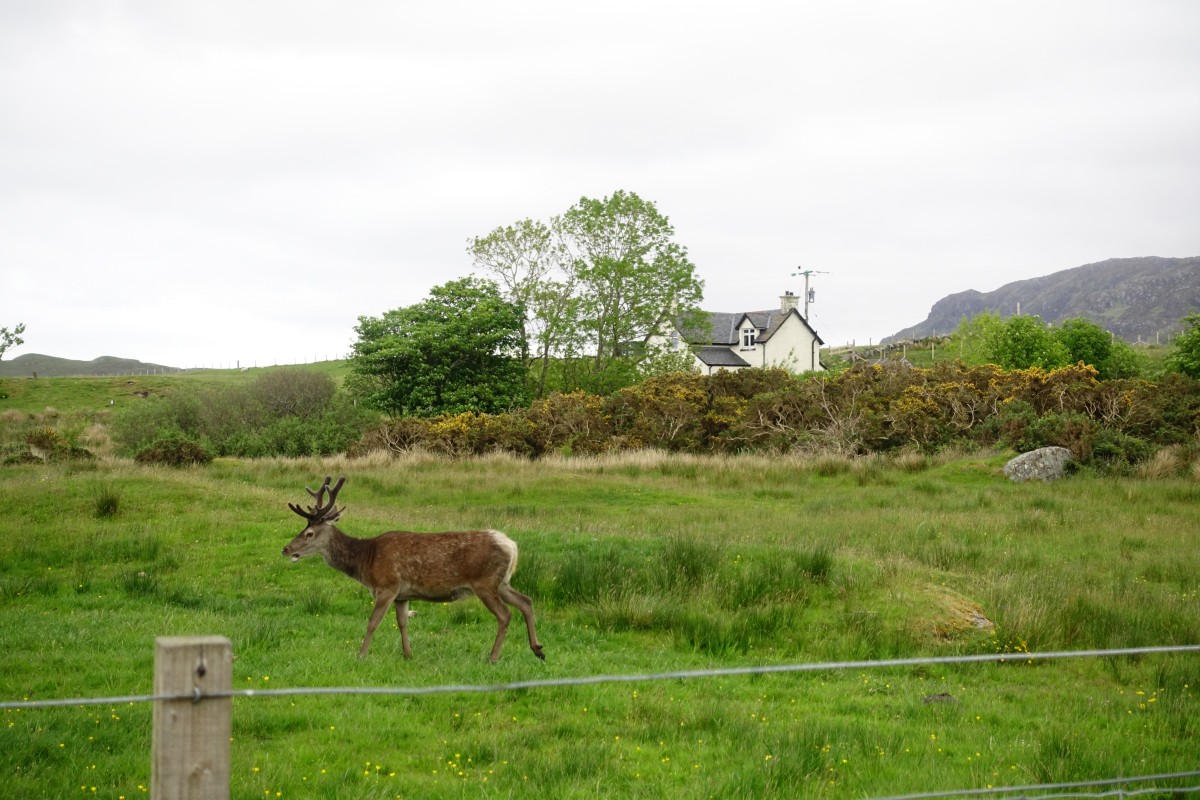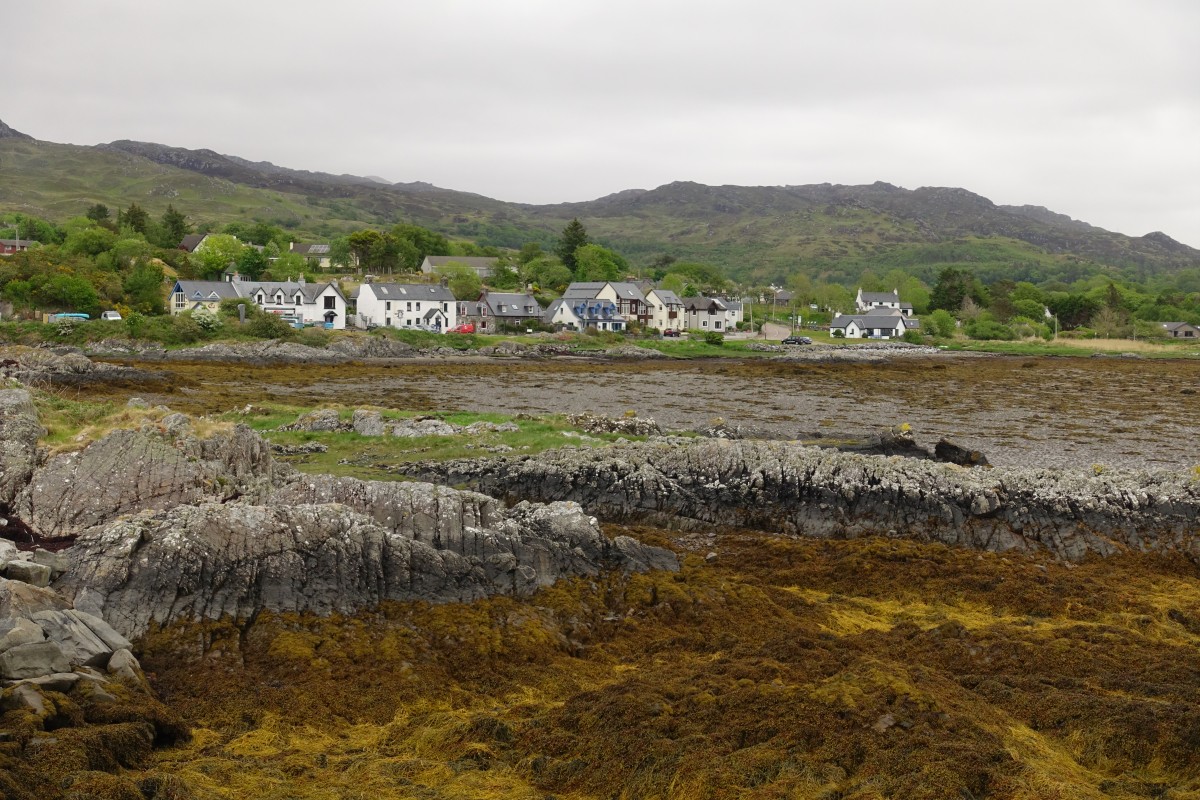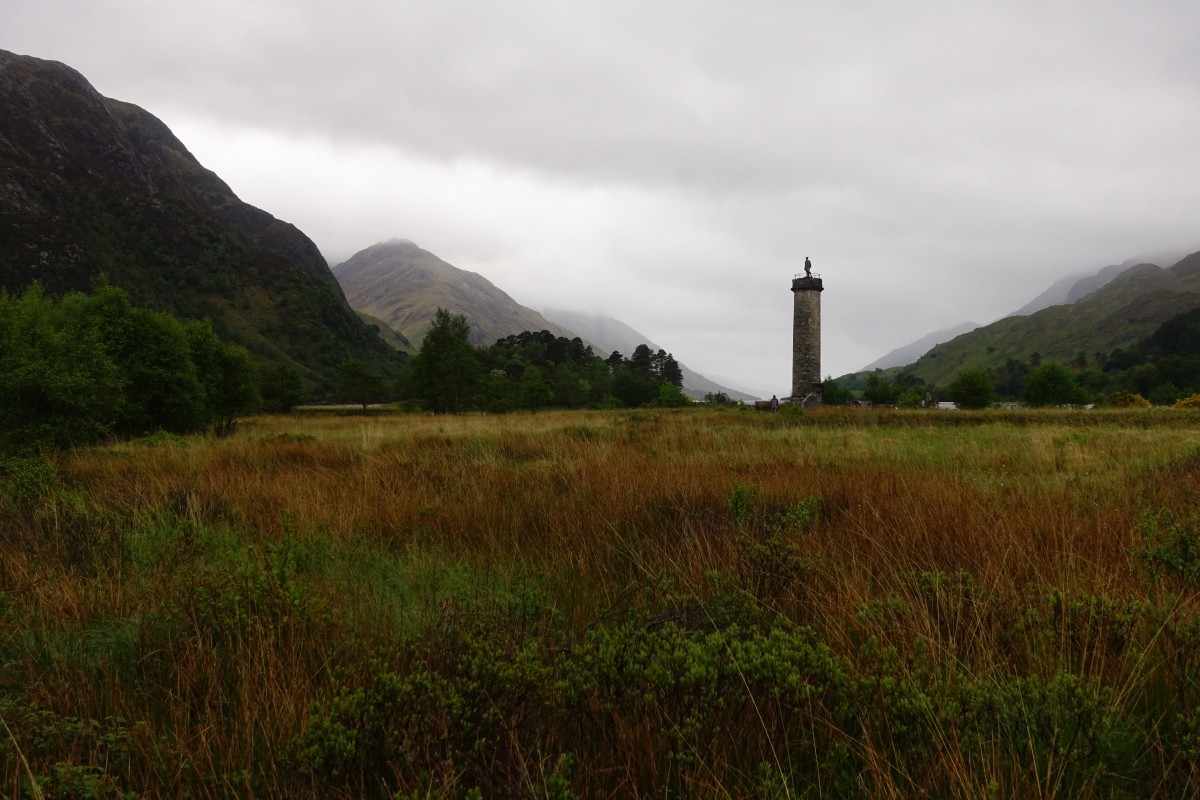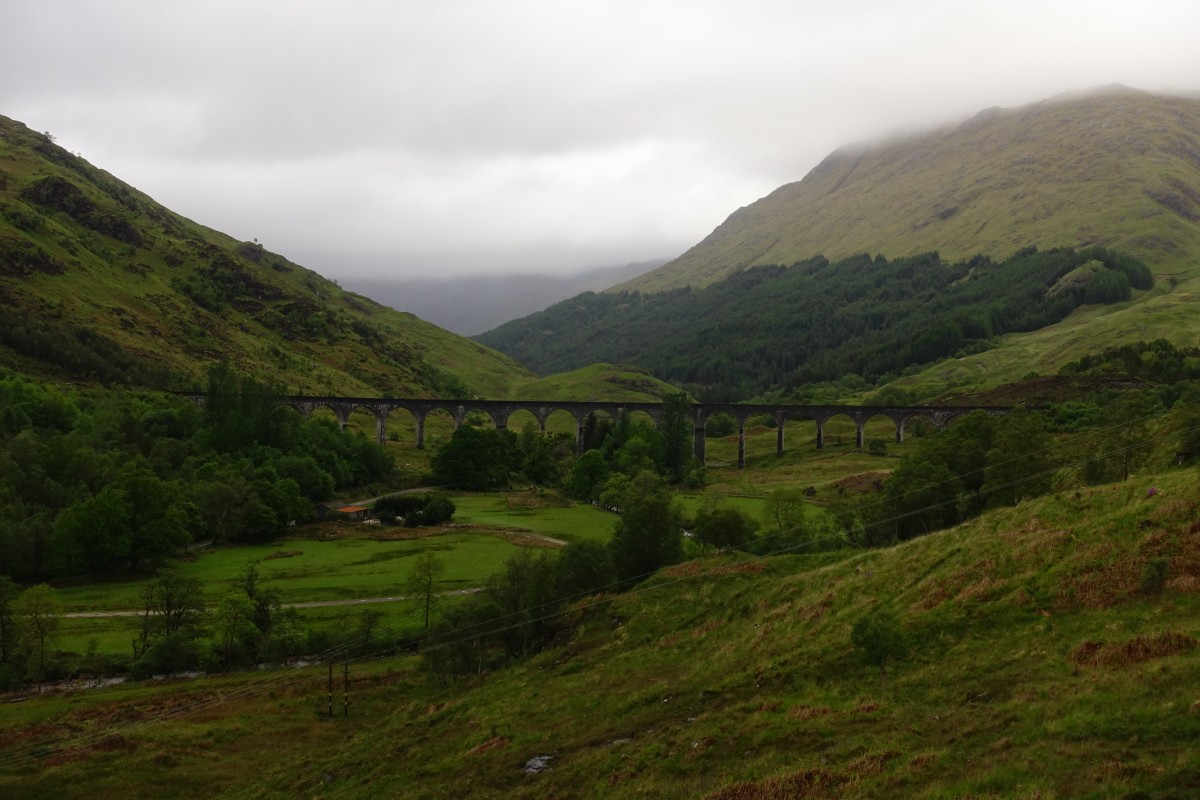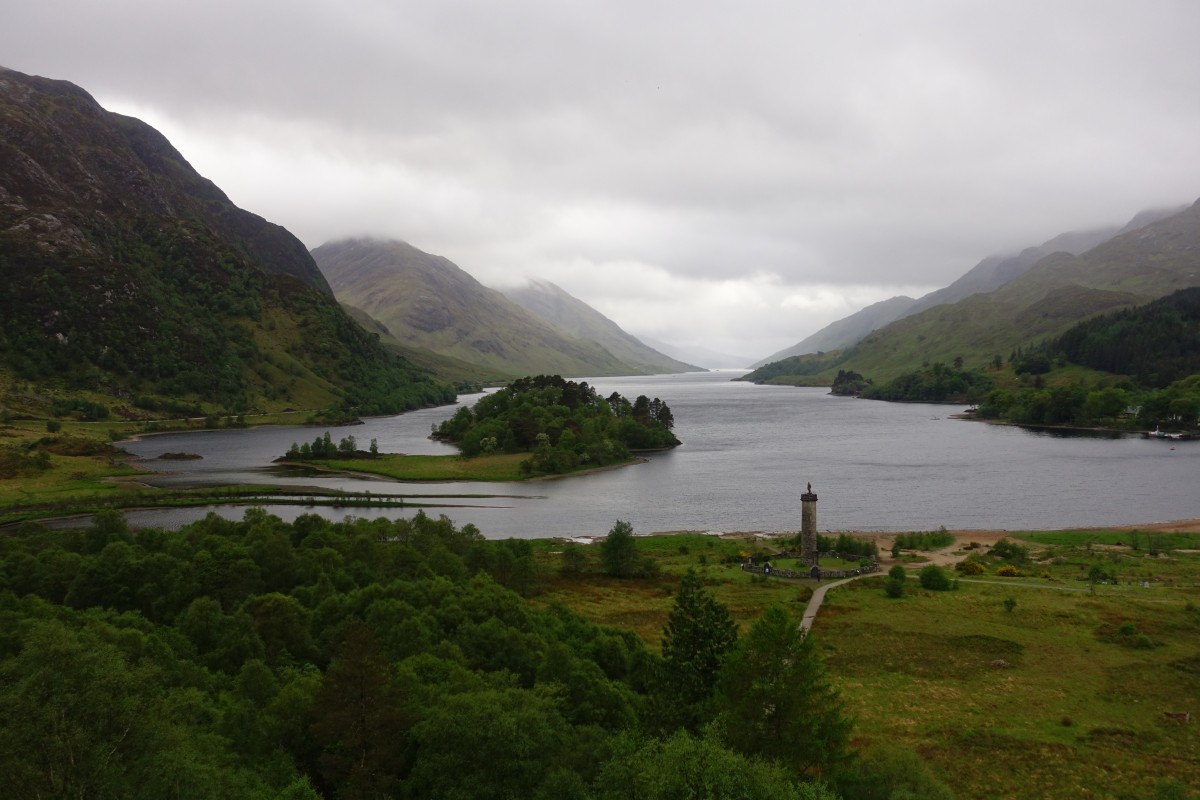 Final Preparations
Another day of intense training and boat optimisation! We have full masthead instrumentation with Jim's windex gaffer taped to the mast. Foam gardening kneeling pads have been taped to the thwarts to protect our backsides on the rowing sections, and tell tales have been stuck on the jib. We have devised a top secret steering system for rowing which we are not going to tell you about. We have reconfigured the mainsheet system in a way that gives us a nice set but is awkward to use. Initial attempts to tack with the new system resembled a game of Twister rather than a tack but we think we have it more or less sorted now. Otherwise we had a very pleasant day with an unexpected amount of sunshine. Ian Waddell, our generous boat owner, was back in town and we went out for a short sail together. After this we adjourned to the Corpach Basin for afternoon tea aboard Ian Whittaker's Ros Donn, the smaller of the two mother ships for the event.
Hopefully all is set for our start tomorrow afternoon.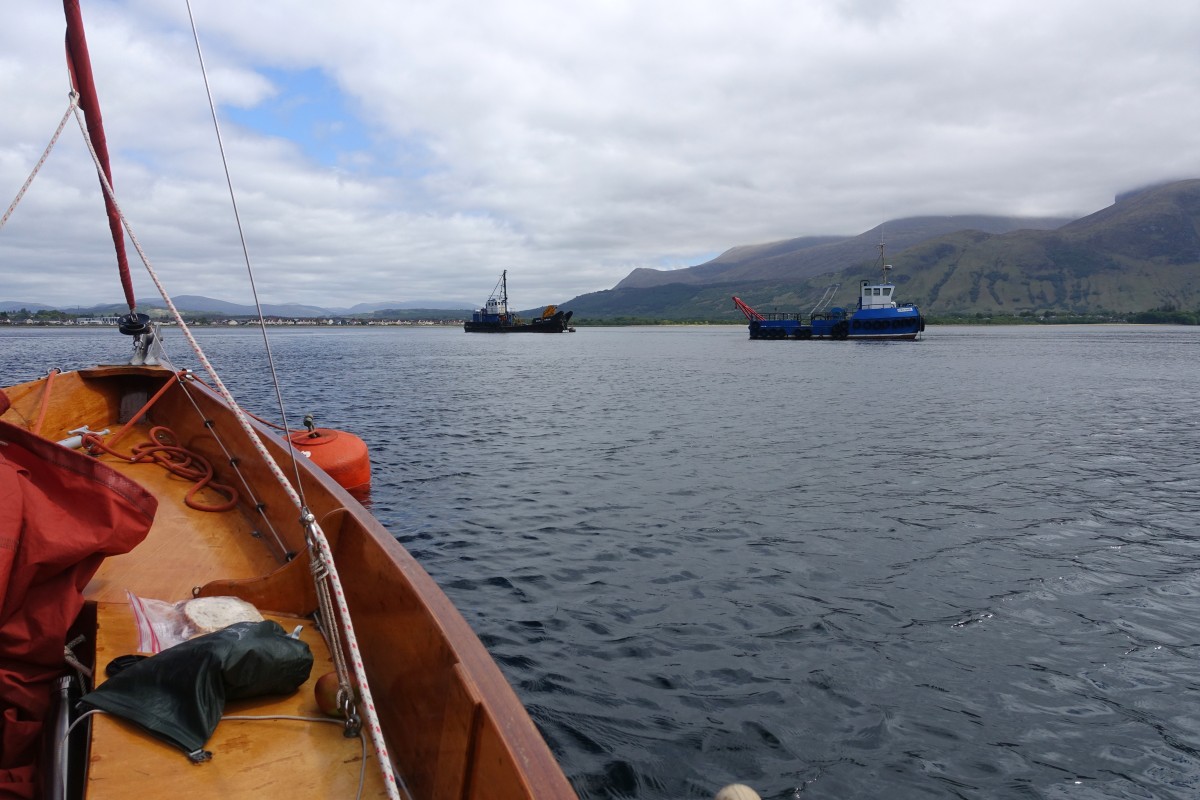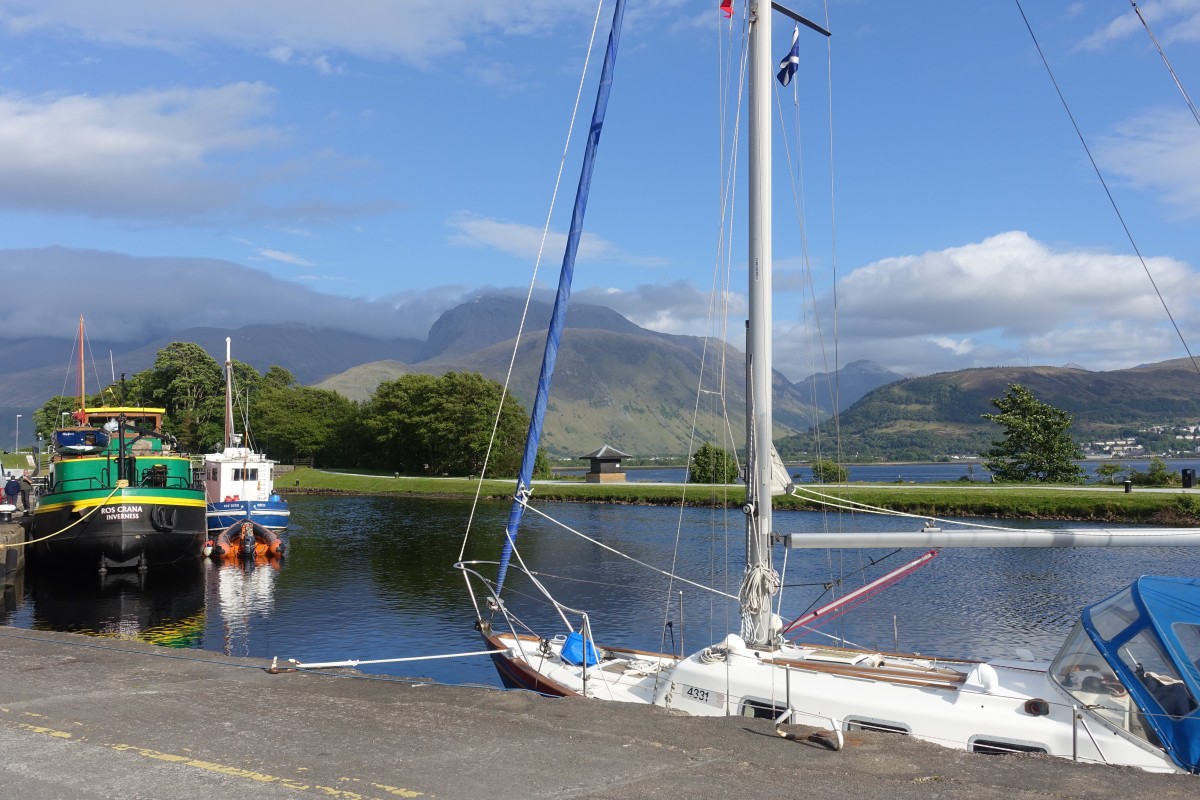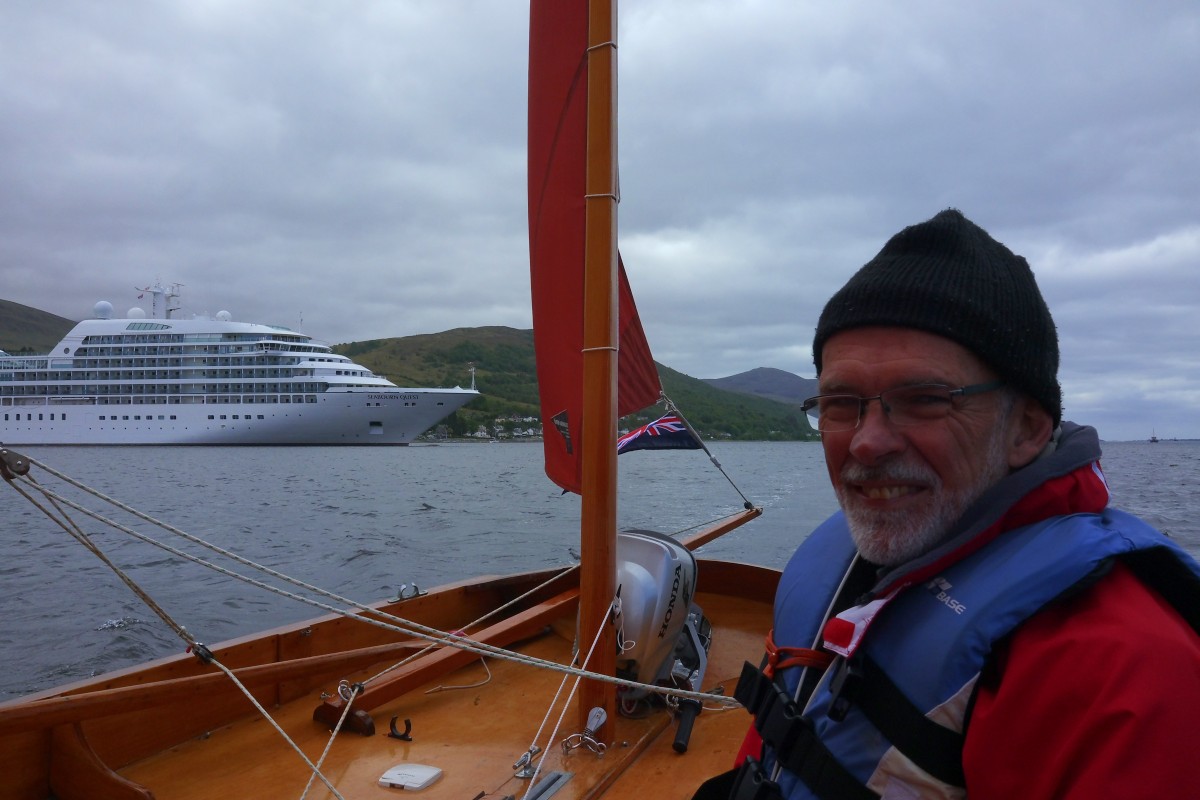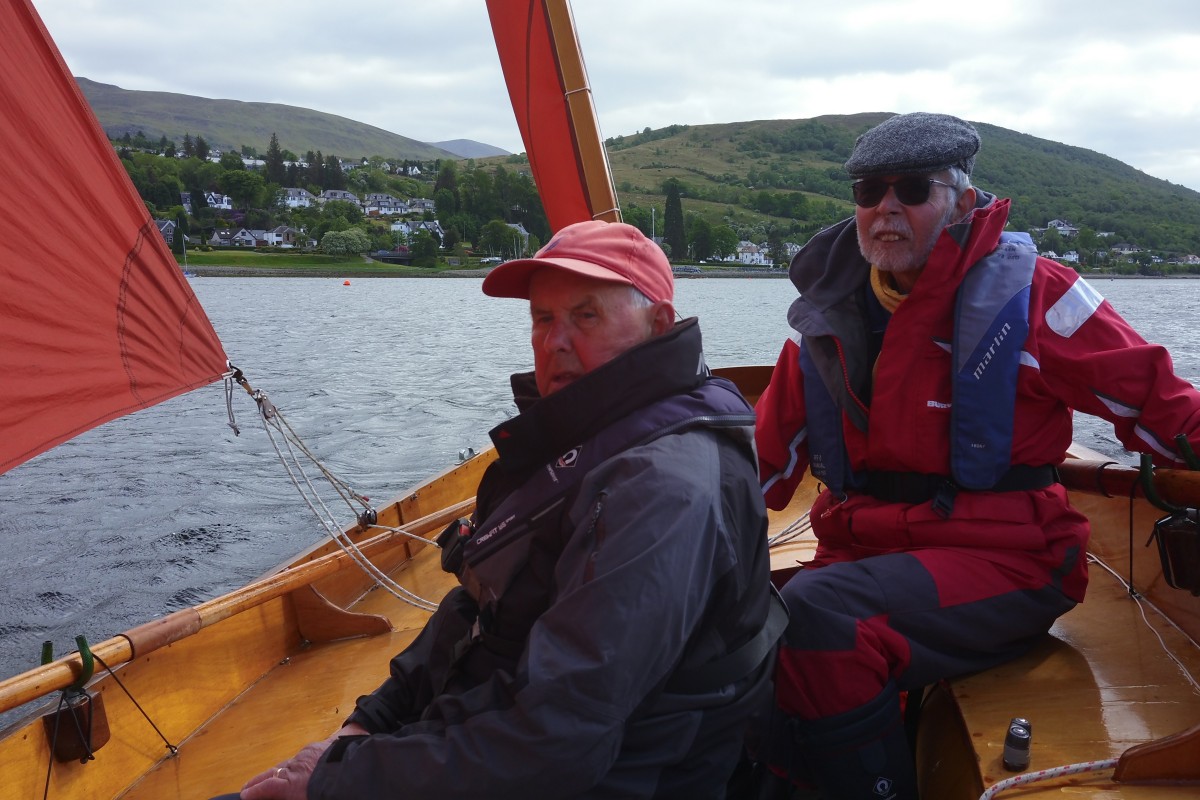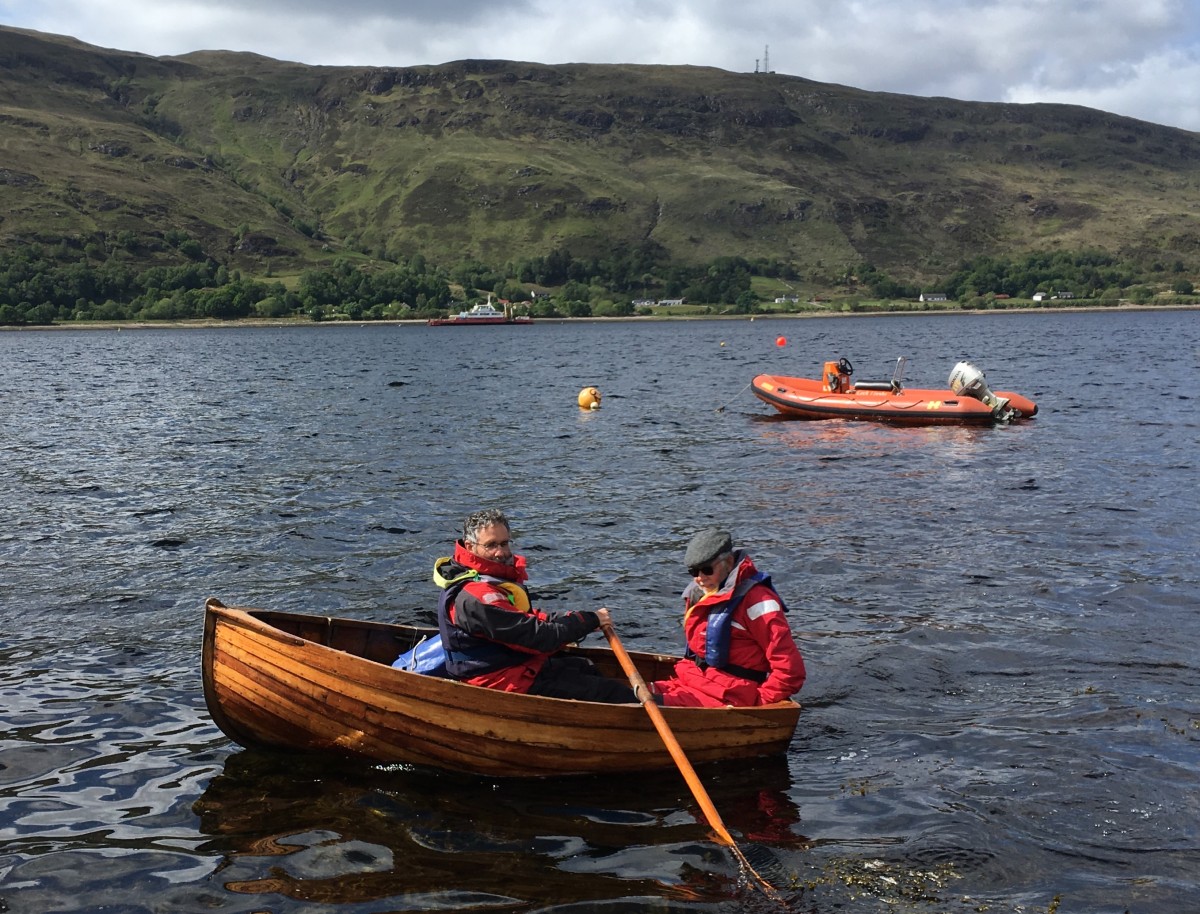 Day 1
Well it had to rain and today was the day. The morning was spent car shuffling to Corpach and setting up our tents before the rain really set in. Back at the club boats were being set up, launched, and placed on their moorings. Finally after all was set up we had our short opening race to Corpach. As the rain came down Jim gave us the perfect start, first over the line at the pin end. Off we went. The Bay Raiders quickly got out in front but we were pleased to see us holding up pretty well. As we approached the first mark we saw some of the boats producing oars. That's right you can row in this race! we belatedly realized. Not only that, we should row! We quickly reorganized ourselves and got into action. Indeed from the first mark to the finish we motor sailed rowing all the way. We were pleased with our efforts being the first of the Drascombes with only the Bay Raiders, a Stir Ven, a Caledonian Yawl and the racing dory ahead of us. Then it was through the sea lock for our first lock experience followed by a pack up and a drive back to the yacht club for the opening dinner. The wonderful club has a fire! Warm and fed we are now settled into our tents with the rain pattering on the fabric.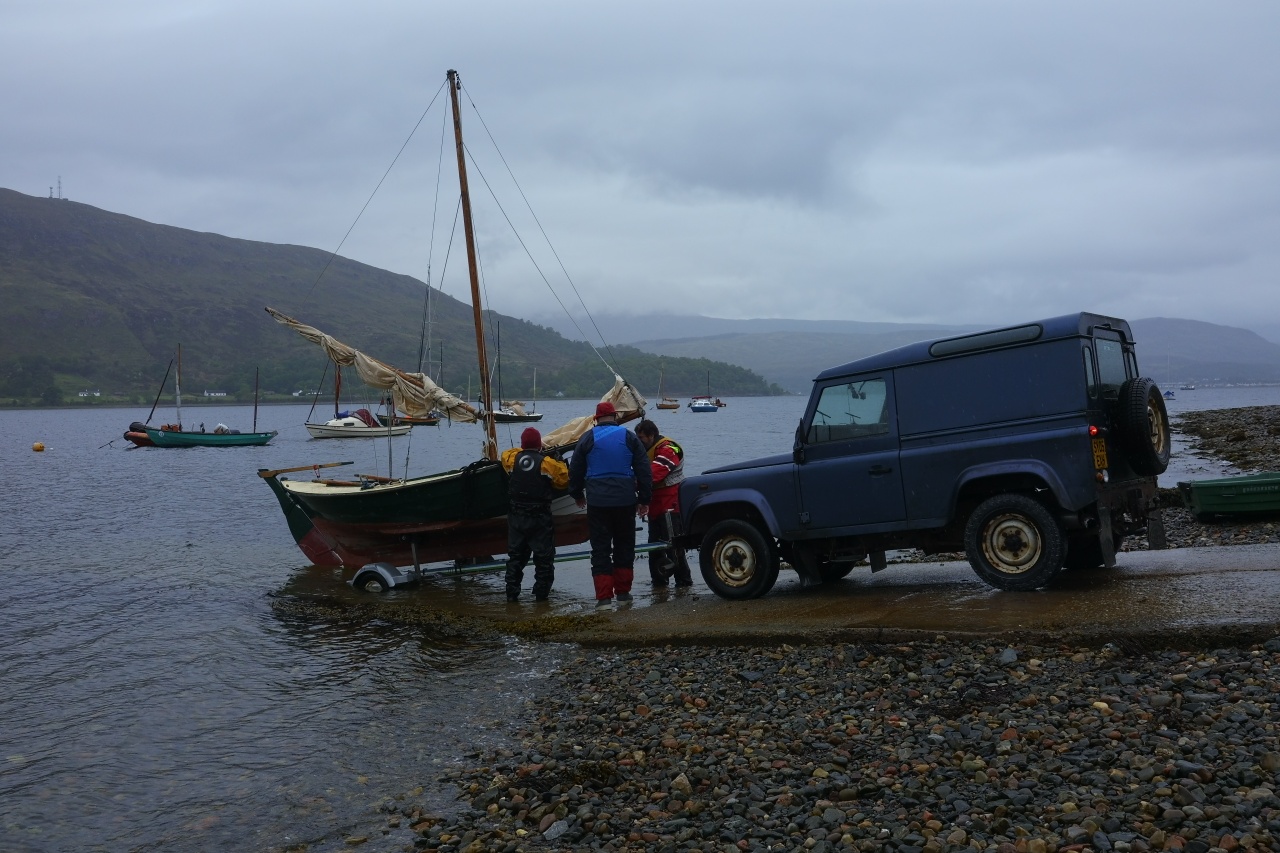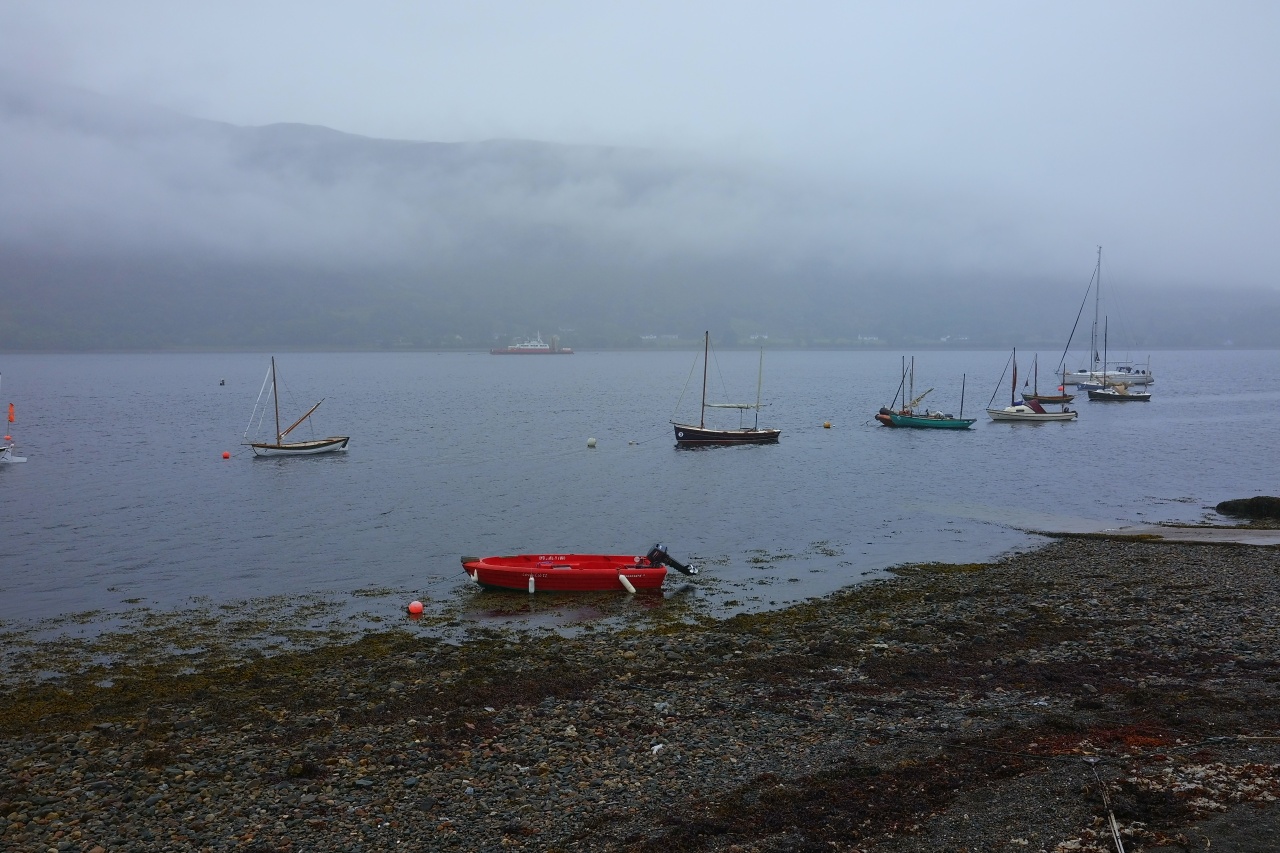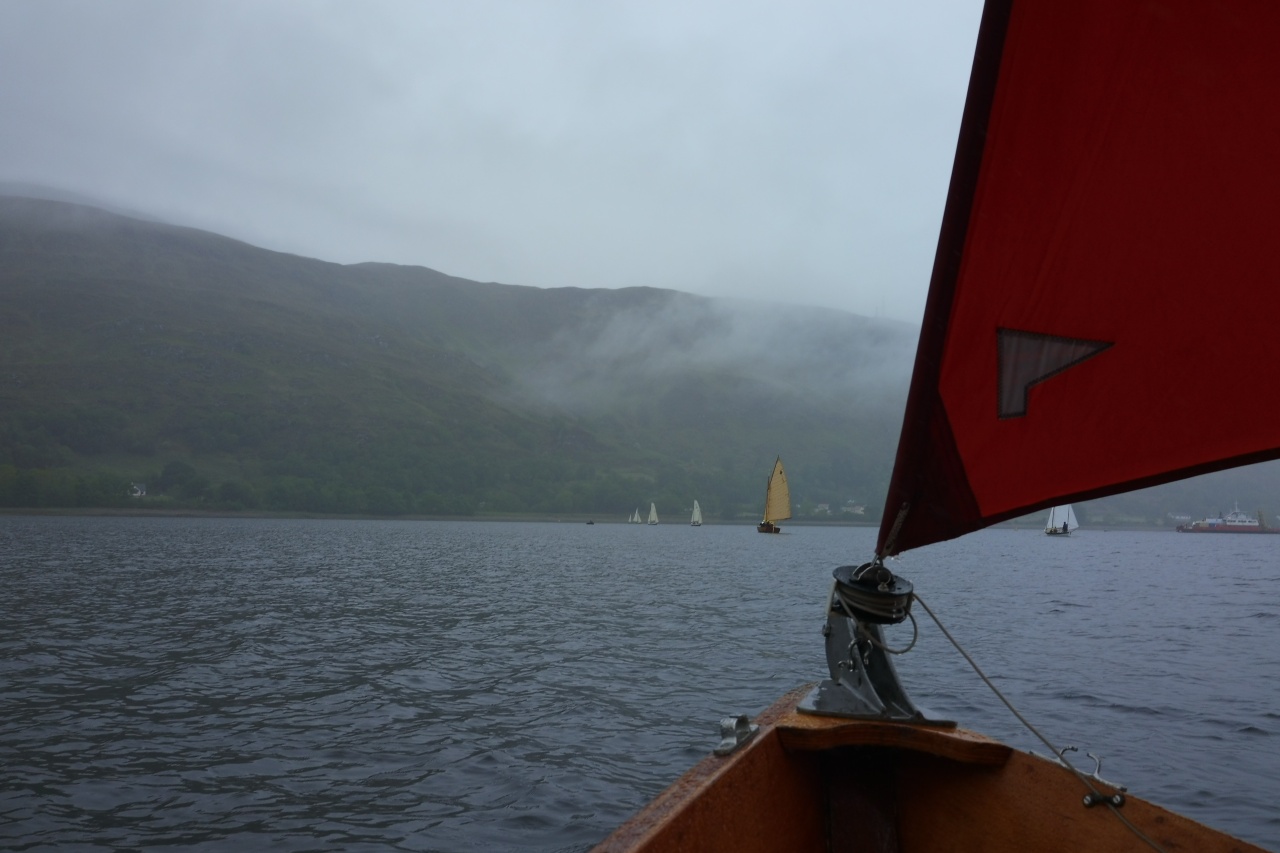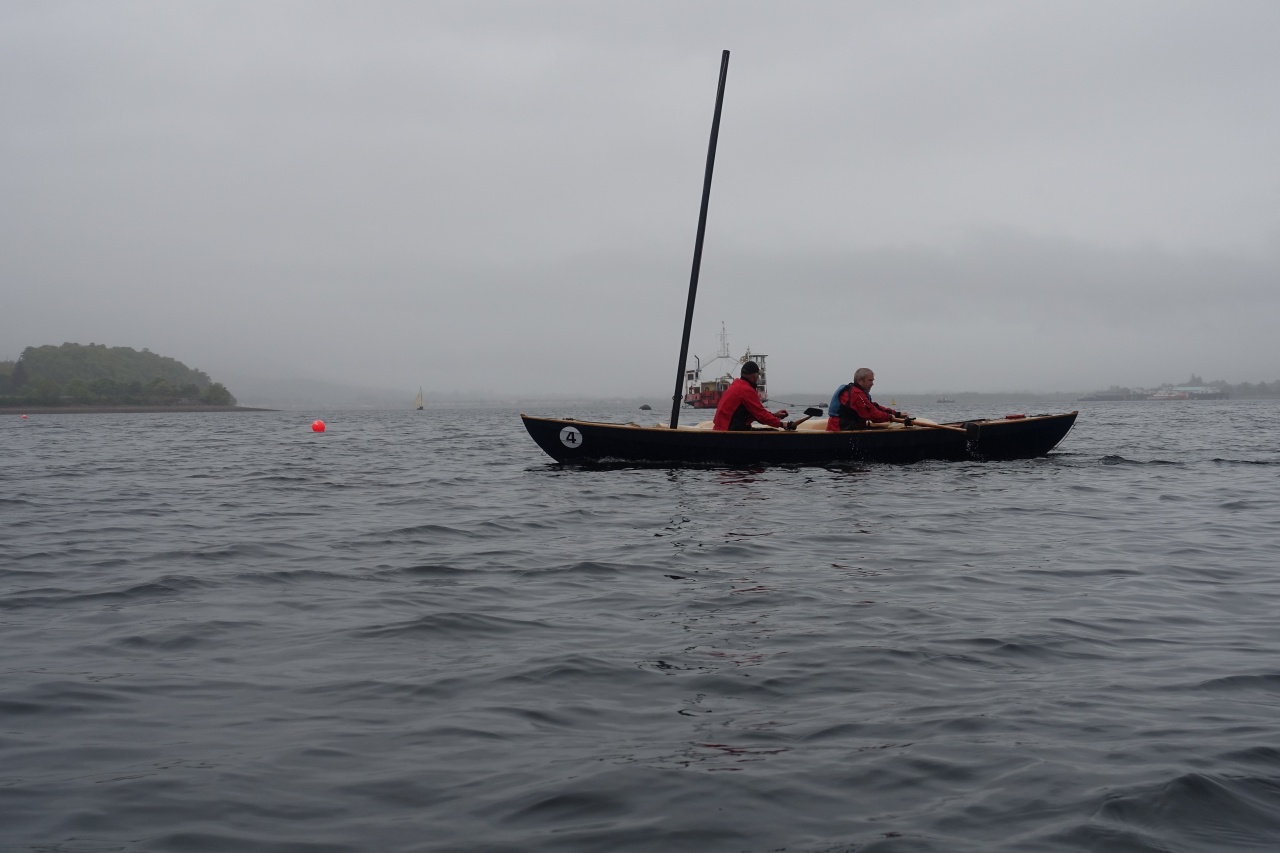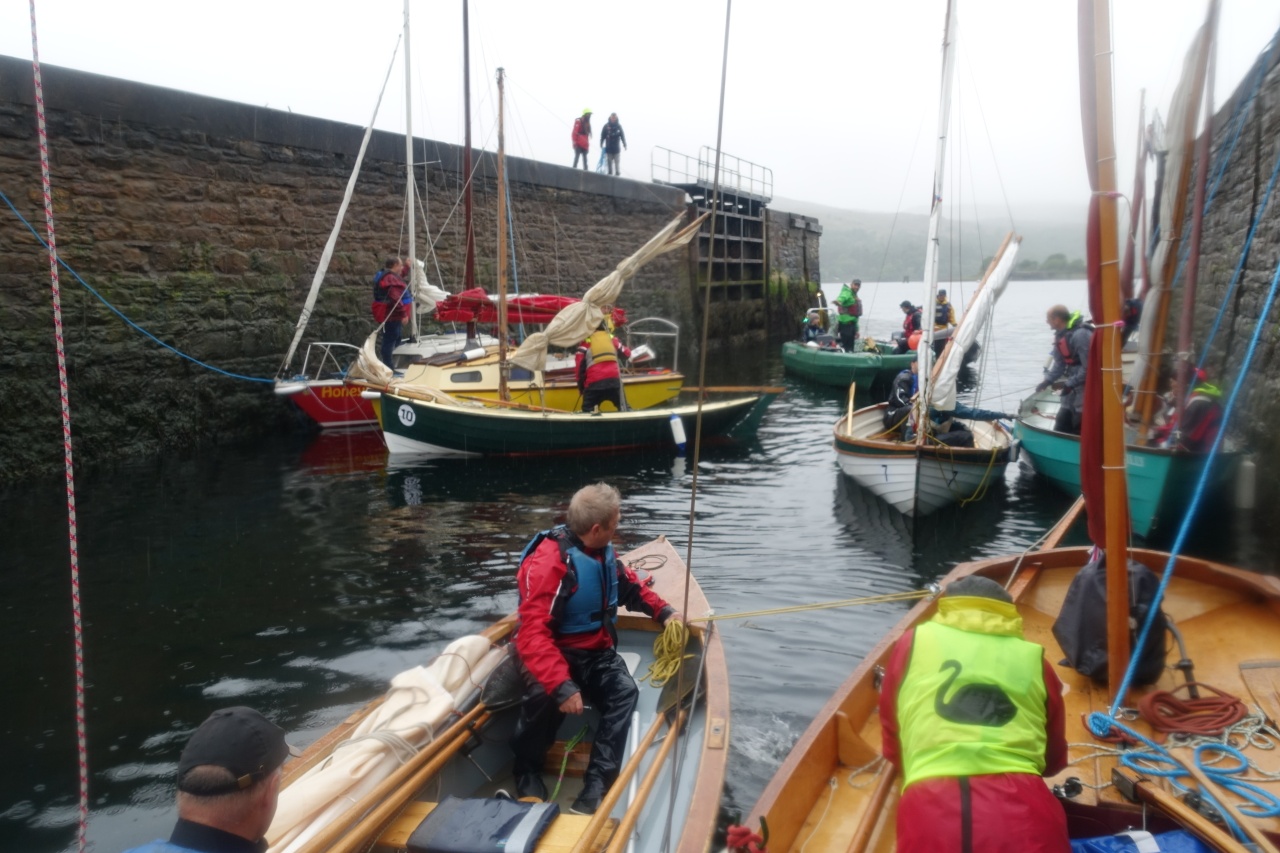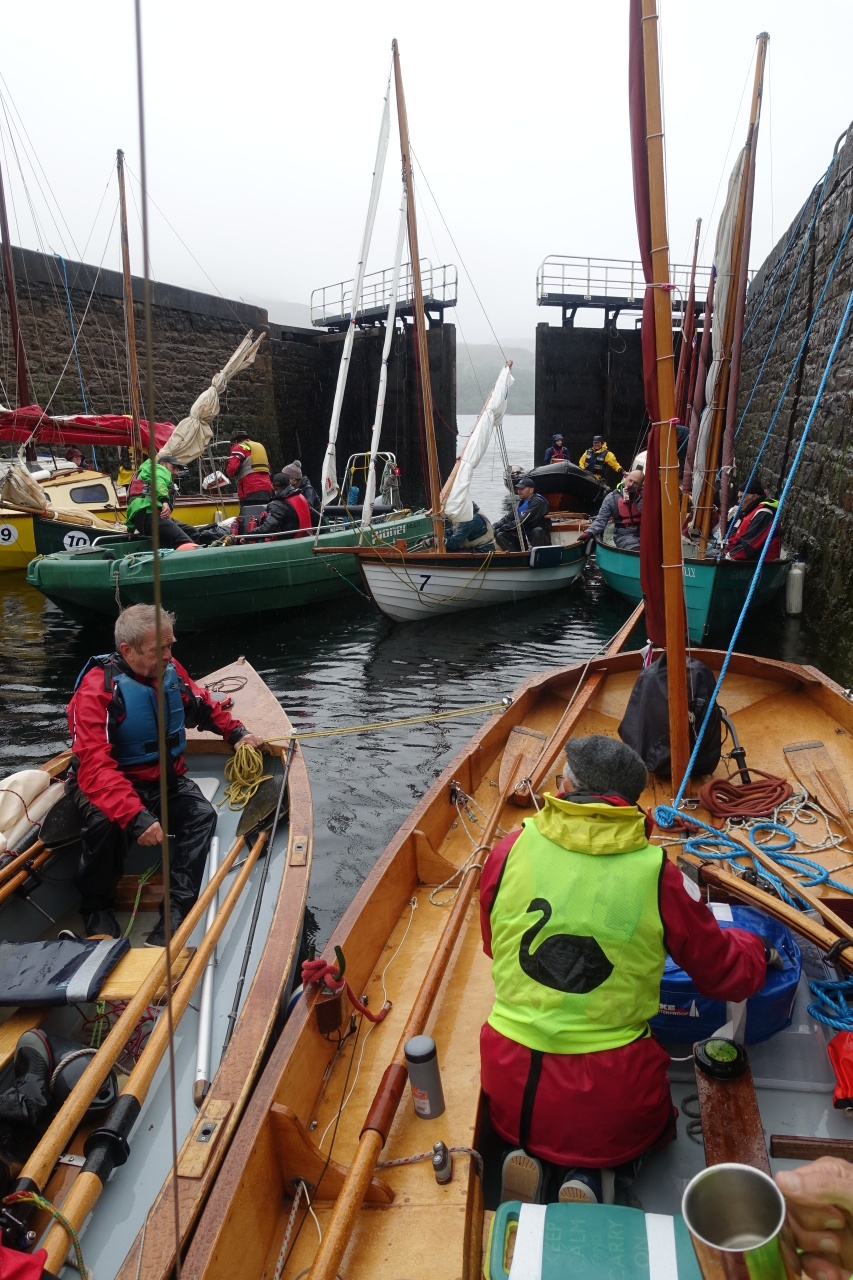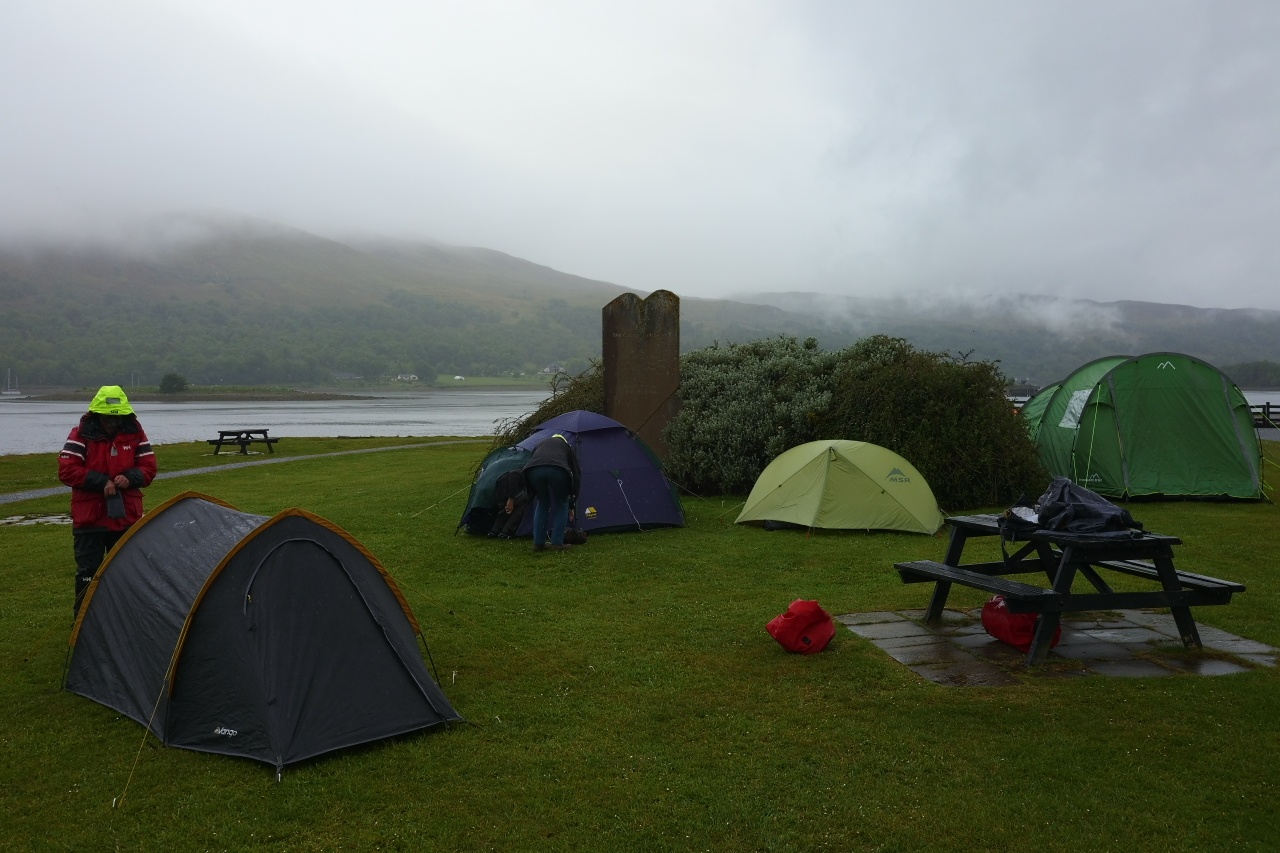 Day 2: Rain, Rain, Rain
Aye we had a wee bit of rain overnight! After bailing out our tents and bailing out the boat we enjoyed being dry aboard the Ros Crana while we had breakfast. Then it was back into the rain. The drivers jumped in their cars and towed the trailers to Inverness while the crews took the boats up Neptune's Staircase. We arrived at the railway bridge in time to see Hogwarts Express go over it before it swung open for us to pass through. Once into the locks everything became a blur of fenders, lines, lines, and more lines, and rain. Out the top we found our skippers who had been shuffled back from Inverness and we jumped into our boats for a 7km rowing race. Off we went in our special rowing configuration that involved the helmsman sitting on the foredeck to lift the stern out of the water and steering with two long lines around the cockpit to the tiller. Initial steering was a bit erratic but it works quite well. After about 1km we decided to lift the outboard prop out of the water. We think it probably helped a bit! Our muscles held out quite well but it was definitely good to get to the finishing line. We were quite pleased with our efforts. I think our time was about mid fleet and first in class. The rain is fairly light now. Here's hoping for a drier day tomorrow.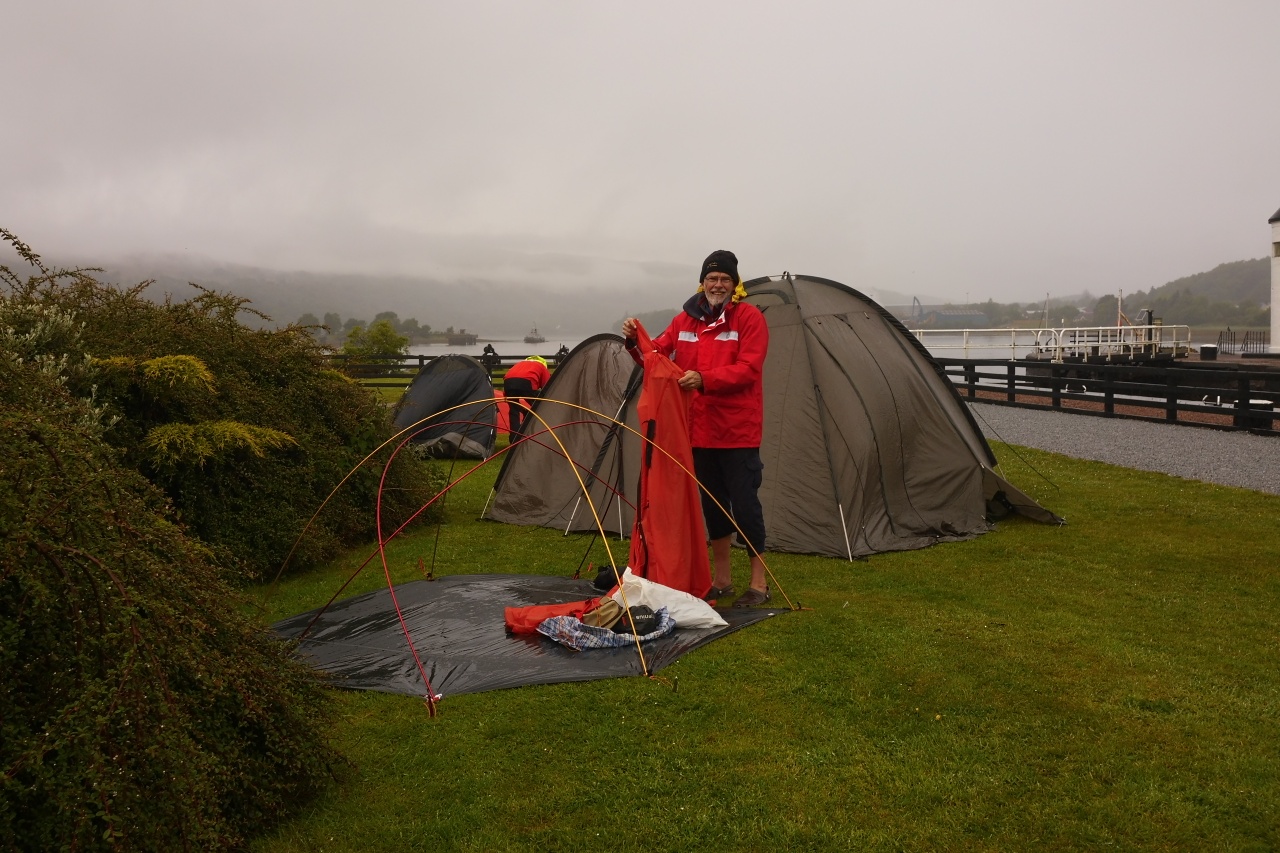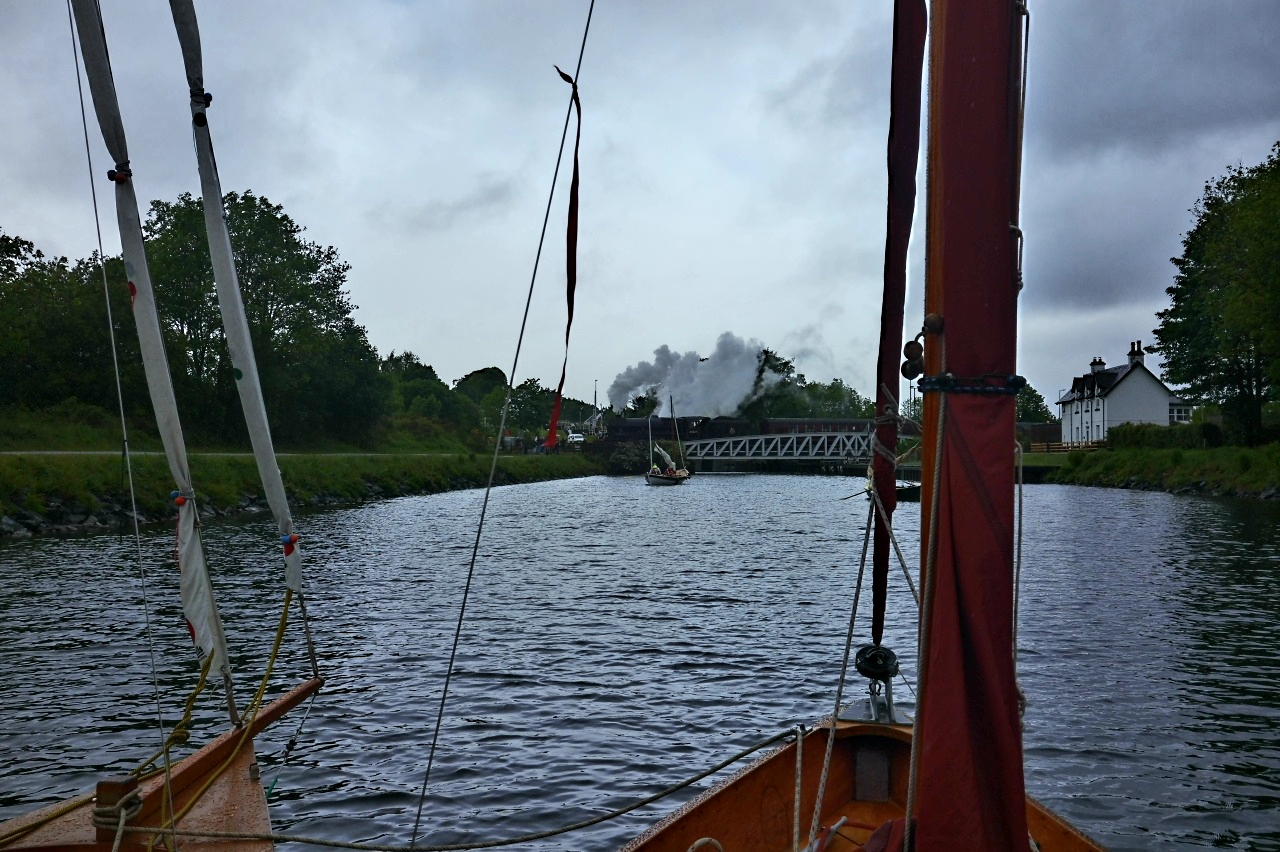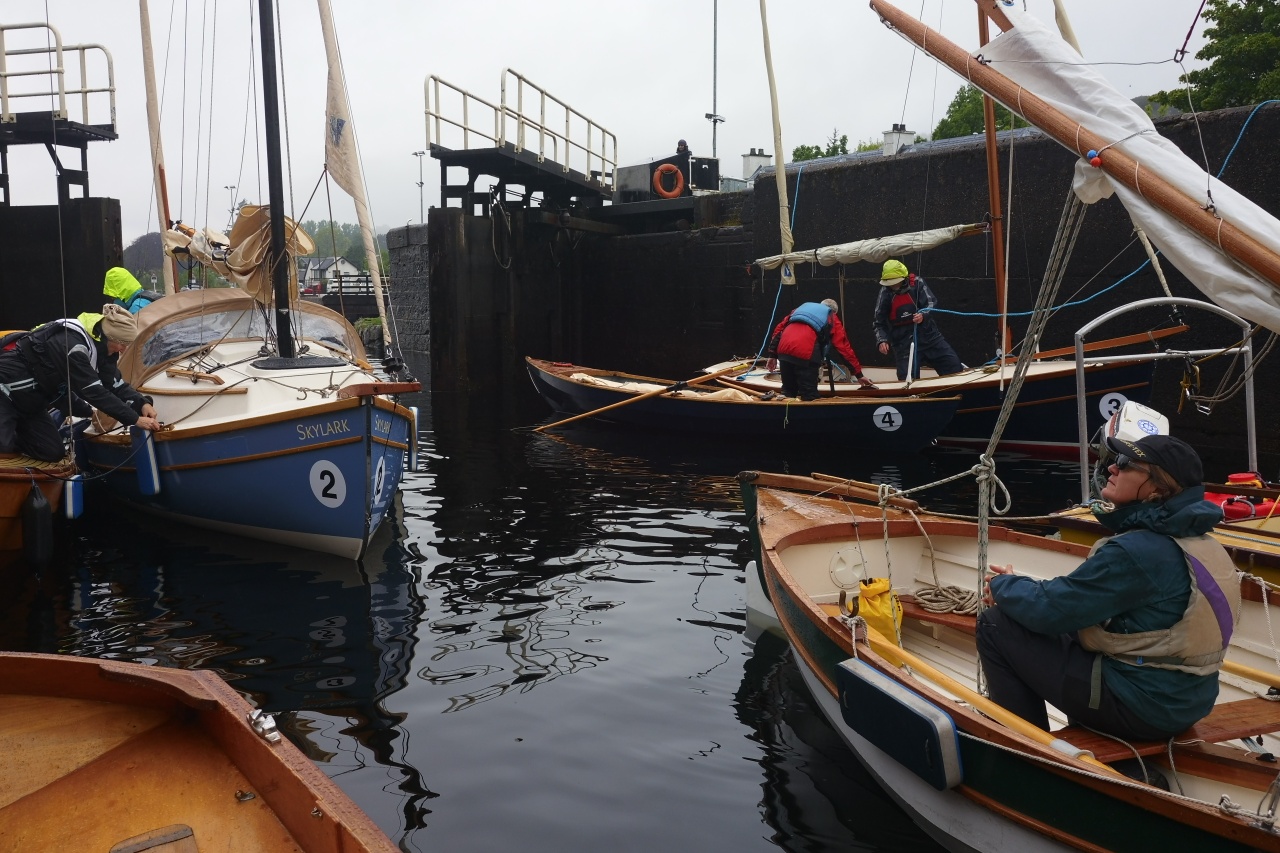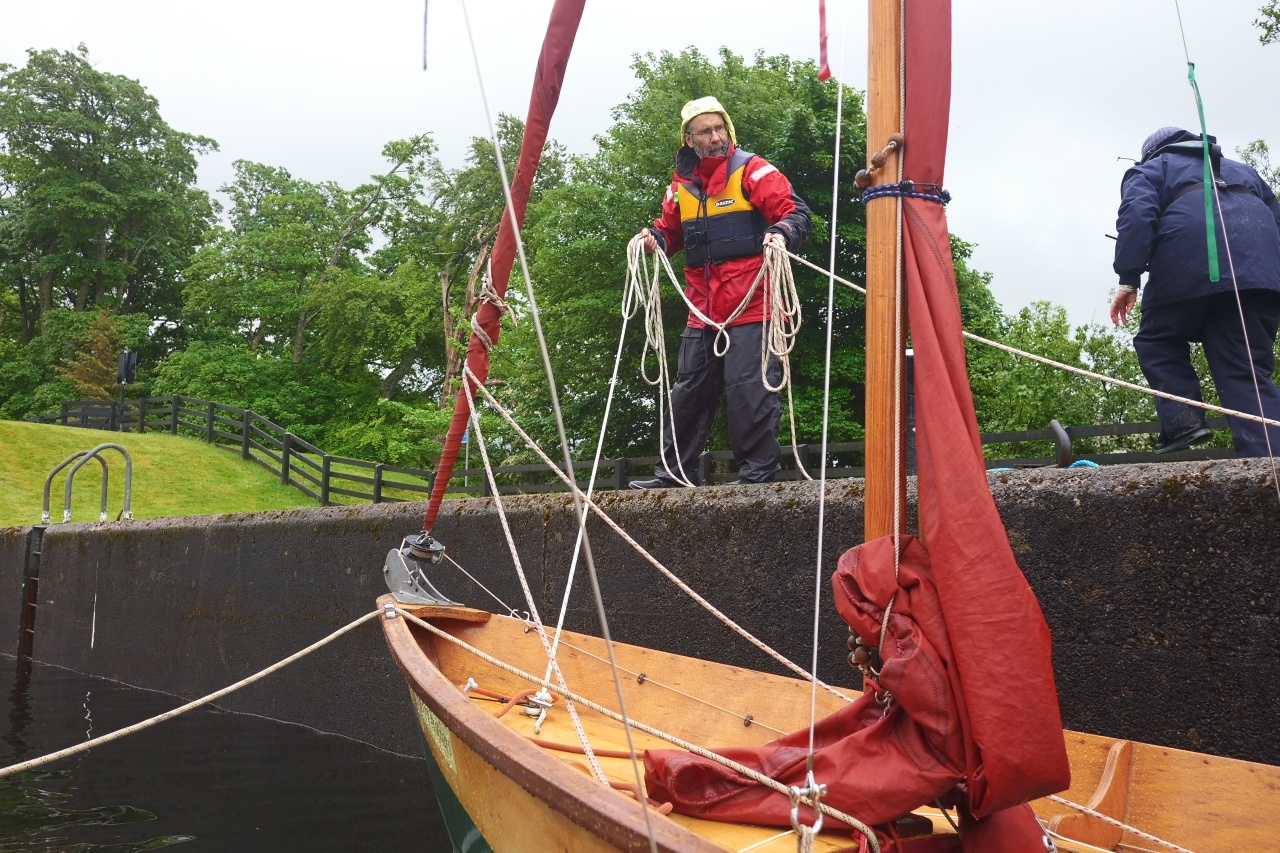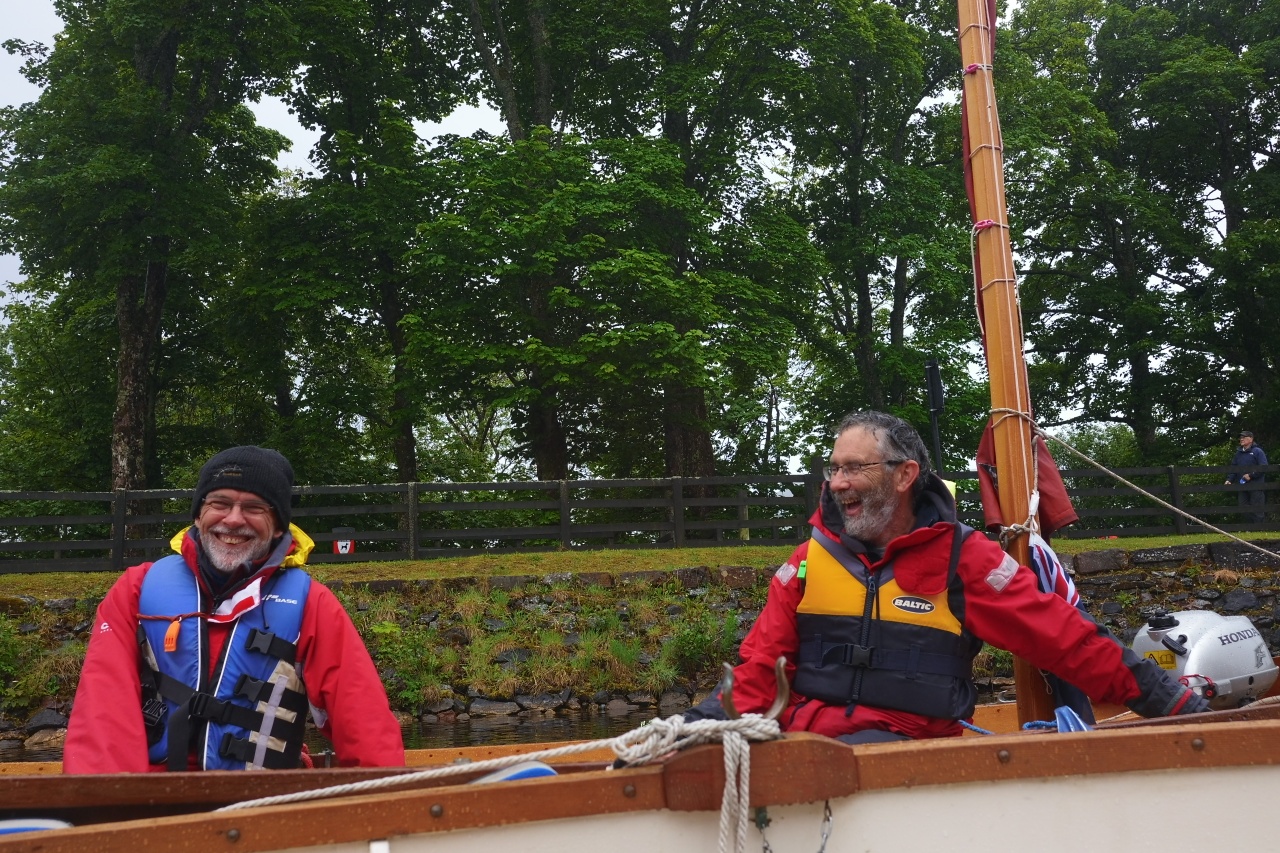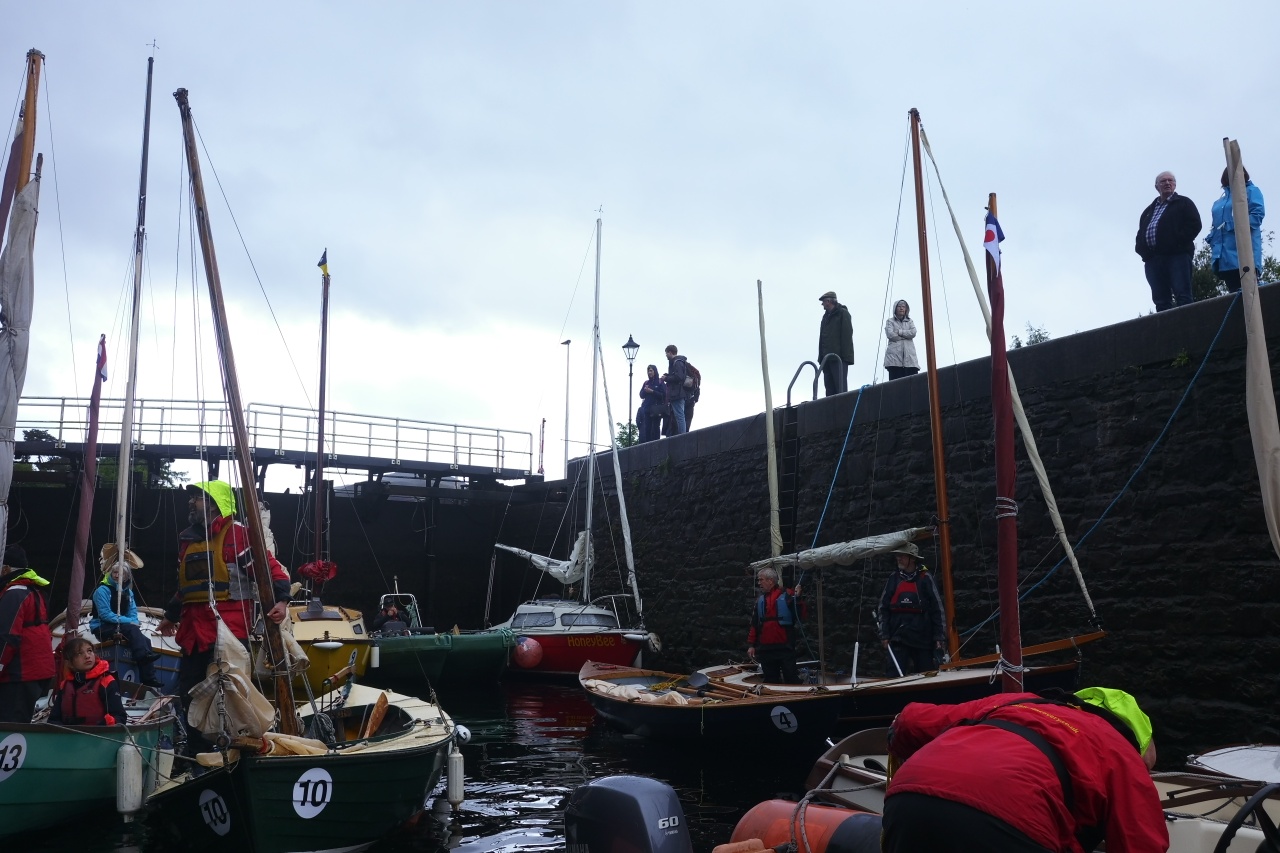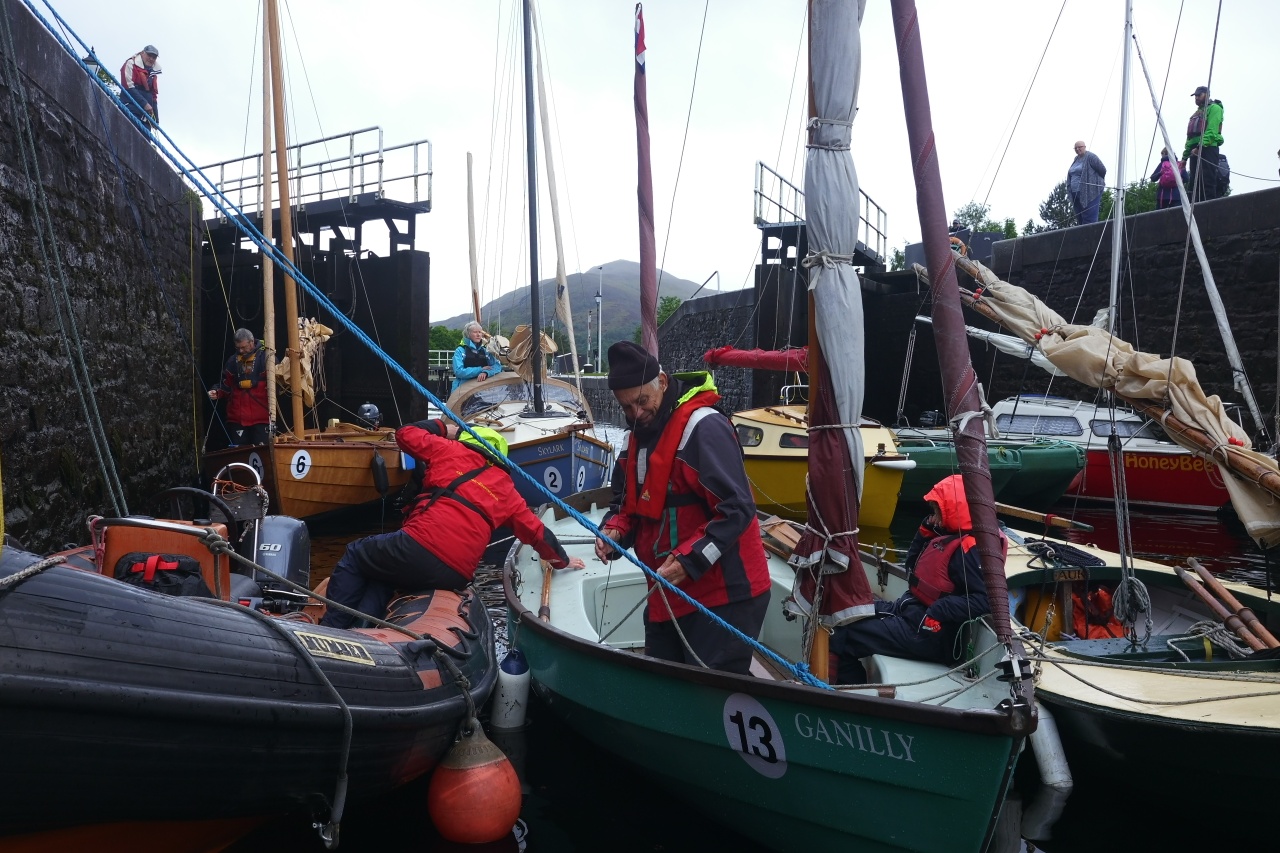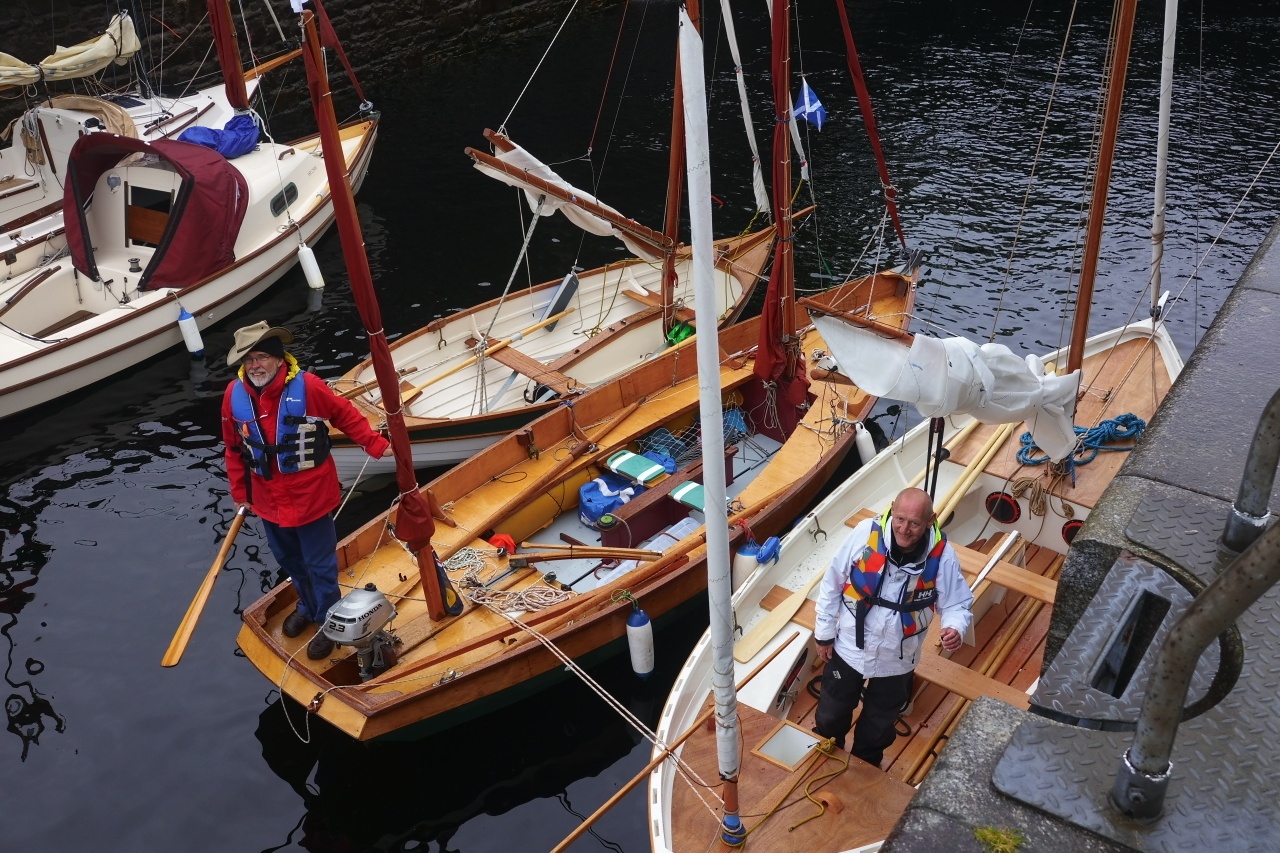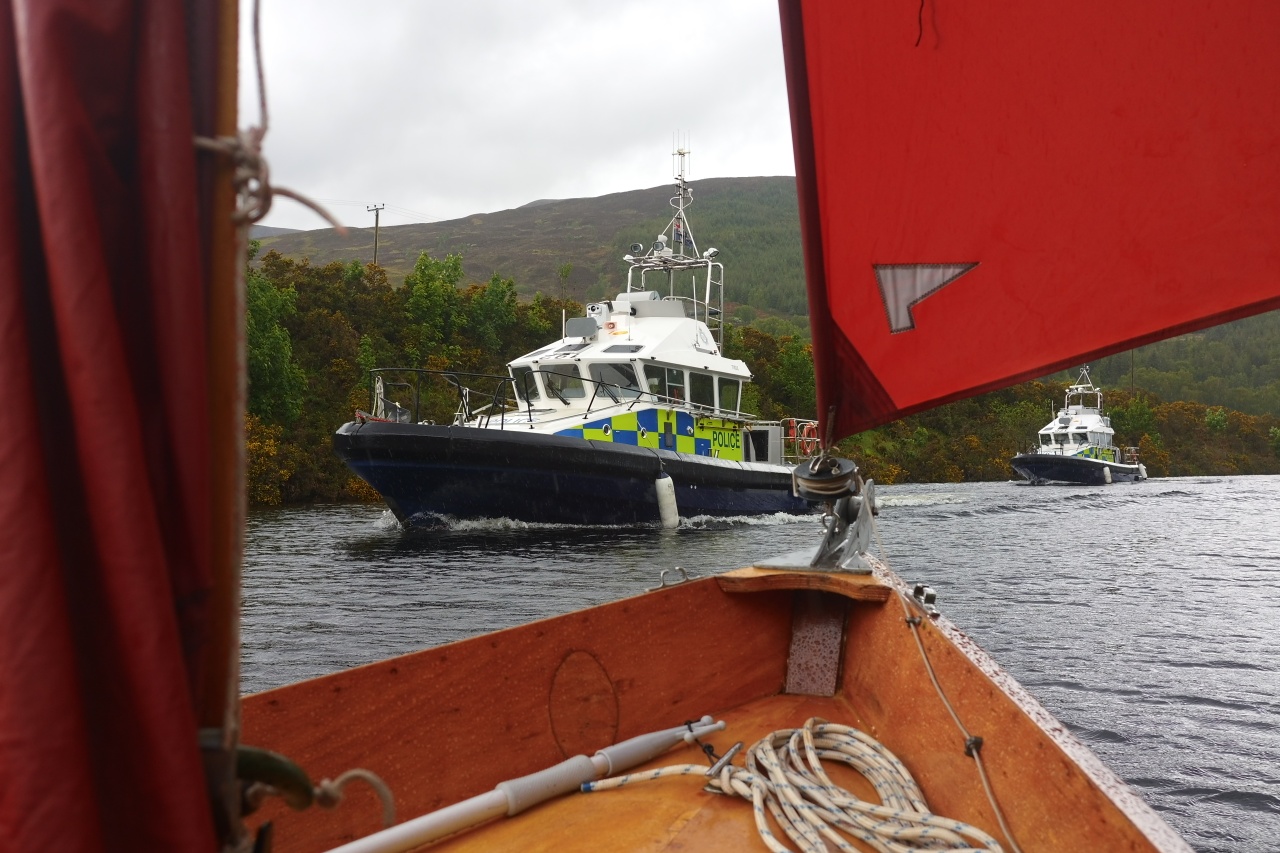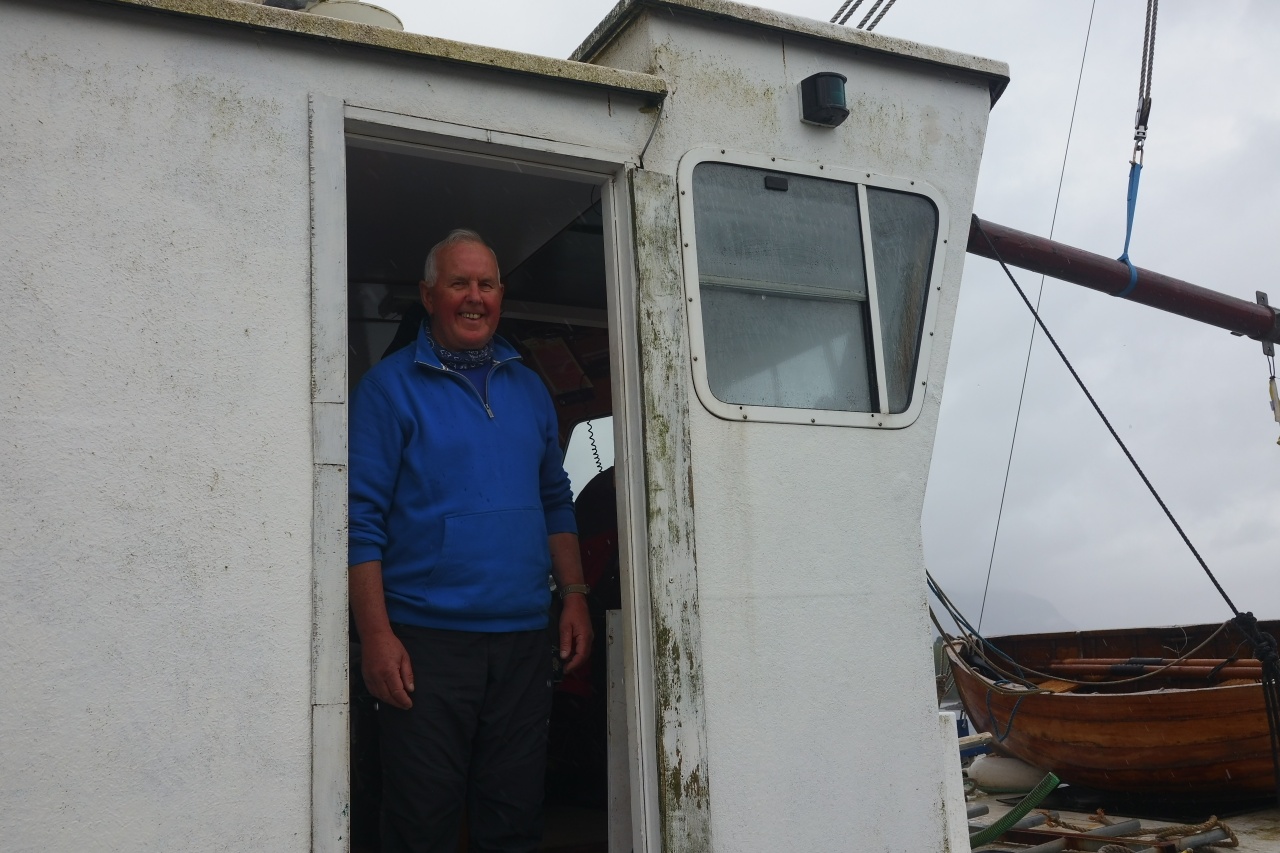 Day 3: Sunshine!
This morning was wonderful. We saw the sun for the first time in two days. Our tents and gear were still wet but our spirits were lifted. Meanwhile Dave had been cunningly finding all the places where you can dry out clothes. The engine room of the barge Loch Ness, the lock laundry was warm and dry and worked well even if you did not use a drier and there seemed to be some secret spots on board Ros Don that Dave would stash his gear.
Our mission for the day was to get to the end of Loch Lochy. With a gentle breeze coming directly down the loch against us we made a reasonable start and set to work at making a Drascombe go upwind as best as possible. We seemed to be doing things right and were soon the leading boat in our class. Sadly the wind died a third of the way down the loch and the oars came out. Under a blazing sun we slogged our way over the glassed off water to the end of the loch finishing comfortably at the head of our group.
After a break to recover the Sail Caledonia team set a small triangular course in the basin. The task was to row one triangle, then sail a triangle, and then do a final row around it again. With a massed start of flailing oars and with bagpipes playing in the background the fleet set off. Chaos ensued at each transition from rowing to sailing and vice versa because when oars were not being used they had to be completely stowed and when sails were not being used they had to be fully furled. With three sails on two masts this was a lot of work to do while at the same time someone had to keep rowing and also keep the boat on line in traffic. A totally shambolic and wonderful event that got us well and truly warmed up. Then it was into the lock to take us up another two levels in the canal and another dampening with rain.
In the unlikely event you have been staying up all night following our tracker don't bother. The batteries are flat. We should have some fresh ones the day after tomorrow.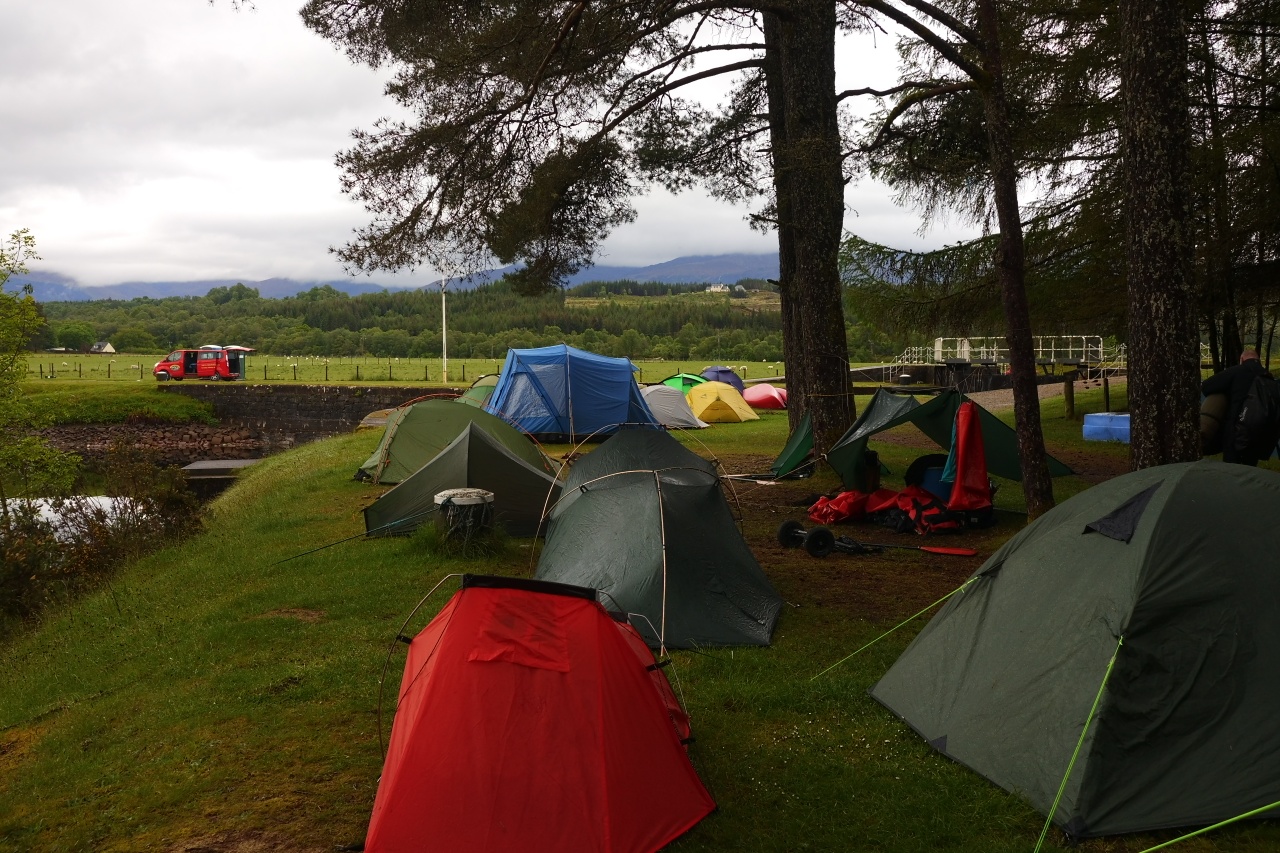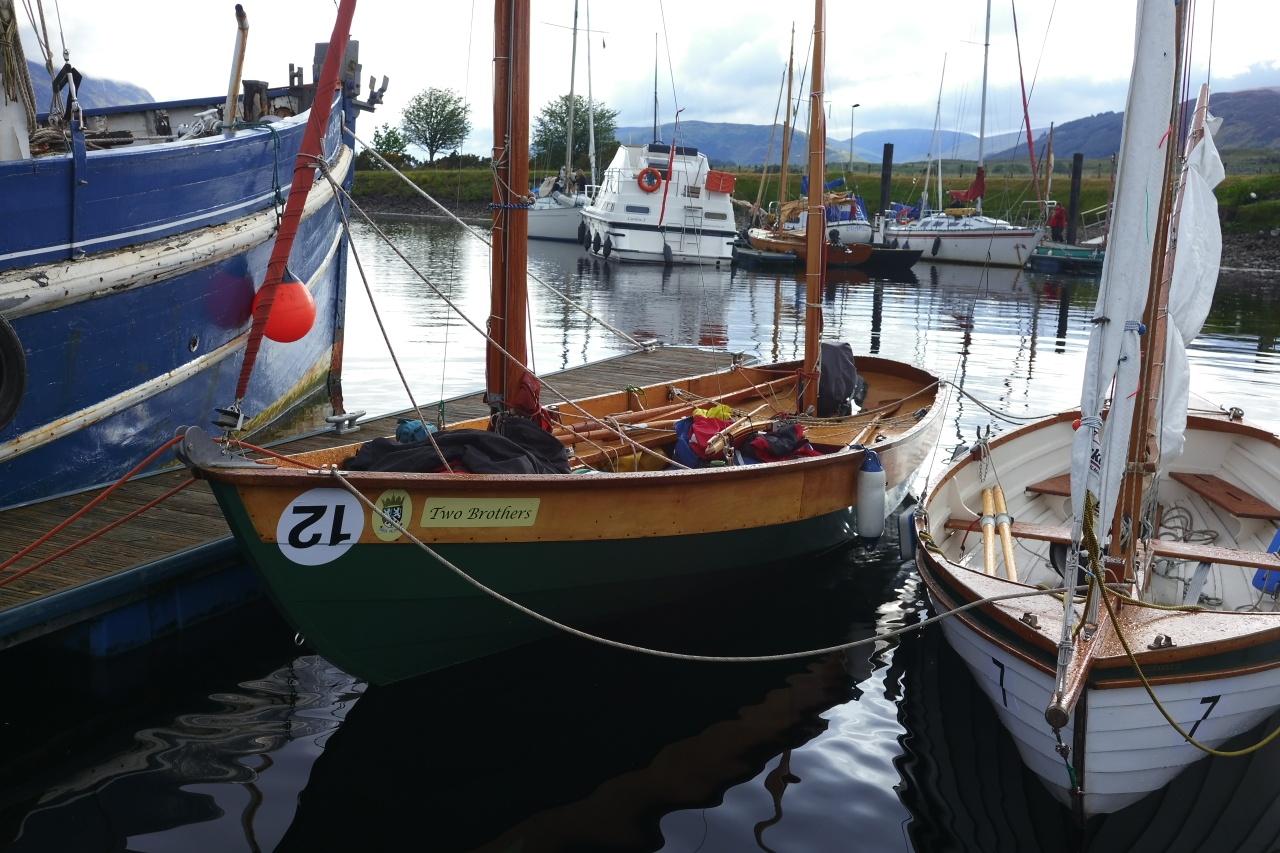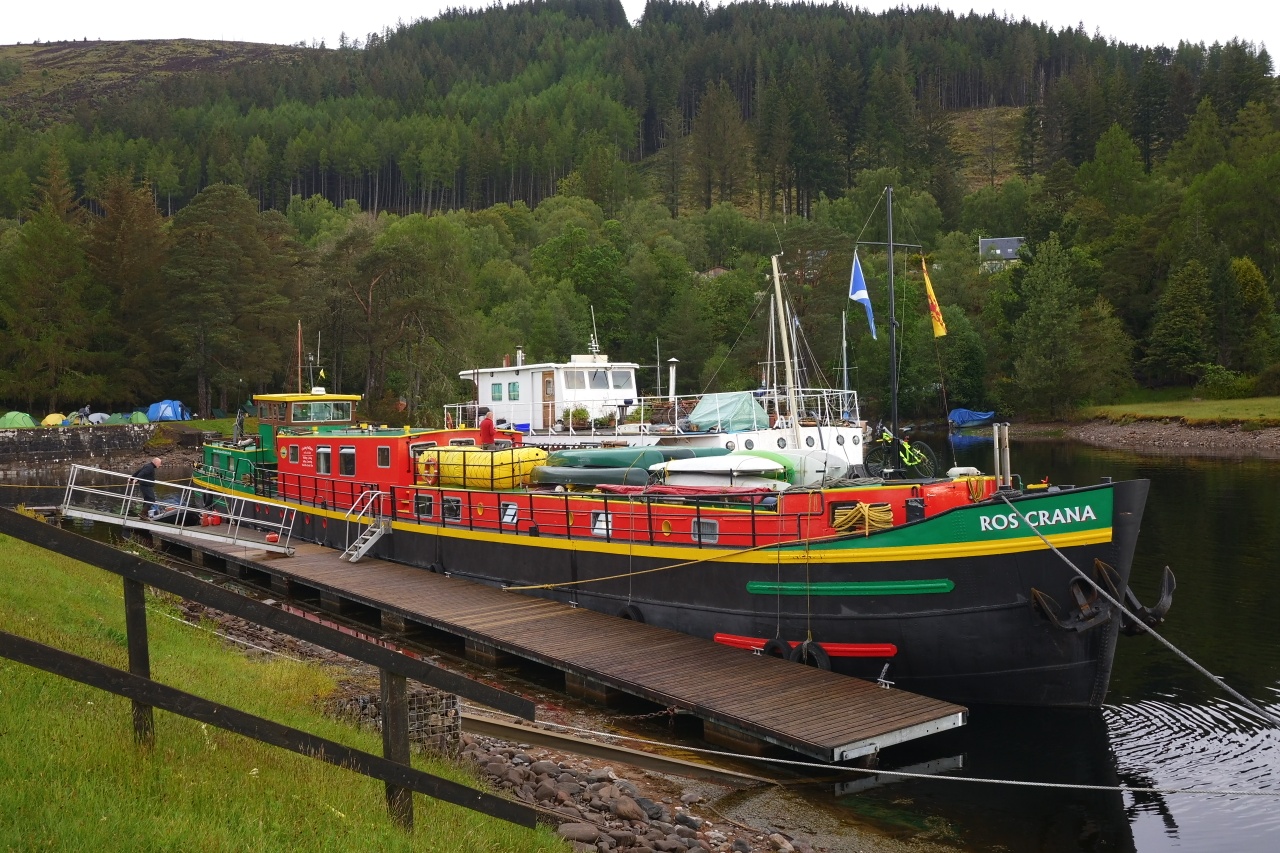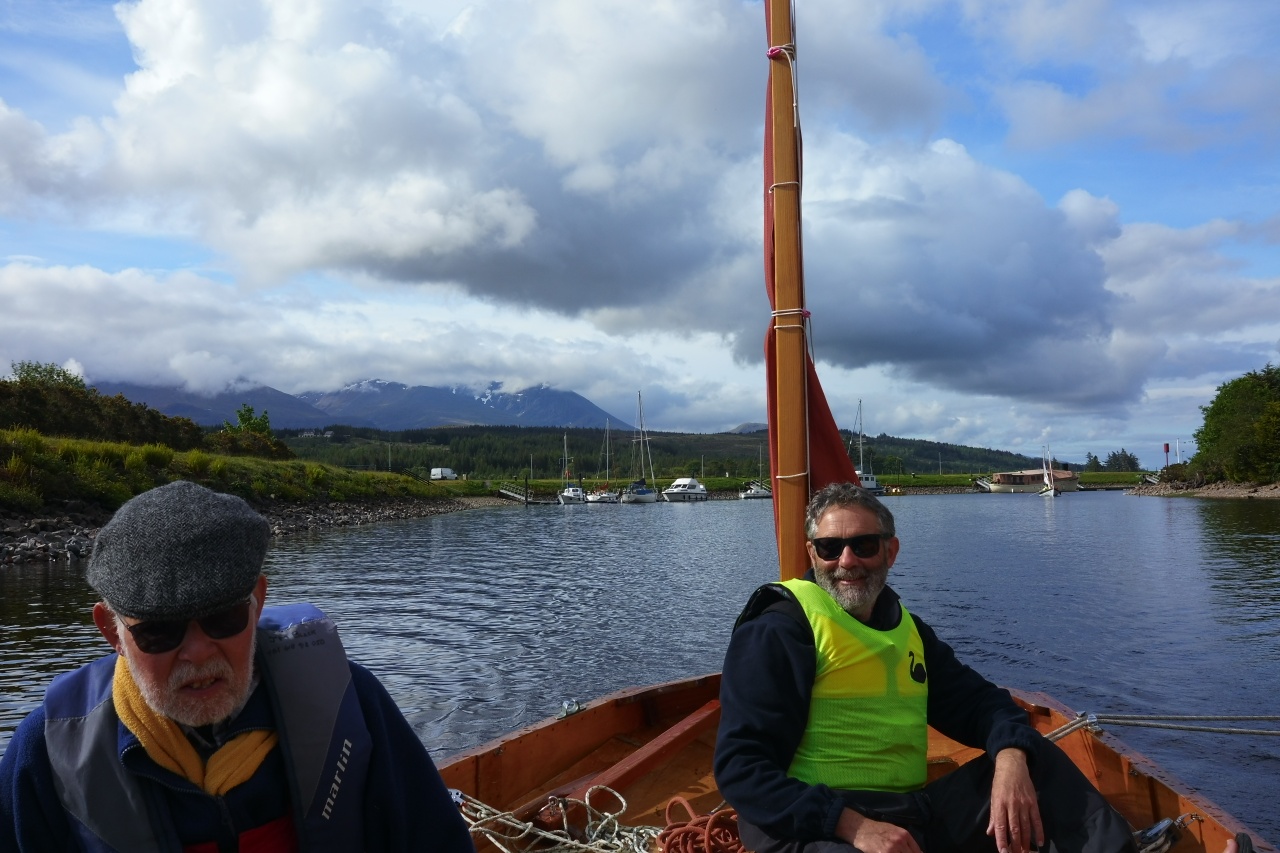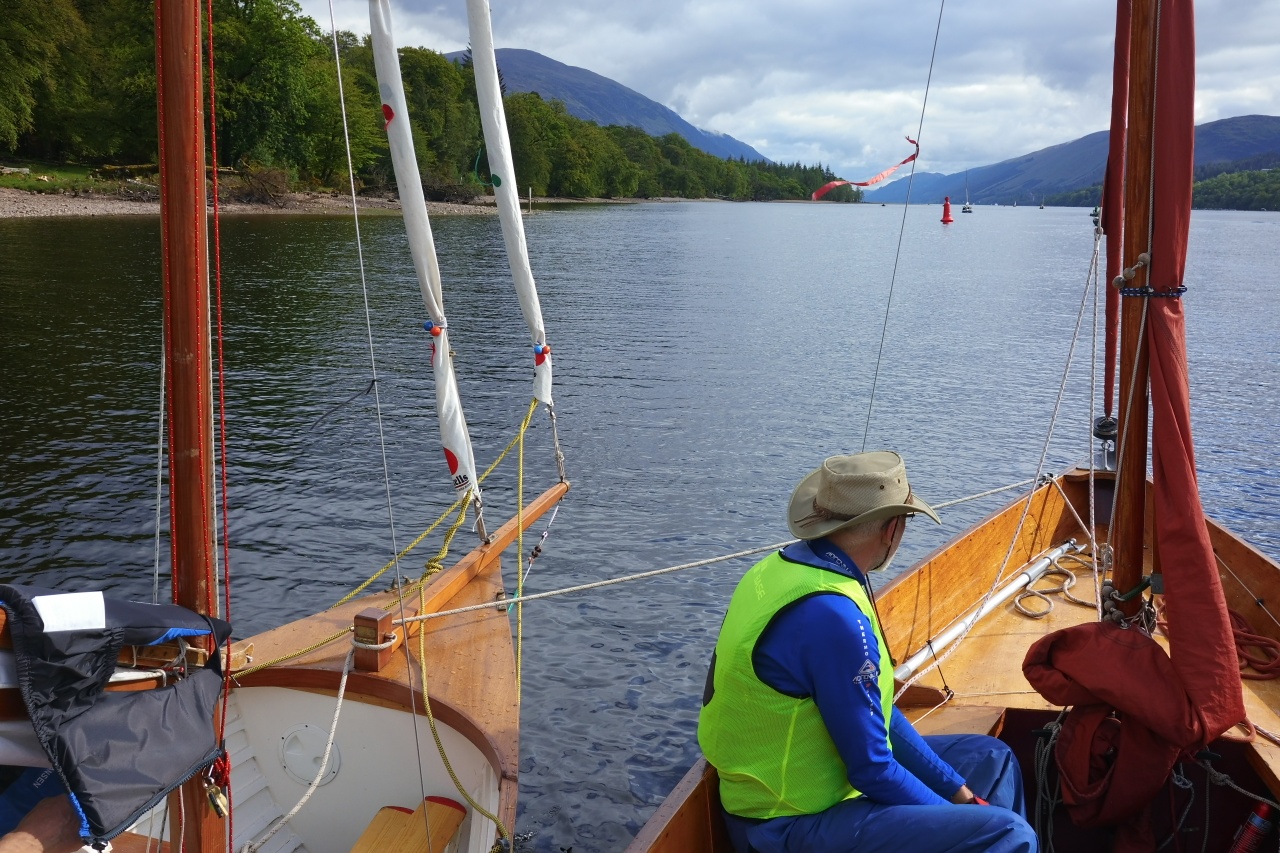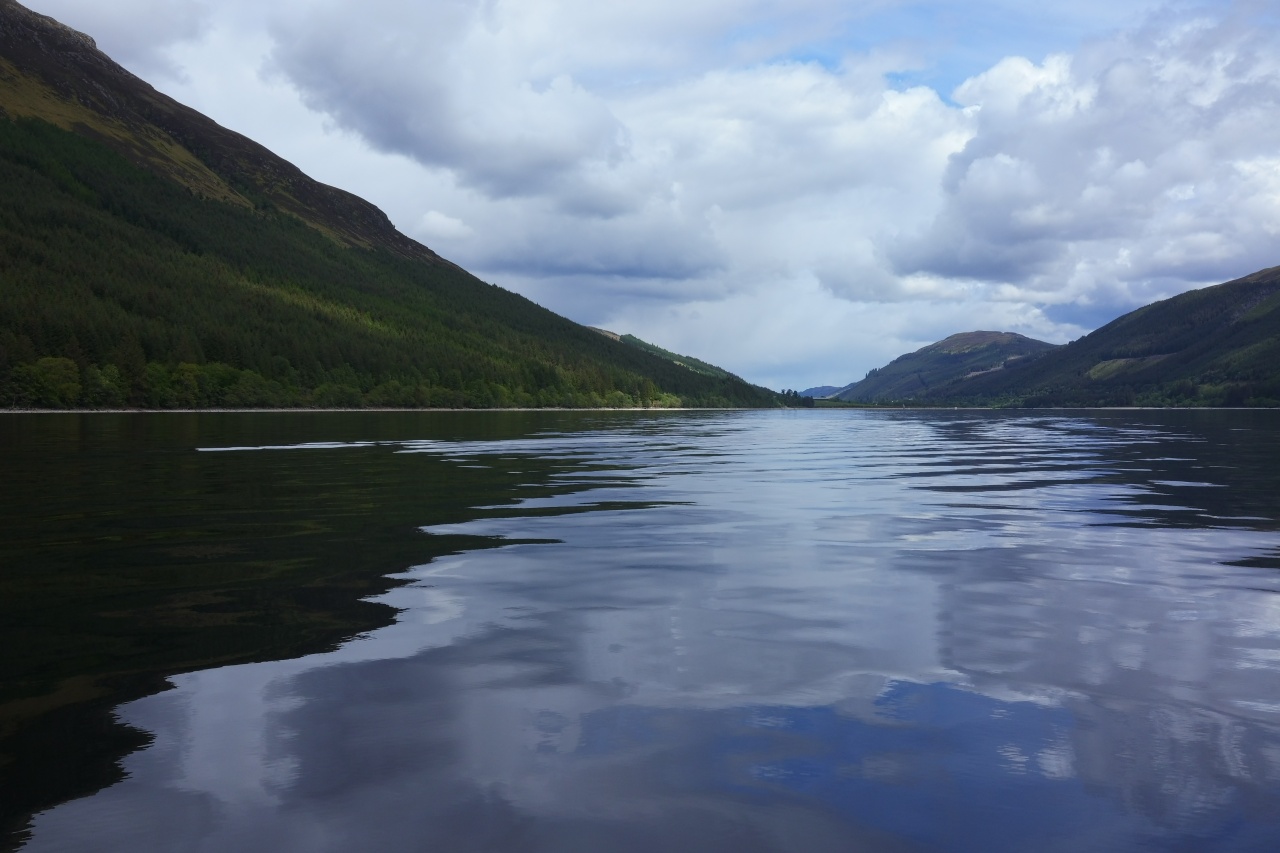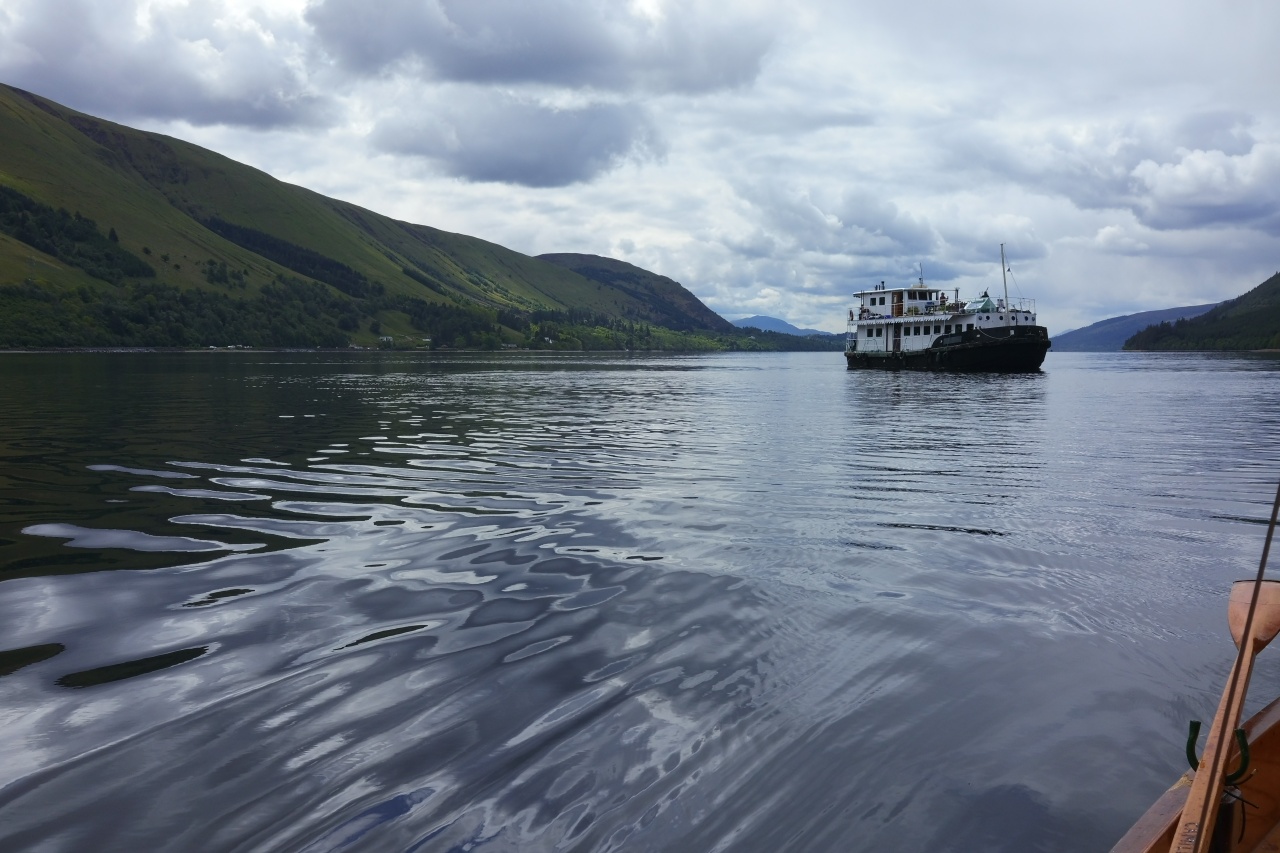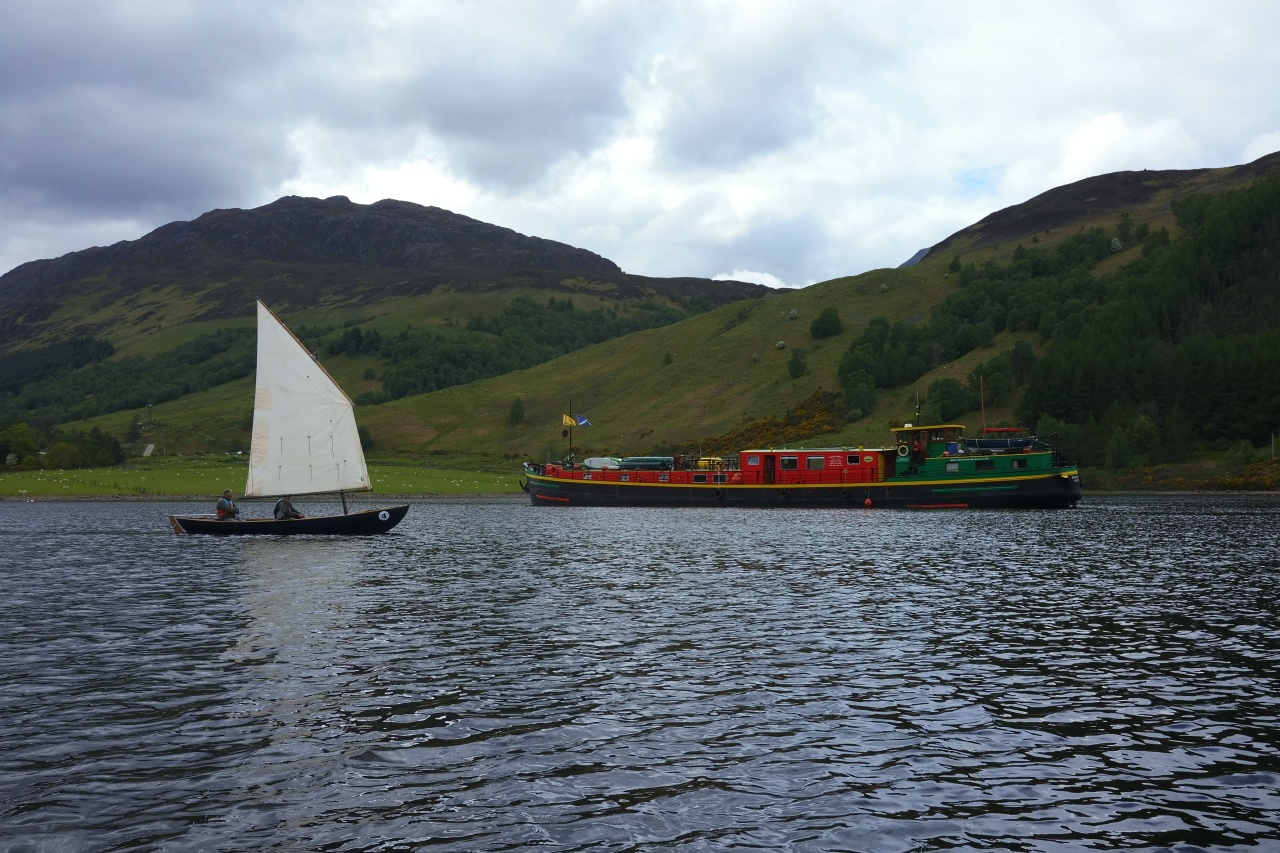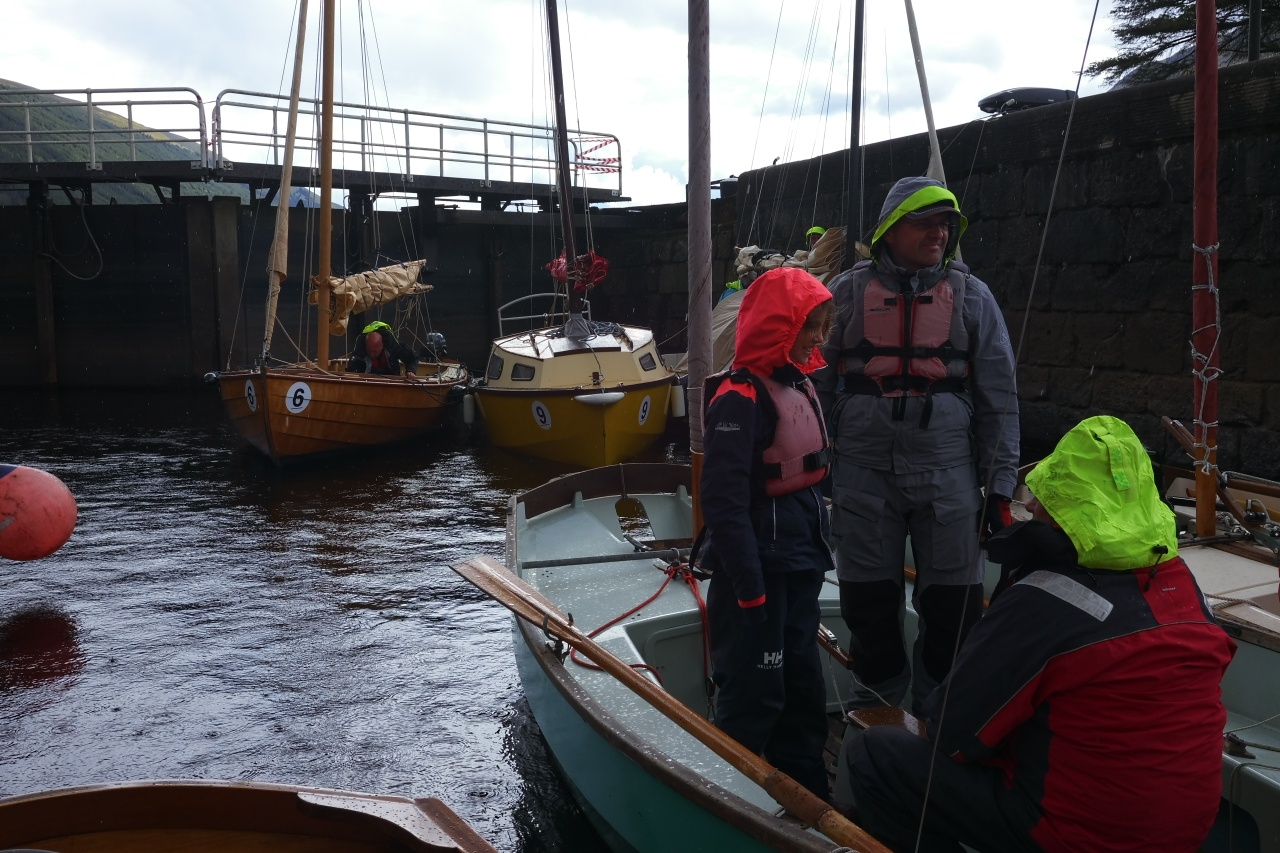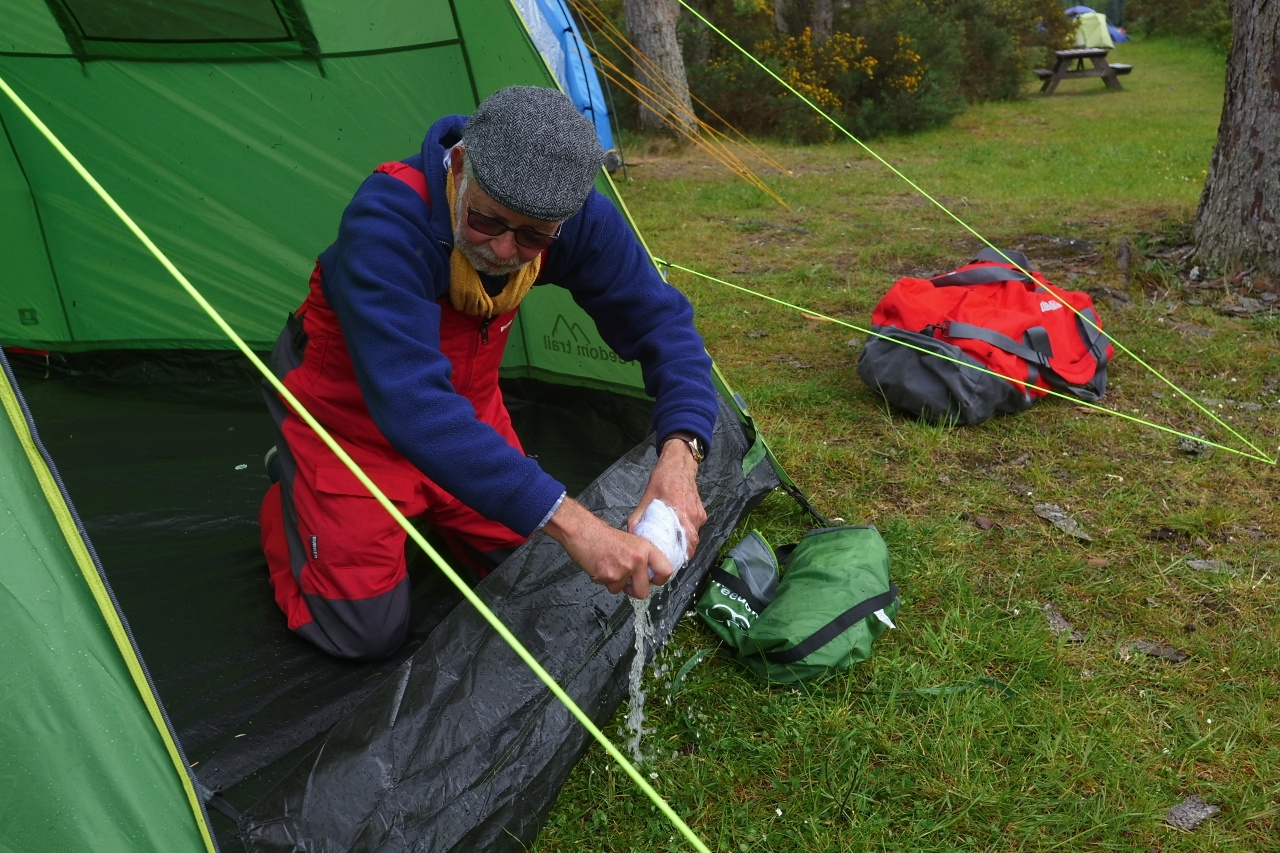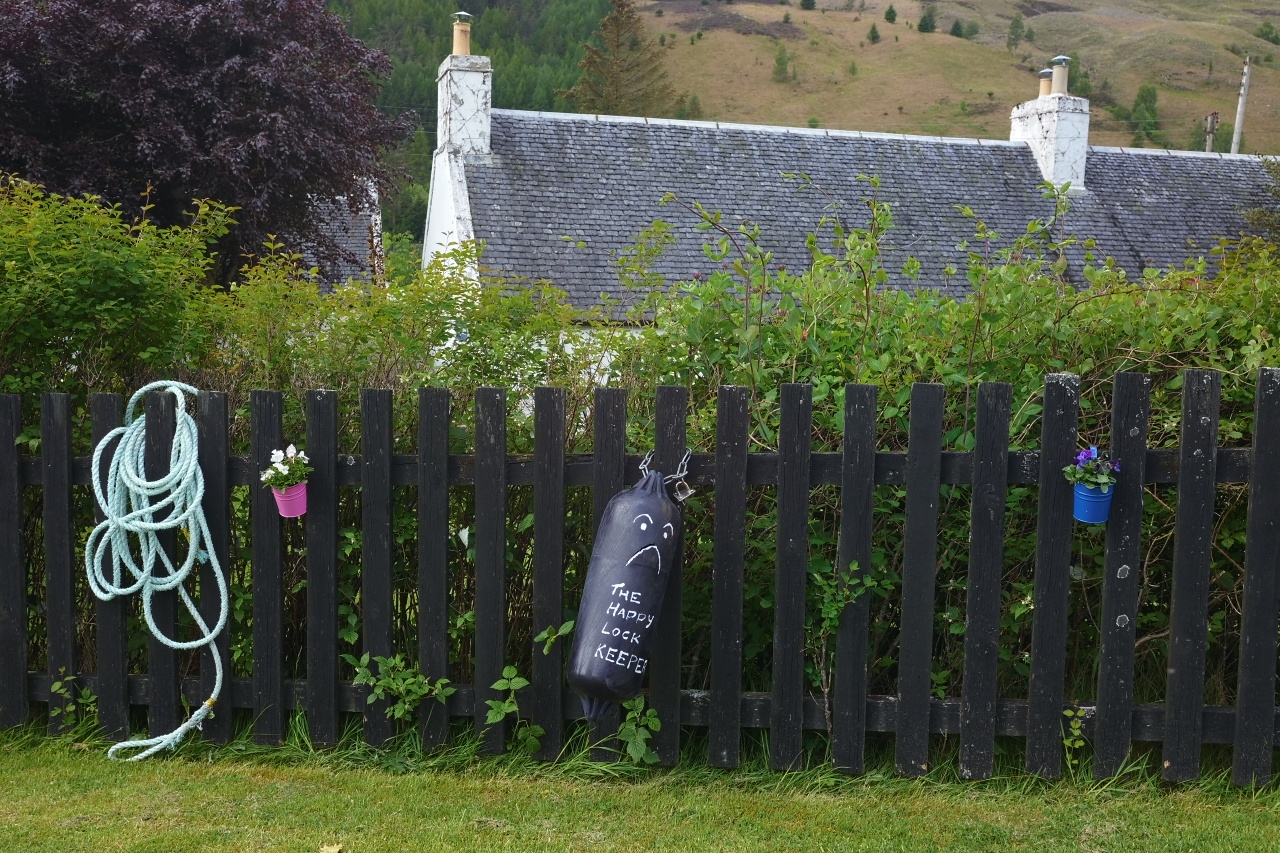 Day 4: Hail
Short report today because it's late as we have just finished a wonderful dinner at a hotel in Fort Augustus where we are spending the night to give ourselves a holiday from our damp tents. The forecast for tonight is for it to go down to 1 degree so we are pleased to be in our cosy beds.
Amazing day today starting with a motor down a very beautiful tree lined section of canal in to Loch Oich where we were hoping to have a race but there was no wind so we motored down to the middle of the Loch and started our race in no wind there. The course was to be two triangles. Gently the breeze did fill in and then came in awkward puffs that ended up making most of the triangle legs upwind. While this was happening rain started to fall which then turned into hail. Fortunately this did not last too long before things lightened up and bits of sunshine came through again. The committee took pity on the fleet and shortened the course to one triangle. The next mission was a short rowing pursuit race where we came in fourth. Then it was time to dress our boats for the highlight of the day. With bagpipes playing and tourists lining the lock walls we descended the five locks to Fort Augustus and Loch Ness. Our piper even played Waltzing Matilda and some Men at Work as we went past!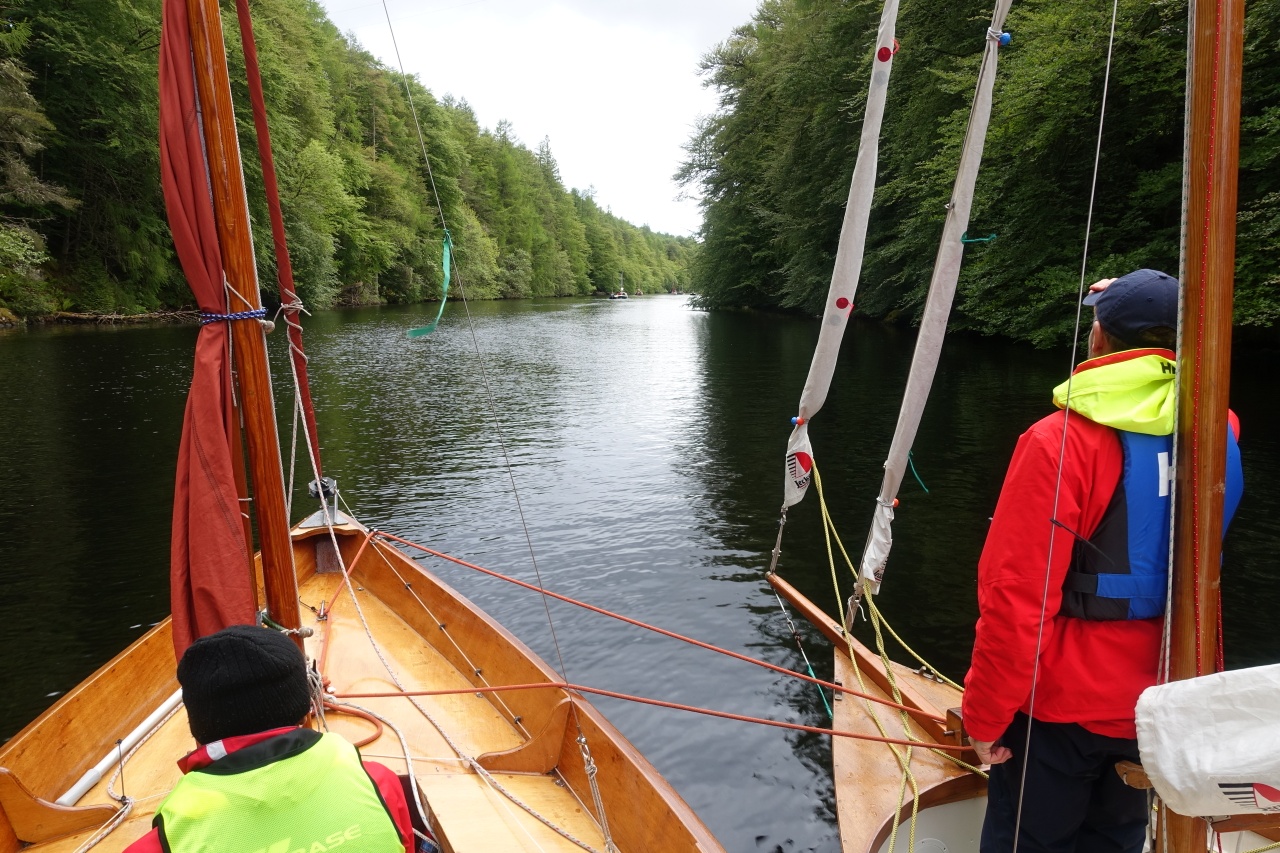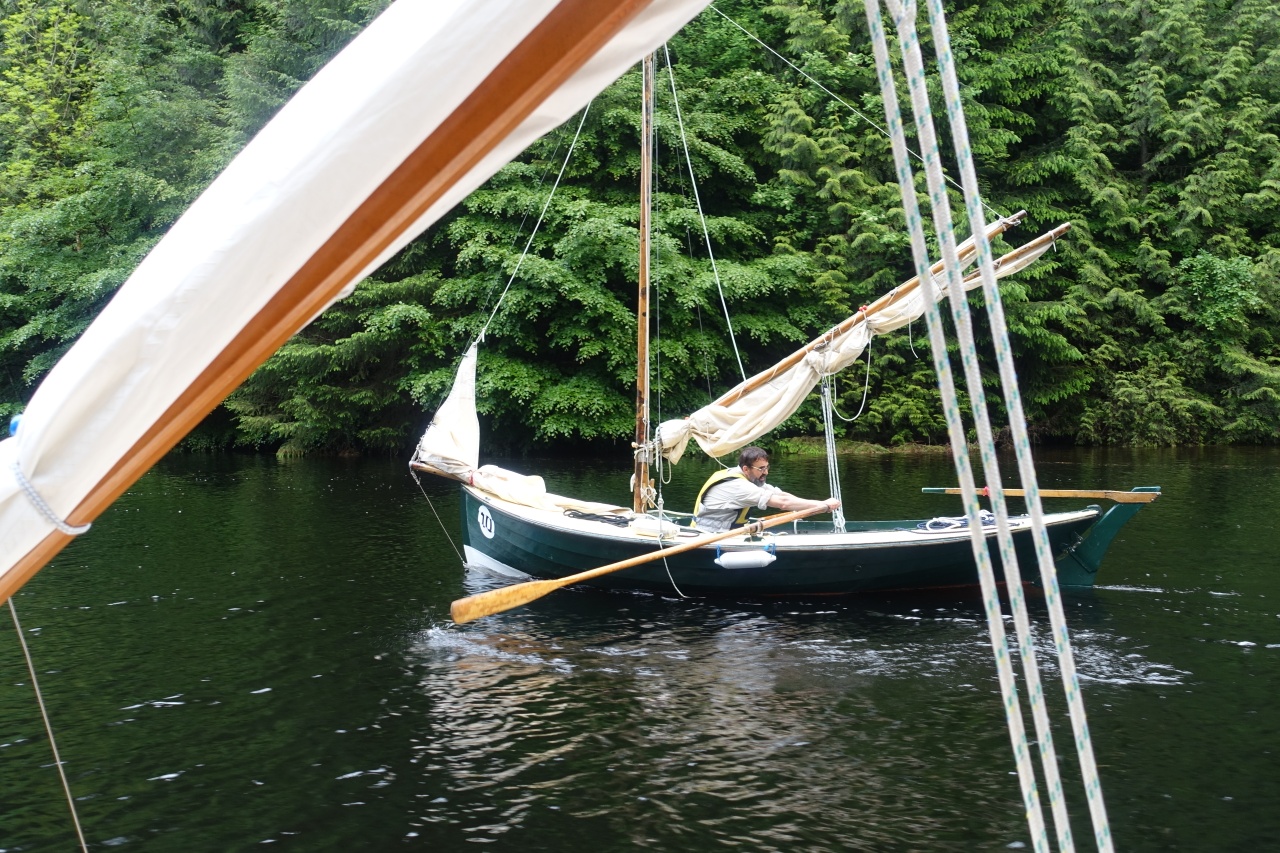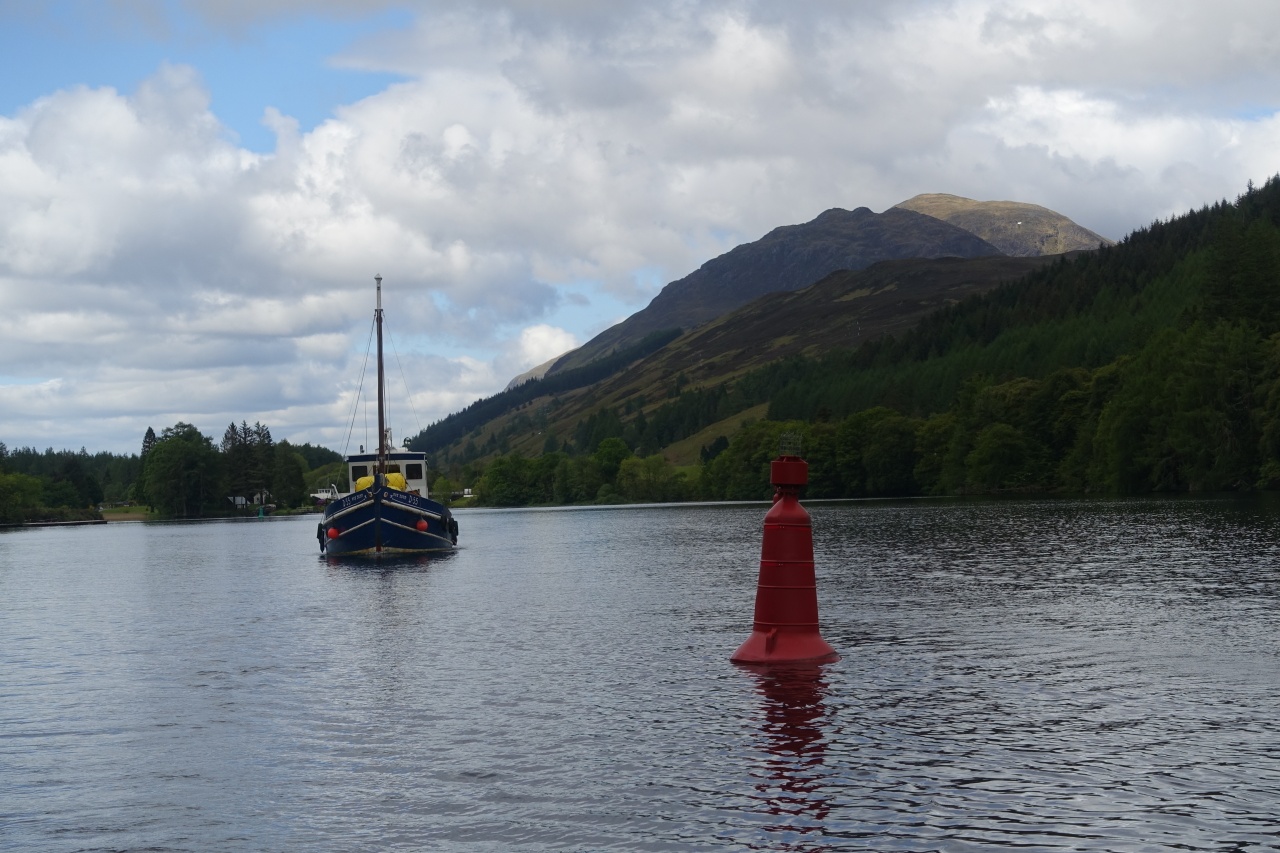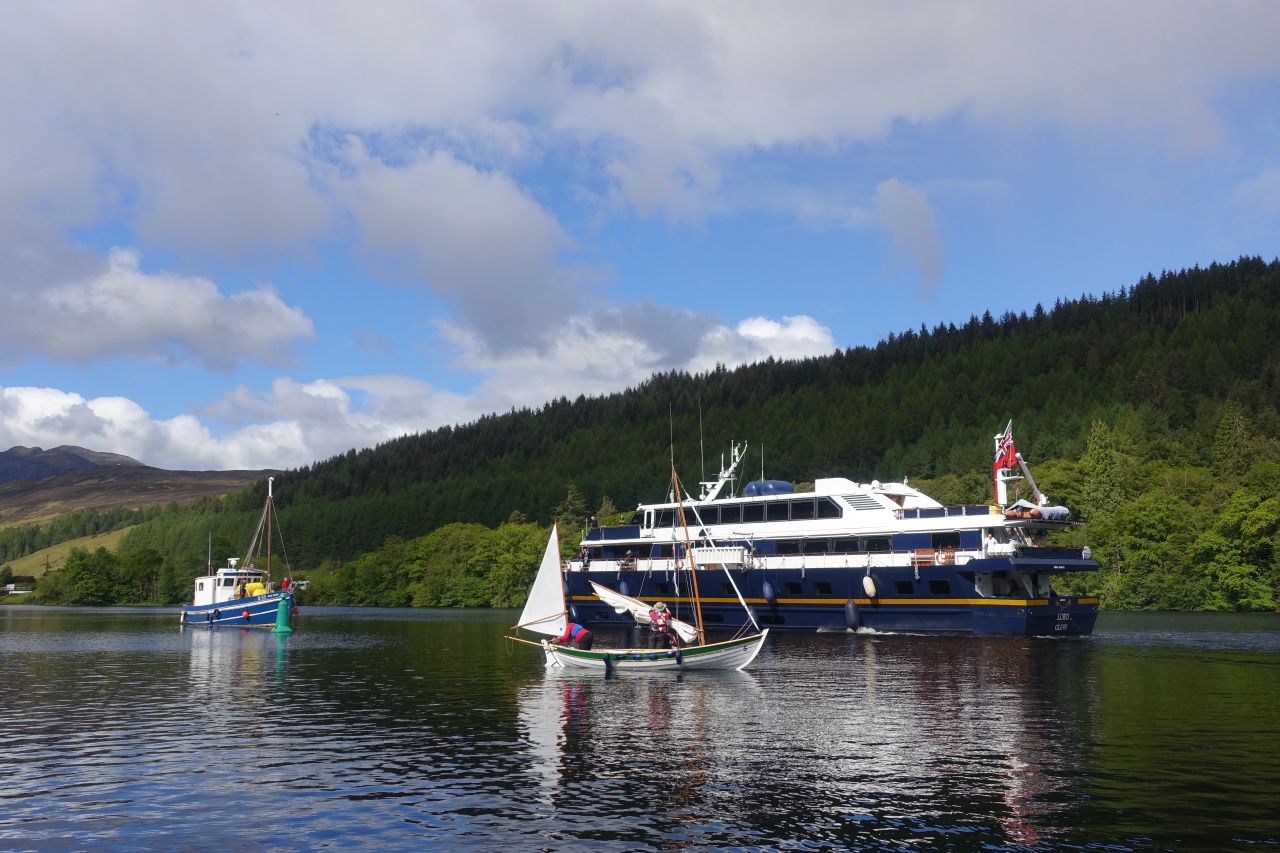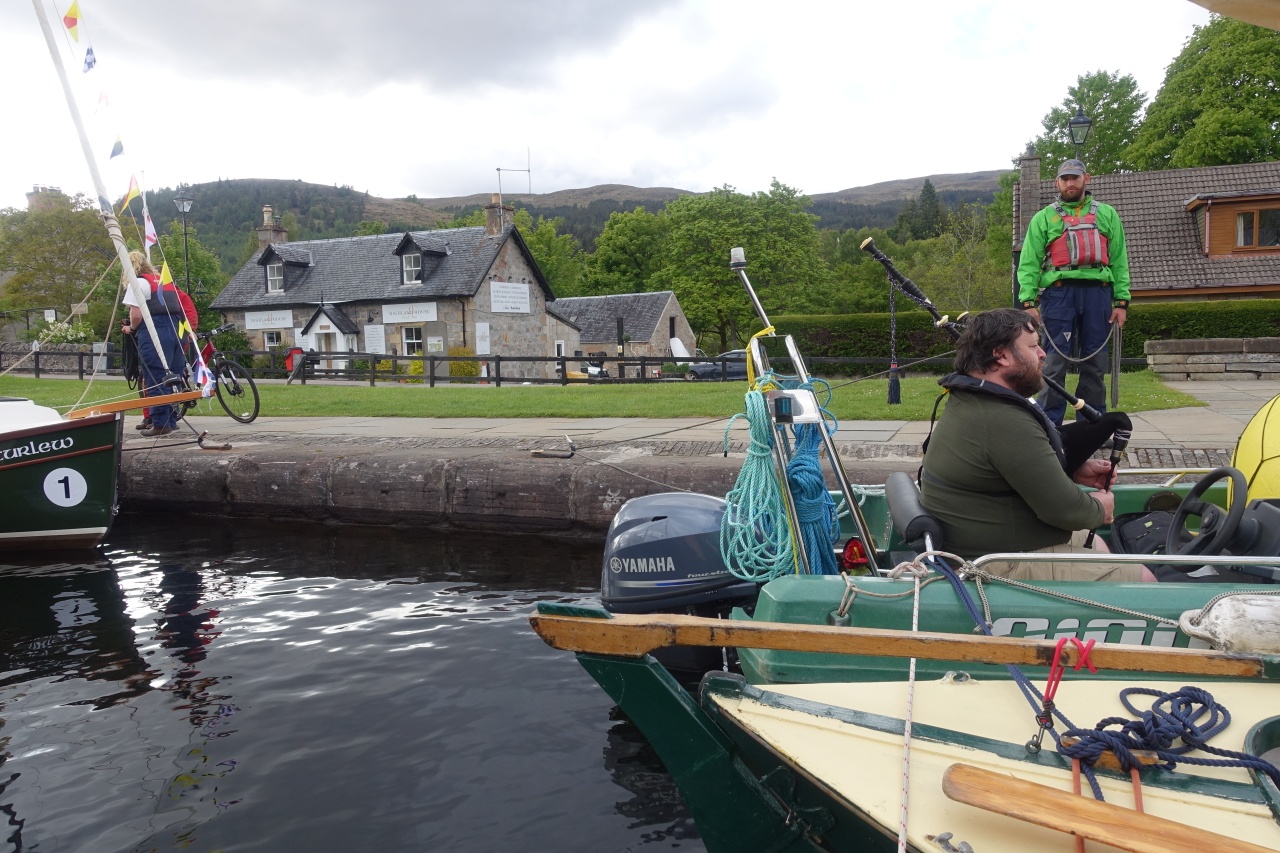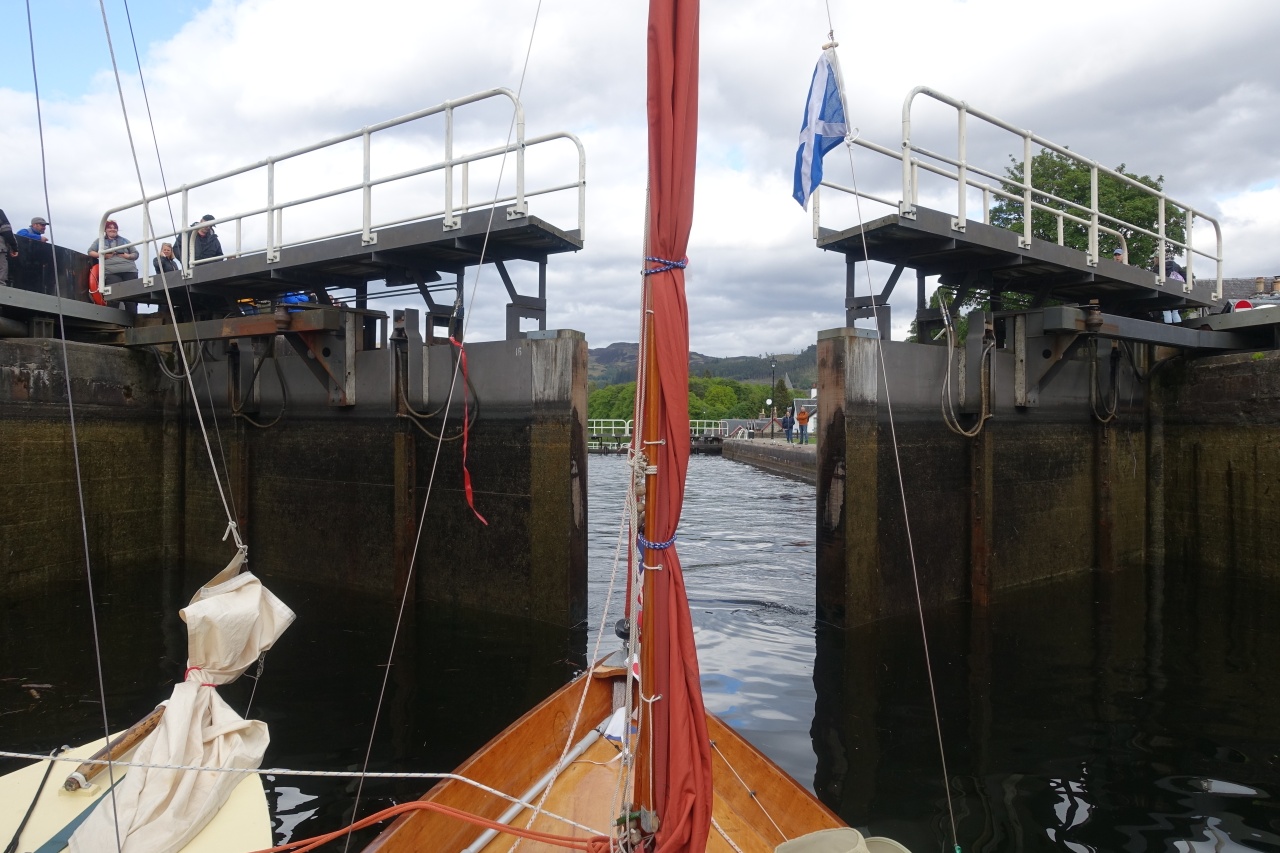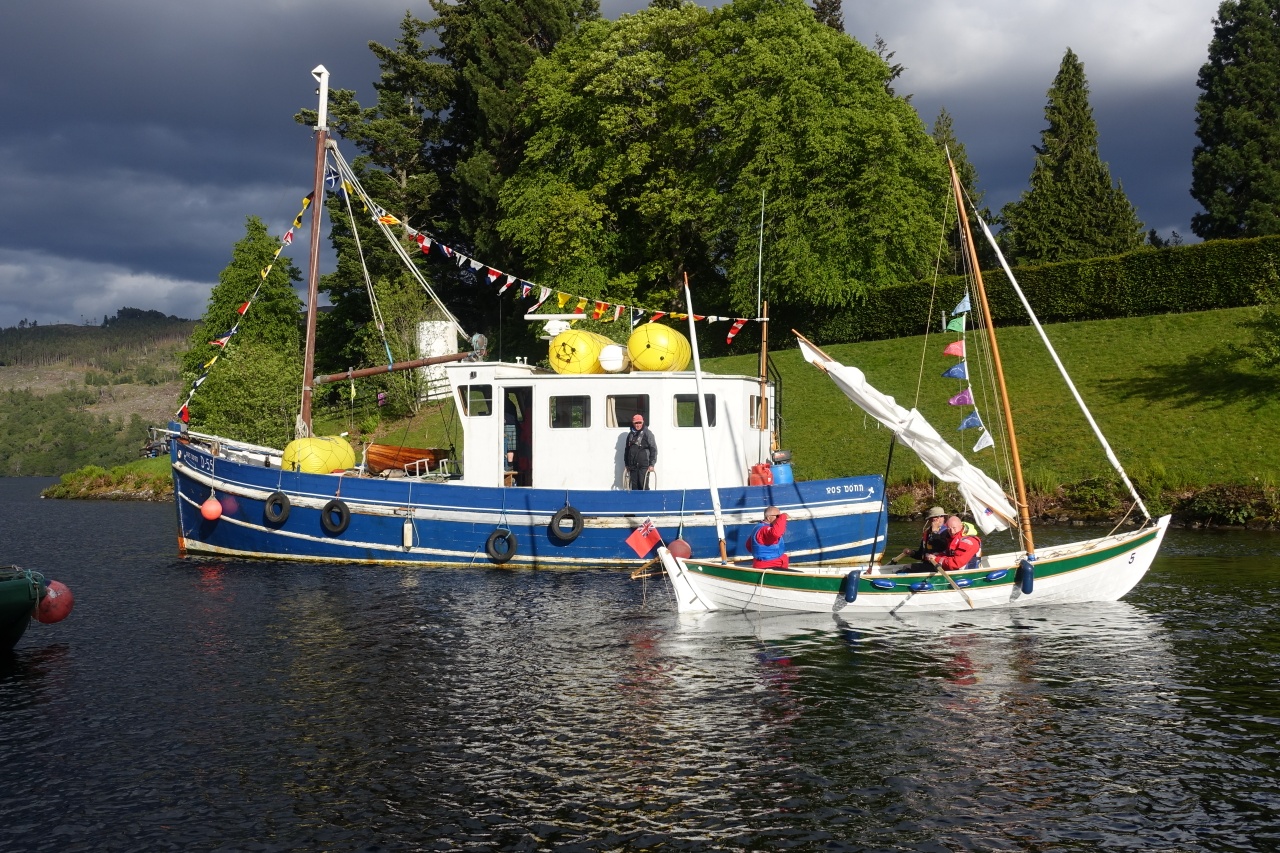 Day 5: Loch Ness Part 1
It was a good night to have spent in a hotel. We received reports of ice on tents this morning. Despite the cold start we had a beautiful sunny morning for the start of our race to Foyers Bay half way down the South side of the loch. With a gentle SW breeze we set off down the loch. Gradually the breeze built to 12 to 15 knots giving us a great ride down through the stunning scenery. At Foyers we had to do two laps between buoys on each side of the loch to give us a bit of close hauled work and some splashes of cold loch water. Our boats are now nestled in the banks of a small creek awaiting our run to the end of the loch tomorrow. Looks like we will have a light NE wind against us and some rain tomorrow.
Our tracker has some fresh batteries again.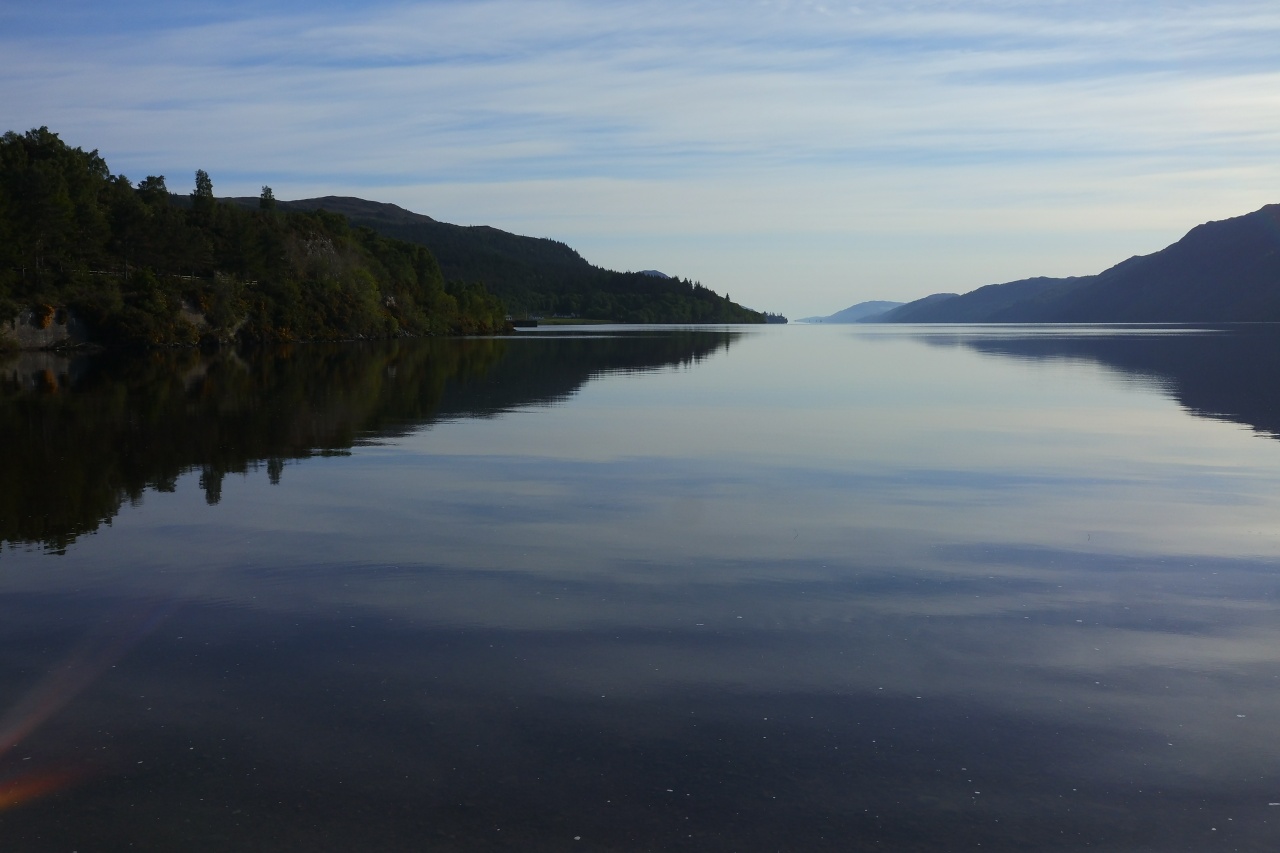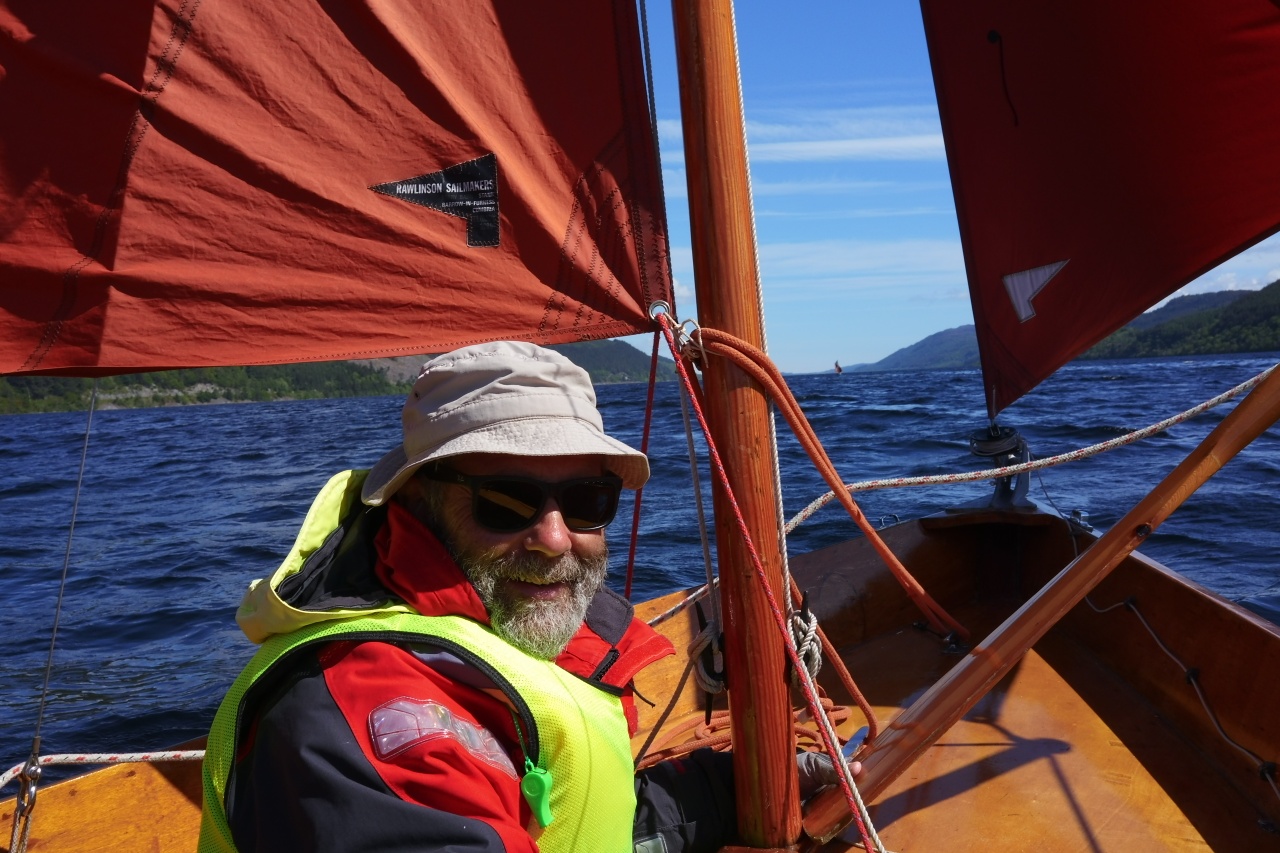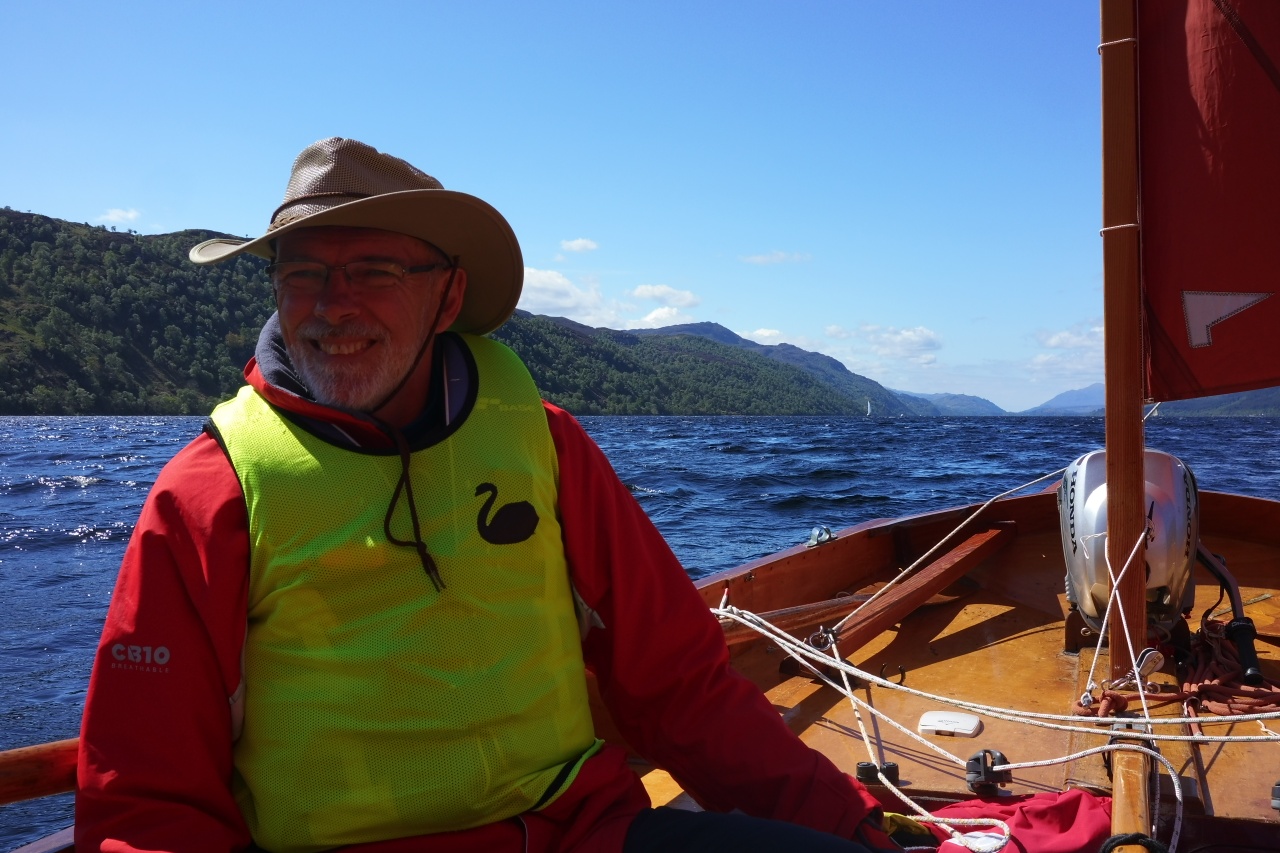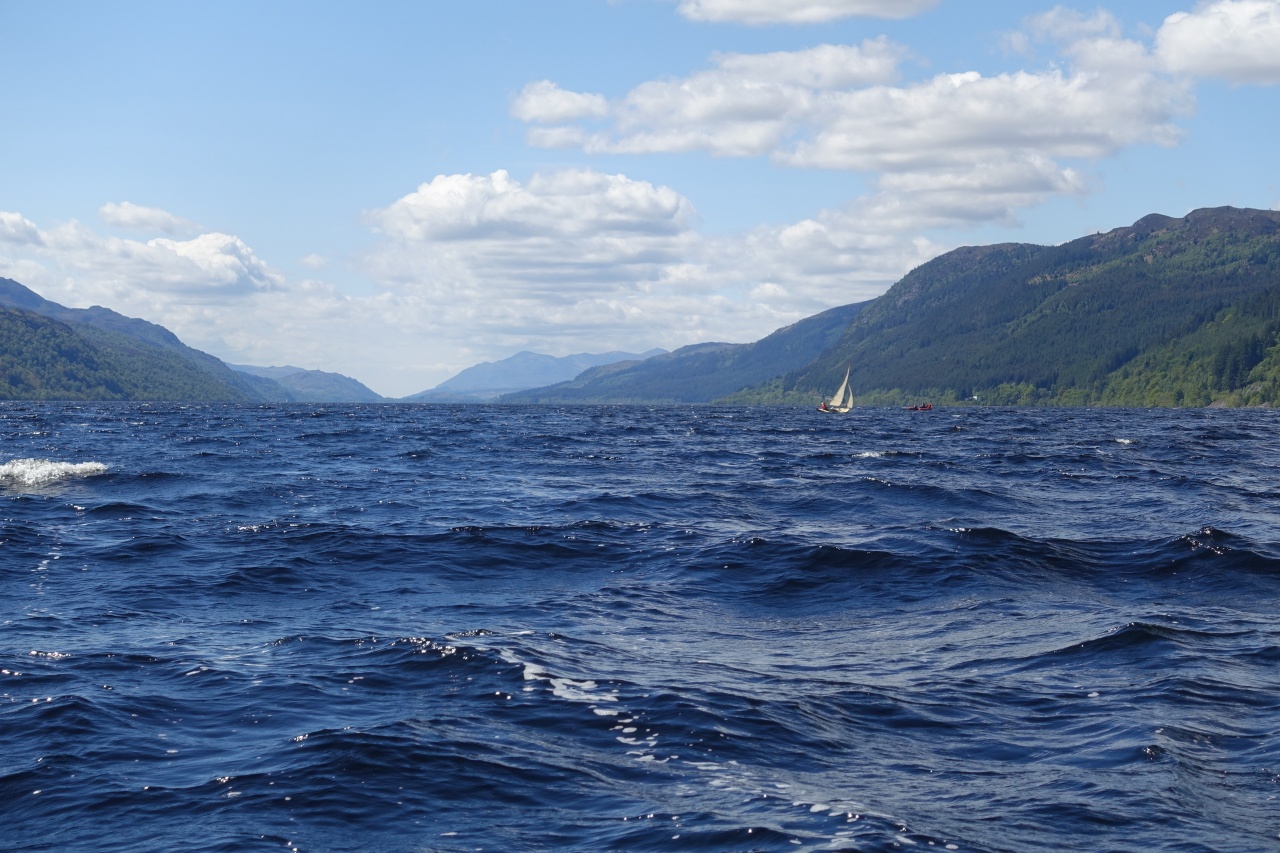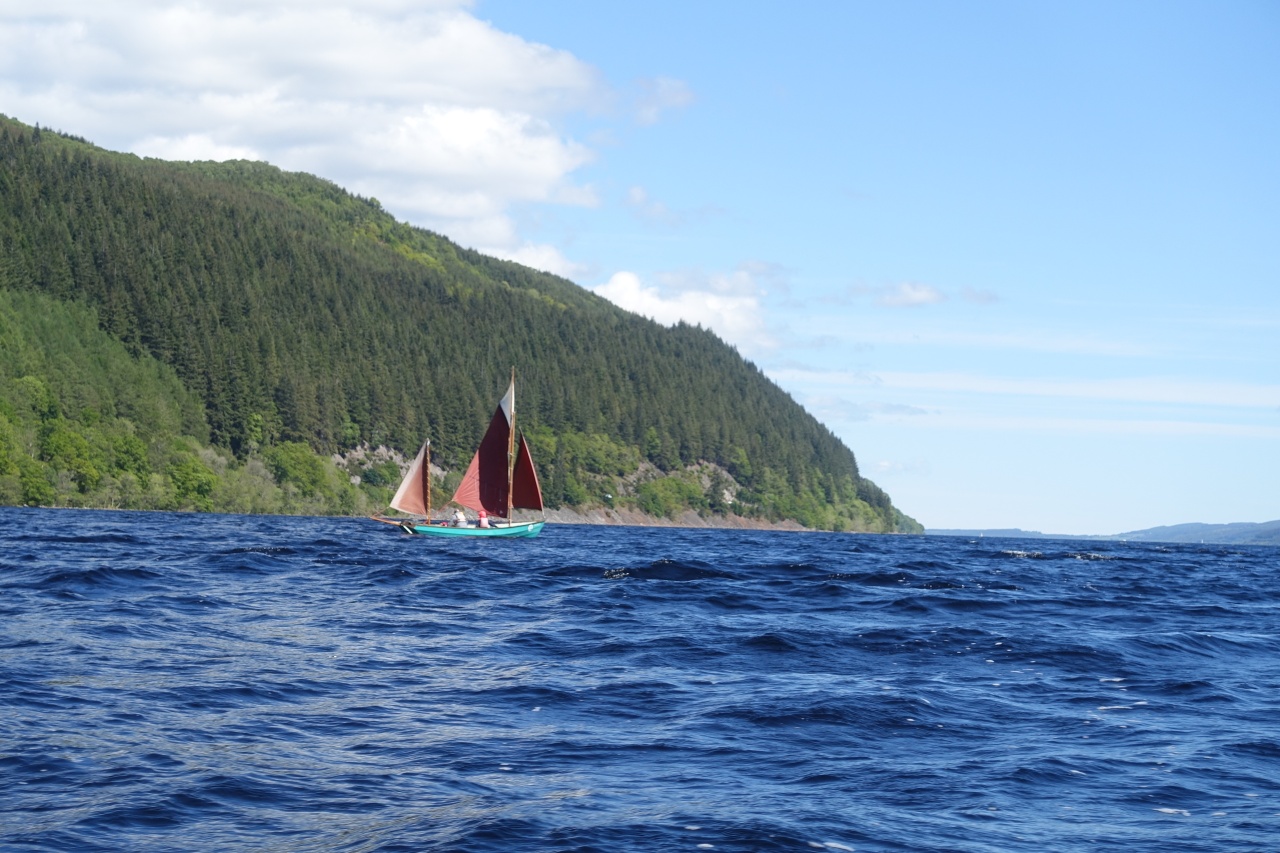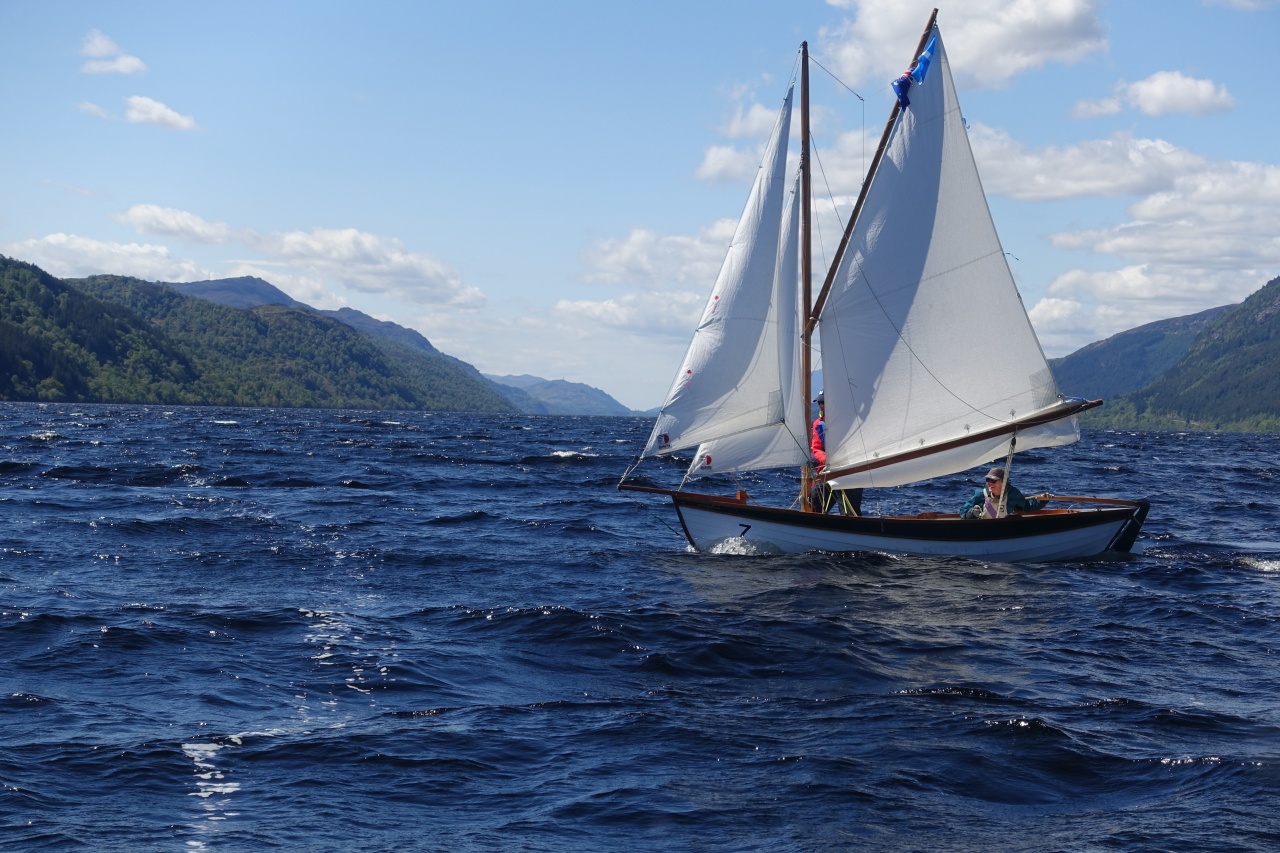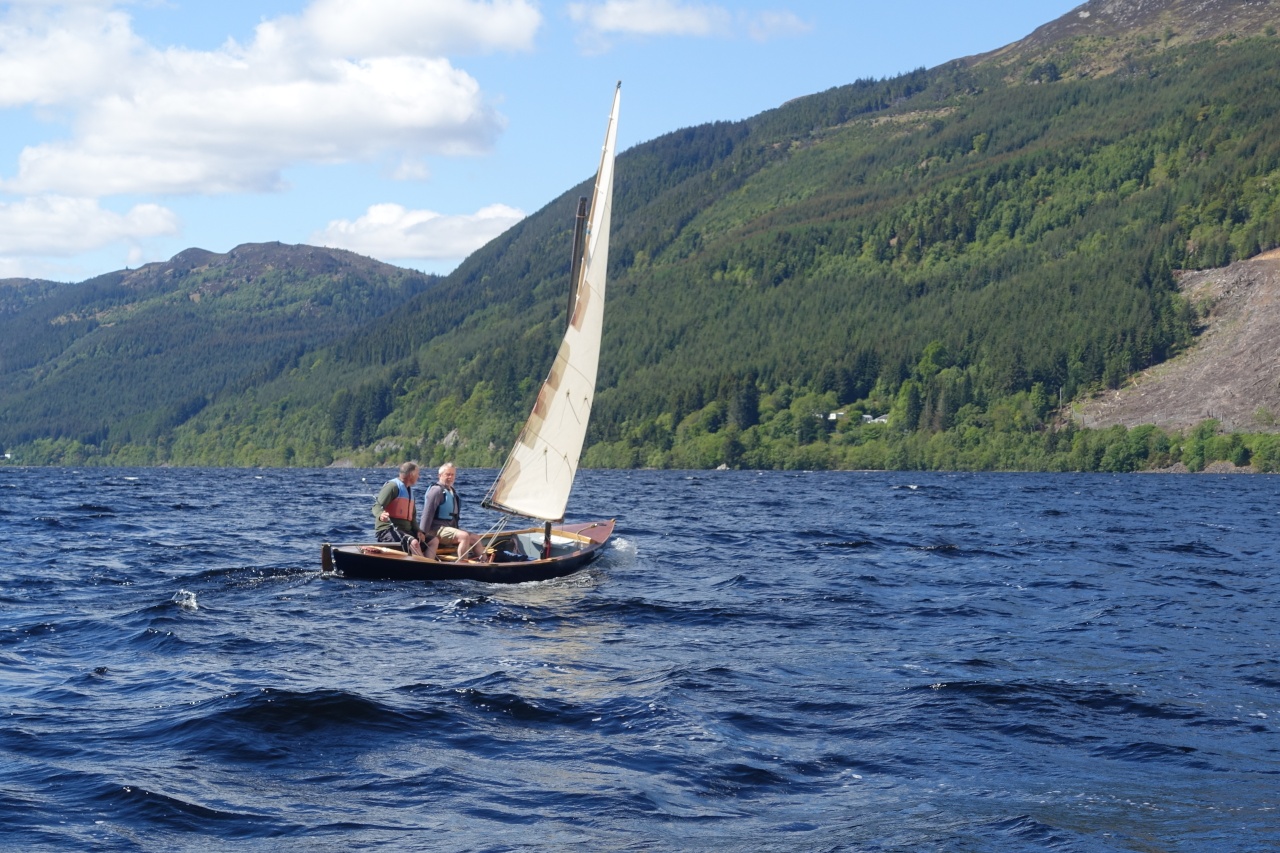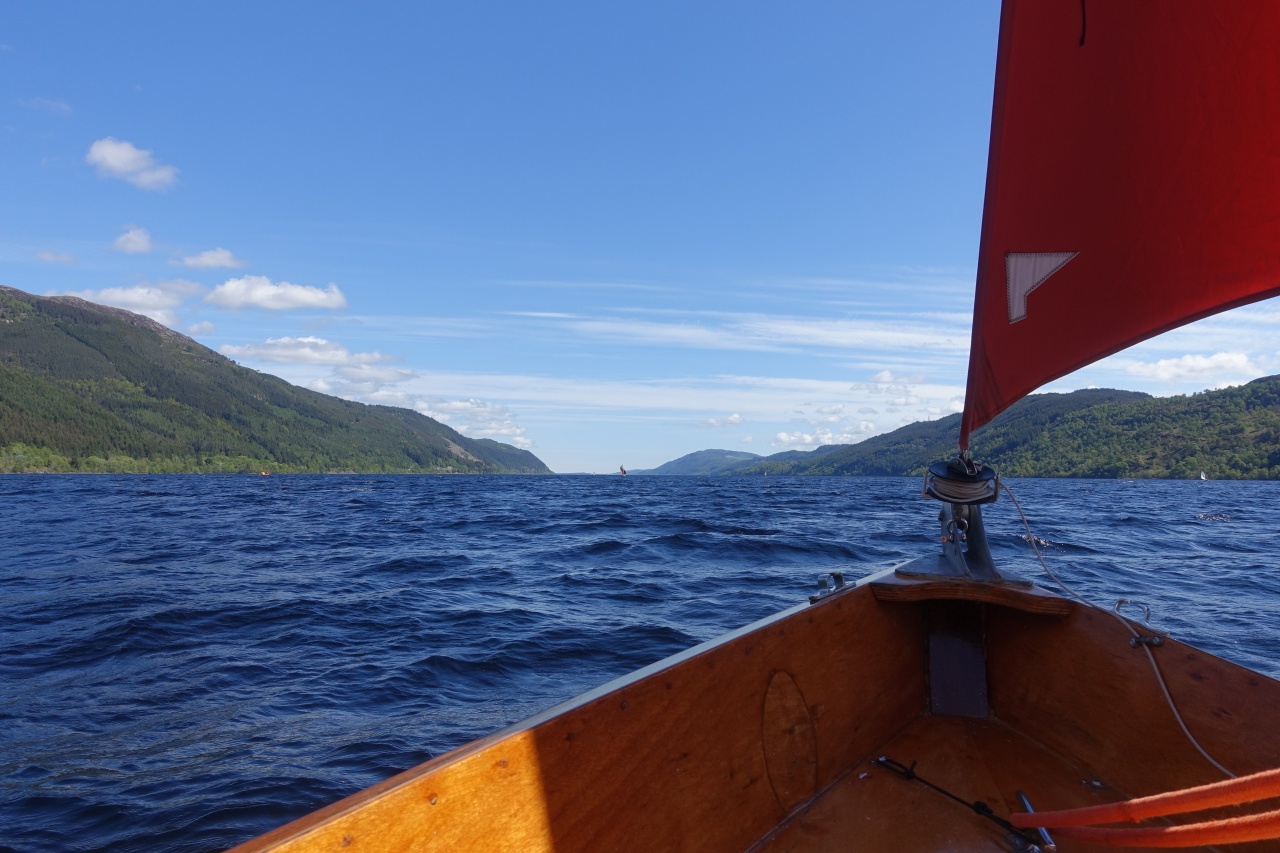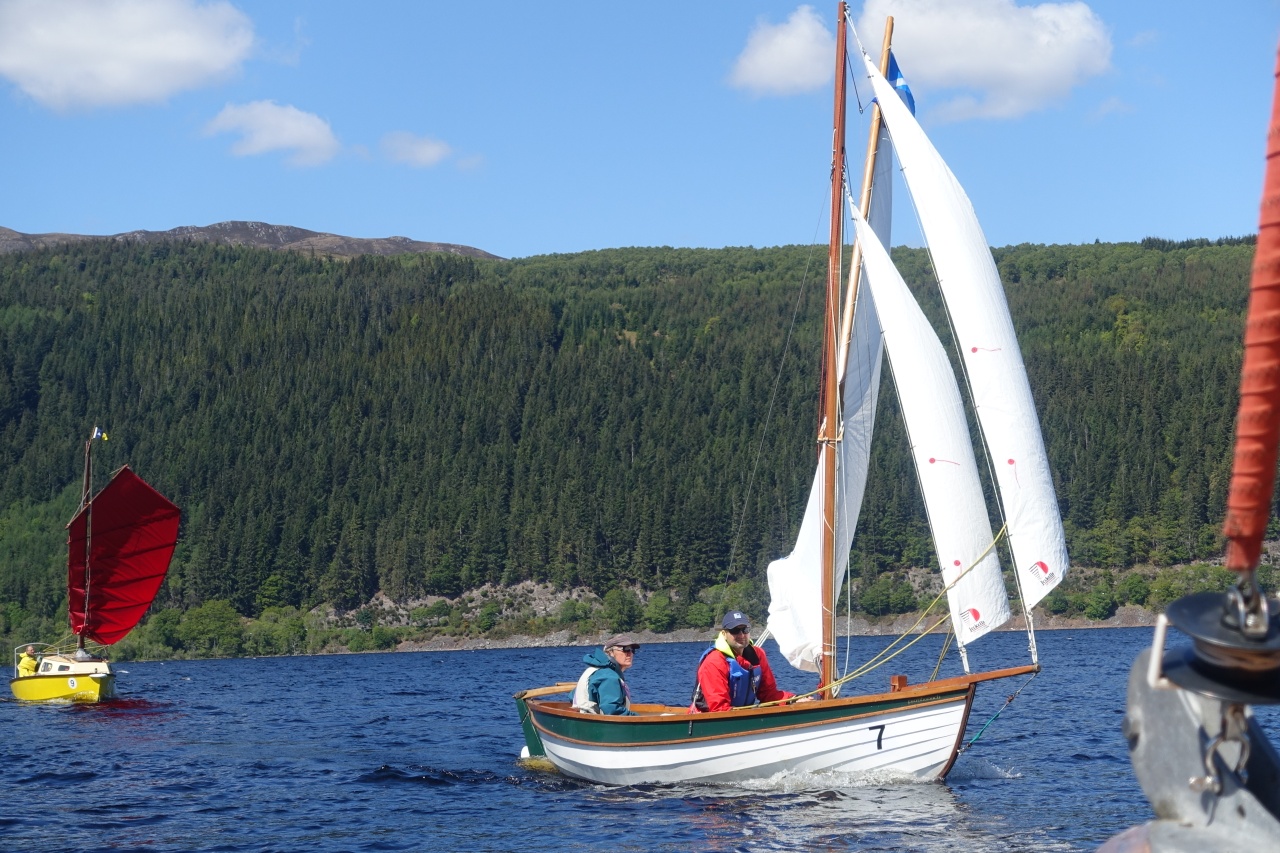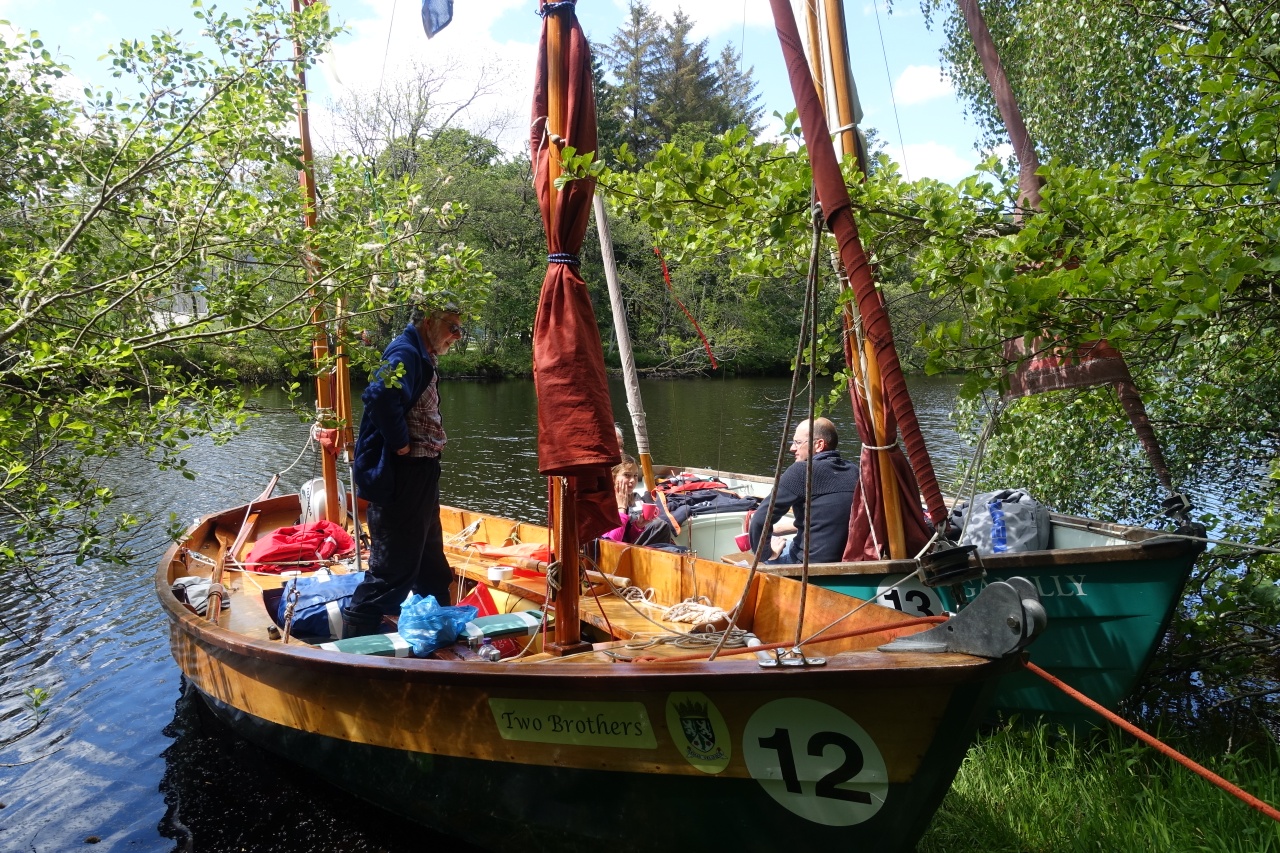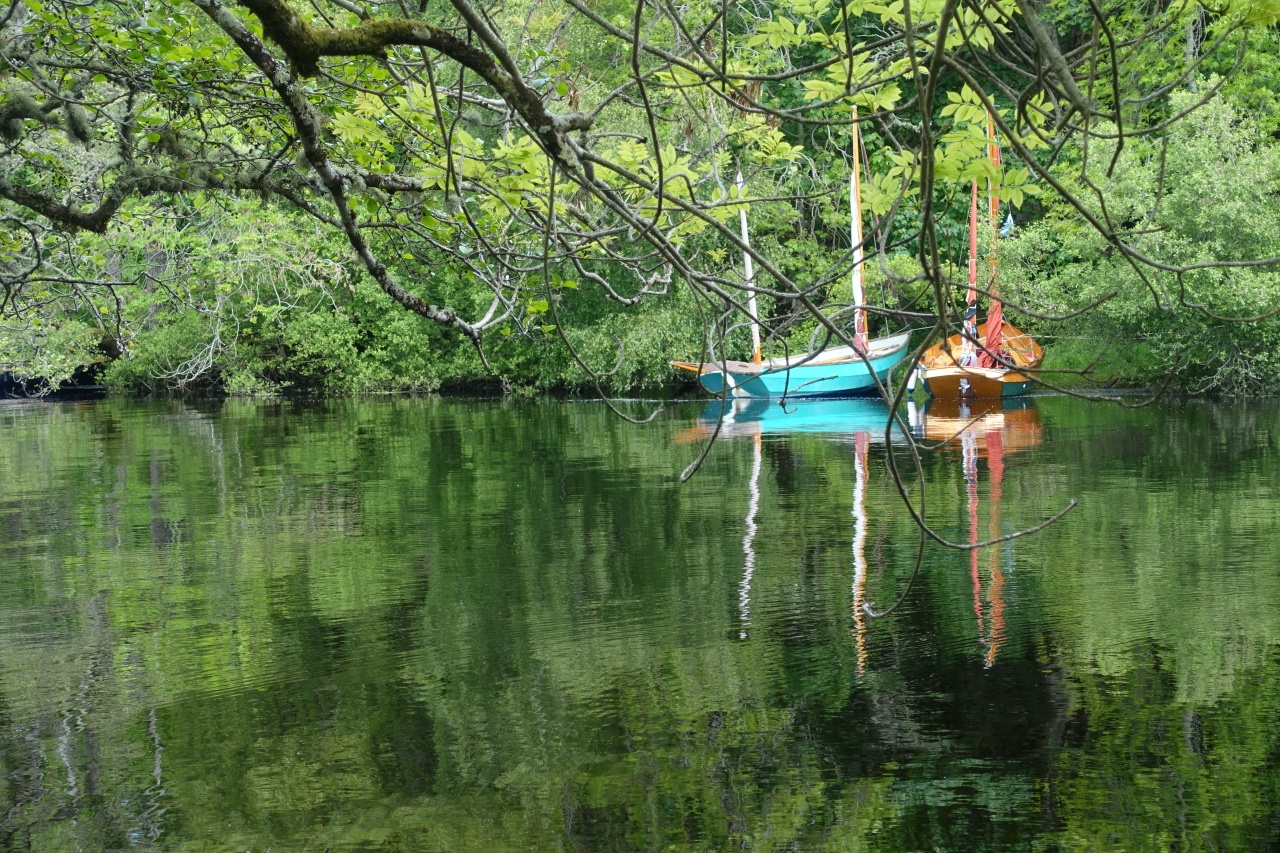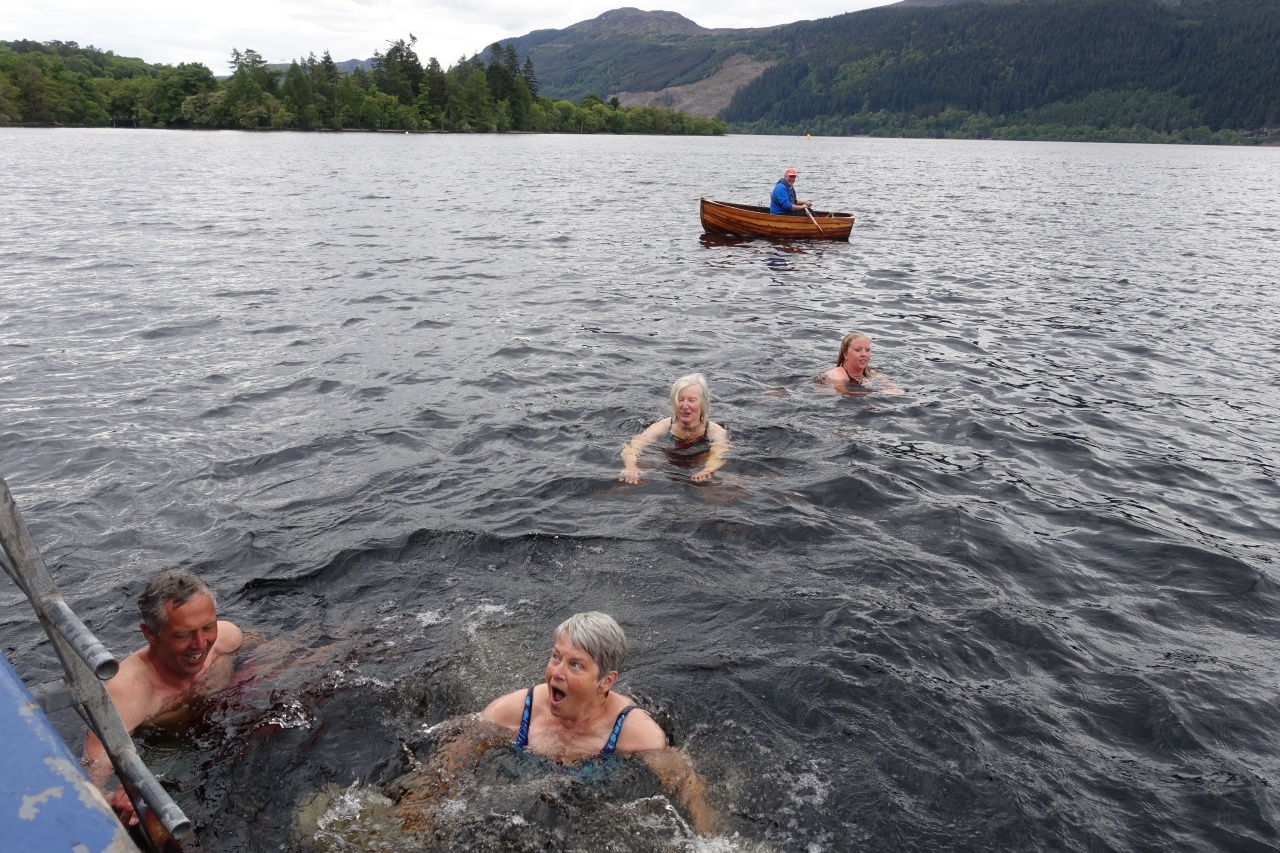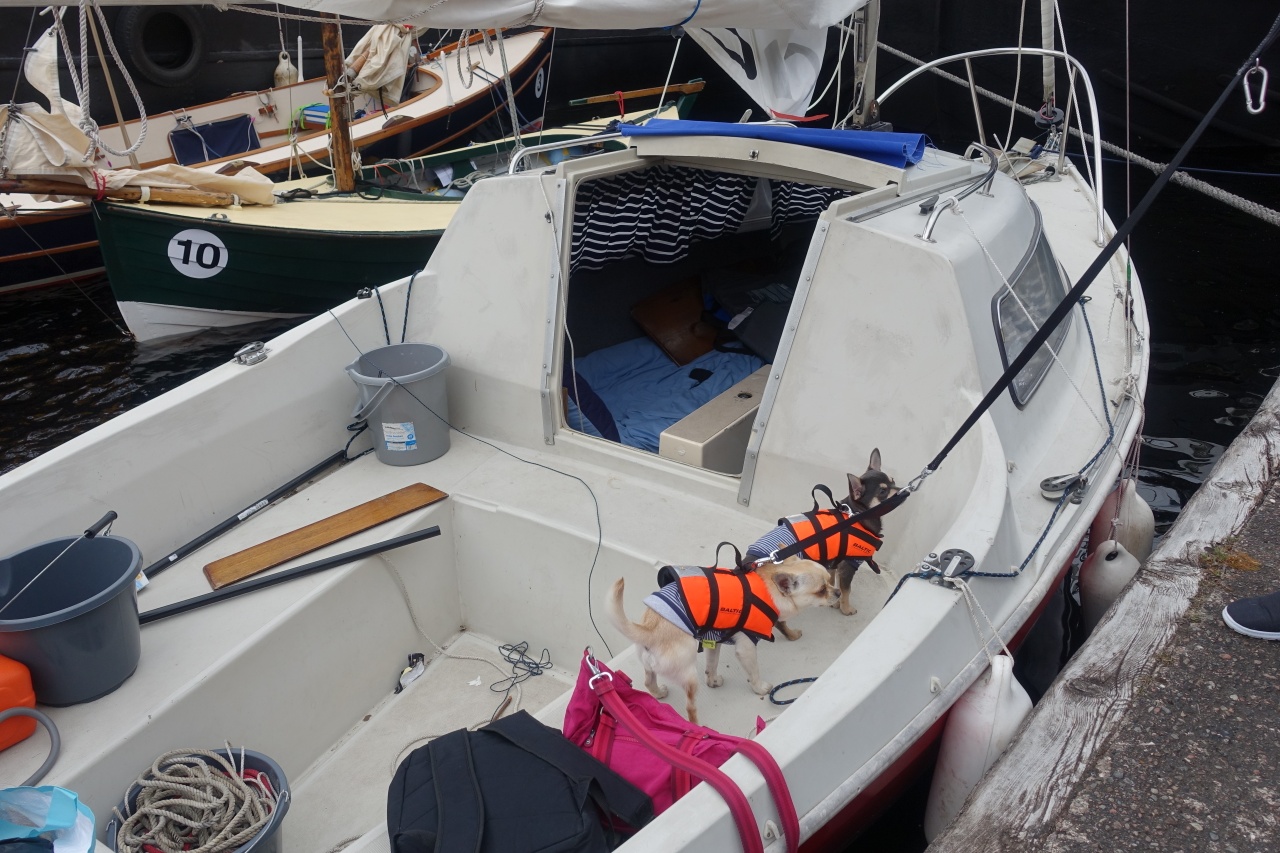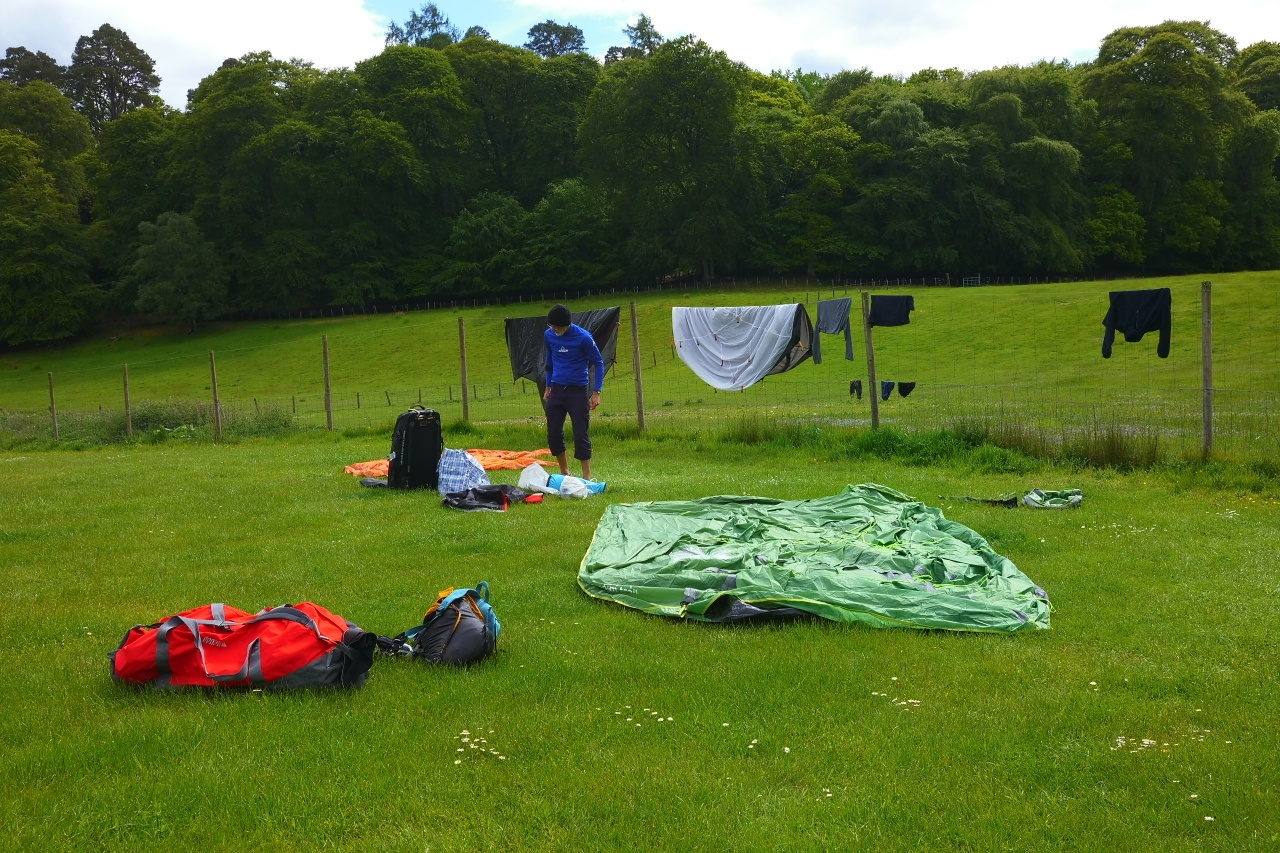 Day 6: Loch Ness Part 2
Well the wonderful weather had to stop and the rain set in. This morning we squished our soggy tents back into their bags and loaded up our boats. Today's mission was to get to the head of the loch. At 10am we headed off into a freezing NE wind blowing straight down the loch against us. So far our sailing wardrobe had varied between 1 and 5 layers of clothing. Today I upped it to 6 on the upper body and 3 on the legs. This worked out well but it was at the lower limit of what you wanted for the conditions. Up we slogged in the freezing rain taking big long tacks across the loch with a little lap in the middle to make sure we saw Urquhart Castle twice. We kept ourselves going with cups of tea from two thermos bottles and scoffing chocolate snacks from our lunch bags. Then on again up the loch up to the head. When we finally crossed the line we were well and truly at our limits of coldness. Fortunately it was a short motor up the canal to a small bay where the fleet regrouped before descending one lock to our camping site. While waiting in the cold for our time to transit the lock. Stef taught us the Tasmanian Kayak Dance which had been invented to warm up cold Tasmanian kayakers. It involves a repetitive sequence of hops and foot taps done as fast as possible. It works.
Dinner was haggis pie and tatties.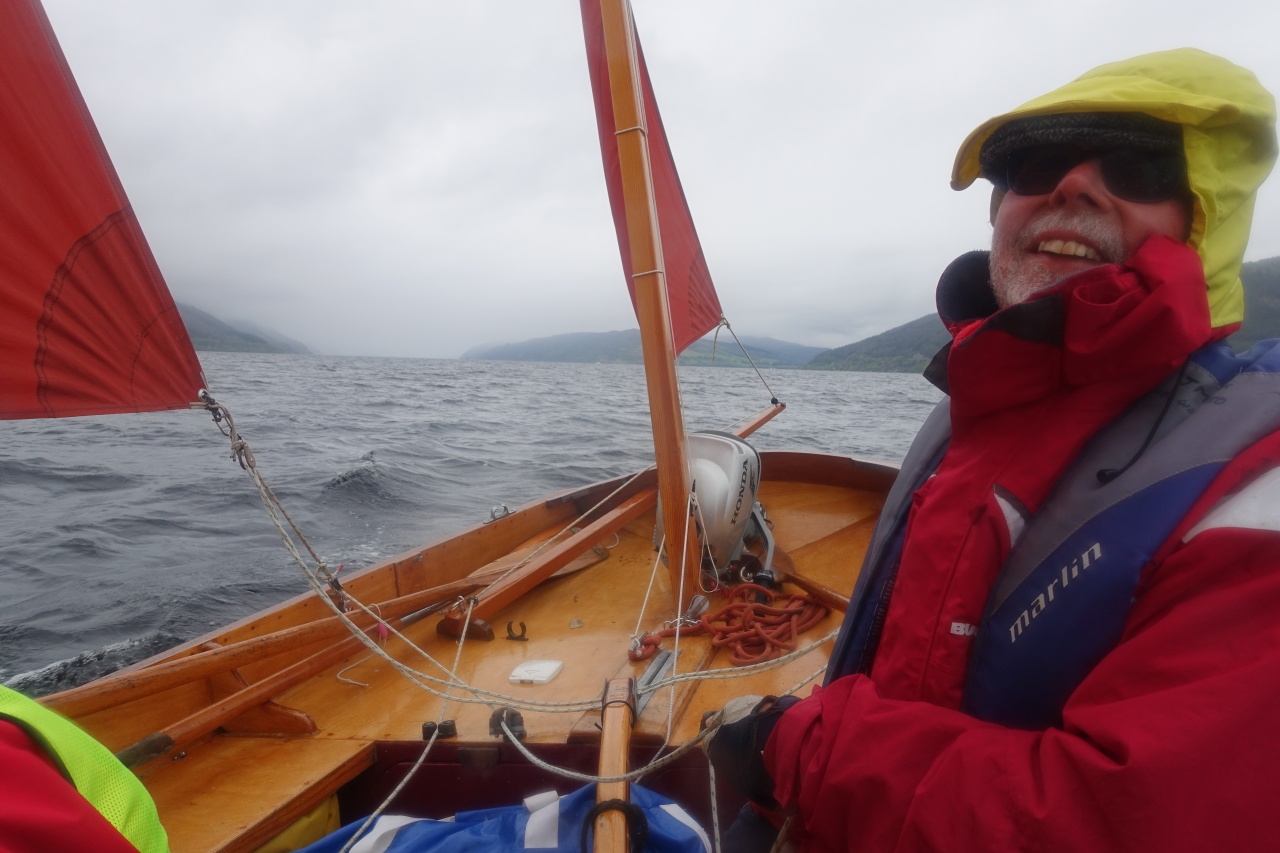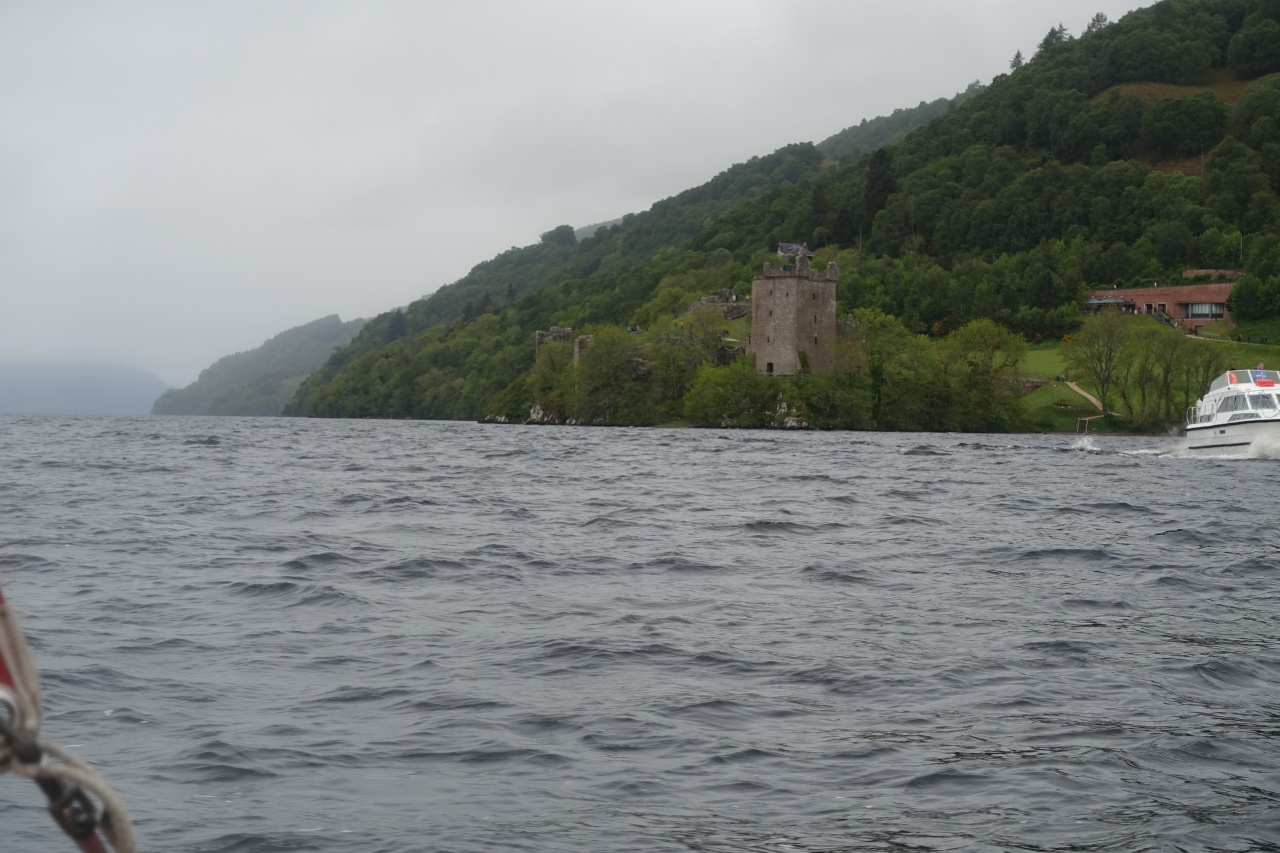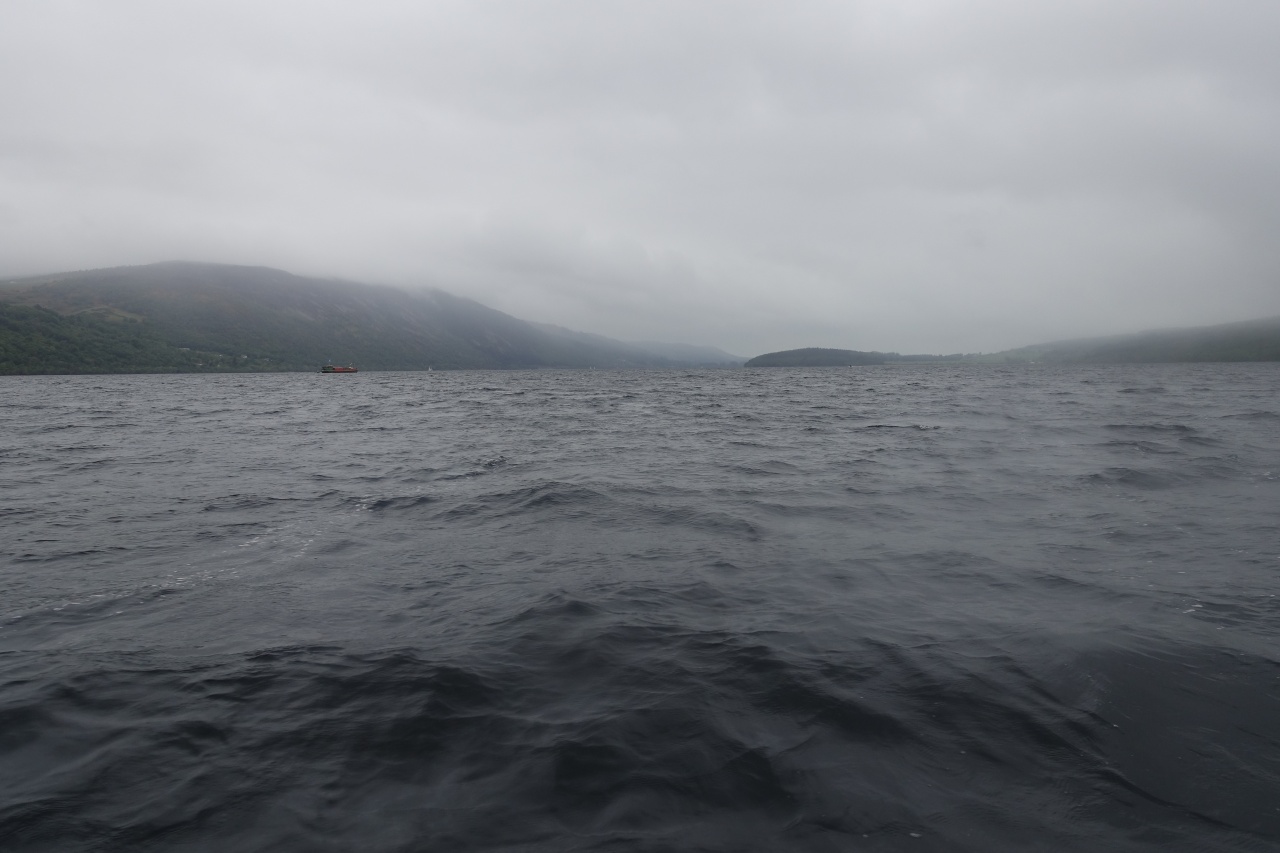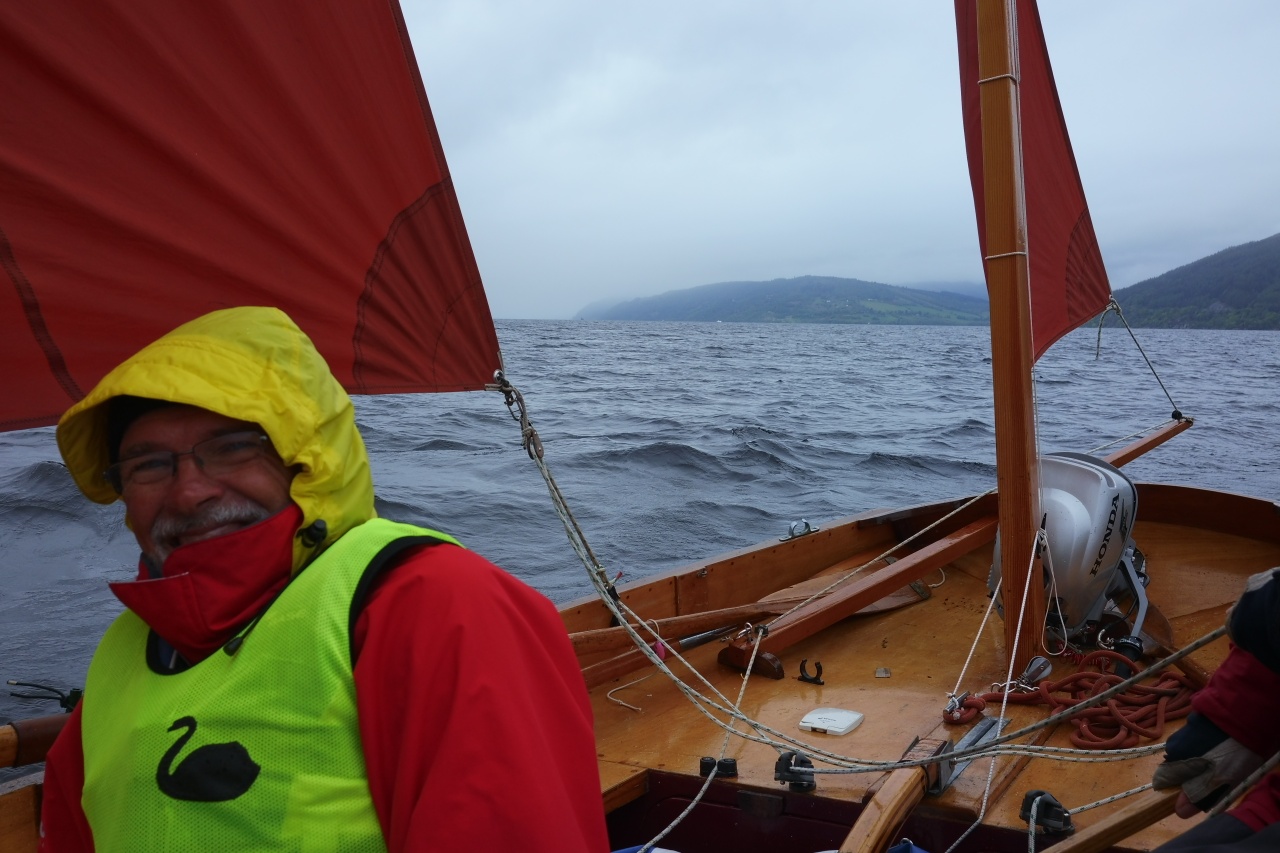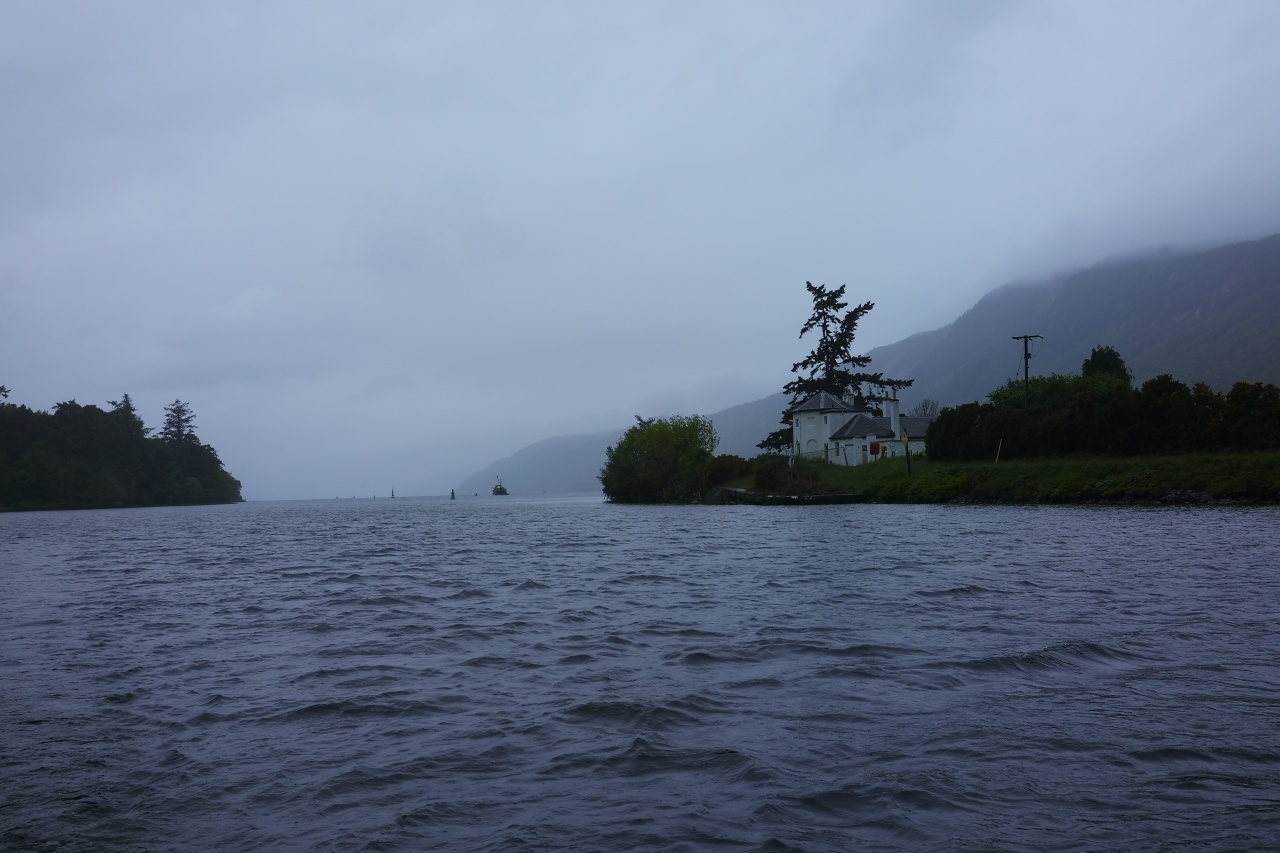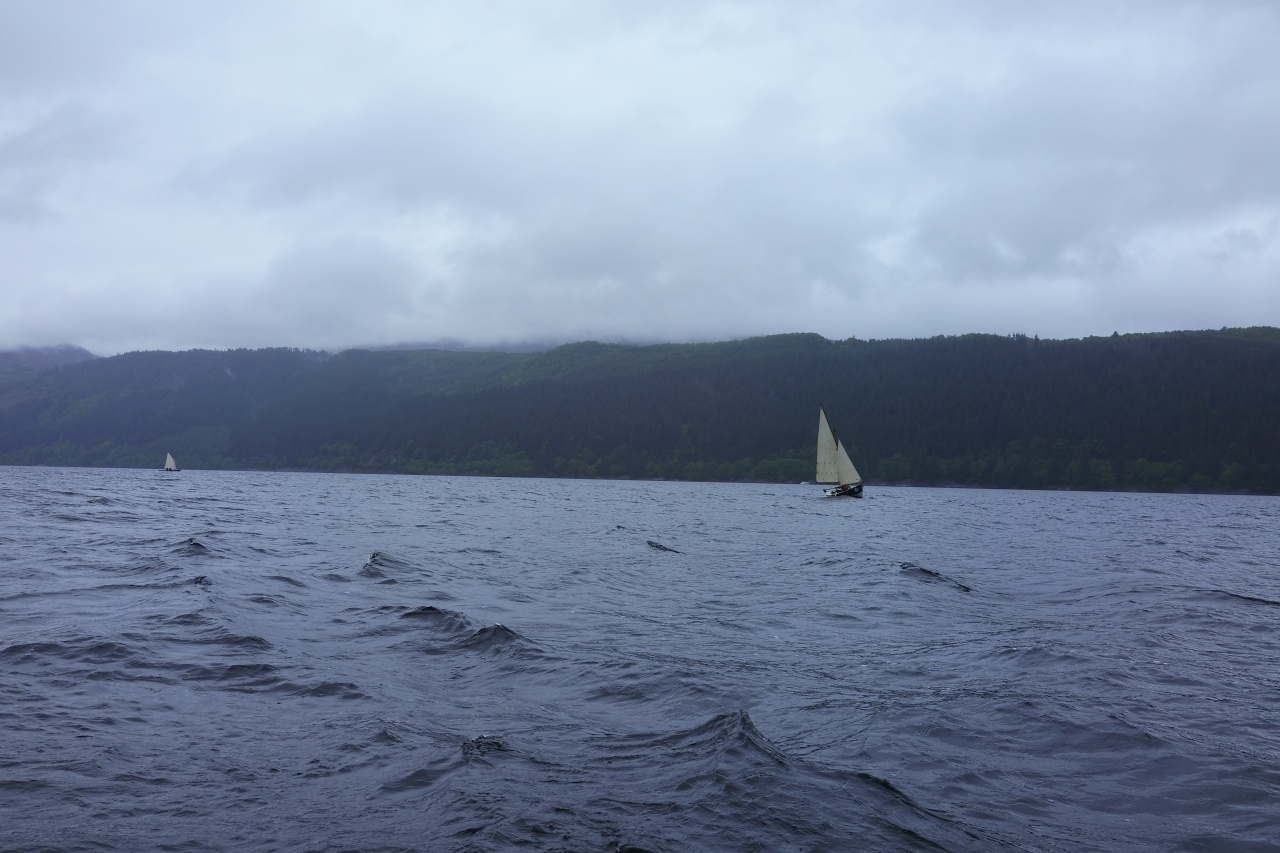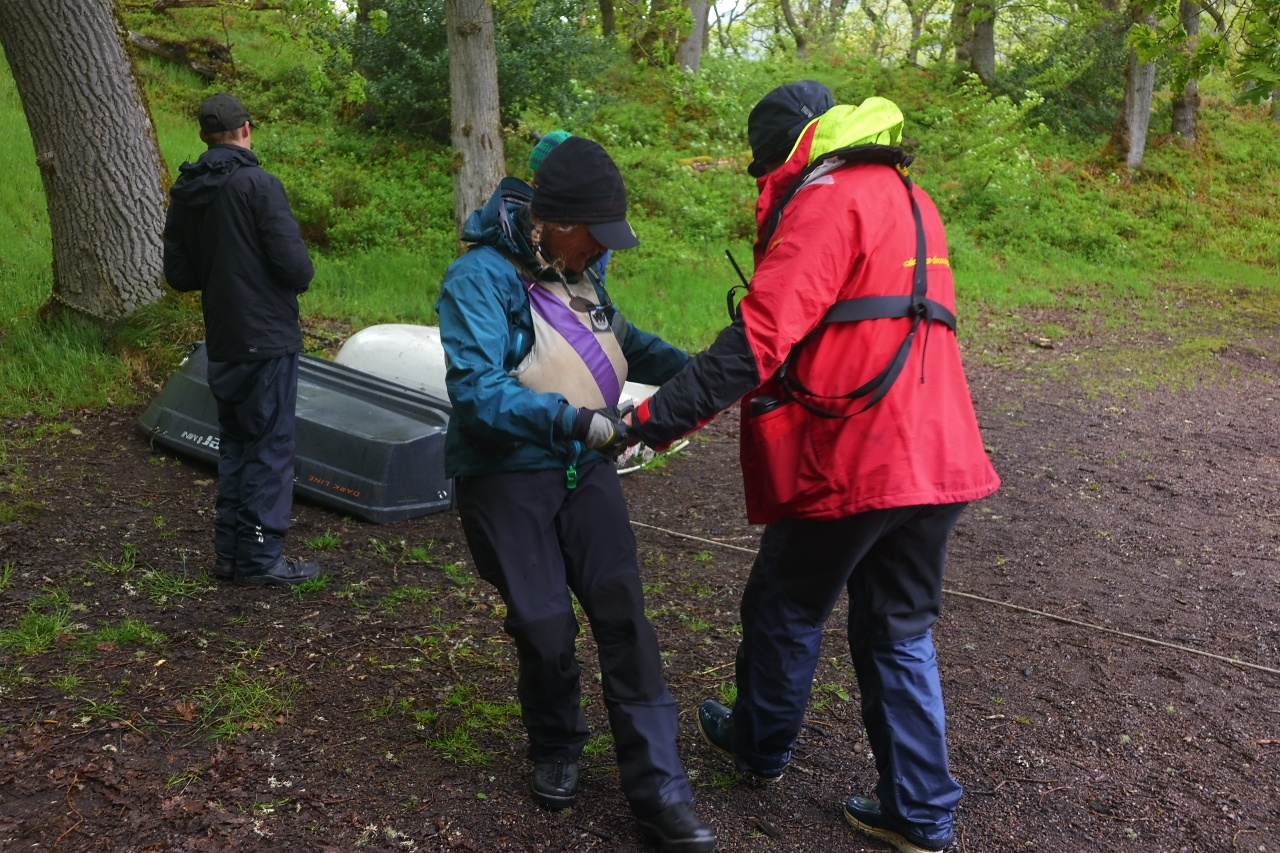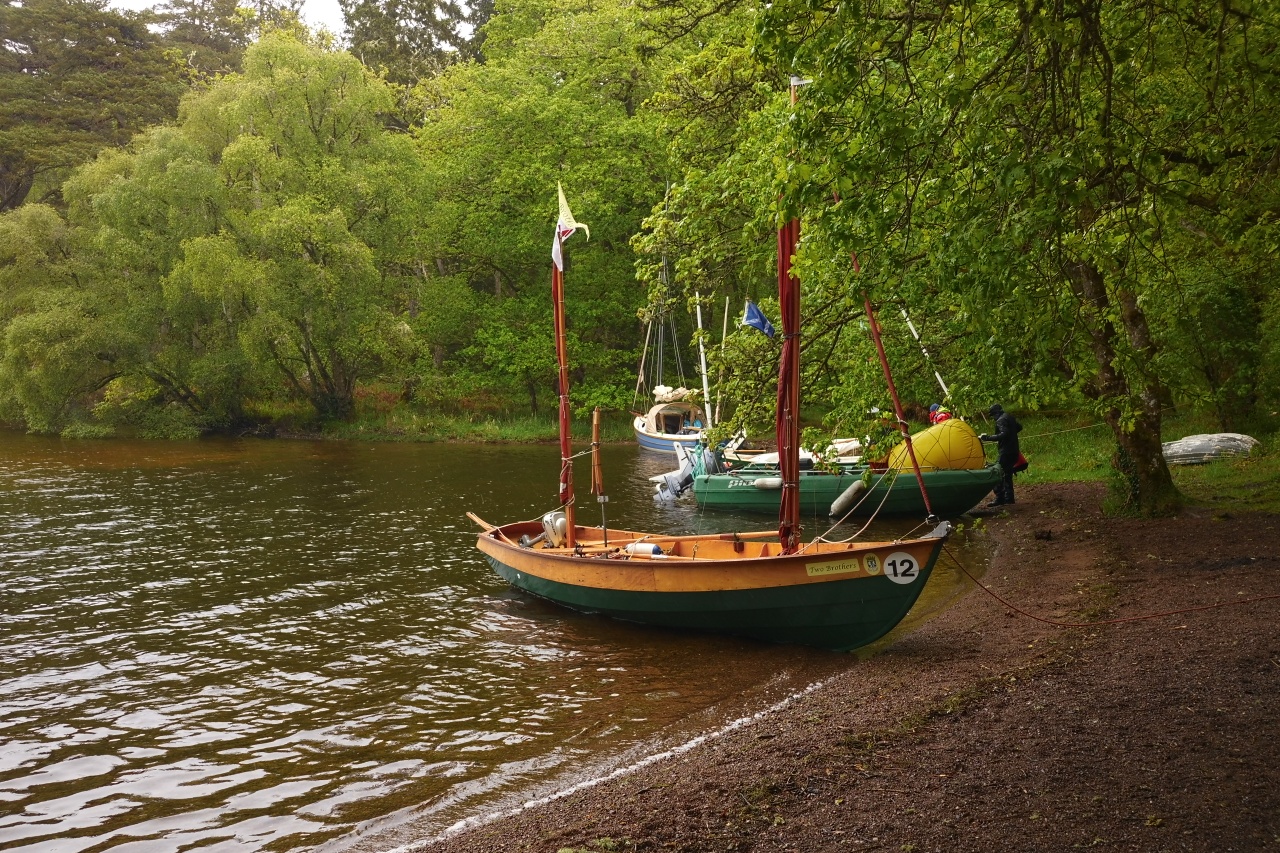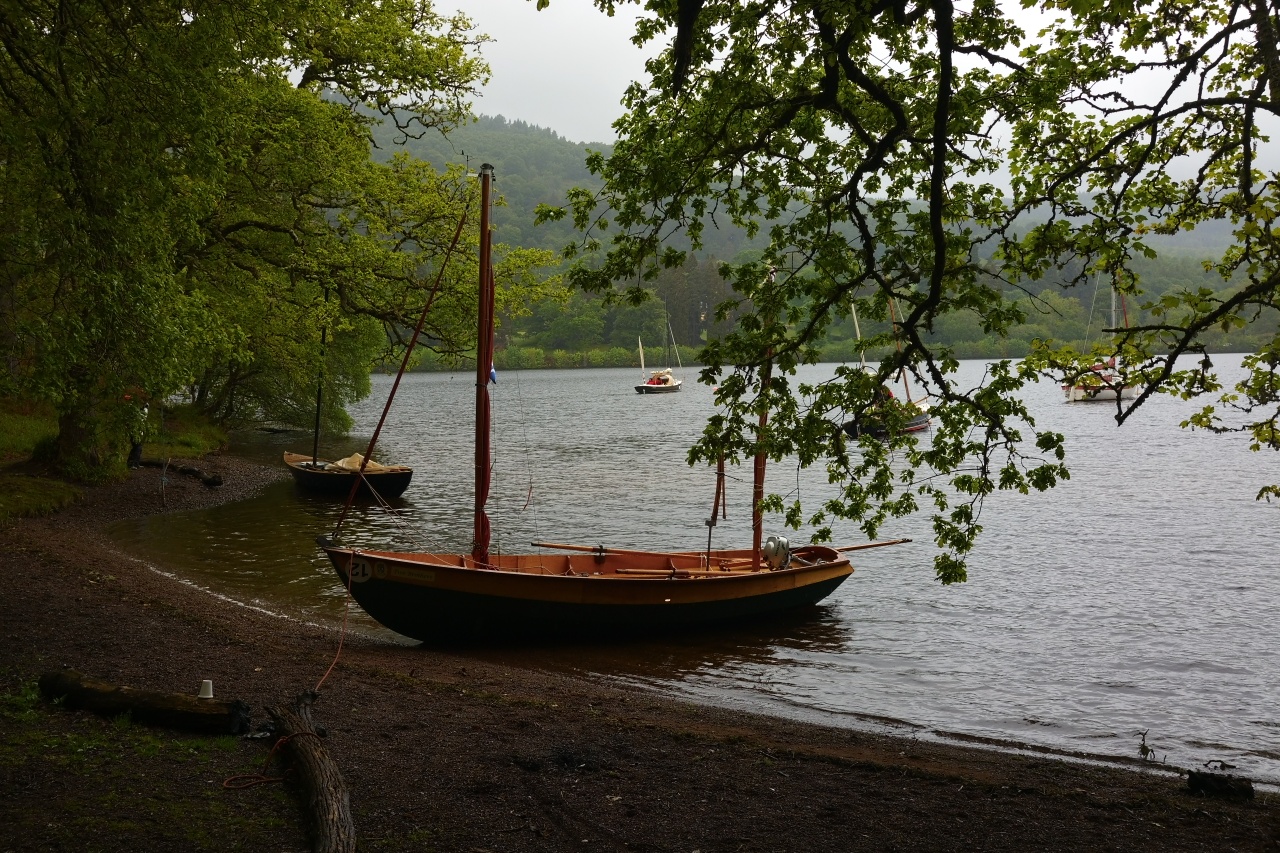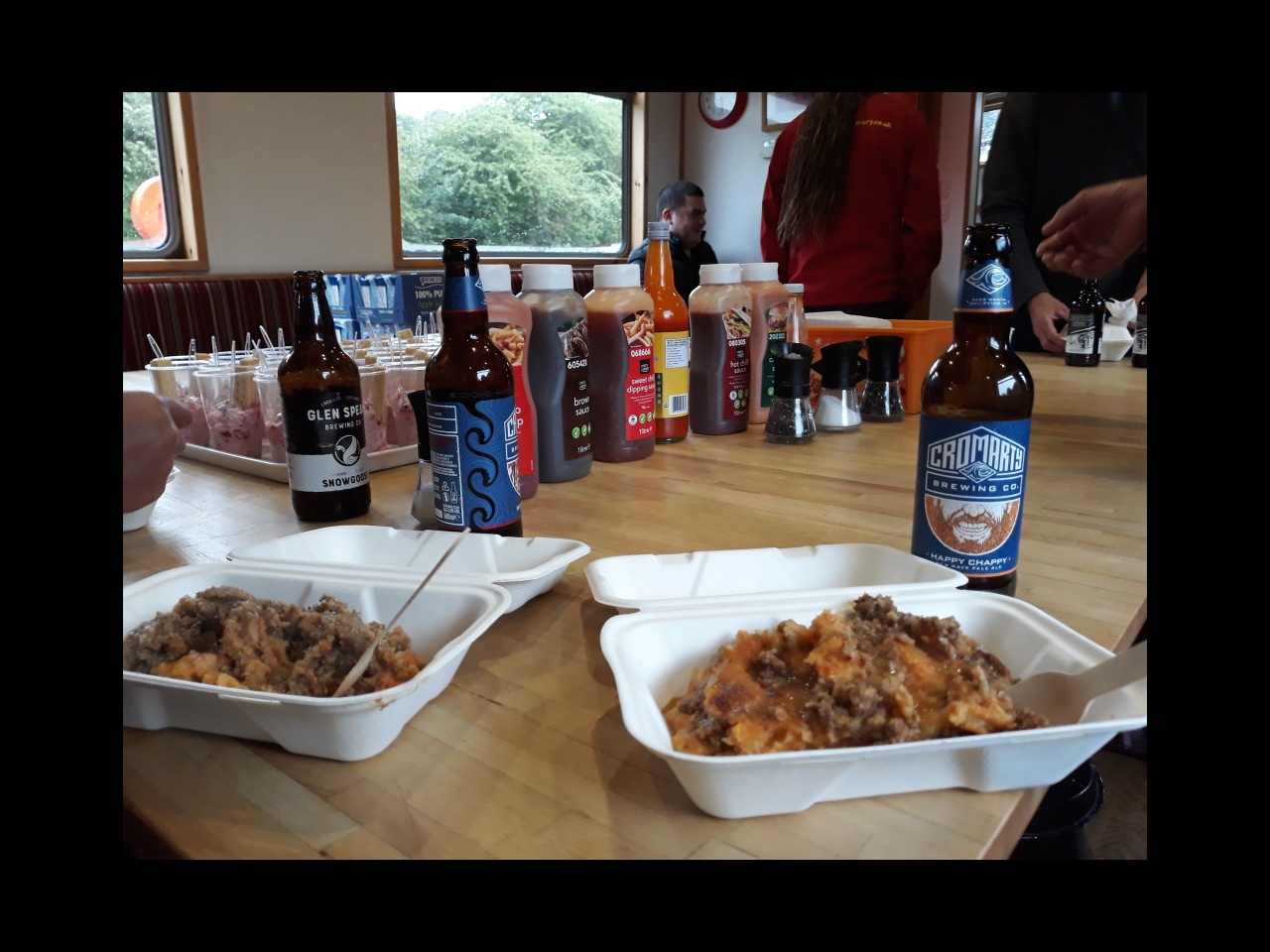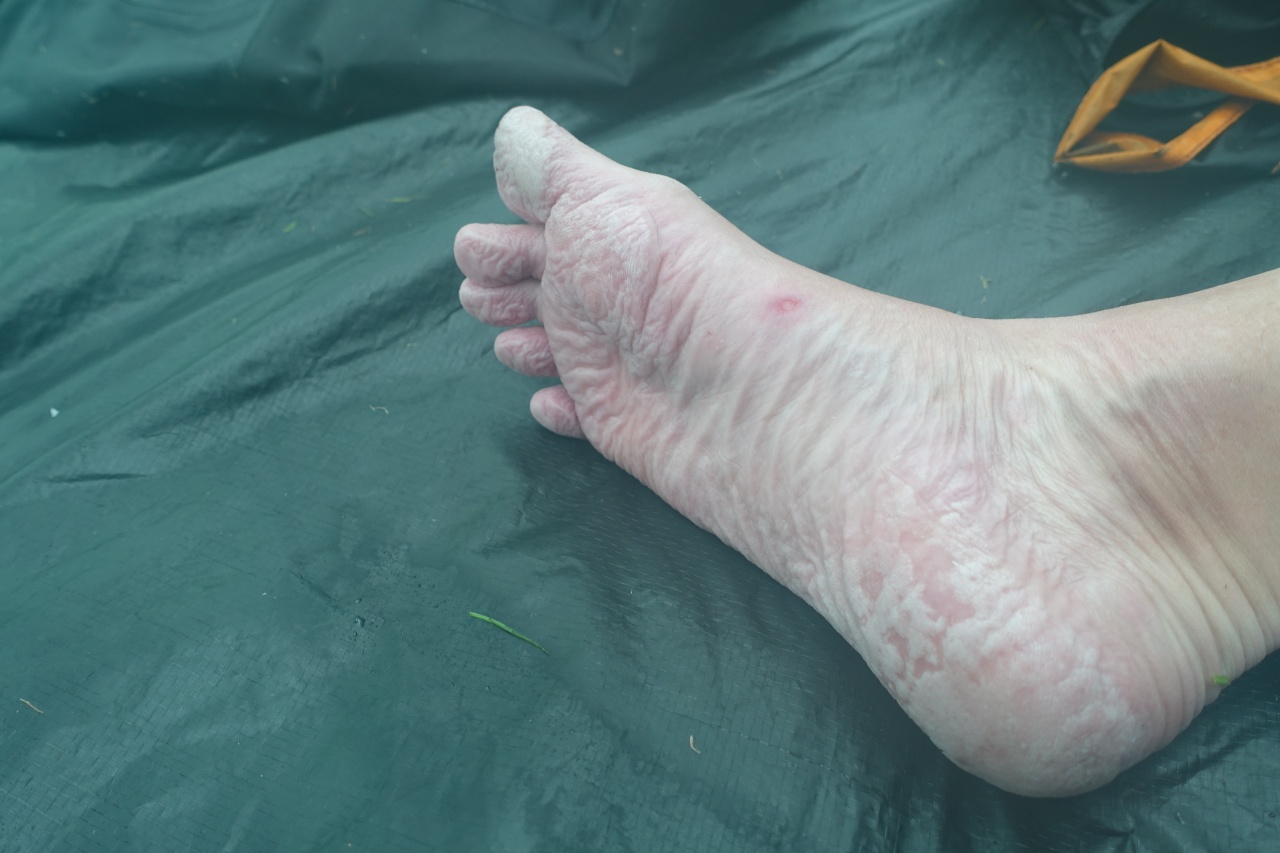 Day 7
Our final day started with a run along the canal past Inverness. The canal banks were lined with no end of interesting boats but we had to keep carefully on line as the was also some large traffic to keep clear of. Finally we descended to the final sea lock separating us from the North Sea. We paused for lunch in light drizzle which by now we hardly noticed. Out into the Beauly Firth we were set a short triangular course in the light wind which would get us to the haul out ramp at North Keswick. The main consideration was the tidal run out to sea. Fortunately Jim and Dave were familiar with this kind of sailing and were quickly mapping out the probable flow and eddies of the tidal current. Off we went sailing to the first mark. Soon we encountered or first bit of very adverse tidal flow and the oars came out requiring considerable effort to get to the mark without going backwards. The trouble was that Dave and I, who were rowing, were wearing 5 or 6 layers of clothing and we were seriously overheating. Once around the mark things got easier and we quickly changed down by about 3 layers and kept rowing because the wind was so light, motor sailing around the whole course. Then it was all over so quickly. Boats were retrieved up the ramp, packed up and then trailed back to our camp site on the canal.
At the presentation dinner we took out first place in our division and were also awarded overall winner much to our pleasant surprise. There were also several other entertaining awards made which are too complicated to explain here but kept us amused for quite a while during the proceedings. Music followed with the obligatory bag pipes and, on occasions, a Scottish didgerydoo(?!) which worked surprisingly well together.
All over now. The sun is out and the wind is now blowing from the South west but now it's time to head back down towards Glasgow and the rest of our respective adventures.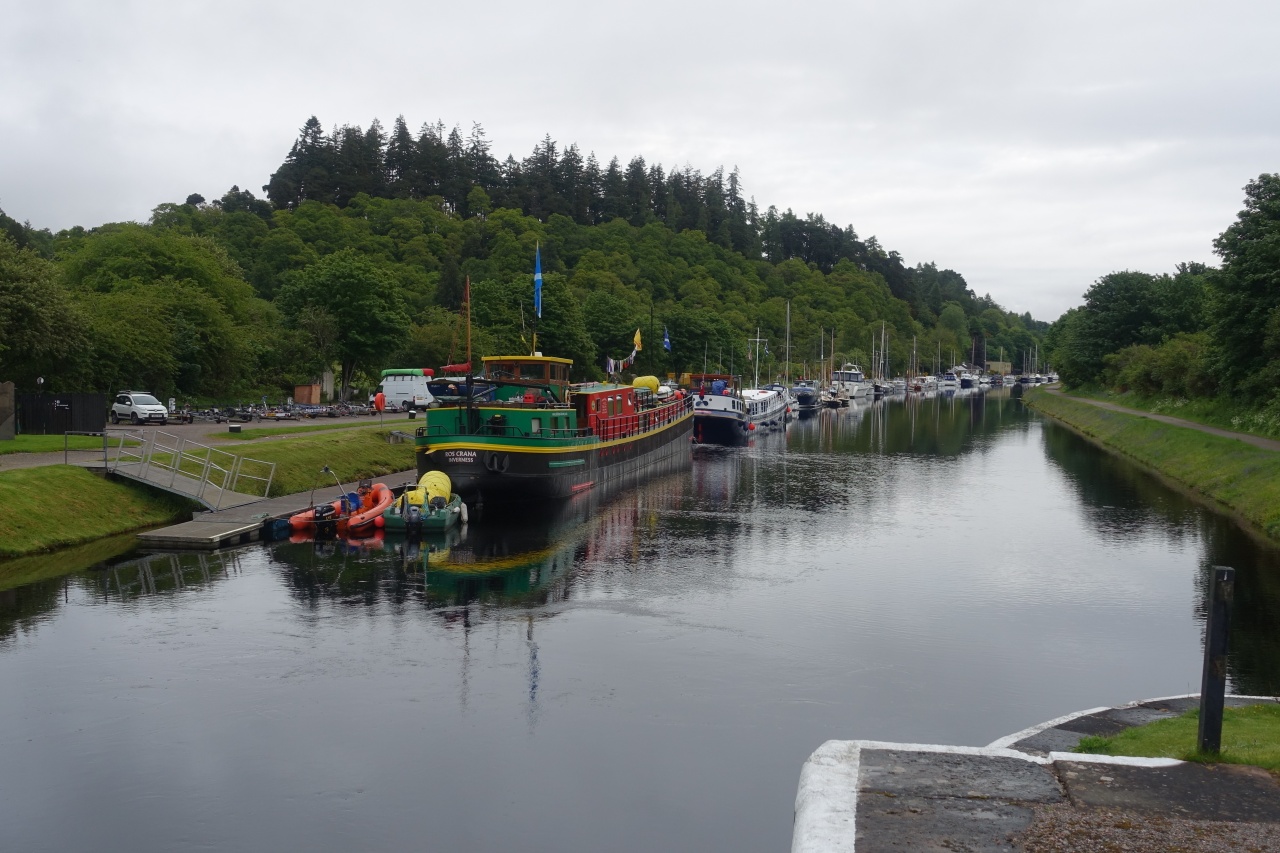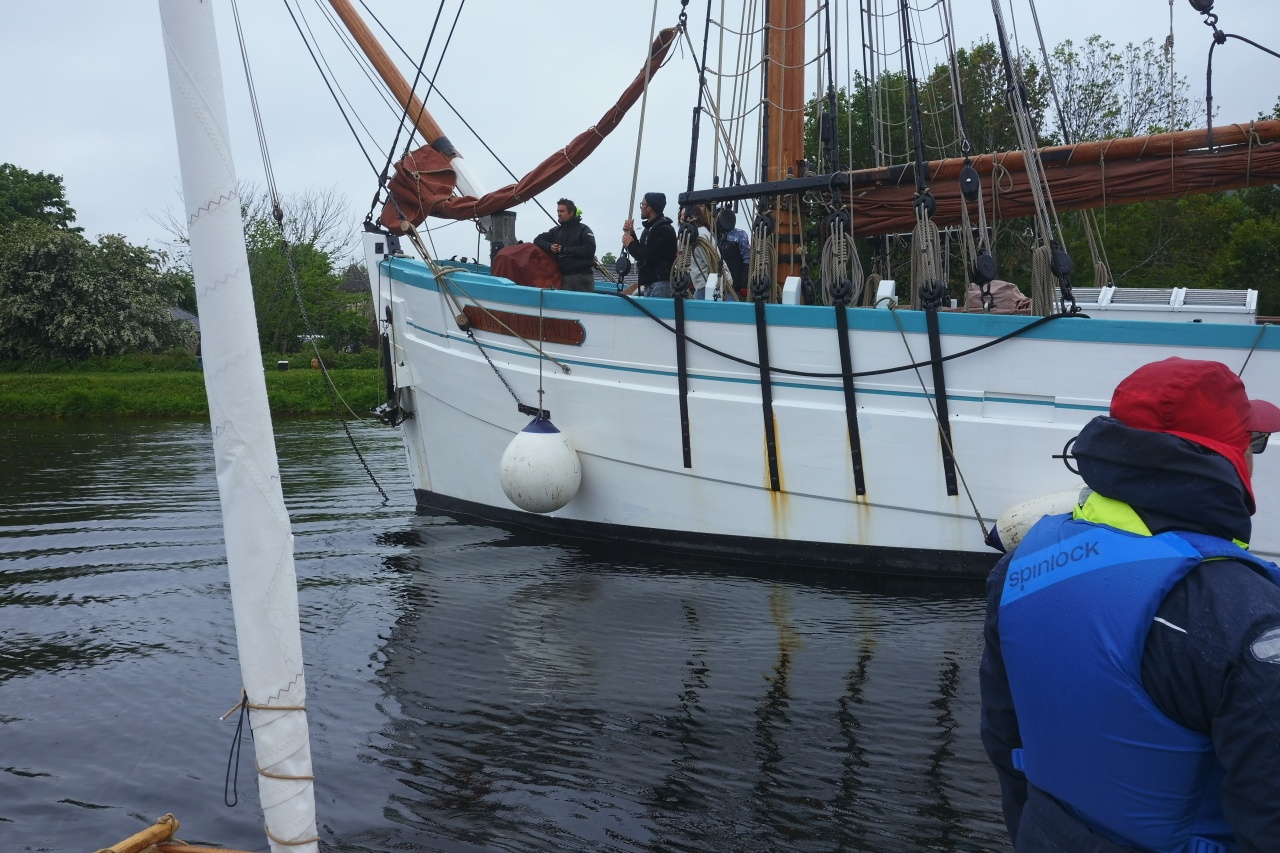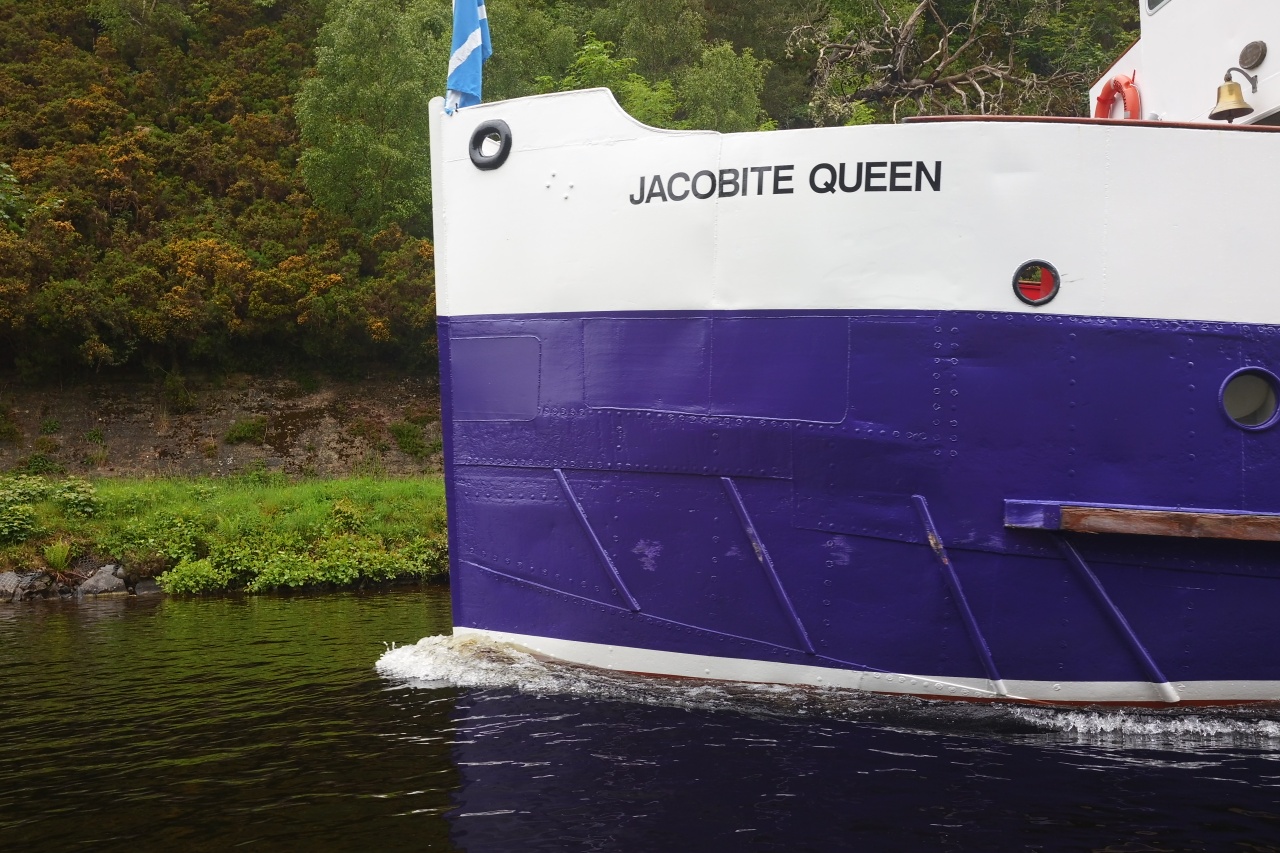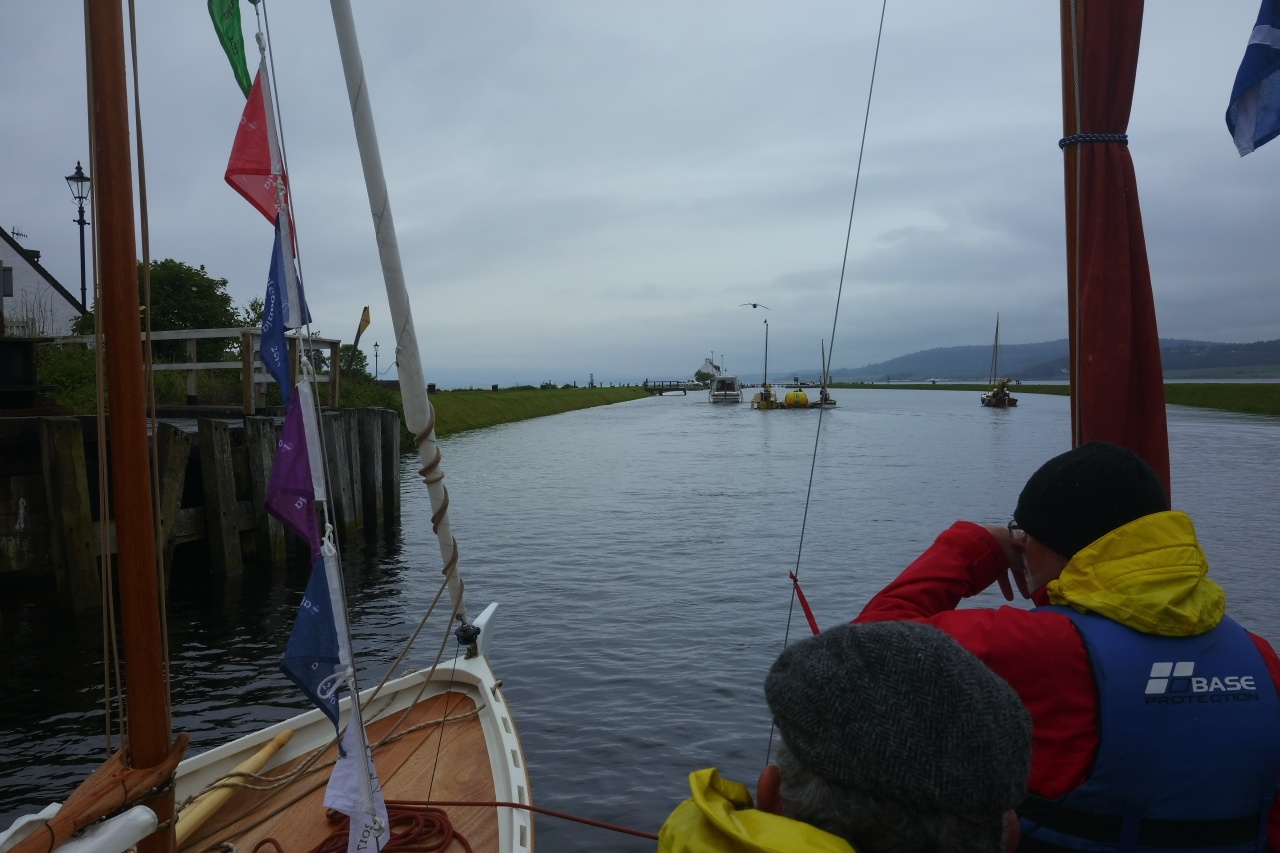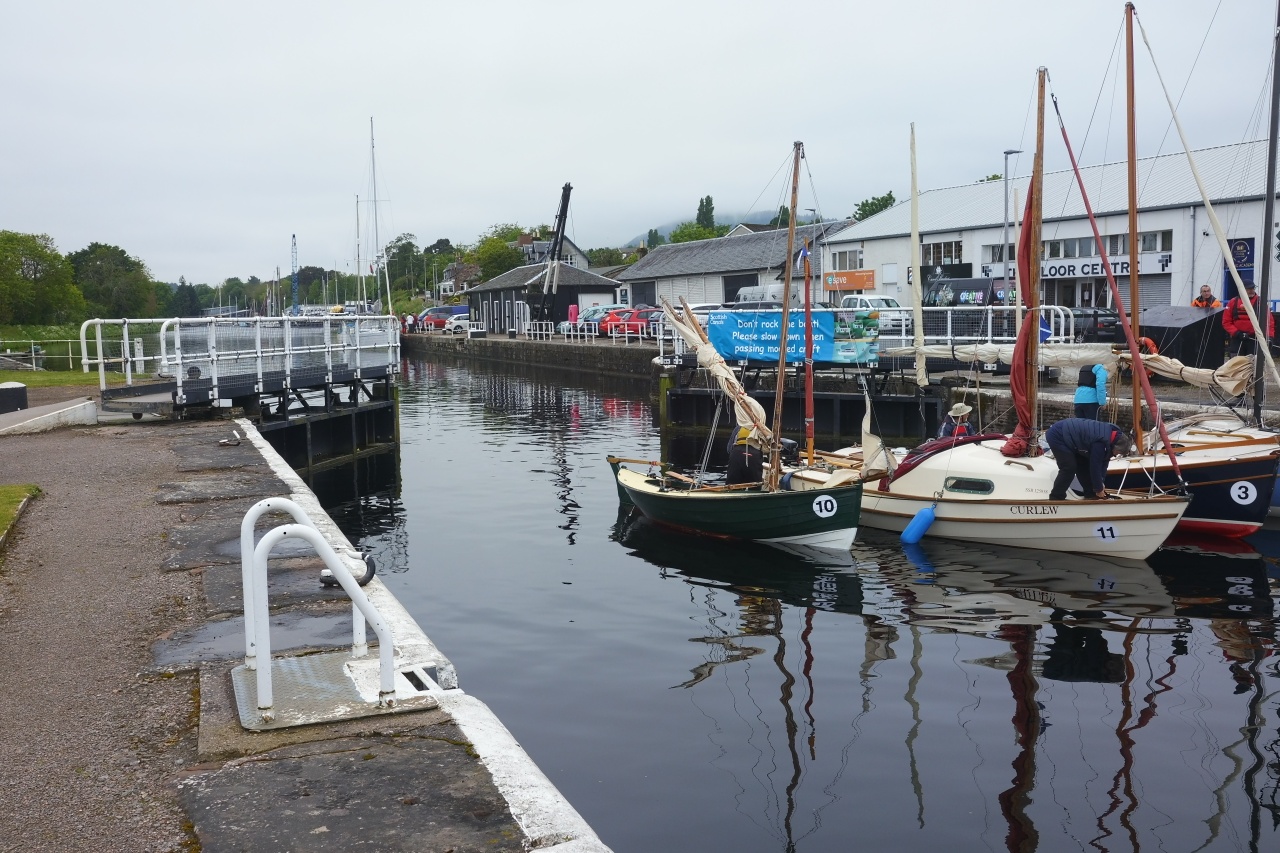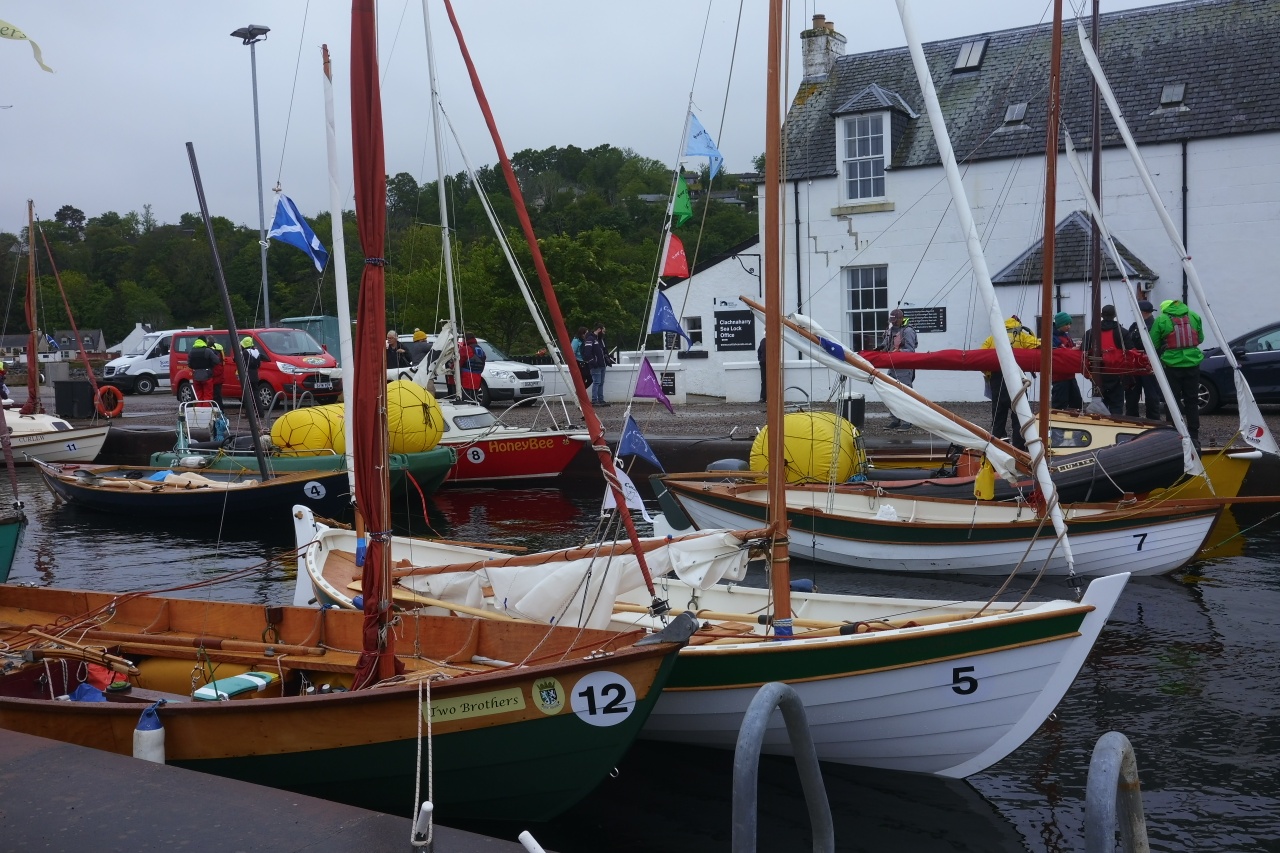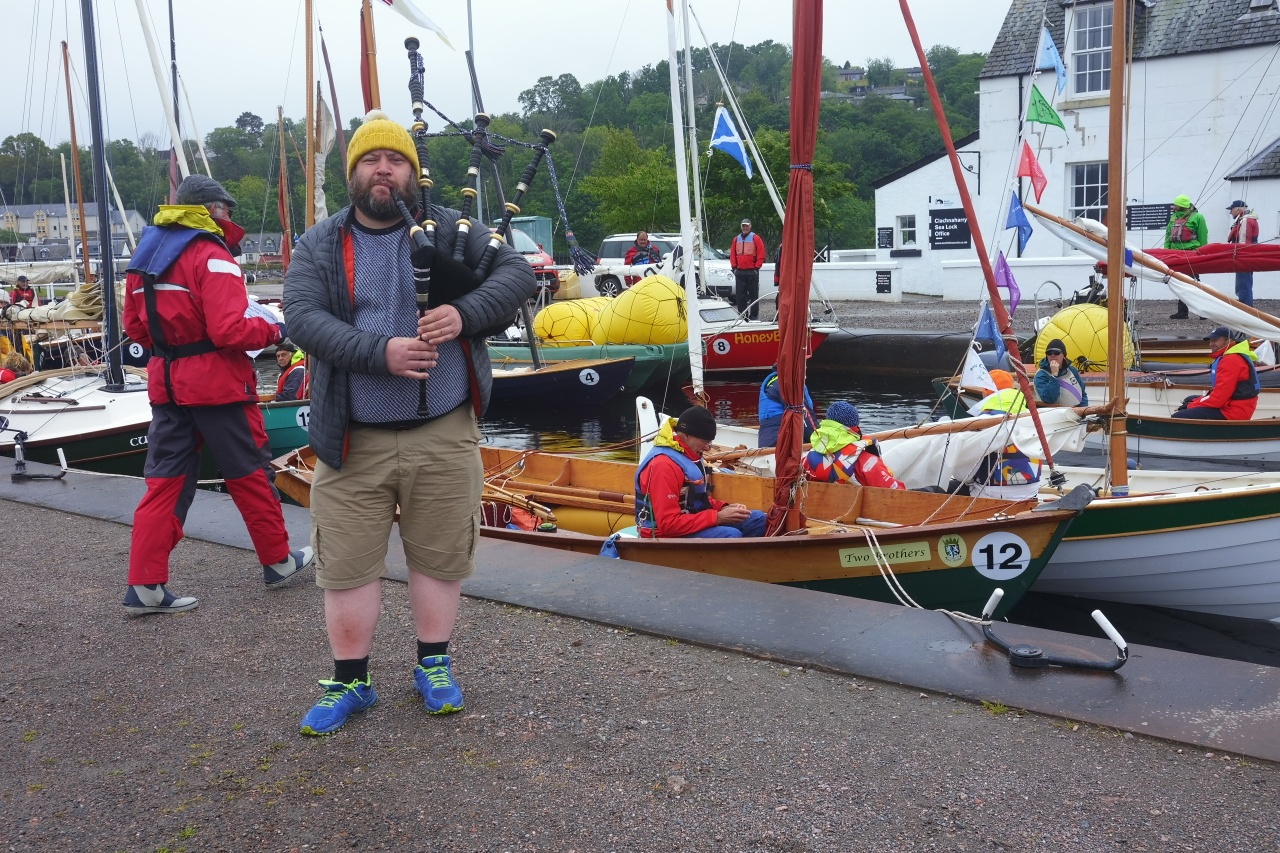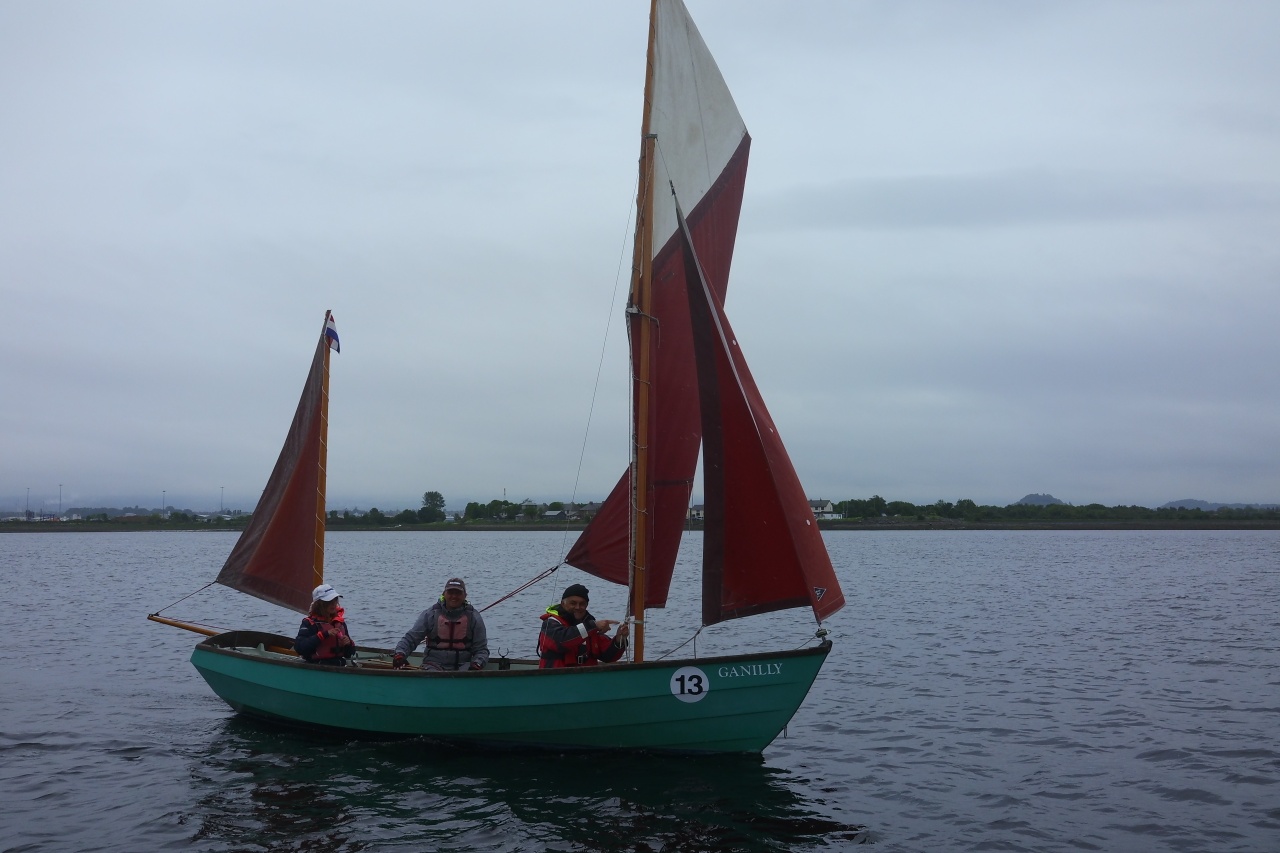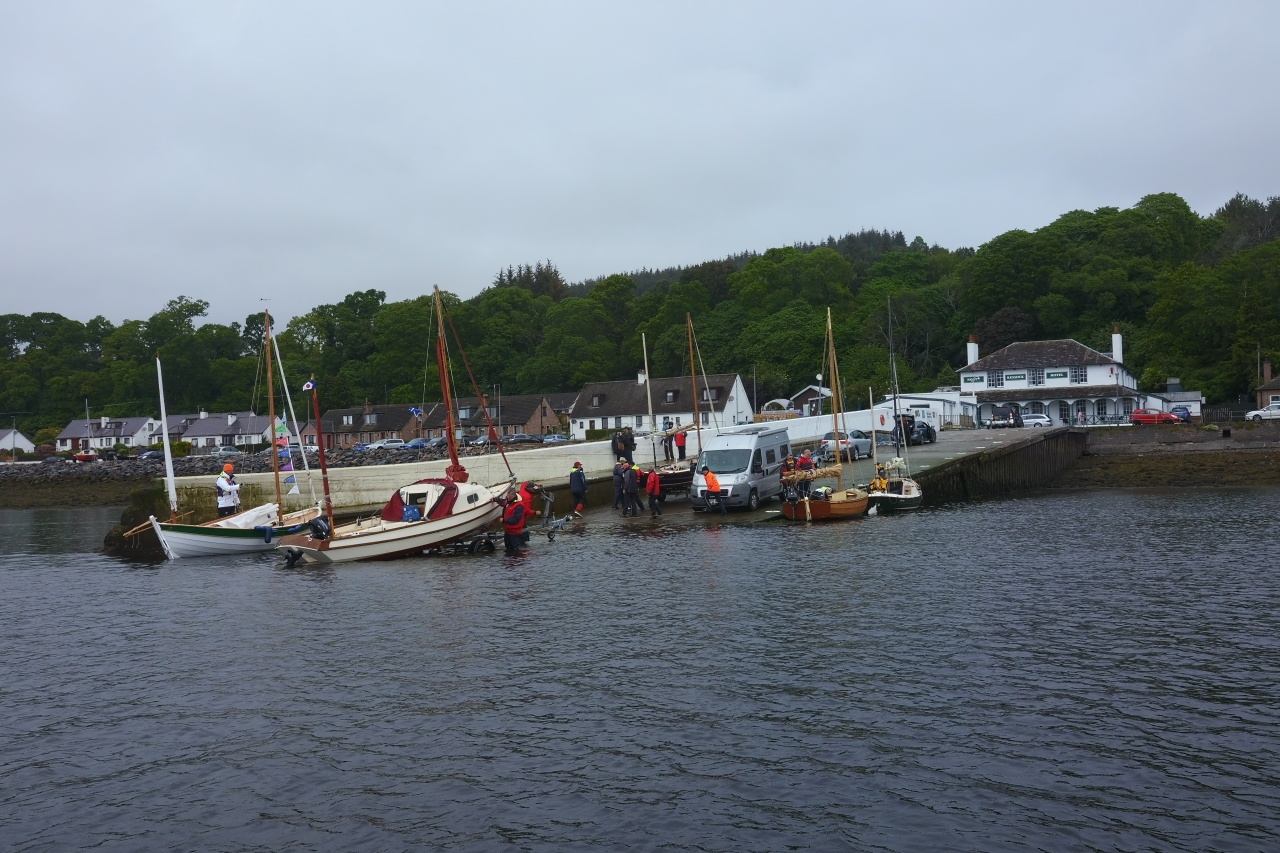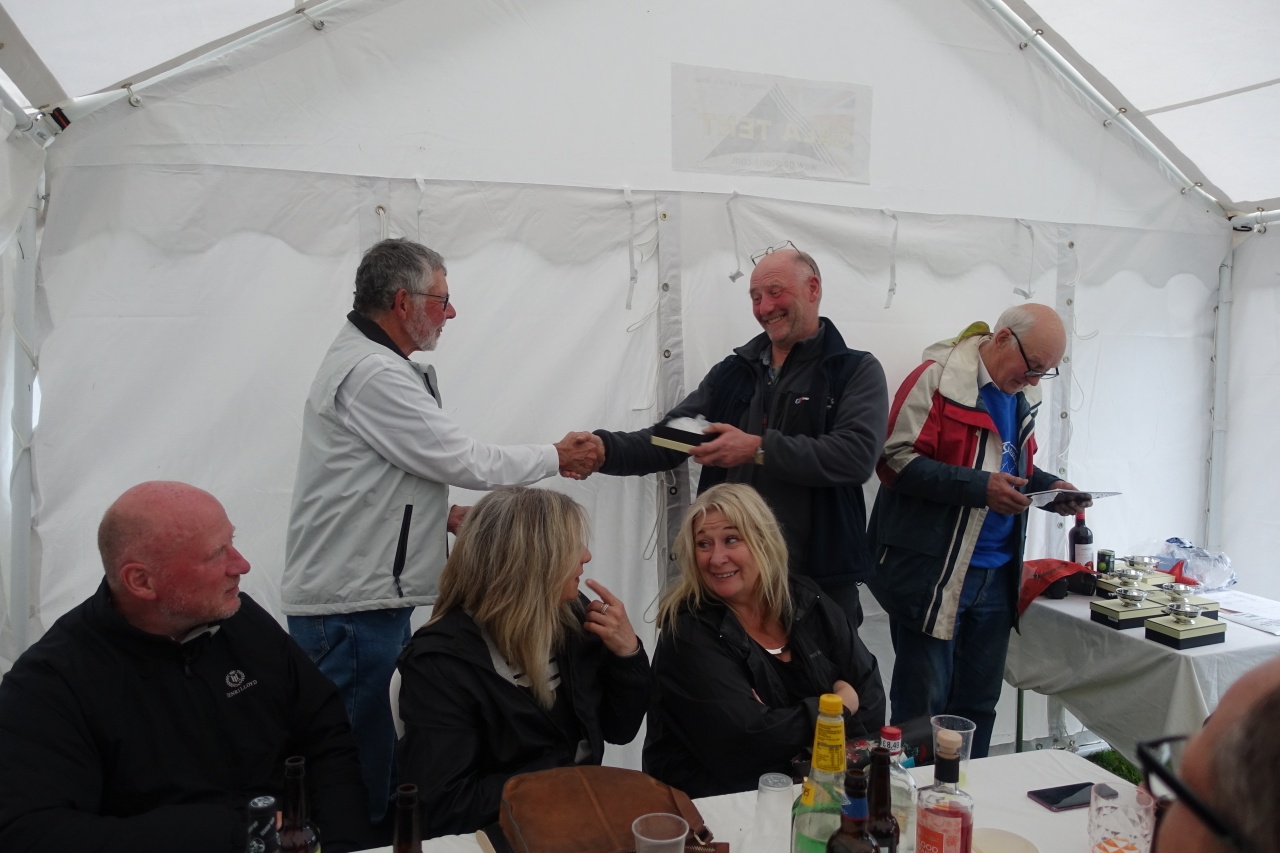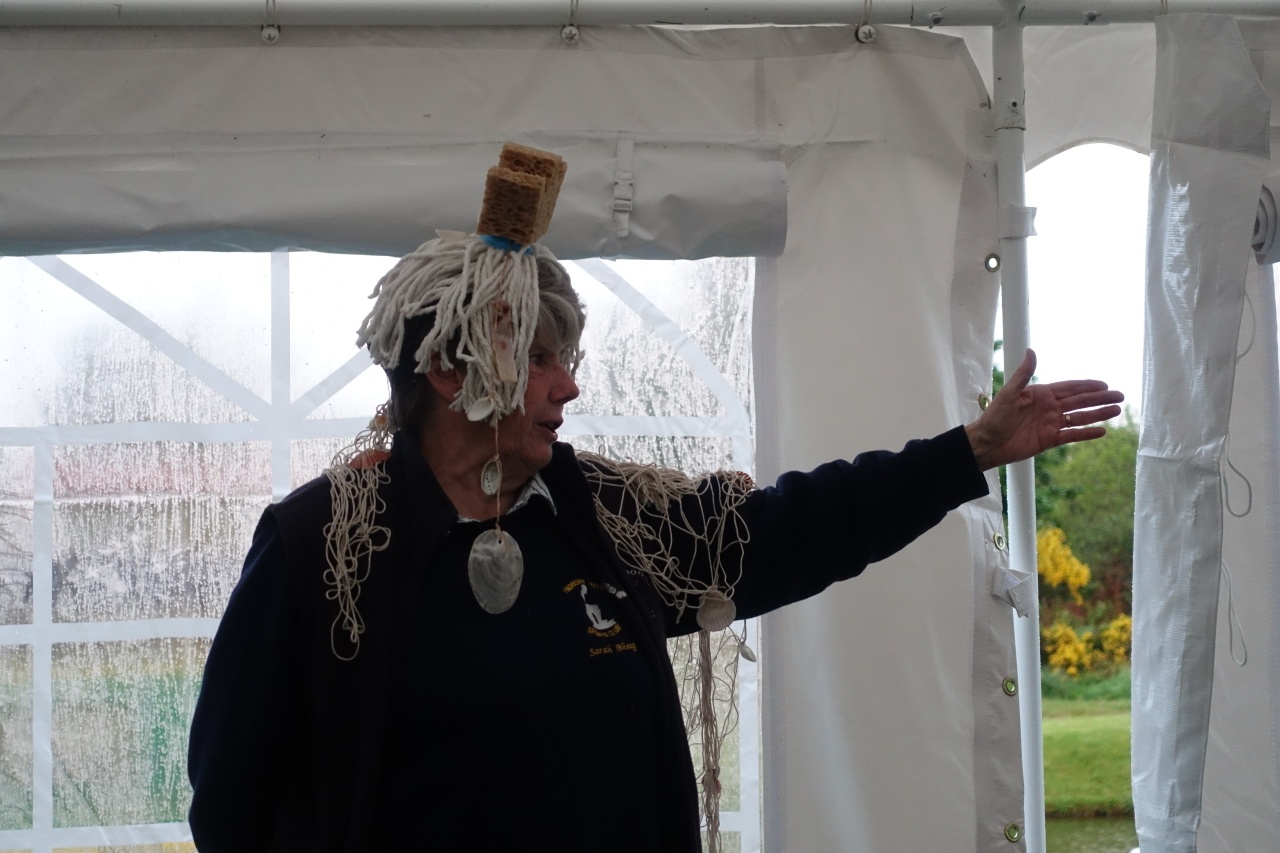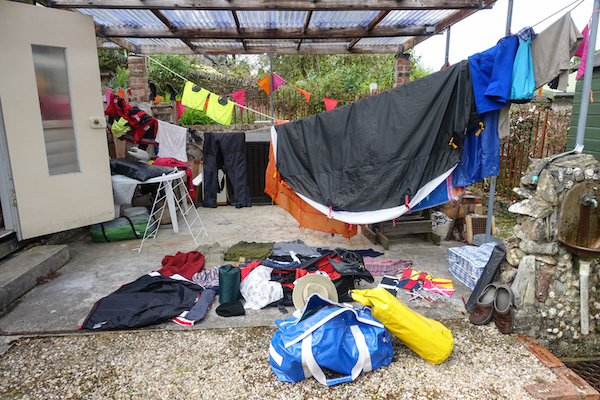 ---