Shark Bay: Cape Inscription or Bust!
Stephen Holden and Peter Kovesi
Welsford Navigator Whimbrel
---
Sailing in Shark Bay - a short history
25 October 1616 Dutchman Dirk Hartog arrived and named the area Eendrachtland (after his ship Eendracht meaning unity or union). He nailed an inscribed pewter plate to a post and stuck it in a rock crevice at what we today call Cape Inscription at the northern tip of Dirk Hartog island.
1618 Houtman visited the Shark Bay area.
1697 Vlamingh visited and happened upon Hartog's pewter plate and replaced it with one of his own meanwhile taking Hartog's plate back to Holland.
1772 St Alouarn, a Frenchman, upped the ante by leaving a message in an empty bottle of wine and claimed the west coast of Australia for France.
1801 Hamelin visited the area, found Vlamingh's plate, and left it alone.
1888 Freycinet visited, found Vlamingh's plate and took it back to France.
1998 Max Cramer and Philippe Godard and a small team including Stephen's primary school friend Kim Cramer visited and found a coin left by St Alouarn. (The WA Museum followed up and found the empty wine bottle the French had left).
25 October 2016 Kaptain Kovesi and First Mate Holden visit Cape Inscription in the small open sailing dinghy Wimbrel (a 4.5m Welsford Navigator). They had no wine nor pewter plates, they removed all crockery, cutlery and other litter when they left. Their journal appears below:
---
Whimbrel's Log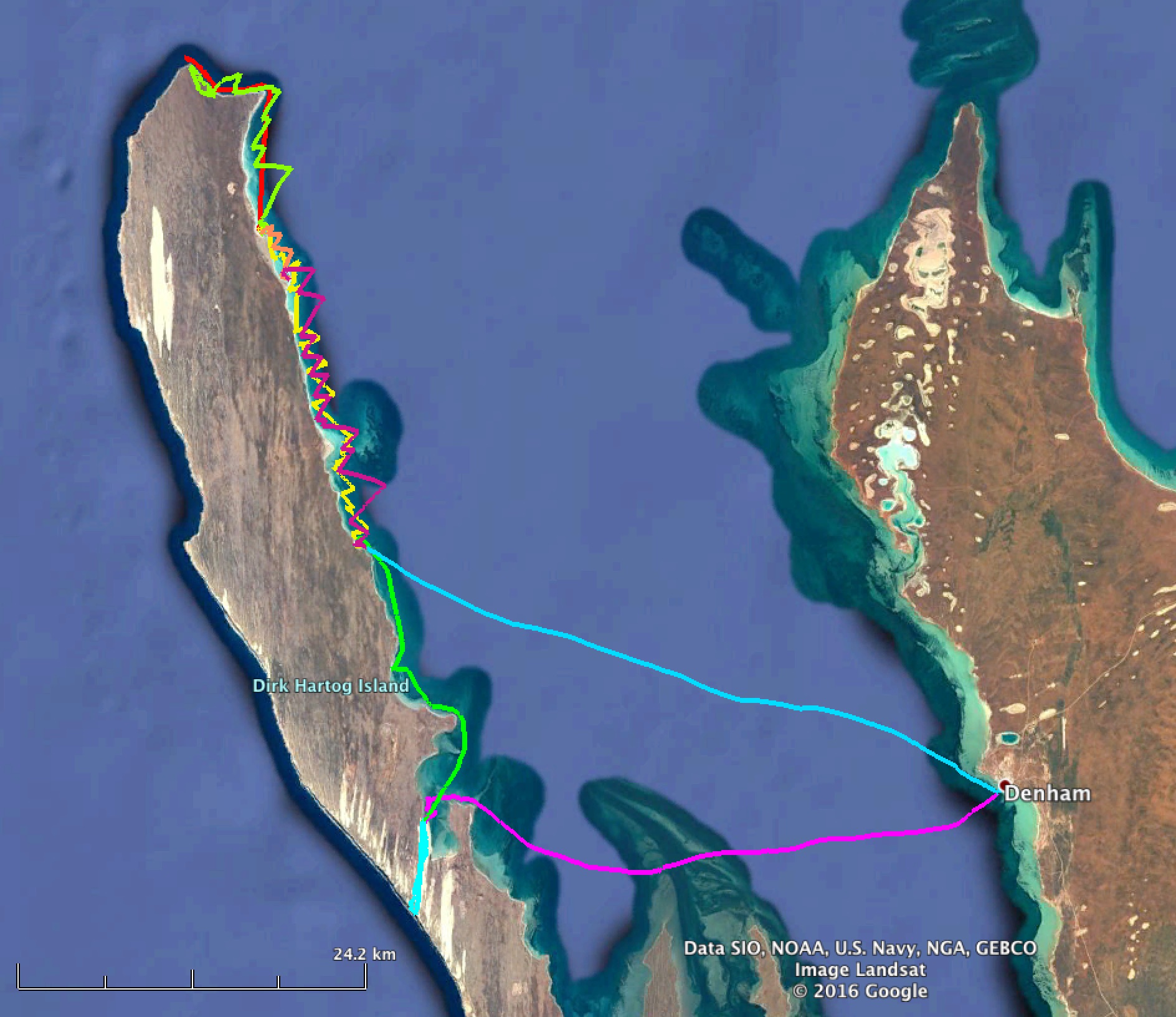 Woensdag 16 Oktober 2016
Kaptain Kovesi and First Mate Holden drive 800 km from Perth to Denham towing Wimbrel, a 4.5m Welsford Navigator open dinghy.
Southbound solo cyclist sighted some 100kms south of the remote Overlander Roadhouse. Cycling into the wind along a road with no curves nor towns nor even human habitation for hundreds of kms. He was towing a cart loaded with all his gear.
Arrival at Denham, a very fresh breeze is blowing, we hope it will not be quite so fresh for our take-off tomorrow.
Last supper of fish and chips.
Donderdag 20 Oktober 2016
Denham to Tetradon Loop (48 km)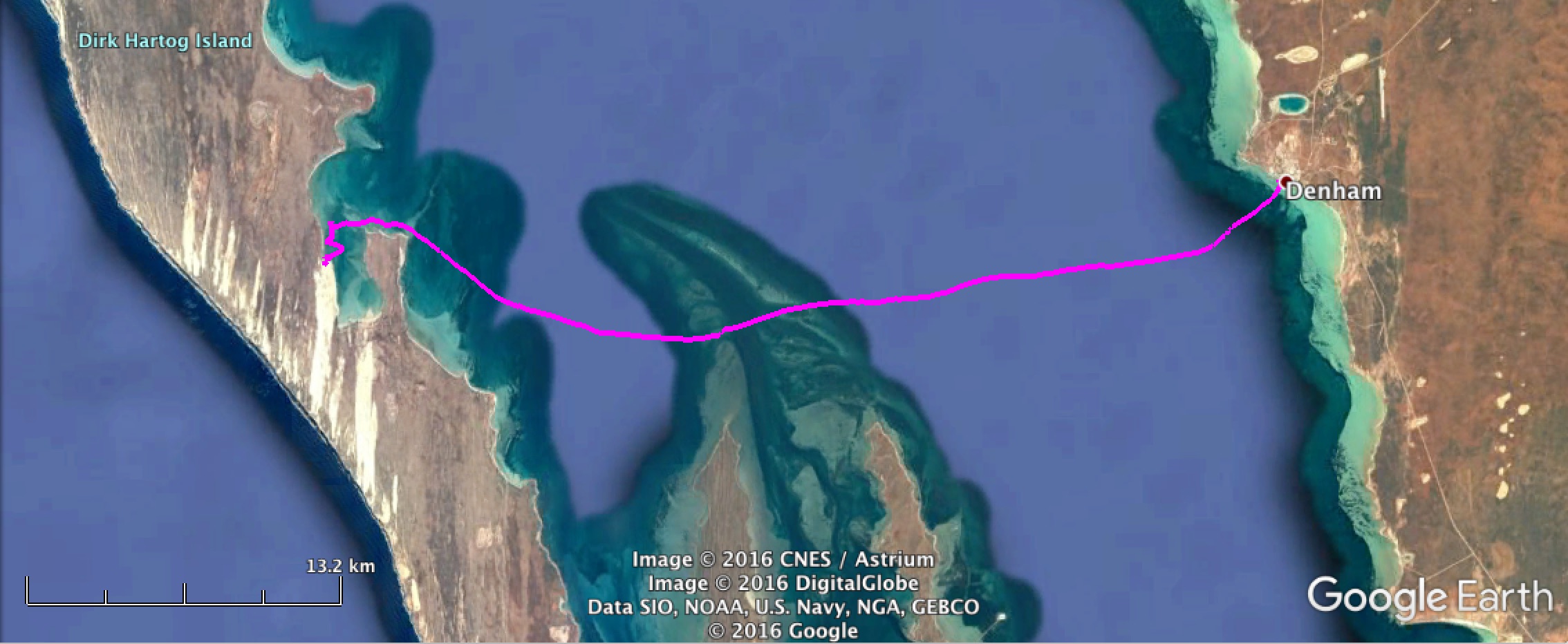 Good wind from the south-east favouring a departure today.
Breakfast complete, itinerary logged with the local Australian Coast Radio Monitoring group and other parties, boat loaded, last photos, and we tack our way past the replicas of the Duyfken and the Batavia long-boat, that are there to commemorate the 400th anniversary of Hartog's visit.
After clearing the narrow channel, we head westerly towards Heirrison Prong and Bellefin Prong that define the two sides of Useless Loop.
A large fishing boat follows us for a little while, bemused at two middle-aged men cackling crazily as they charge across the sound.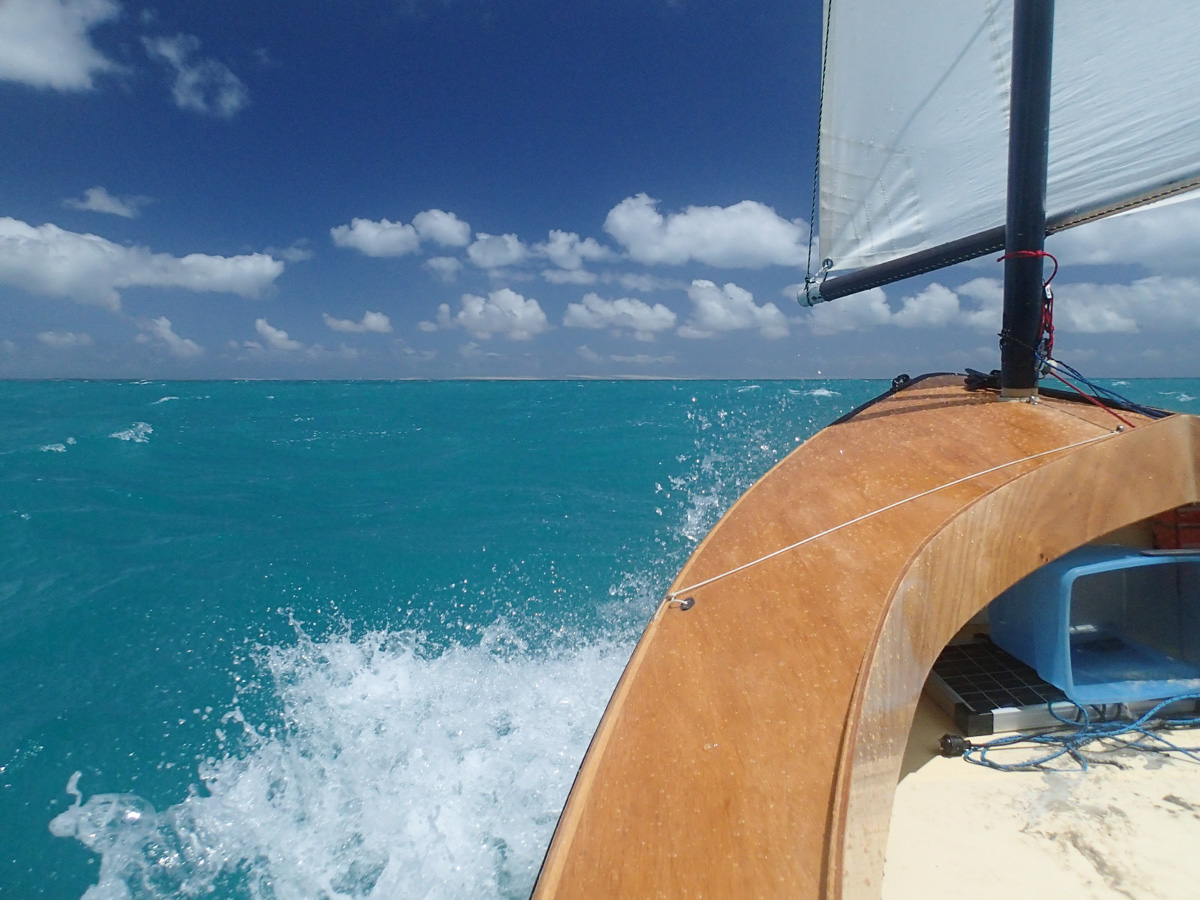 Some whales sighted to leeward playing and crashing around in the water, waves and wind.
The wind increases, sails are reefed, it increases a lot and the mizzen is dropped. We ease sheets and head downwind to steer into Tetradon Loop, our first planned stop. We skate around past Notch Point, and run into trouble with centreboard bumping on some shallow rocks.
Inside Tetradon Loop the wind has gone off the scale. The air is filled with sand blown from the massive dunes. The water is thick with suspended sand too, we cannot read the bottom which we keep hitting. We make a futile attempt to tack to windward but without the mizzen the sail plan is hopelessly unbalanced and overpowering, the anchor is not holding, the recently serviced outboard is conking out, and walking the boat through the rough, rocky shallows into the wind is dangerous and futile.
We use a straggly bush on an otherwise bare ridge as a measure of our progress to windward. By this measure, the tree is winning and is moving ahead faster than us. Finally the anchor holds. Somehow we re-step the mast in its centre position. The reefed mizzen is retrieved from the shambles in the cockpit and set on the main mast. In this configuration Whimbrel charges off into the gale. We tack towards an enticing sandy point which promises, albeit deceptively we discover, a long sand spit on which to land. After one false landing, we haul ourselves into a sandy cove and build Camp Crusty in the pitiful shelter of some low shrubs. We count 10 lines attached to bushes, pegs and water containers holding our tarp against the wind.
The GPS track is included for your amusement. Motion directly north was made under anchor, motion directly southward was made with a slightly sick outboard running flat out.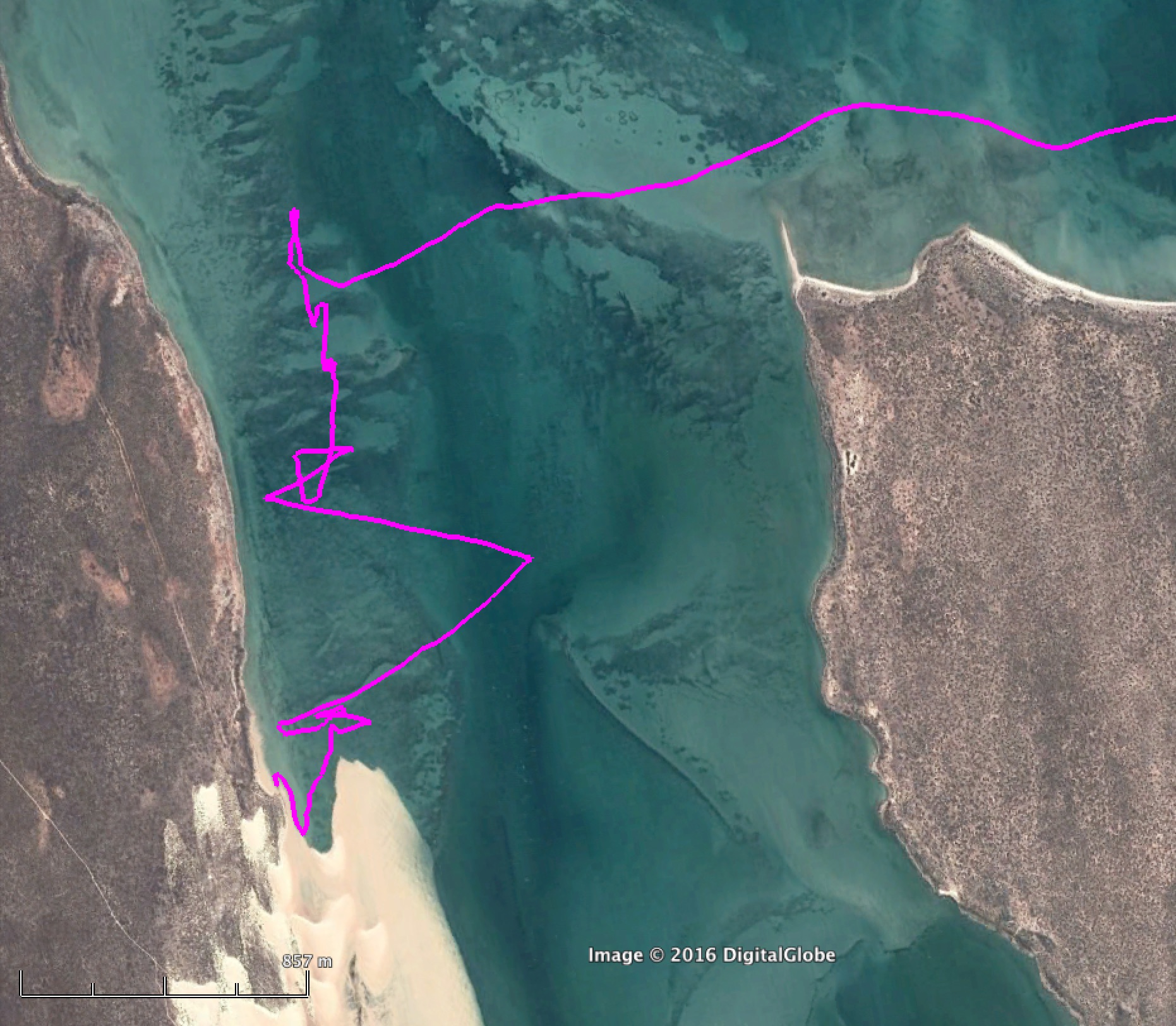 We discover one dry bag did not work keep out the water, and that Stephen's mobile phone contained within that bag did not keep the water out either!
Vrijdag 21 Oktober 2016
(14km - walking)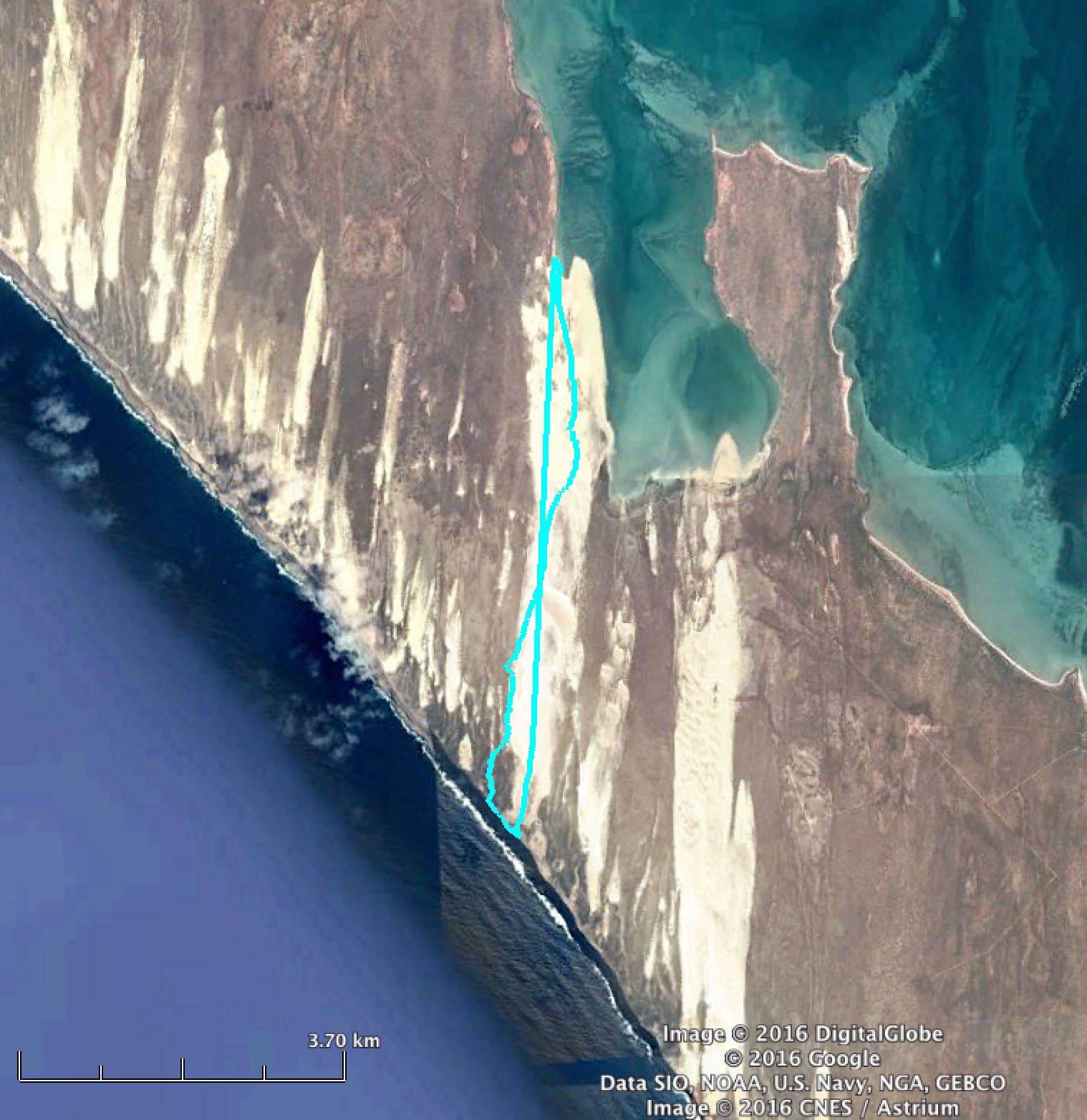 A good southerly wind again today, but today is for hiking to Herald Heights which is above the cliffs on the western side of Dirk Hartog Island looking out across the Indian Ocean.
We cross a Mars-like landscape of massive crescent dunes, then walk up a rutted sandy/limestone slope covered in shells hundreds of metres above sea level. Whether the shells are there by wind, ancient sea levels, land-snails, who knows. From the top (~200m), we see sailing boats out in the Indian Ocean making their way to Denham around the northern tip of Dirk Hartog island.
On returning to Camp Crusty, a plan to swim in the deep dropoff from the sandy point where we landed yesterday is modified after sighting a 2m shark.
Zaterdag 22 Oktober 2016
Tetradon Loop to Louisa Bay
We depart on falling tide pushed along by about 10kts of breeze from SE past tiny Egg Island featuring a little sand dune.
Heading north past Quoin Bluff we run out of wind. At the northern end of the bay we paddle over a magnificent coral reef to reach the beach. We stand in knee deep water, holding the boat so as to catch the shade of her sails, while we have lunch. We find ourselves in a swim-by aquarium: various rays from small to enormous, mini-sharks, skates, turtles, schools of fish including one small deadly stone-fish in the shallows of the beach.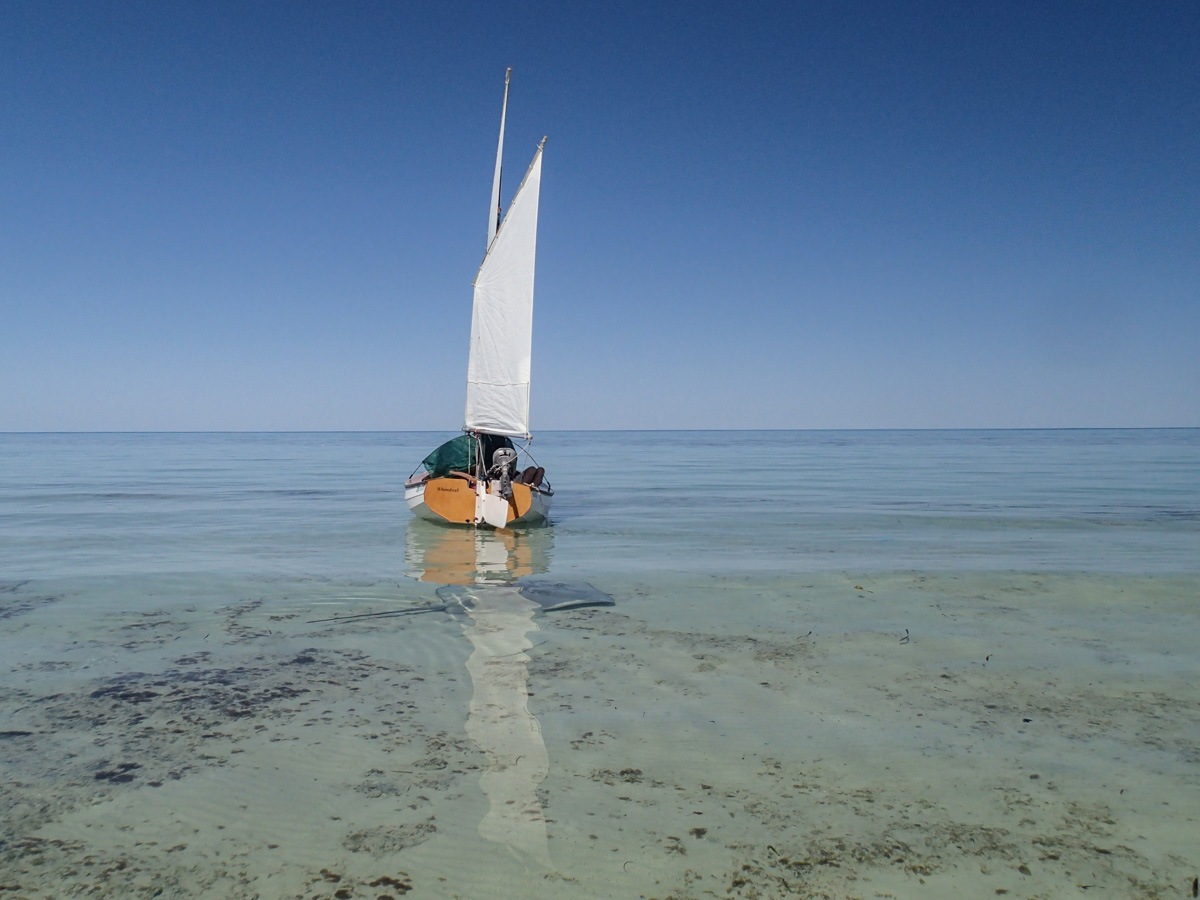 In the afternoon, a very light breeze takes us to Louisa Bay at sunset.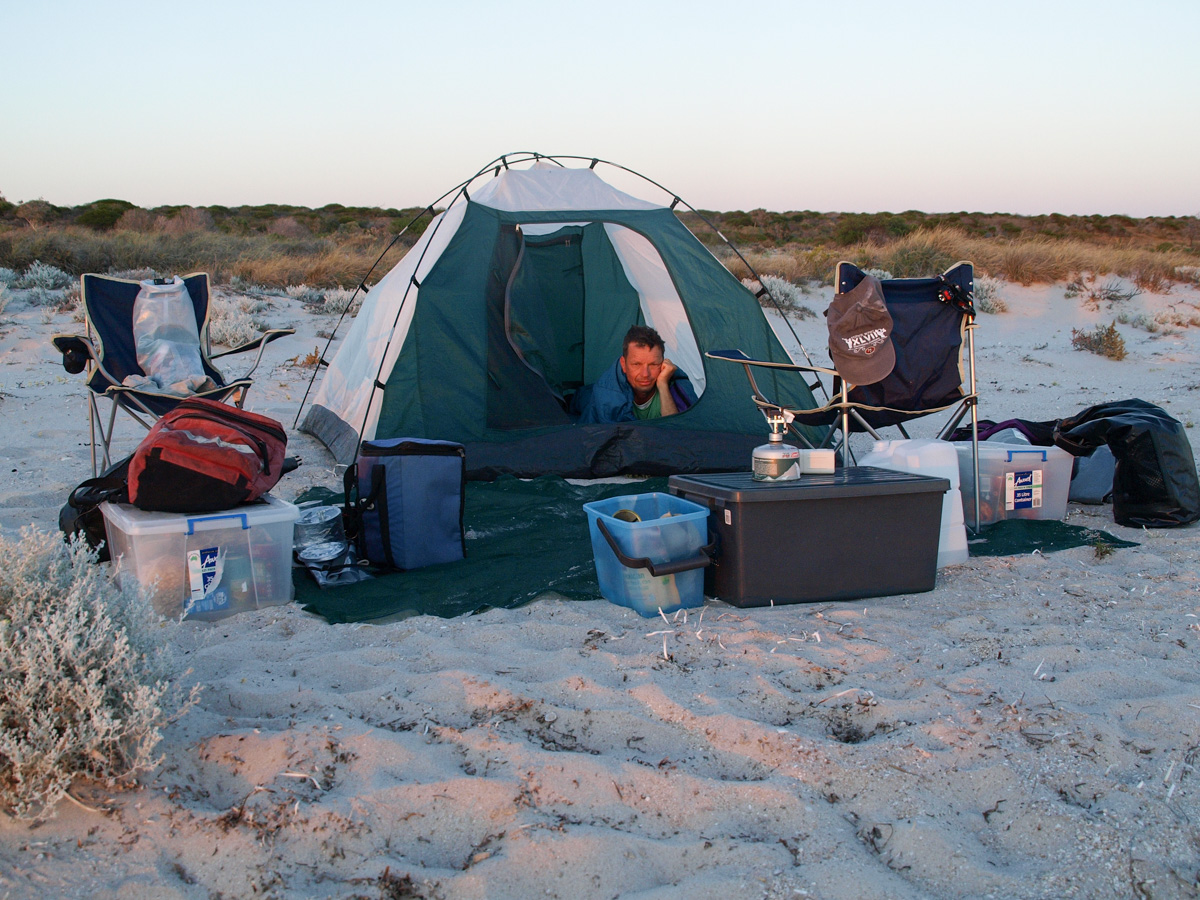 The Milky Way is clearly visible in the night sky plus two other clouds (galaxies?) to the south of the Milky Way.
We hear rhythmic thumping later that night which sounds like fireworks. Celebration in Denham? Military exercises?
Zondag 23 Oktober 2016
Louisa Bay to Withnell Point
The nightlong thumping is explained at sunrise. From the tent, whales can be seen slapping their flukes on the water. The sound it makes is a muffled boom.
Moderate northerly. (Where is the prevailing southerly when you want it?) Spend all day tacking upwind on a plasma green sea. We learn the precise shade of green that matches the centreboard depth.
Work our way past an unnamed sand spit featuring a rookery of birds, and round a bleak rocky point a little farther north called Withnell Point. Dunno what Withnell did wrong to have this godforsaken landscape named after him/her.
Set up camp in front of five distinctive bushes visible on the beach. The beach is littered with shells and many orange crabs with a single over-sized claw. The crabs are found away from the beach in the salt marsh behind the beach and even among and up in the scrubby bushes up on Withnell Point.
A small power boat arrives and anchors for the night but they remain aboard, we remain ashore.
Maandag 24 Oktober 2016
Withnell Point to Cape Inscription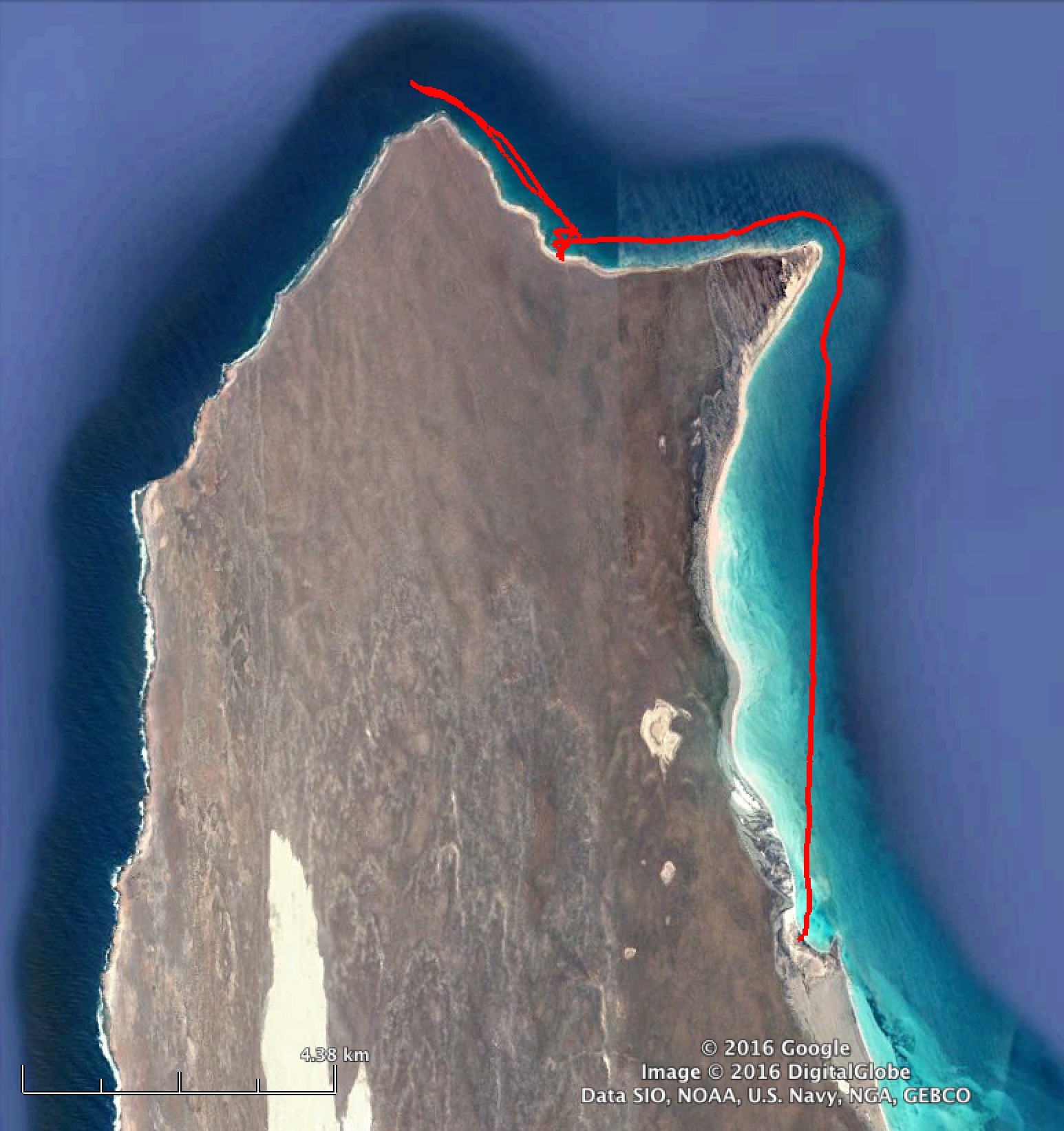 Favourable easterly wind has us reaching the northern end of Hartog Island alongside a pod of whales going the same way.
Sail into Turtle Bay where a couple of other boats are moored.
A challenging surging wave hampers our efforts to offload equipment to set up Camp Crusty.
Climb up the cliff for an awesome view down to the bay watching whales swim past as more boats arrive.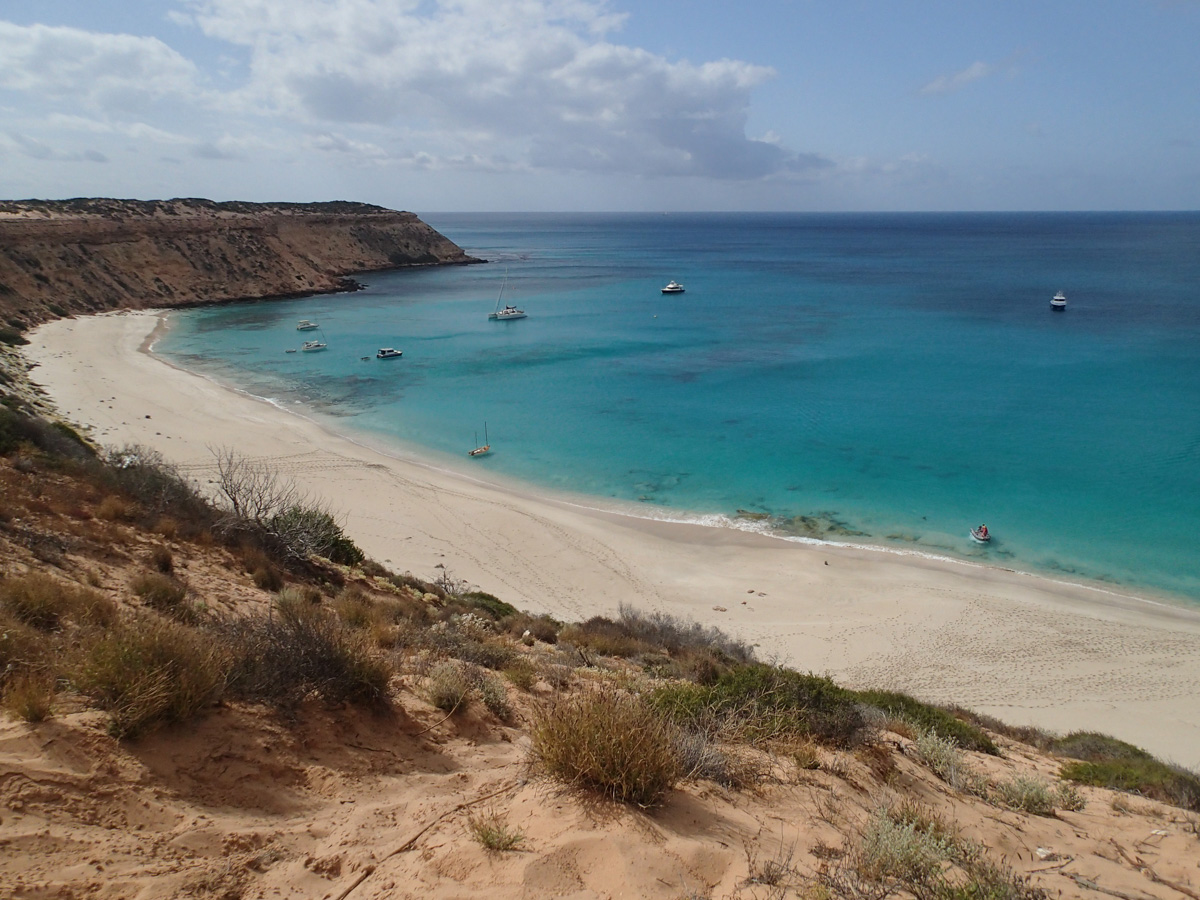 Wind shifts to southerly, so we make a quick break out past Cape Inscription to the Indian Ocean. The crew hoop and holler as Wimbrel rides the wind and surfs the big swells.
Back at Turtle Bay, the Duyfken arrives along with other boats including Mike and Penny in a Hartley 16 Rapscallion.
Dinsdag 25 Oktober 2016
The 400th anniversary of Dirk Hartog's original landing as recorded in his inscribed pewter plate placed at Cape Inscription.
There are 17 boats moored in Turtle Bay including the replica of the Batavia's 9m longboat that made the trip from the Abrolhos islands (off Geraldton) to Jakarta after the Batavia shipwreck in 1629. On land there is a grid-lock of 4WDs assembled near the lighthouse. They had made the crossing from the mainland to Cape Ransonnet by barge, and then driven about 85km on a sandy track to get here.
At Cape Inscription, a crowd of 300 people or more have gathered to listen to speeches and enjoy Dutch apple cake and koekjes (the origin of our English word, cookies). Never have so many people gathered at this remote spot!
Not having washed for several days Stephen and Peter have no trouble getting a photo by themselves at the Hartog Monument.
We reload Wimbrel (in between surges in the waves) and slog our way back to Withnell Point against a stiff southerly. A short distance ahead Rapscallion radios back asking for landmarks for Withnell Point. "Look for five bushes on a beach". "Ah, got it!".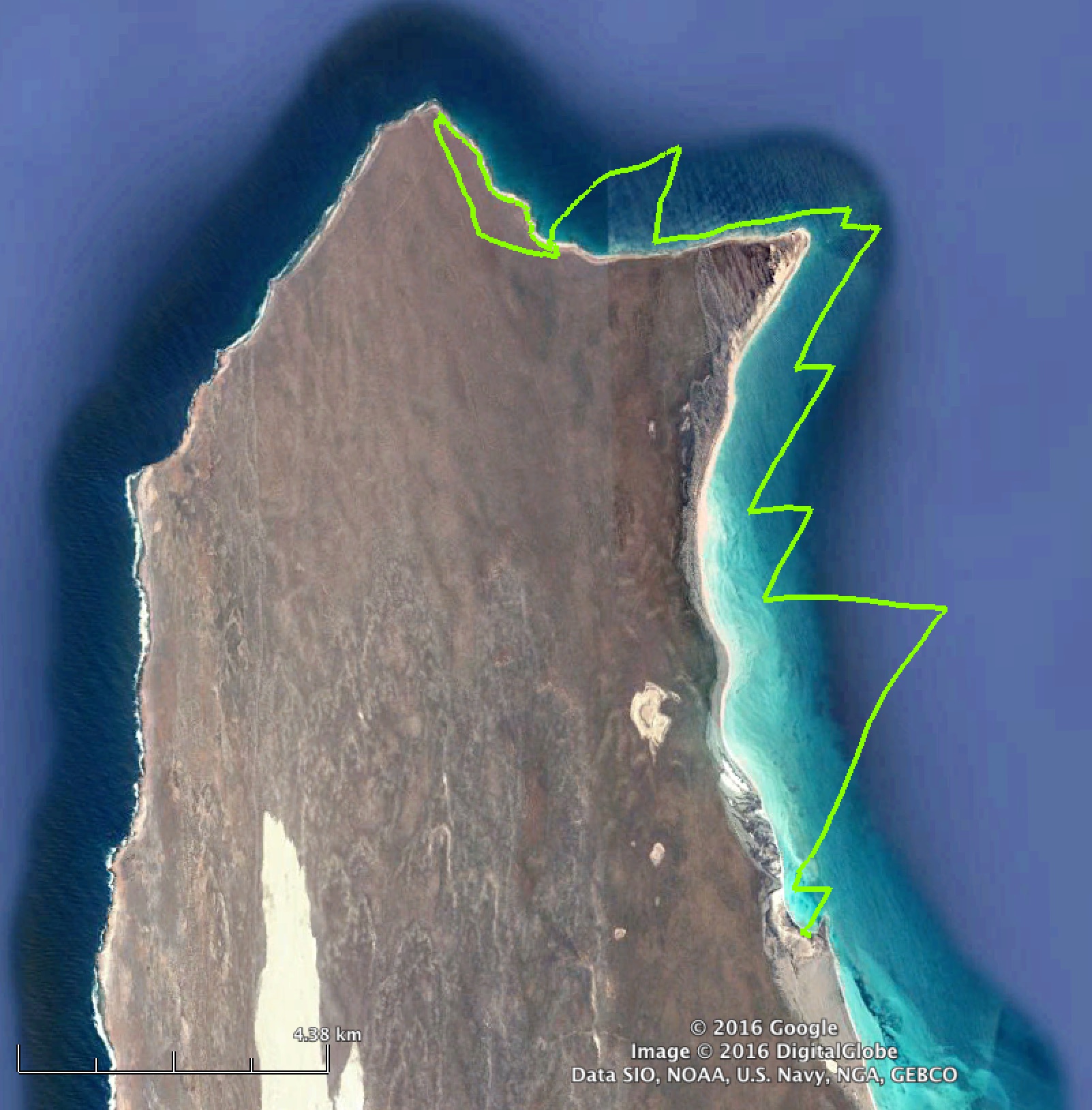 Withnell Point, rather impossibly, looks bleaker than last time.
Woensdag 26 Oktober 2016
Withnell Point to No Name Bay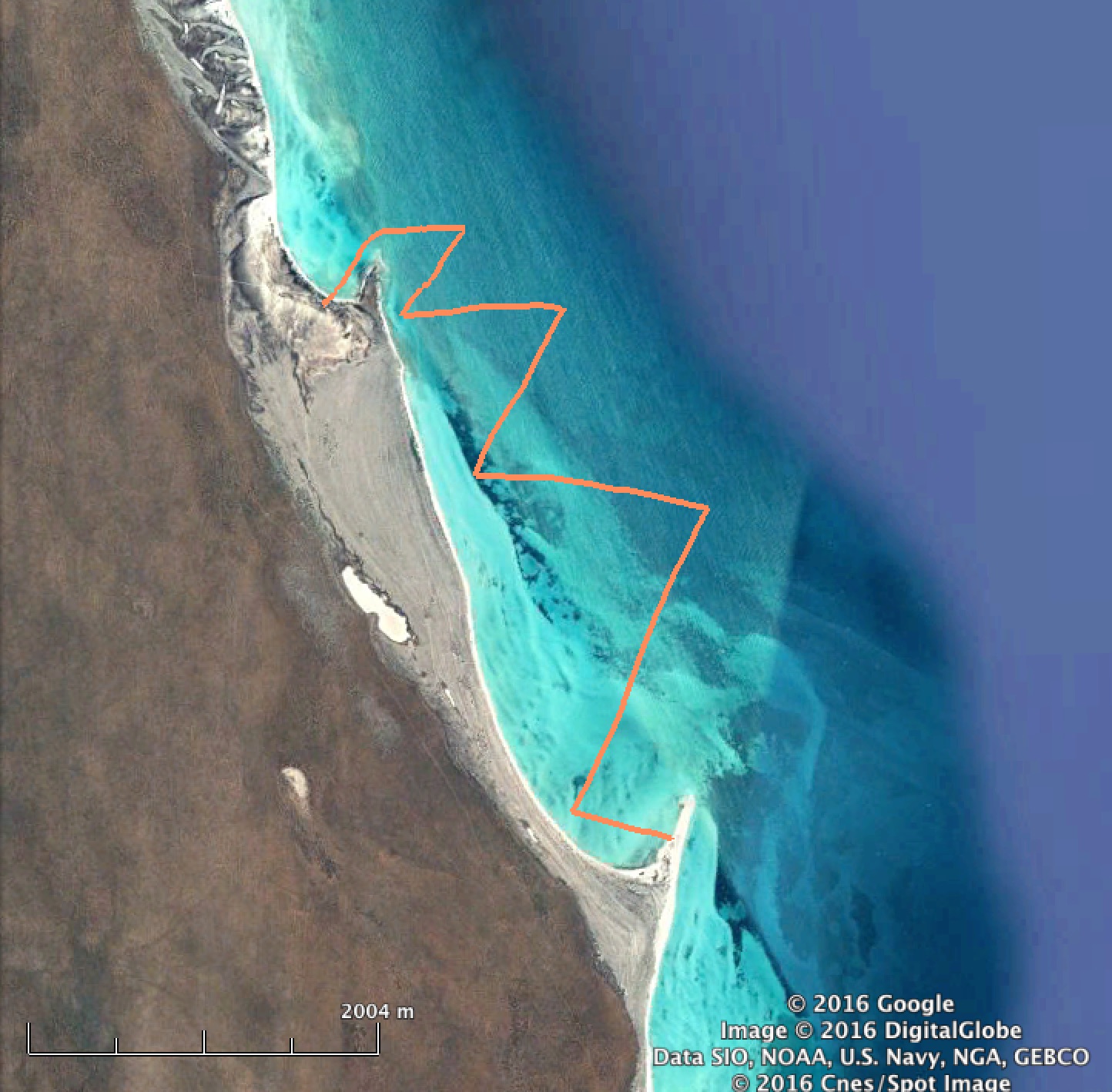 Howling SE winds in the morning forestall any plans of sailing on. Reports of 30 knots are received by radio from yachts offshore. The combined crews of Wimbrel and Rapscallion walk 4km southwards to the sand-spit featuring a bird rookery. The sand-spit conceals a surprisingly large and well-sheltered bay filled with animals - sharks, turtles, rays.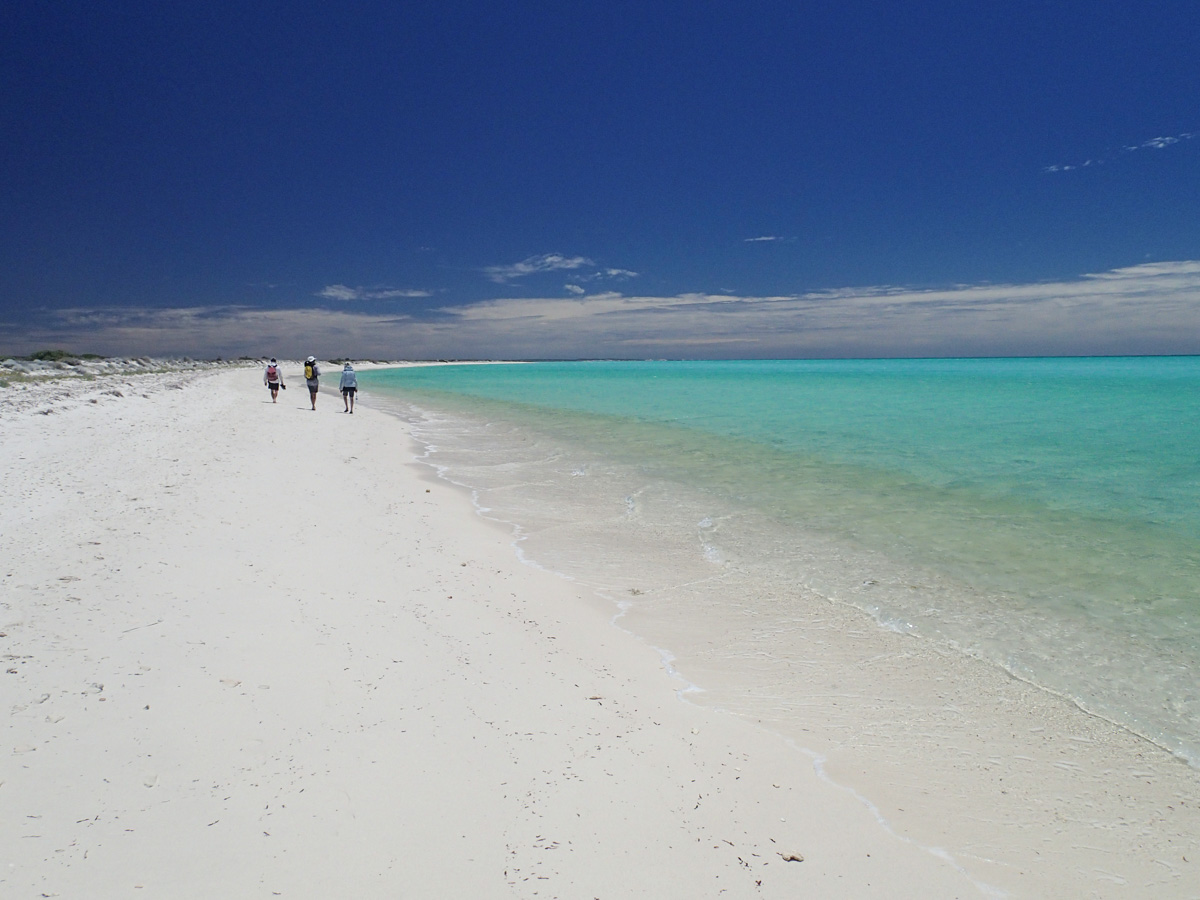 Back at Withnell Point the wind has moderated and a decision is made to sail down to No Name Bay which is windy, but better protected and offers the congeniality of sharing some drinks and nibbles on the beach.
We are most impressed with Rapscallion. She is equipped with two bean bags and a remarkably well stocked cellar.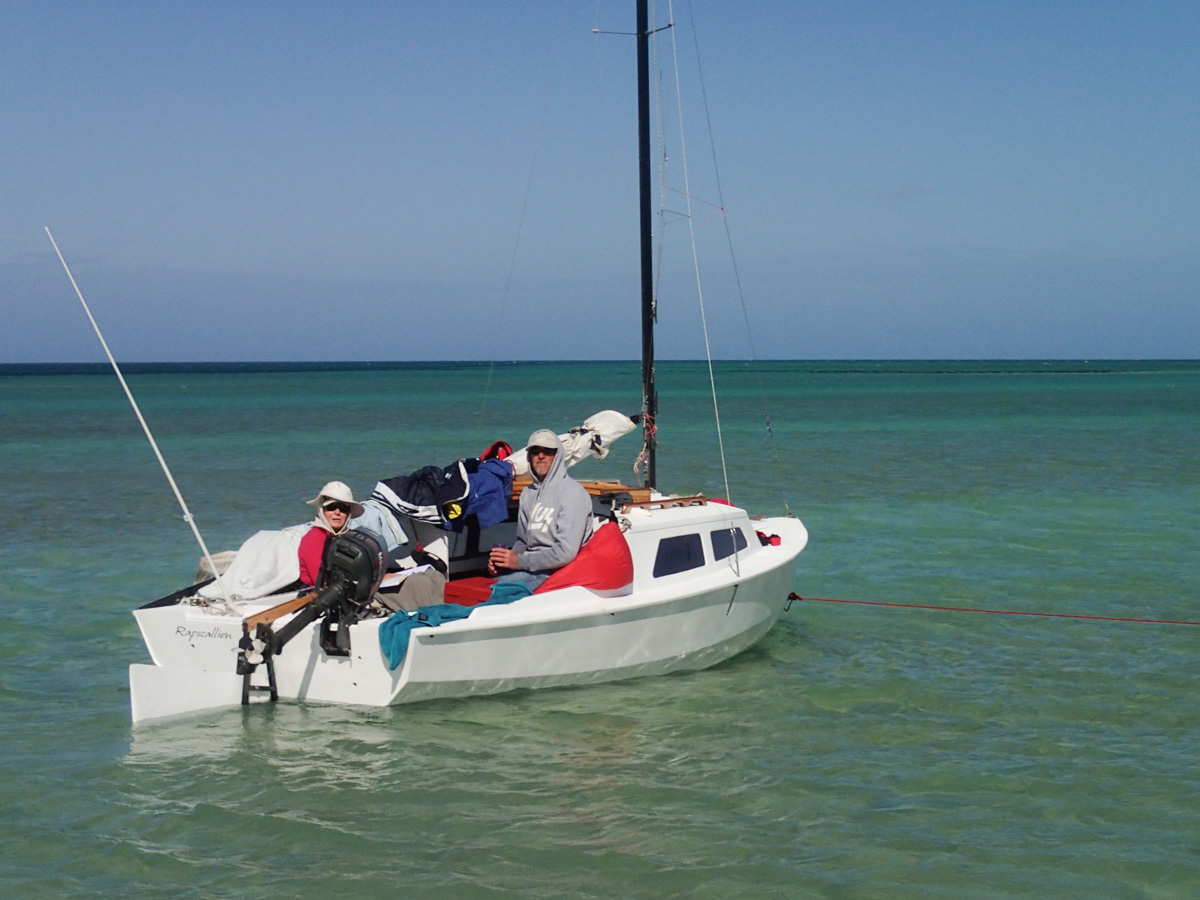 Donderdag 27 Oktober 2016
No Name Bay to Louisa Bay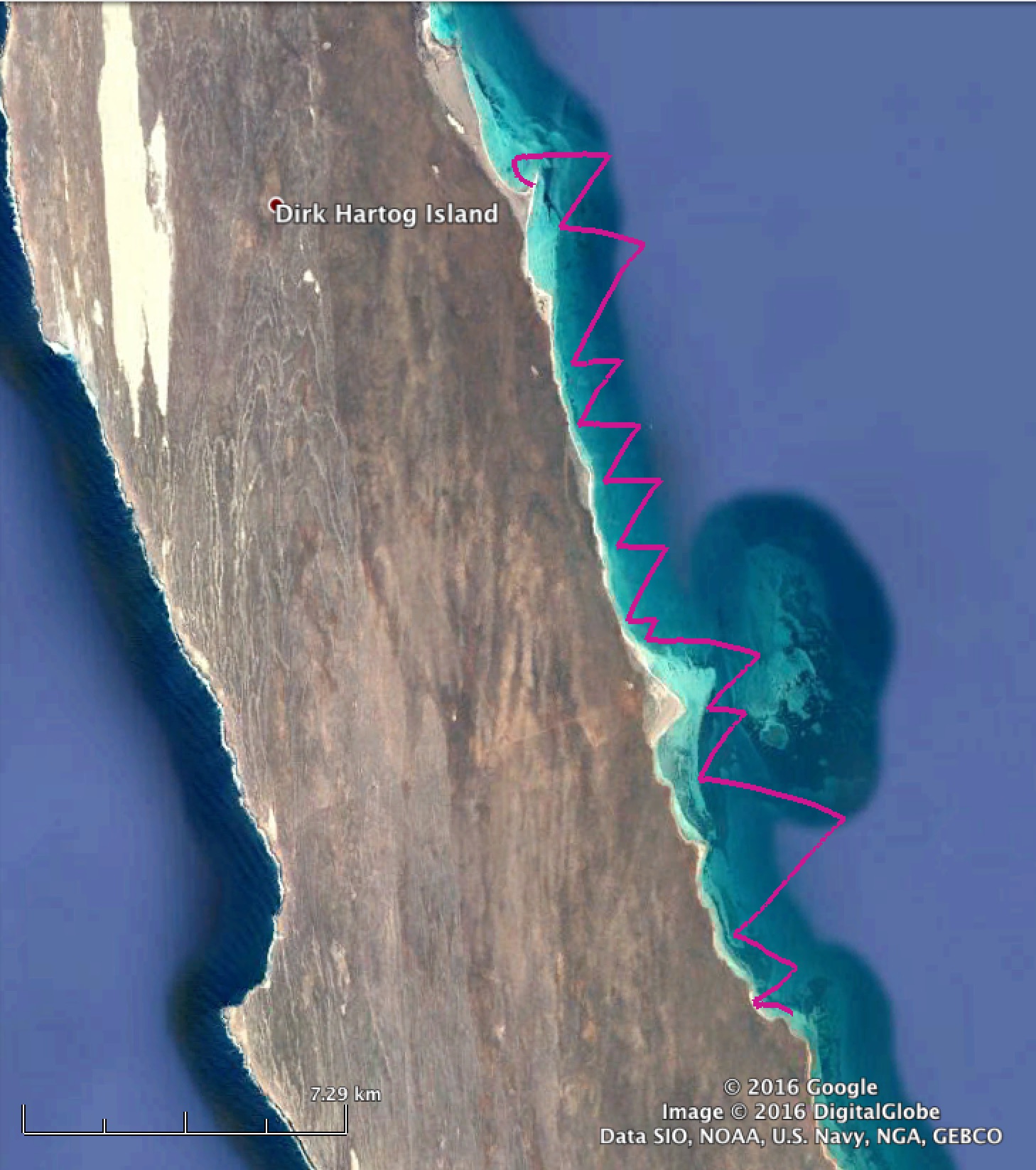 Strong SE winds (again). We spend the day bashing our way upwind, bound for Louisa Bay - a long way away!
As we arrive, a convoy of 4WDs arrive and drive to the southern point and round up like a circle of settler wagons. A couple of drones appear and whiz along the beach and the cape - saves them walking presumably. The pow-wow of 4WDs unwinds and drive off to the south leaving us to dry out our gear in peace.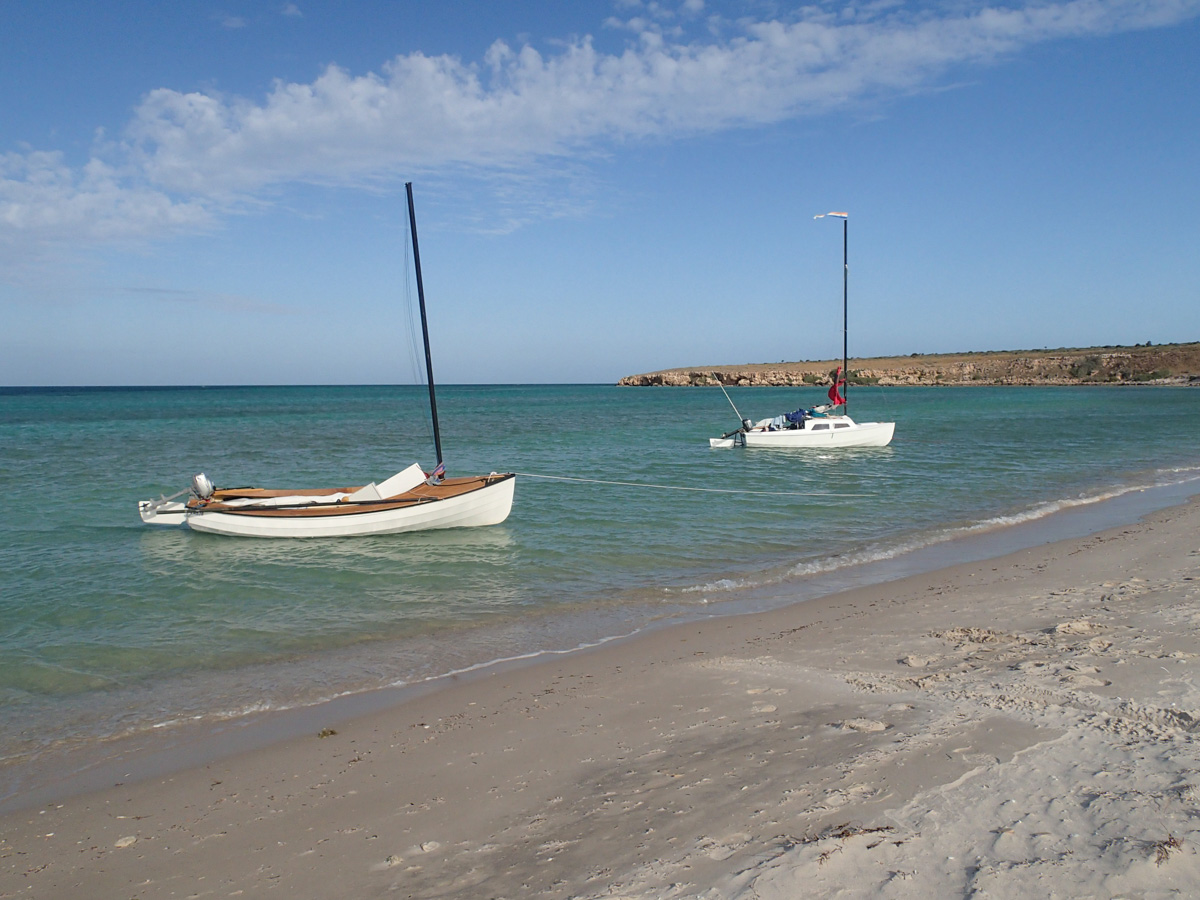 Vrijdag 28 Oktober 2016
Louisa Bay to Denham
Denham is 50km away. We need to sail a course of 110 degrees. Southerly wind looks like it will permit a heading of 120 degrees, so the crossing commences.
Away from the shelter of the coast the waves become large and come at us awkwardly. This is a serious bash.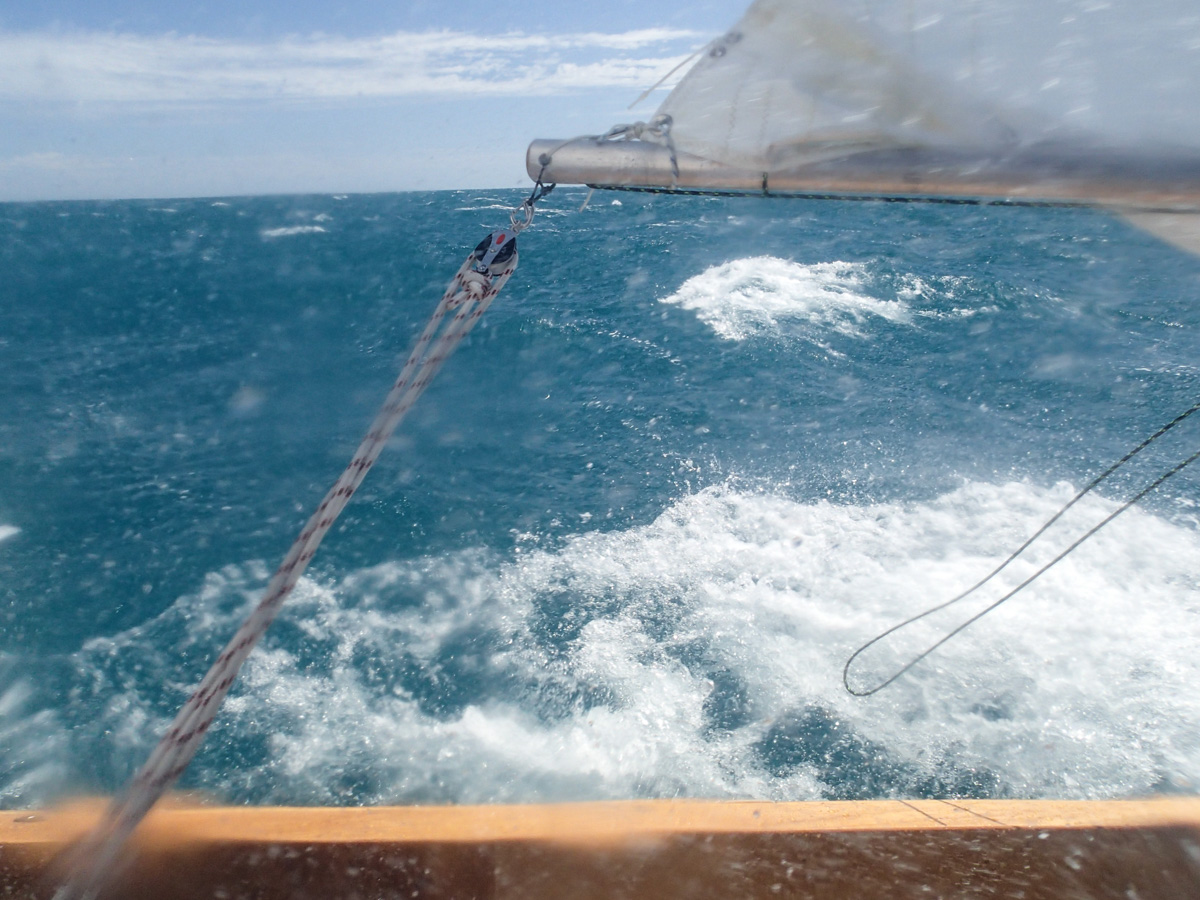 The wind eases as we approach Denham, we cruise triumphantly in. Rapscallion pauses to raid their cellar for a celebratory drink and falls behind. The Duyfken is back on the jetty waiting for us.
Boats are trailered, crews are showered, the road is hit.
A night spent at the local pub and caravan park in Northampton.
Zaterdag 29 Oktober 2016
Early start, big breakfast on foreshore of Geraldton and arrive in Perth in the afternoon. By this time 400 years ago, Hartog was still sailing making his way towards the port of Batavia (Jakarta) which he reached in December.
---