Perth to Cape Naturaliste and Return
Peter Kovesi
A 546 km trip in my 4.6m Welsford Navigator Whimbrel along the Western Australian Coastline over two weeks in March and April 2022.
This account is very long, much of it is written for my own benefit in order to remember the trip. I suggest that, to start with, you just skim over it and enjoy the pictures.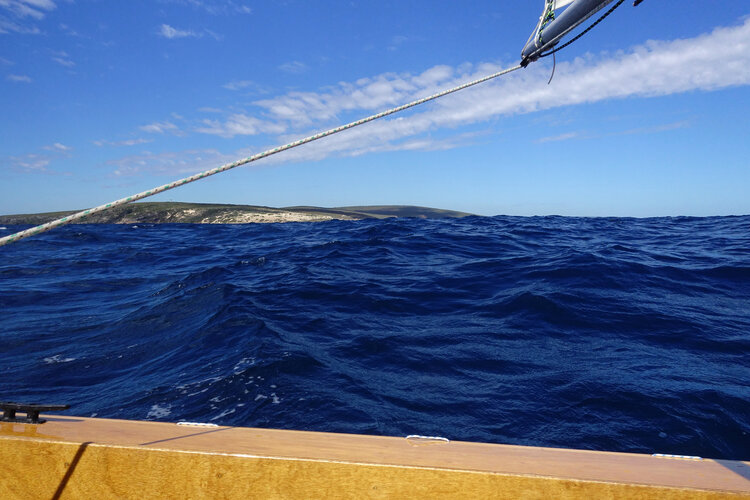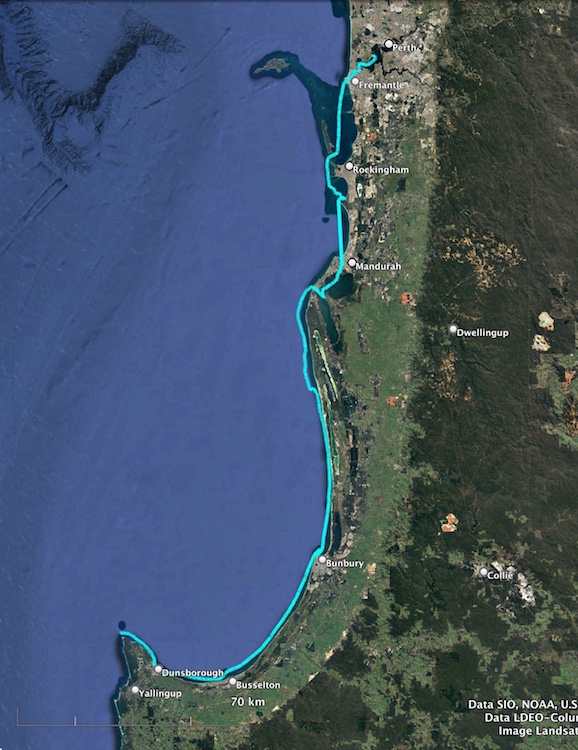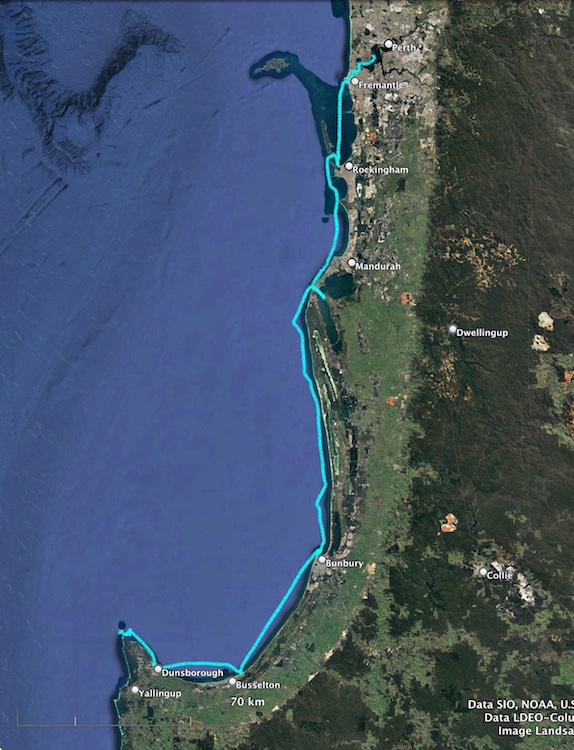 I had been thinking of this trip for years. Could I get from Perth to Cape Naturaliste in my Welsford Navigator? The first part of getting to Mandurah was easy, and could be done in small steps if needed. However, it was the next leg to Bunbury that was the blocker. A 90km stretch with no bail out options on the way. This was what stopped me every time I thought about the trip.
If you could get to Bunbury the rest of the trip looked very doable. The next leg to Busselton was about 50km. While still a significant distance it was within in the sheltered waters of Geographe Bay. Busselton to Dunsborough was easy, about 25km, and then Cape Naturaliste was roughly 15km beyond that.
Over the years I guess I had been subconsciously doing little things that would contribute to making the trip happen. I improved my boat tent and sleeping aboard arrangements as there were no real options for camping ashore on this trip. Drawing from the experience of my Shark Bay trips I made various safety improvements, and worked on making the boat easier to sail.
In the meantime I scouted locations where I could anchor my boat in shelter and camp on it. I knew the perfect spot at Dunsborough from I trip I did there with Paul Ricketts in 2016. I knew the coast to Mandurah intimately. Last Easter I was in Bunbury and checked out where I might hang out in Casuarina Harbour. I knew all the spots I might go.
However in the back of my mind the Mandurah to Bunbury leg remained the challenge. The biggest distance I had sailed in a day was about 60km. Could I sail 90km?
Over the years I had found that if conditions were perfect I could average about 9 km an hour over an extended distance. If I had a really good forecast and was able to maintain 8 to 9 km per hour then I could do the leg in 10 to 11 hours of sailing. If I managed 7 km per hour I was looking at 13 hours, a very long time to be sailing a dinghy single handed. Not something I really wanted to contemplate but, if necessary, not impossible.
There was no concerted preparation programme. Each of these preparations, distance calculations, etc occurred piecemeal over a few years. The idea of doing the trip would enter my head for a while and then it would go away again. However, in early February the idea of doing the trip came back into my head and, a little to my surprise, I realized I was ready to go. The boat was ready and my mind was ready. I got myself a light that I could hoist up the mast in case I arrived in Bunbury after dark. Let's go!
I mentioned the idea of doing the trip to a couple of friends. I am not sure if they really believed I would do it. Finally, I even told my wife!
Setting Off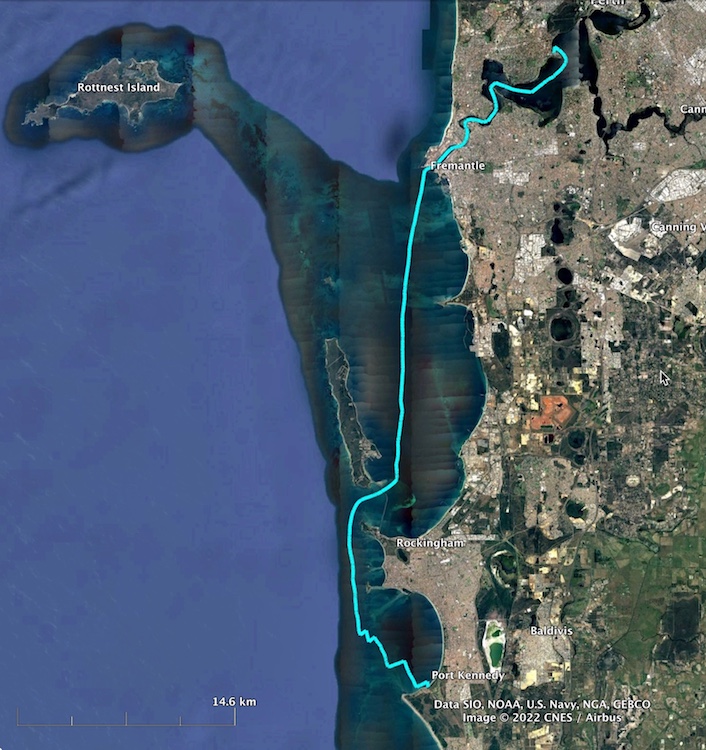 On Thursday 24th of March I set off. Naturally I had been studying the forecasts all week. A complicating factor was that the remains of a small cyclone was tracking down the coast to Perth. Thursday and Friday would give me good sailing to Mandurah but Saturday was going to be wet and Sunday windy. However the remains of the cyclone was also giving a weather opportunity. On the Monday the forecast was for moderate easterlies. This looked to be a good day to do the run to Bunbury, a beam reach on flat water.
I chose to leave from the Crawley Ramp in Matilda Bay for two reasons. The symbolic reason was that it is the bit of river closest to my house. The practical reason was I could launch my boat, drive my car and trailer home, and then get a lift back to my boat.
I got away at 8am. Sailing out from the beach a bit awkwardly I fiddled around getting the centreboard down, the downhauls on, and eventually my rudder down. What was I doing? Setting off to sail to Cape Naturaliste? This is nuts! With all sorts of misgivings swirling around in my mind I worked my way out to windward of the pens at Royal Perth Yacht Club. Then it was a brisk close reach to get around Pelican Point before bearing away for a comfortable run down the river. As the familiar landmarks of the river slid past it felt a bit strange being on a one-way trip out of the river.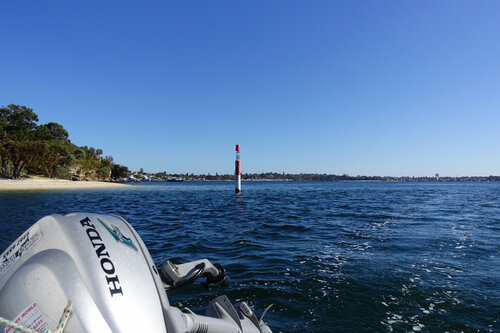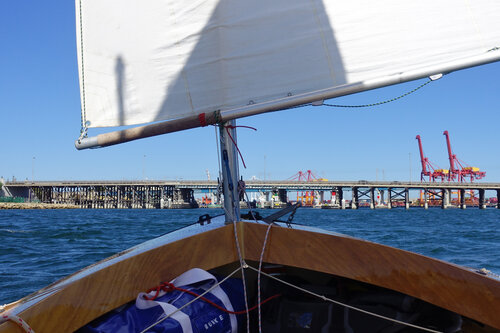 At the Fremantle bridges the incoming tidal flow was pretty strong. Indeed there was a small set of standing waves at the traffic bridge. Making 1 knot of ground speed against the tide the easterly breeze just managed to push me through into the harbour.
Out past South Mole and we turn left. This is it!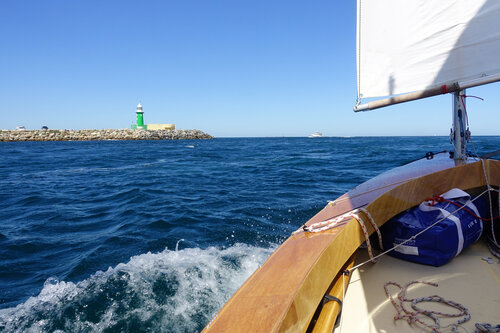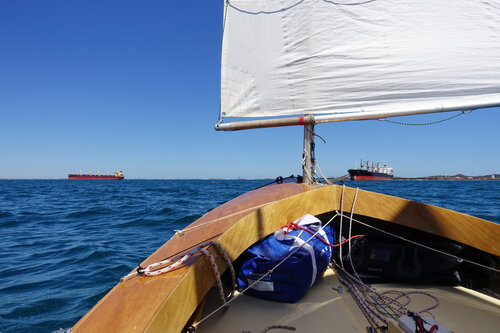 Sailing down into Cockburn Sound I tried to finally relax and settle myself comfortably in the cockpit. I was going to be sitting there for several more hours. However, I was still pretty tense and a bit tired from all my preparations, the slop in the sound was making me feel a bit queasy, was I going to be up to this? My target for the day was to get to Port Kennedy, close to 55km. I did not need to get that far, Rockingham would be fine, but achieving Port Kennedy would reassure me that I could cover a good distance in a day and symbolically it represented a point well out of the metropolitan area.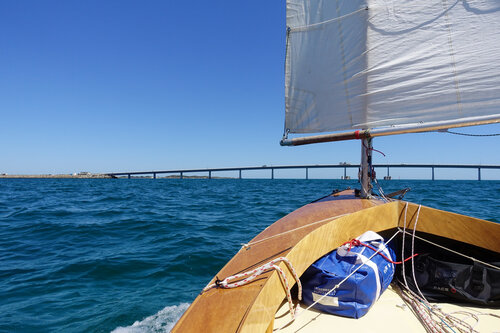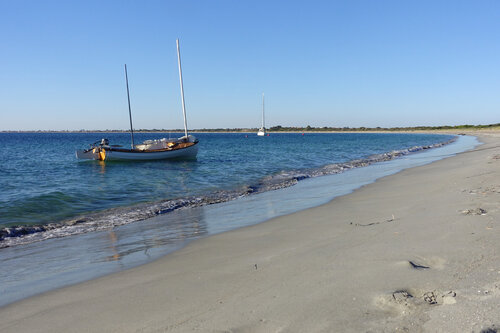 Rockingham slid past in good time and I headed out under the Garden Island causeway bridge and rounded the cardinal marker at Point Peron. Heading south again I passed the western sides of Seal and Penguin Islands until I reached the lead markers into Warnbro Sound. Tacking in I made my way up to the beach at Port Kennedy. It was now about 4pm, I had made it. Things were going to plan!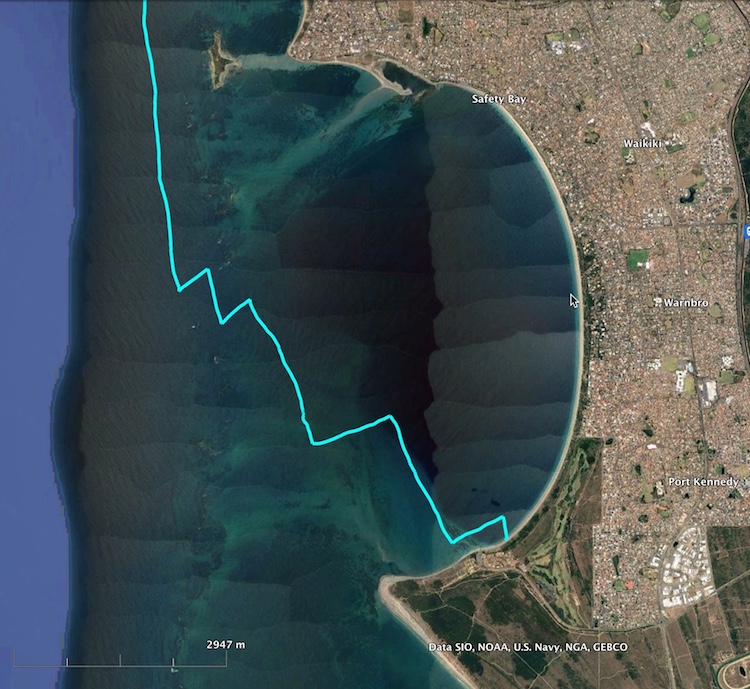 Another yacht was sitting at anchor further around the bay. I picked out a spot a bit away from the late afternoon beachgoers and set about sorting out everything for camping aboard. I had not done this for quite a while and it was taking me a long time to get things organised. It really was a struggle pulling gear out from under the deck panels, extracting things from hatches and discovering which dry bags had the things I wanted. In the cramped confines of the boat I found myself frustrated by having to move things repeatedly into different positions and back again in order to give me room to organise things, or to get other things out, only to give me even more things that had to be moved about. I was feeling very inefficient. In the middle of all this the boat swung and tugged unexpectedly on the anchor and I managed to fall out! It was just into 30cm of water but I was mortified, I was furious, that was so dumb and potentially dangerous. A useful lesson, I had to slow down and work my way carefully and methodically through all this.
Eventually things came together and I made a discovery that improved the quality of life aboard significantly. I keep a chamois cloth on my boat which I normally use to dry the boat off after washing it down. This proved a wonderful thing for wiping the interior of the boat down, drying it off and getting rid of the encrusted salt of the day. Though my cockpit was still a shambles of unorganised gear it was now clean and dry and felt like a nice place to sleep in. In the transom I set up my cooking box, lit my metho stove and made my standard 'tuna surprise' dinner.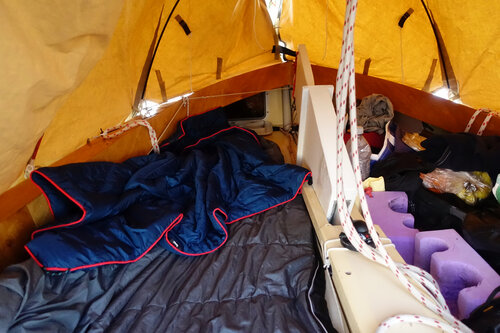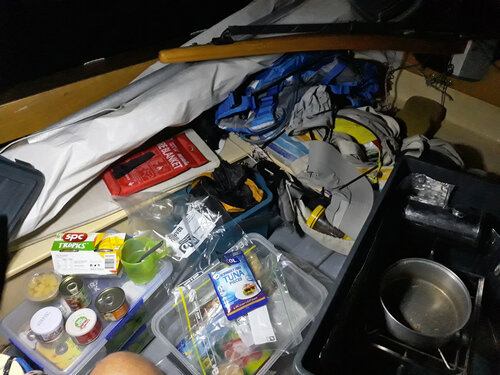 I had told a group of my sailing colleagues about my trip the evening before, and had given them the address of the web page that displayed my Spot Tracker positions. Pretty soon there was quite a group of people following my progress and discussing things on our WA Dinghy Cruising Forum.
Settling down in my sleeping bag I was finally able to look at my phone to check on current affairs, emails that I was not going to answer, the weather for the following day, and the chatter on our Dinghy Cruising forum. The weather for the run down to Mandurah and Dawesville looked great, a nice north easterly. However, on the forum there was some concern for my welfare given the forecast for the weekend, it was looking decidedly wet and windy. I was not too fussed, my boat tent was good, and I was happy to sit things out at Dawesville and, if necessary, move across to the eastern side of the Harvey Estuary for shelter. I had even packed an umbrella!
A sailing colleague, Stef, suggesting that I stay at Andy's place in Mandurah. I knew Andy, but not really well enough to ask him to stay. However, a few phone calls later it was all sorted. It turned out that Andy lived on one of the canals in Mandurah and I could tie up for the weekend on his neighbour's jetty. Things were going better than I could possibly have planned!
With the weekend organised I settled down to sleep. My little boat was rocking gently in the waves but with each rock there was a jarring kick as the mast clunked back and forth within its tube. It was driving me nuts. I tore off a bit of carpet padding from one of my tent support poles and tried jamming it down the tube. No effect. I fastened the halyard to the side of the boat and cranked it on so that the mast was held firmly to one side. No effect, and the tensioned halyard was now slapping against the mast! Then I realised it was not the mast. It was the lowered centreboard clunking in its case. I raised the centreboard, which made my cramped living space even more cramped, and went to sleep.
Mandurah
Friday morning I took things gently getting myself organised. It was going to be a short run down to Mandurah. Still, it took a surprisingly long time to have breakfast, pack everything away, and get the boat and myself set up for sailing again. In fact it took me about two and a half hours. I was astonished how long this took, I consider myself reasonably efficient at doing things. It turned out that two to two and a half hours would be the typical time from waking to sailing for the whole trip. I think my best effort was 1 hour 45 mins. There was so much to do that was hard to do quickly and efficiently within the confines of the boat. A lot of time was spent moving back and forth on the boat and moving gear, and moving that gear again, to make space in order to do something or pack something. Packing and putting the sleeping gear away, packing away the charging gear for phone, camera and GPS, making breakfast and boiling some eggs for lunch, packing snacks for lunch, water bottles, dismantling the boat tent, folding the cover and stowing the poles, packing away the food boxes and cooking box, restepping the mizzen mast (which was used as the tent ridge support), rebending the mizzen on its mast, visit the shore to go to the toilet, sailing clothes on, decide what wet weather gear to wear, decide whether to reef the sails, suncream, hat, safety harness, buoyancy vest, inflatable waist life jacket, GPS on, Spot tracker on, remount compass on centrecase, and a myriad of other details.
Finally after lifting anchor it was a short run to Becher Point. I gybed and with half raised plates made my way across the shallow bank into Comet Bay. What followed was a wonderful two hour broad reach to Mandurah hooning down waves at sensational speeds.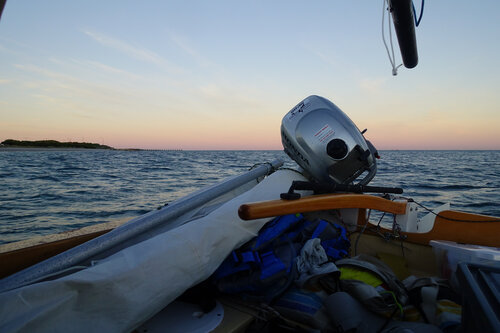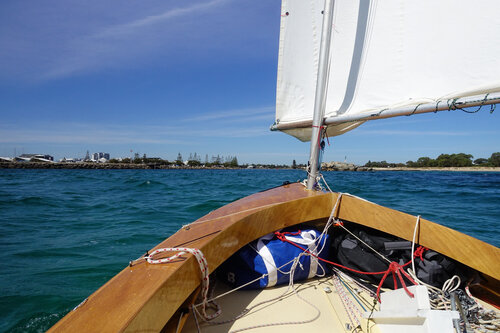 Once inside the entrance I anchored in front of the town esplanade to lower my masts for the road bridge and then motored my way through. "First canal on your left" were my instructions. Shortly after Andy and his dog, Arty, were greeting me at his jetty.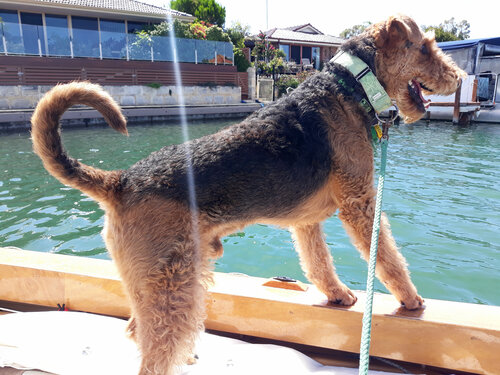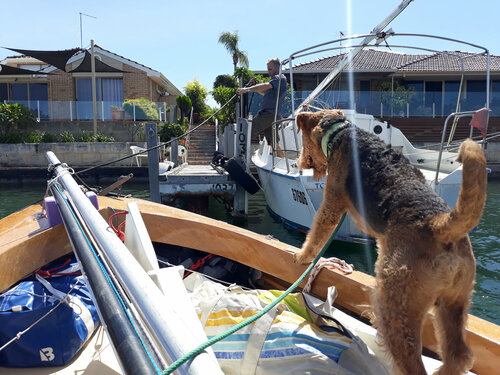 Despite alternative accommodation options being available, including the Young 26 on the other side of the jetty, I chose to sleep on my boat. It just felt like the right thing to do and would allow me to get used to it in a convenient environment. The forecast of heavy rain proved to be overly pessimistic and all we had was a bit of solid rain for a short period early Saturday morning. The boat tent hardly noticed it. I then spent a leisurely Saturday wandering around Mandurah and enjoying its cafes.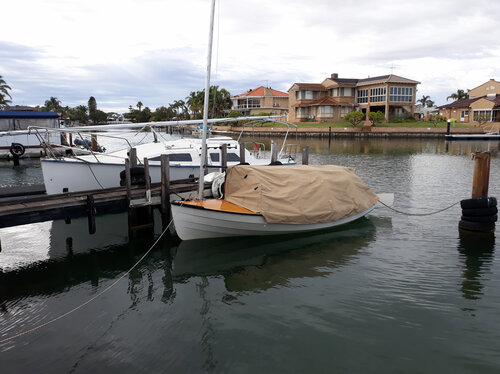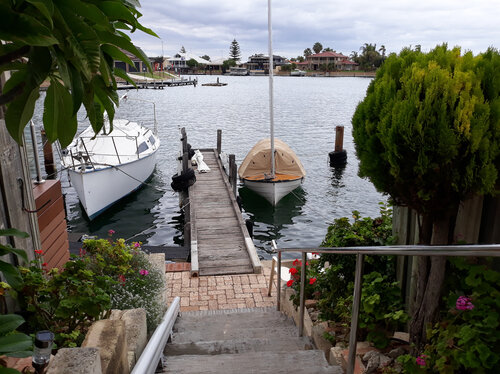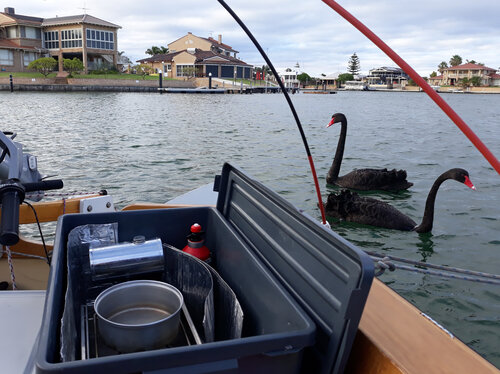 Sunday produced the strong winds that were forecast. After lunch I decided it was time for me to sail down to Point Grey, opposite the Dawesville Cut, so that I would be positioned and ready for the big leg to Bunbury. Given the strong wind I put Whimbrel into her 'chicken rig' configuration; the mizzen is stowed and the main mast restepped in the centre position with just the reefed main set. Waving goodbye to my kind hosts I headed off for what ended up being quite a wet and boisterous trip down the channel to Dawesville where I then tacked up into the shelter of Point Grey.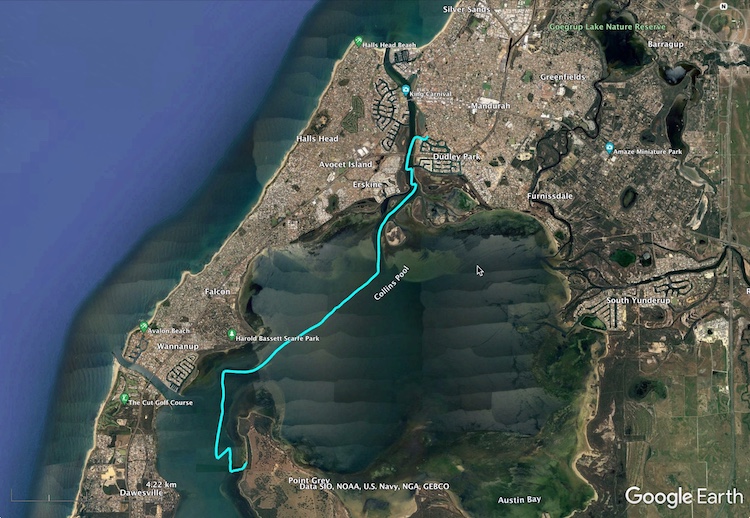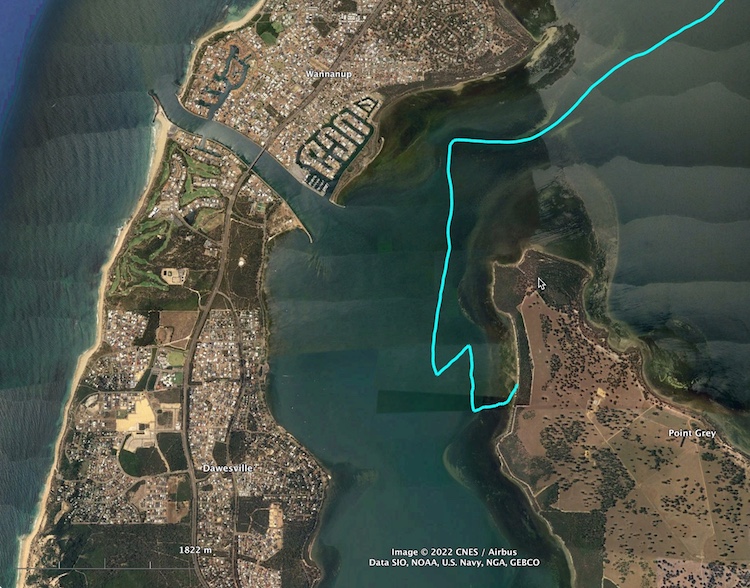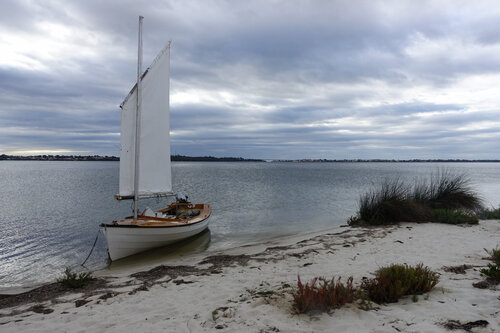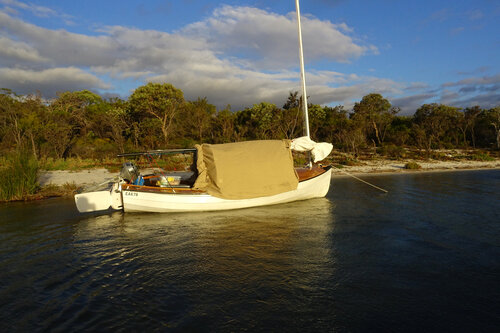 After Mandurah's noise and bustle Point Grey was totally quiet and wonderfully sheltered. Just what I needed to prepare myself for the next leg. In addition to the huge distance ahead of me some navigation was going to be needed to negotiate the northern end of the Bouvard Reef. For navigation I had Navionics with the Australian charts on my mobile phone. However this could only be used for route planning in a calm and dry environment. A phone touch screen in a waterproof case is totally unusable with wet hands and spray. My main tool while sailing is a Garmin hand held GPS but I only had the Australian Topographic maps on it. I had never bothered with the marine charts because they cost a few hundred dollars and would probably not render well on the small screen of my unit. So I transferred the waypoints from the route I planned on my phone to the Garmin GPS so that I could follow these through the northern end of the reef.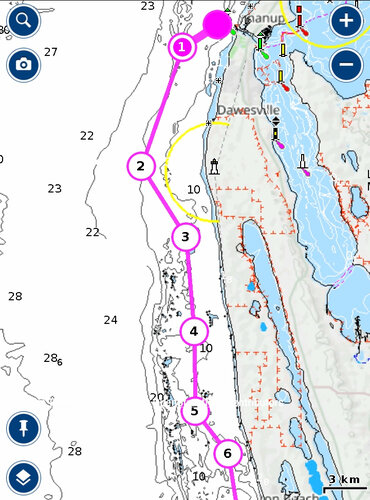 Bunbury
Wanting an early start I got up at 5am and immediately checked the weather. The easterly forecast was still holding but there was going to be a bit of south in the wind. Not ideal but should be OK. I set to work packing the tent and gear away, having breakfast, and preparing a lunch box of food to eat on the way. The mizzen was restepped, gear checked and checked again. Finally the anchor was stowed and I was off. It was just short of 7am and I was a bit annoyed that I had not been able to get away earlier. I was still learning that I had to allow two hours for this process.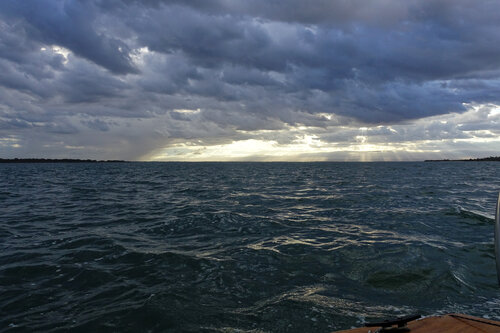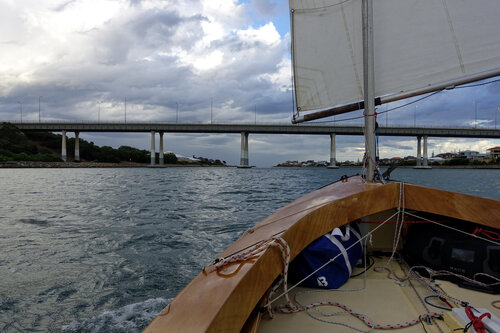 The easterly pushed me across the Harvey Estuary, through the Dawesville Cut and out into the ocean. Turning south I started tracking towards my first waypoint. My draft was such that I could probably go over anything in the reef. The concern was that one might end up in a region where the waves get pushed up dangerously. However, at the moment there was little chance of that with the flat sea from the offshore easterly. Nevertheless I set out to at least nominally follow my waypoints through the reef.
The main thing that I was monitoring was my speed. Was I going fast enough to get to Bunbury before dark? So far things were looking OK. The wind was light to moderate and I was close reaching but with the flat water my speed was in my target range of 8 to 9 kmh.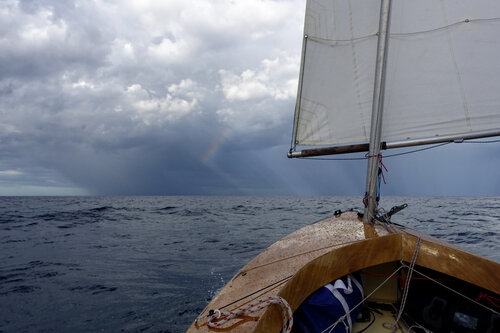 Gradually I ticked off the waypoints, though often cutting corners because of the benign sea. As each waypoint went past there was a nice sense of progress however the wind was shifting more to the south, I was now close hauled. In addition, a chop was building that had an awkward period that Whimbrel did not like at all. I was now sailing well below my target speed. I was through the tricky bits of the reef, the rest of the reef now lay some distance offshore from me. I took a short tack to get closer to the beach and things improved somewhat with the chop not troubling the boat so much but the speed was still worryingly low, down at 6 to 7kmh. I was hiking on the side deck concentrating on getting the best out of the boat. My close hauled heading only just matched the shoreline. The monotonous coastline of dunes kept sliding past but with landmarks few and far between there was little sense of progress.
It was a very, very long stretch between Preston Beach and Mylup. The only indication I had got to Mylup was seeing the water tower behind the dunes. The wind went back more to the east and strengthened. I was now reefed and close reaching. The speed was looking good again but it was gusty and I was having to work the main sheet constantly. Spray was coming over the bow regularly and I was starting to get a bit cold. It was my legs. I had my jacket on but not my wet weather trousers. I really did not want to stop, it would have been quite a performance getting out of my safety gear and jacket, putting on the trousers and then everything else again. I should have done this but instead I draped my spare jacket over my legs and carried on, not ideal but it helped.
Binningup was next. As I went past things were getting a bit grim. The gusts were really troublesome and the spray kept coming at me. At this stage I had been sailing for well over 9 hours. I was tired and cold and I had had enough. Unknown to me James, a sailing colleague, was on his way to Margaret River and had stopped at Binningup on the chance he would see me going past. In the distance he saw me and captured some distant photos. The memories that they bring back are not good!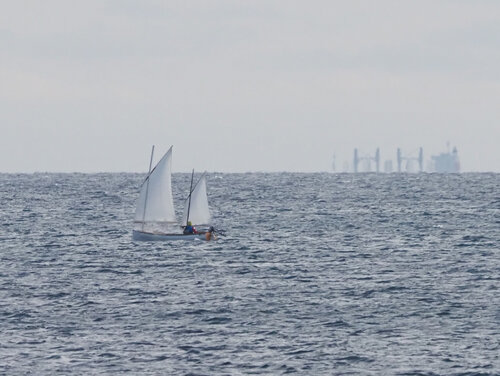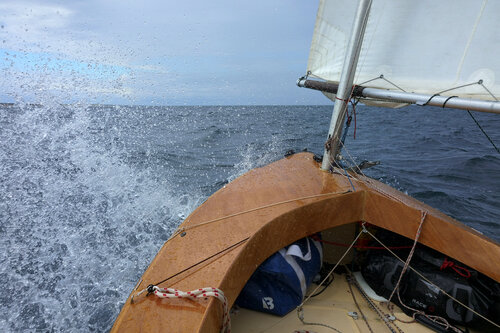 Bunbury was starting to appear in the distance. My destination was in sight! On I went. Now I was looking at the height of the sun in the sky. Again and again I would look at Bunbury in the distance and then look up at the sun. It was going to be close. I could see the buildings but it was taking forever for them to get closer. Gradually they crept towards me and finally, finally I entered the shelter of the harbour. I made my way across to the beach at the back. I hopped out and stood on the sand in exhausted relief. It was 6.15 and the sun was setting. I had been sailing for nearly 11 and a half hours.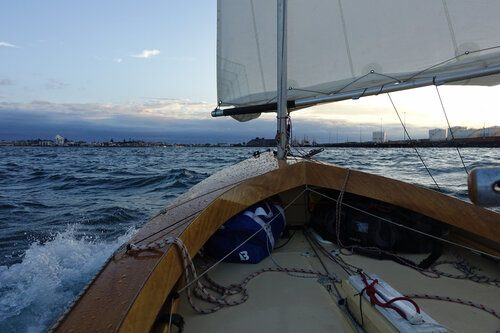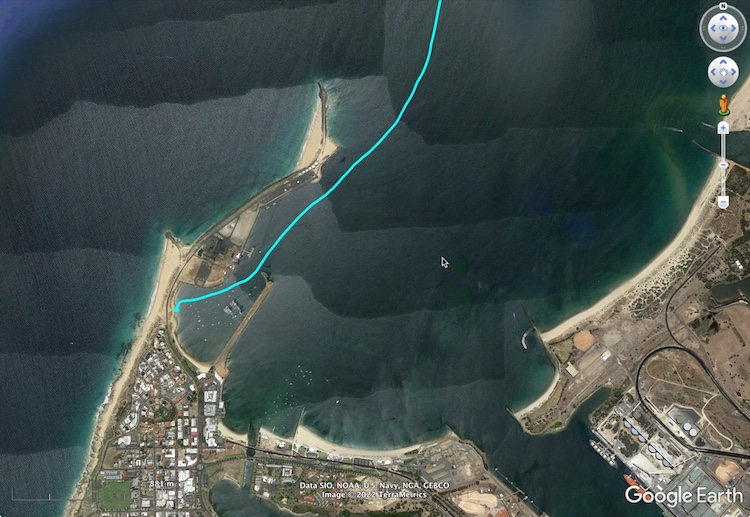 Anchoring myself off the beach I set about organising warmth, shelter and food. Finally at 8.30 I was in my sleeping bag.
Lay Day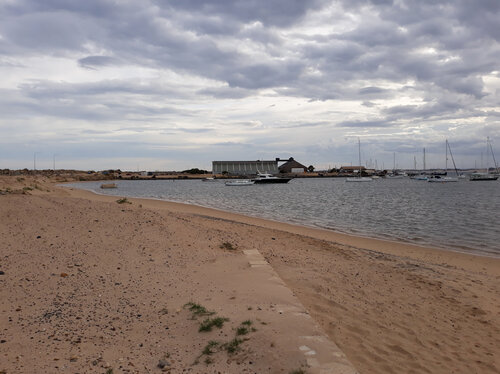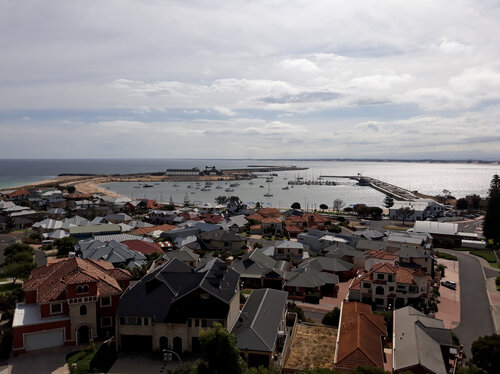 Today was always going to be a lay day. I knew I would be exhausted after this leg. Wandering into town I found a nice cafe for breakfast and started my recovery. Even after a good breakfast I still felt pretty drained. The previous day had taken a lot out of me. The thought of doing it again to go back was daunting. Maybe I will just take a taxi! On my way back to my boat I washed away the residual salt from yesterday's sailing using a cold freshwater shower at the beach and felt much better.
It was a good day for a lay day because the wind was howling. Whitecaps were forming in the harbour and I relocated Whimbrel close to the breakwater for shelter. Resting in my boat I started contemplating the next leg to Busselton. It was still a significant 50km away but after yesterday's effort it seemed like nothing. The forecast looked excellent with a brisk north easterly promising me a comfortable broad reach on flat water.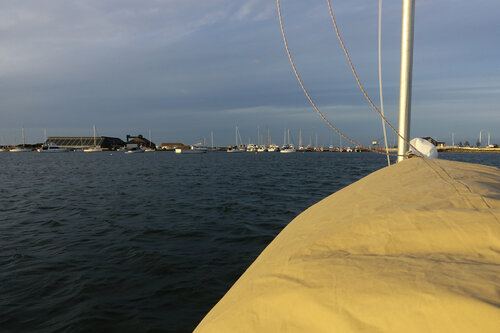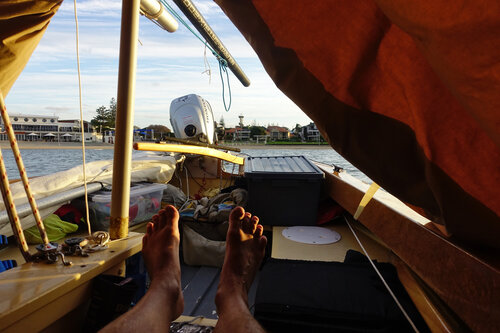 Busselton and Dunsborough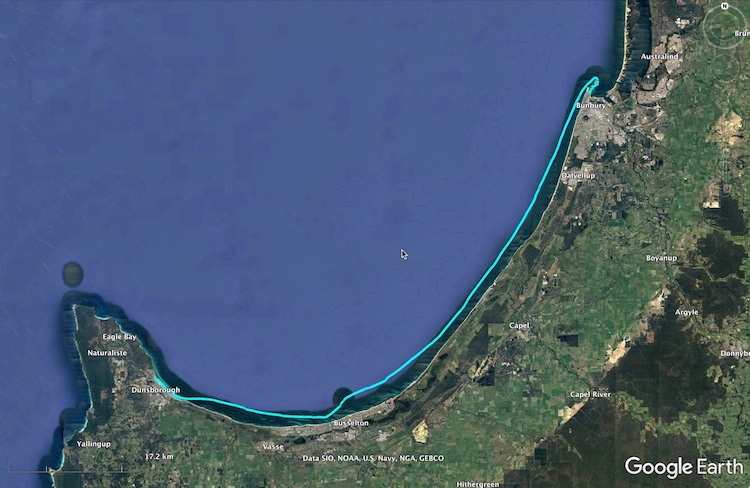 I got myself going at about 9am on Wednesday morning. The solid north easterly meant that I had a bit of upwind work to get out of the harbour. By the time I rounded the end of the main breakwater I had been solidly drenched with spray. Bearing away to the south I settled in to the promised broad reach. What a wonderful reach it was. Sitting comfortably back in my cockpit all I had to do was steer my way down the waves surfing them for as long as I could. A couple of times I had dolphins riding beside the bow. The camera would quickly come out but all I did was capture lots of photos of bits of water where a dolphin used to be.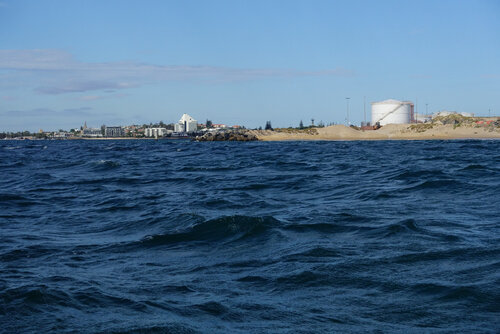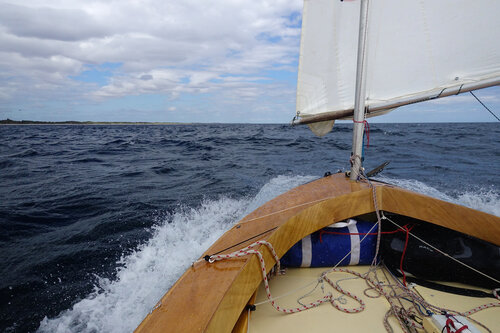 I was at the Busselton jetty a bit before 2pm. The five hours of sailing felt like nothing. Progress was too good to stop now. Dunsborough was 'only' about another 20km. So on I went.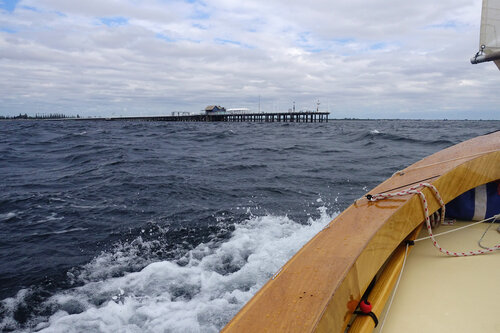 As I joyfully surfed my way southwards the faint outline of Cape Naturaliste slowly appeared in the distance. What a feeling. The Cape was gradually coming into sight in front of me.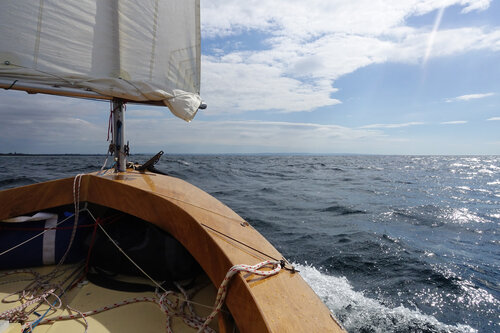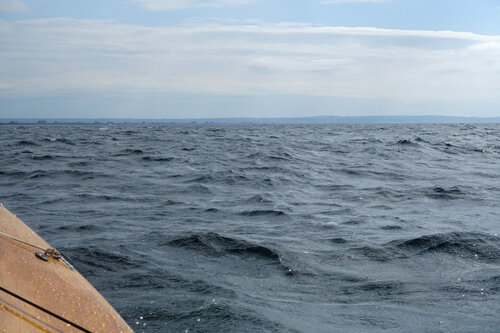 The wind eased a bit but progress was still fantastic. I picked my way through the fleet of yachts at anchor at Quindalup but not a single boat seemed to have anyone at home. Carrying on to Dunsborough I slid over the shallows in front of the old part of town to the small lagoon that Paul Ricketts and I had used back in 2016. It was the perfect micro anchorage with shallow sand banks providing shelter even from the north. It was also somewhat secluded by trees and the closest road was a cul-de-sac. It was only a bit after 4.30pm. It was warm and the sun was shining. I had plenty of time to set up the boat, use the beach shower, and head into town for dinner. What a great day!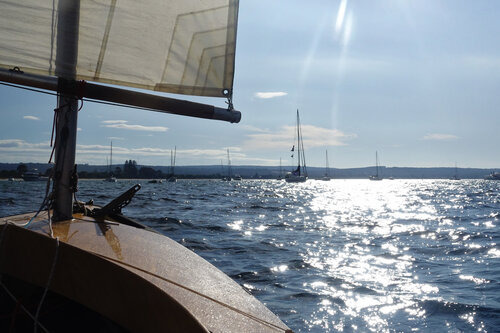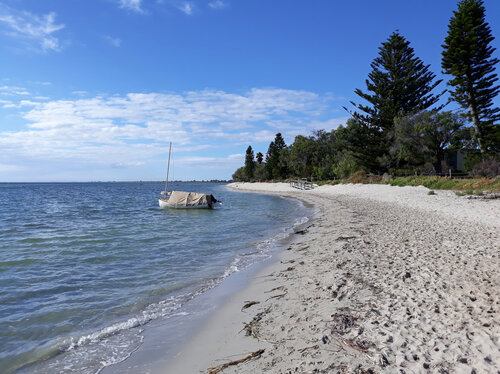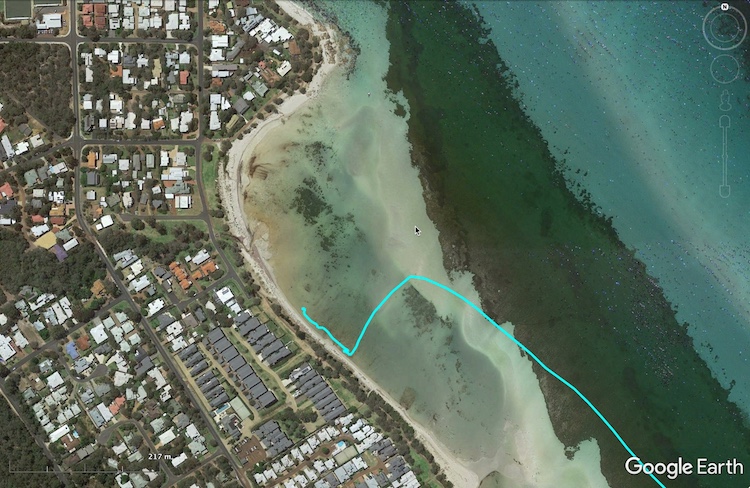 Cape Naturaliste
Thursday had not looked the best for making the trip out to the Cape. The forecast was for quite strong winds. I was prepared to sit out the day in Dunsborough and head out on Friday. Sure enough the wind was very strong when I woke up. However by 9am the SE breeze had moderated and it felt like a really nice day to go sailing. Sure, it would mean an afternoon of tacking to get back to Dunsborough but that was OK, I had nothing else to do.
I quickly packed the boat tent and got ready to go, managing to get away a bit before 11am. With plates lifted I slipped out of my little lagoon and followed the coast north west towards the Cape. It was not too long before I was passing Meelup and then Eagle Bay. To see the rocky coastline after a week of sailing past sand dunes was exciting. The colours were beautiful, blue and green water, the orange/brown rock and then the dark green vegetation above. Added to this were the brilliant white sands of Eagle and Bunker Bays.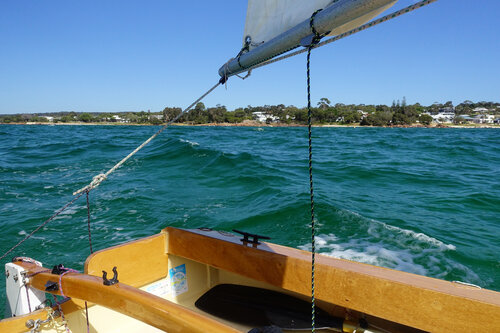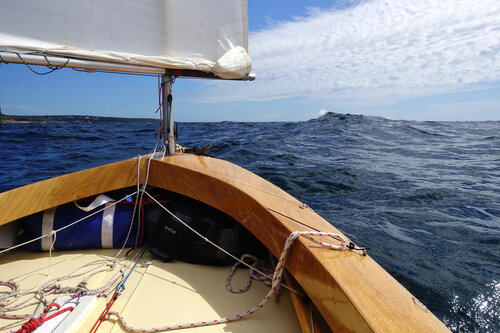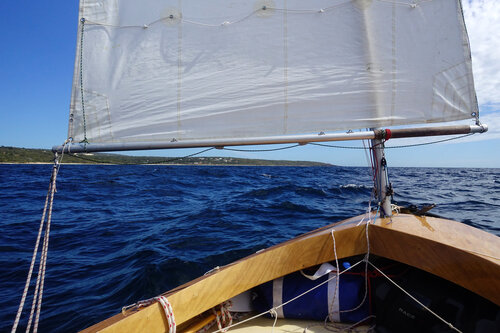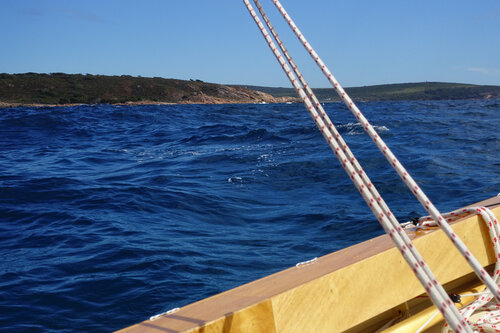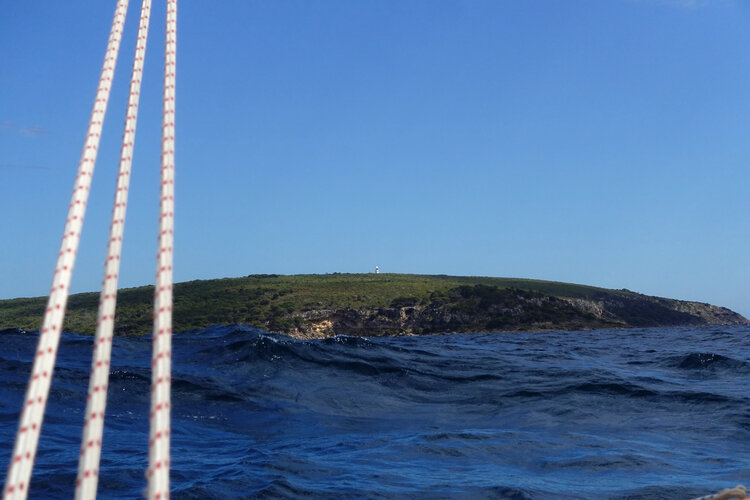 I could now see the lighthouse above me. It looked a bit small and distant being set back from the coast at the highest point on the headland. In fact I found it a little disappointing. There was still a bit of distance to get to the Cape and I carried on. The wind was easing a little but was still solid enough, however there was still quite a bit of slop left over from the strong winds earlier. Going a bit beyond the Cape I could finally look southwards. There I could see Sugarloaf Rock and, in the distance, Yallingup. For a moment I really wanted to keep going. The coast heading south looked so enticing. However this was a hostile coast and the next safe anchorage of Hamelin Bay was a long, long way south.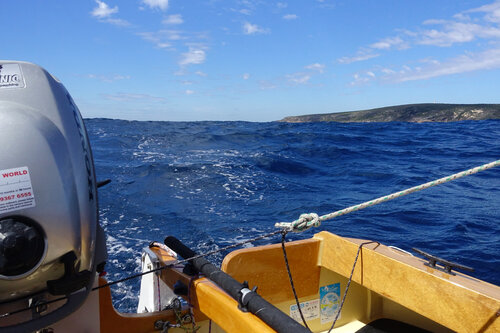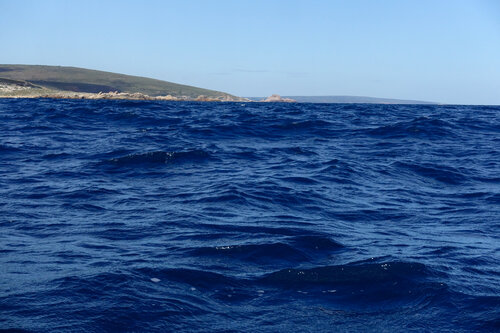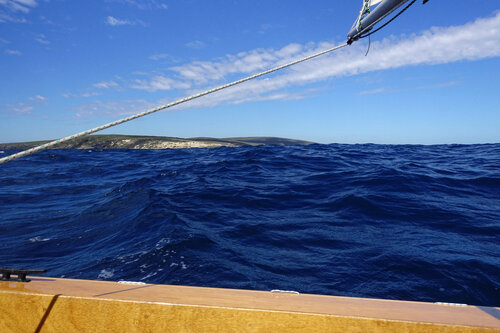 Having savoured the fact that I had got to the Cape I hardened the sheets for the work back to Dunsborough. I started making some progress but then things seemed to become really difficult. With the easing wind and the slop I was struggling to get the boat to go. Every time I tacked I found I was making no progress against the shoreline. Everything I tried just didn't work. Looking at my GPS track I noted that my effective tacking angles were about 180 degrees. I was bewildered.
In the middle of this a cat, heading north, came into view and motored past without stopping to say hello. That seemed a bit rude. Had they seen me? They were motoring, perhaps I should too. At 3.30pm I finally accepted that my effort to sail back was futile and I fired up the outboard.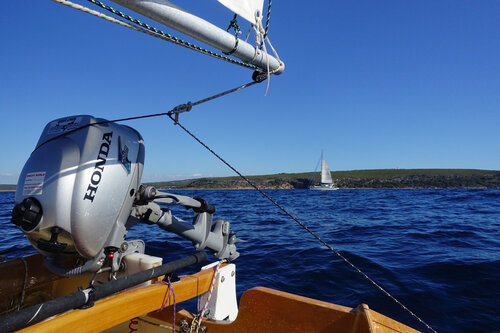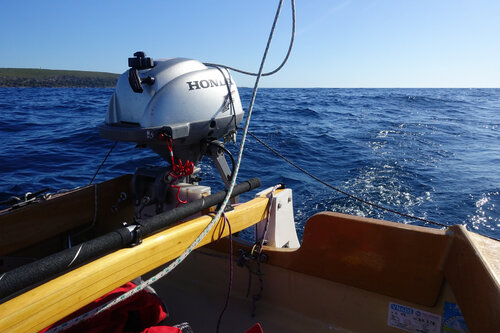 As I motored my way back the little little wind there was gradually died away and the sea glassed off. I got back to Dunsborough at about 5.30pm. I was disappointed that I had to motor back, but so be it. I had got to Cape Naturaliste. It seemed astonishing that a week ago I had launched my little boat at my local boat ramp, and now I was here!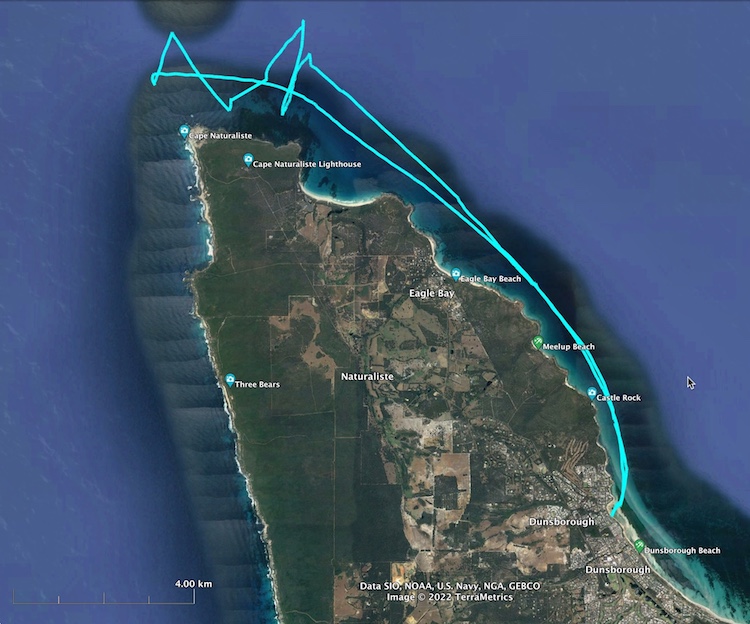 Later that evening on the forum my sailing friend Jim commented that there is typically a southward current at the Cape. That explained a lot. This was something I had never considered. I will need to be more switched on to this sort of thing in future.
My attention now turned to how I was to get home again. Friday had a forecast for rather light northerly. I should be able to get to Busselton on that, it's only 20km. Then, looking ahead, Monday looked like a really good day to do the Bunbury to Dawesville leg with a moderate to strong south easterly forecast. This meant I had to get to Bunbury by Sunday afternoon. The Saturday forecast looked no good for getting to Bunbury. There was going to be a north easterly blowing directly from where I wanted to go. Fortunately Sunday looked OK with a moderate south easterly to get me there.
So that was the plan. Get to Busselton on Friday. Wait out a day and get to Bunbury on Sunday. Then, on Monday, hopefully, get blown up to Dawesville on a good south easterly.
Busselton
From the forecast it looked like I would be sailing close hauled on port to Busselton. Sure enough I woke to a light north easterly. Tacking out of my lagoon with plates raised to get across the shallows was a bit tricky. Once outside I was pleased to encounter a pod of dolphins milling around. The breeze filled in a bit and I settled down to my close hauled course. To my dismay the wind quickly died away. When I eventually limped up to Quindalup my intention to sail all the way gave in to reality and I fired up the outboard. The sea glassed out and I had to motor all the way to Busselton. By the end I was certainly sick of listening to my air cooled Honda.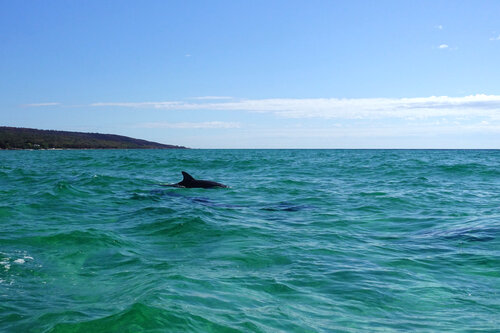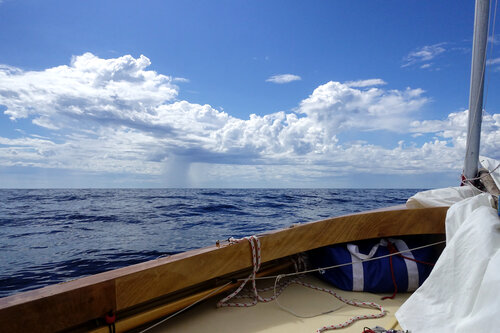 At the outer marker for the entrance to Port Geographe I paused to check if there was enough fuel left in the outboard's integral tank to make it all the way in. There is no gauge, you have to take the cap off and look into the tank. There was fuel still sloshing around towards the bottom - should be right. I ran out just inside the entrance! Fortunately there was no traffic or wind and the fuel container was at my feet. I motored the remaining 100m into a small beach I had picked out just in from the entrance. It was sheltered, and toilets and shower very close.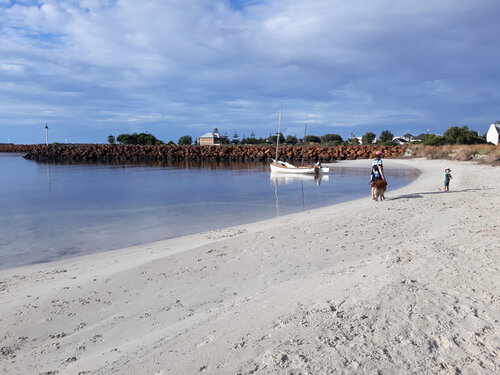 Later that evening I checked my GPS track for the day. To my dismay and embarrassment it revealed my course to Busselton was nowhere near straight, it had formed a huge arc. As I was motoring the combination of me sitting to one side and the offset mounting of the outboard resulted in some pressure being required on the tiller to keep a straight course. I was generally aware that I was not always maintaining enough compensating pressure on the helm and my course was forming a bit of an arc towards Busselton. Little did I realize how big it was. I was determined to do better next time!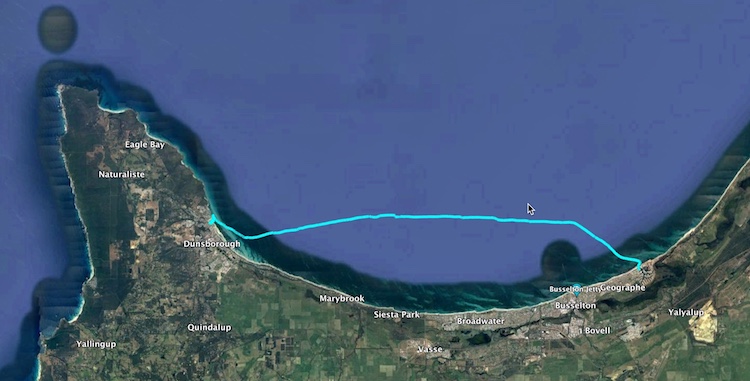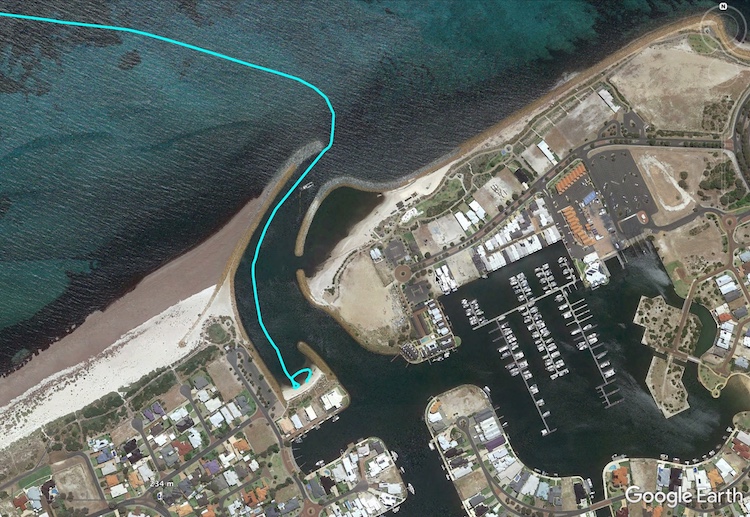 Also, that evening, Jim having seen where I was from my Spot tracker, advised me that my little beach was perhaps not the best choice. It was nice that people ware watching over me! It turns out the beach had been placed near the entrance to absorb wave surges coming in through the marina entrance. I was now a little worried given the winds were going to be north easterly the following day. Fortunately, all remained calm and surge free, and my little anchorage proved to very comfortable for my stay there, but the advice was noted for in future.
I spent a leisurely Saturday walking into town, enjoying the cafes, and checking out the action down at the yacht club.
Bunbury
My trip to Bunbury was a very comfortable cruise, An easy beam reach on starboard. The wind was light but the water flat which allowed good speed to be maintained. I was learning that as long as the water was flat it took very little breeze to get the boat moving close to hull speed. In many ways the sea state was more important than the wind strength in determining how fast I went.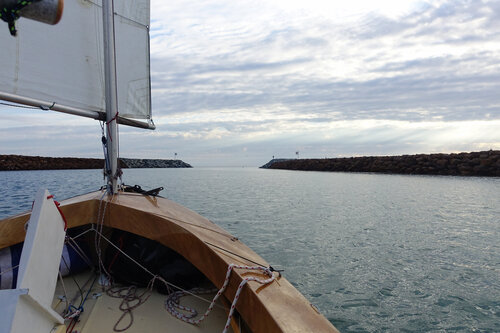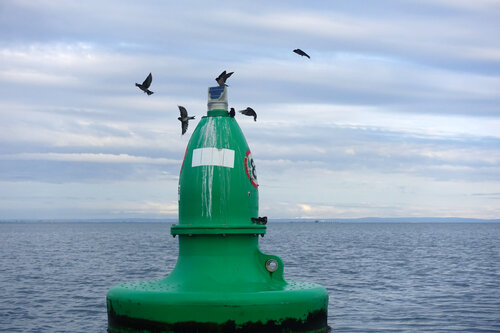 The exercise today was to see if I could steer a decent course to Bunbury. Working my way through the user interface of my GPS I created a route which gave me a line on the screen to follow. I could now monitor how far off I was from my planned course at all times. Much better! Simply creating a waypoint and trying to steer to a bearing is vulnerable to the problems I experienced motoring to Busselton, at least in a little dinghy for me.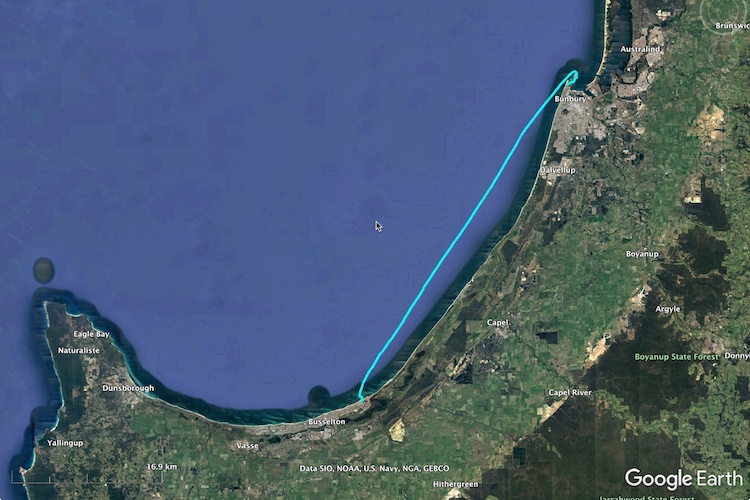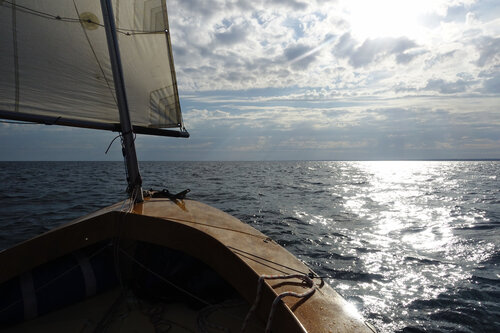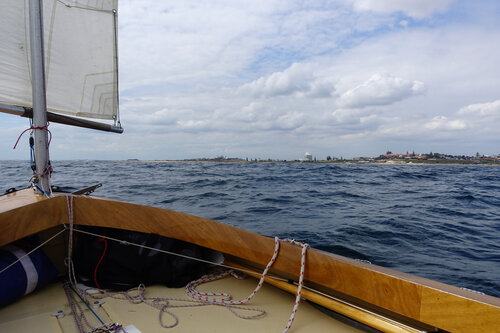 I got into Bunbury at about 2.30pm giving me plenty of time for a supplementary lunch in town and to get settled into my familiar spot by the beach at the back of the harbour. Shortly after getting in the wind really blew up. I was glad I got in when I did and to be snug in the harbour. The only issue I had was that, with my tent up, the boat would hunt quite wildly at anchor in a breeze. The rapidly spinning view I got looking out the back of my tent was quite disconcerting.
Still looking good for Dawesville tomorrow.
Dawesville
Despite getting up at 4.30am I was frustrated, yet again, to only get away just before 7am. I slipped out of the harbour and into the solid south easterly. This was going to be a very different trip compared to the ride down. There was a huge distance in front of me but mentally I was much better prepared. I knew what was ahead of me and I knew I would have no problems maintaining a good speed.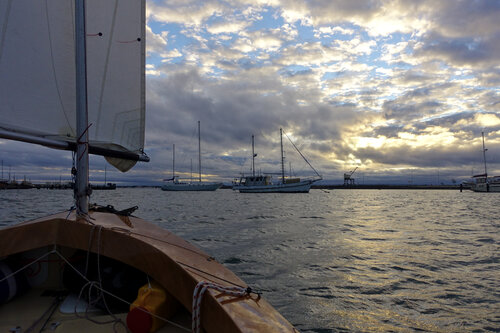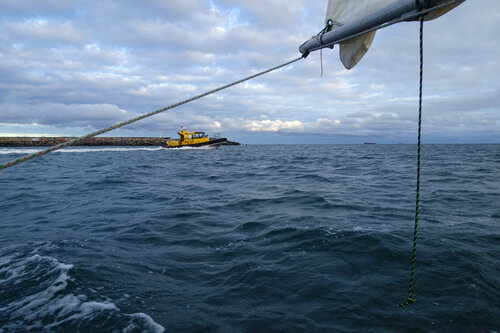 I was reefed and initially on a starboard broad reach but the sailing was not as straightforward as I was anticipating. The wind and chop was coming from the south east but there was a bit of swell coming in on my port quarter from the south west. It felt awkward and a bit uncomfortable being rolled by waves coming in from leeward. The most comfortable way to sail was a bit off to the north east with the swell from behind. Indeed this was the fastest way to sail and I would see surfing speeds of up to 18kmh, around 10 knots on my GPS! However, I would then have to periodically gybe to get myself away from the coast again. On port tack I would often find myself sailing slightly by the lee but it felt comfortable because I was sitting on the side that the main waves were coming from.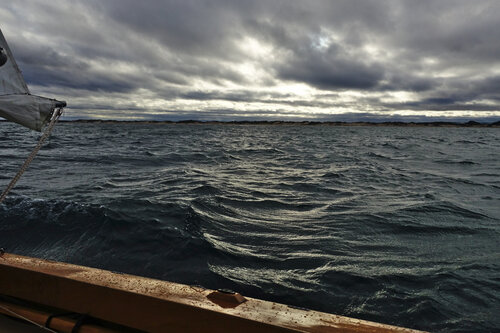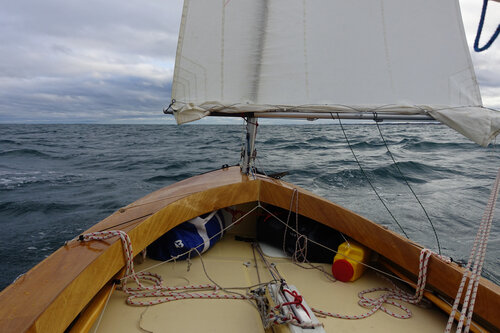 In this manner I headed north. The speed was great and the surfing was fun. However, while the steering for the waves was not too demanding I did have to work at it all the time. As the wind increased I started to get a bit worried about my ability to maintain the steering workload for the 8 hours of sailing that probably remained. I dropped the mizzen so that I was sailing under reefed mainsail alone. That felt much better.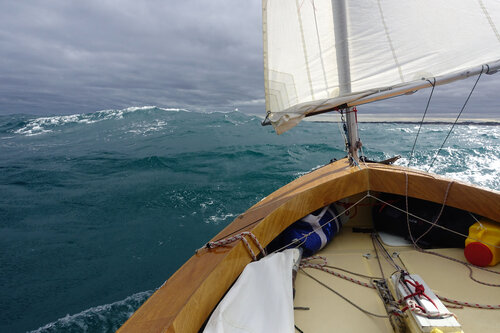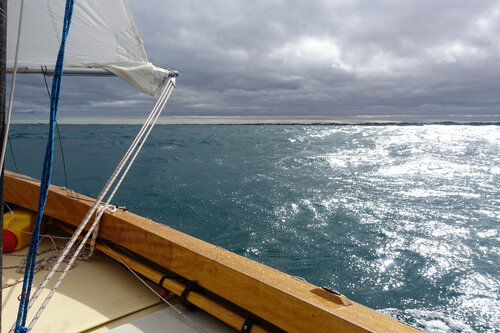 As the day went on and the monotonous line of dunes went past the wind gradually eased. The mizzen went back up and eventually the reefs came out. The south westerly swell no longer troubled me and I could maintain my northerly course on starboard without the need to periodically gybe away from the coast. Approaching the northern section of the Bouvard Reefs I proceeded to follow the route through my waypoints with much more care than I did on the way down. With some swell running I did not want any surprises.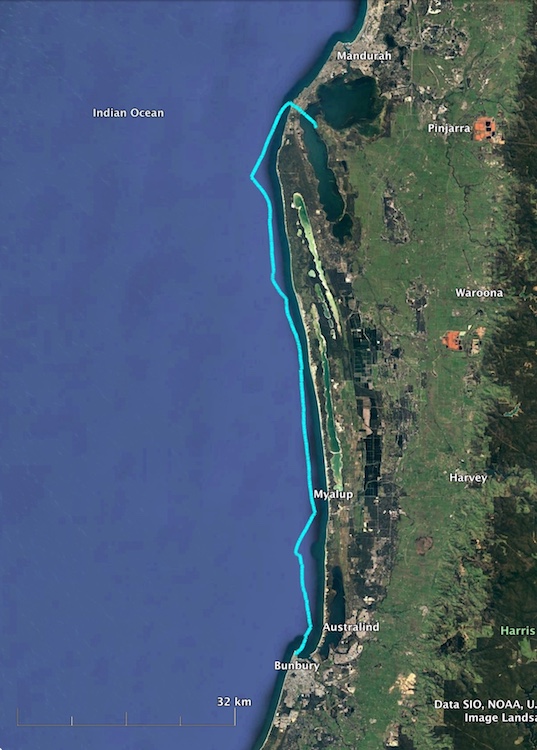 It was a welcome sight to see the housing developments on the ocean side of Dawesville. I thought I was there but the cut was still a bit of a way north. I finally reached it at about 4.30pm. Wind and tide was coming out of the cut so I dropped sails and motored my way in and across the estuary getting to my camping spot at Point Grey at about 5.30.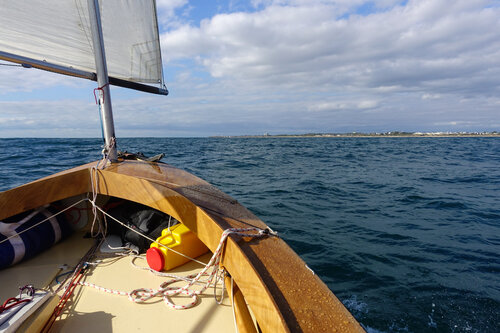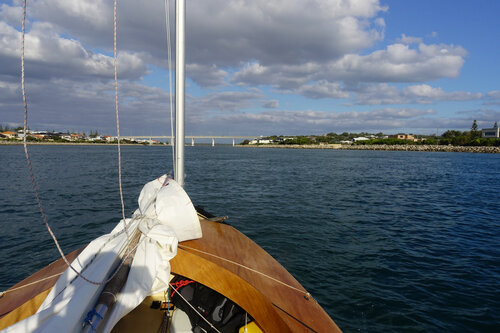 While cafes and flushing toilets are convenient it was really nice to be camping in the isolation of Point Grey. This is what dinghy cruising is really about. After nearly two weeks I was now very much at home living on my little boat. The evening routine of packing the rig, setting up the tent, and organising my living space came naturally. Living aboard was cramped and a bit uncomfortable but the independence it gave me was intensely satisfying.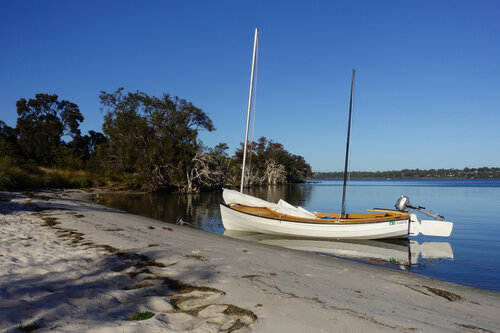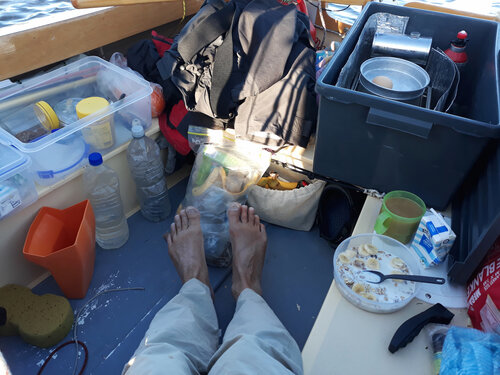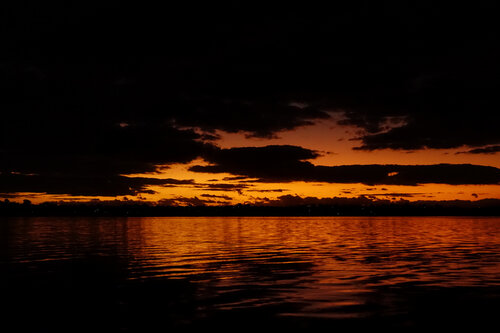 Rockingham
I set off the following morning with the aim of at least getting to Port Kennedy, but ideally I wanted to get to Rockingham so that I would have a short leg home the following day. The forecast was for a light north easterly with a moderate sea breeze due to come in early in the afternoon.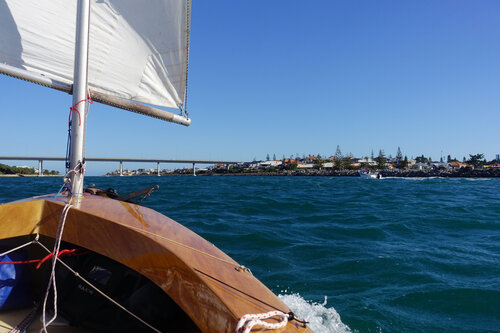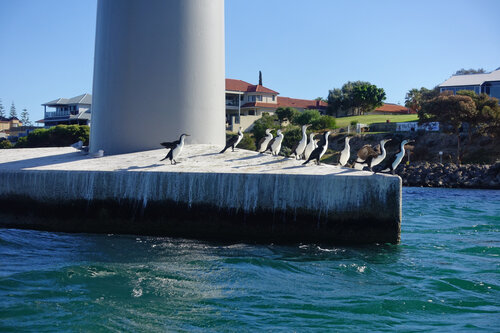 With the angle of the coast I was close hauled on starboard up to Halls Head. There the easterly died and I drifted around a bit until the sea breeze came through to take me across Comet Bay.
Once again the importance of flat water in determining boat speed was made apparent. Though the sea breeze was quite gentle the speed on the flat water was remarkable. The following two photographs were taken seconds apart.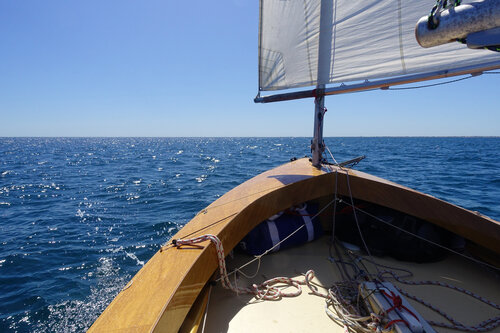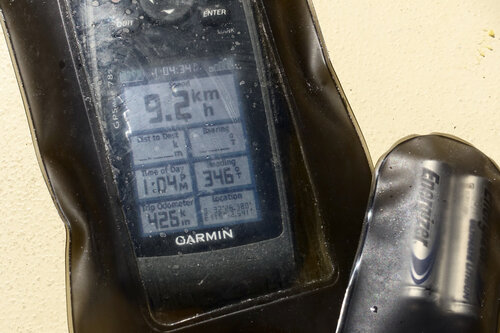 I got to the shallows of Becher Point and Port Kennedy at about 2pm. The breeze was lovely and there was plenty of time to get to Rockingham. Up into Warnbro sound, through the leads to get outside the reefs, past Penguin Island, Point Peron, under the Garden Island Bridge, and into the beach near the Palm Beach boat ramp. Easy! It was 4pm so I walked into town for an early dinner.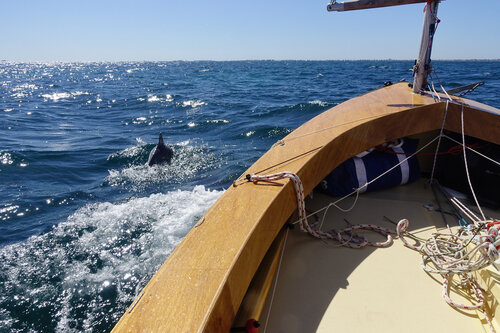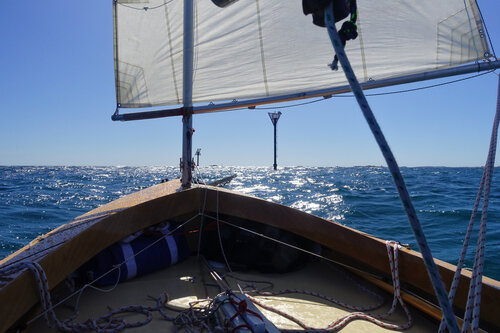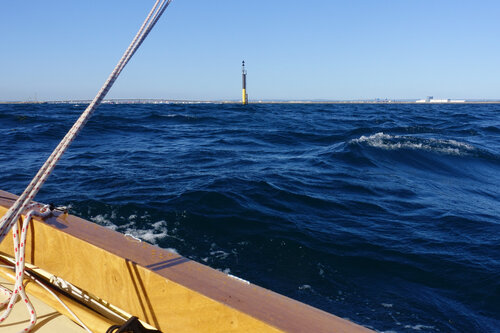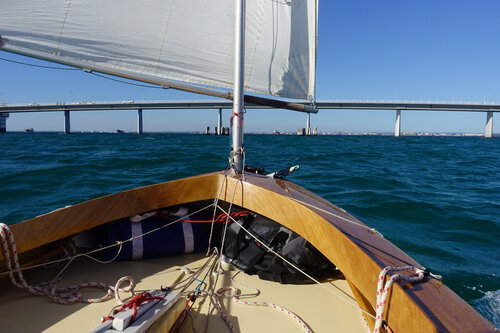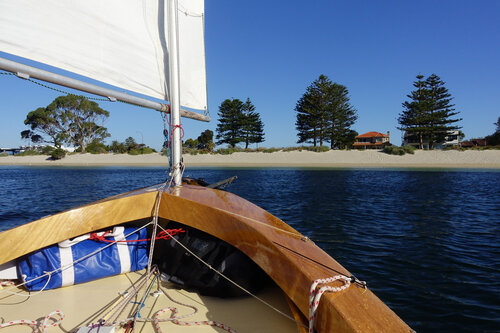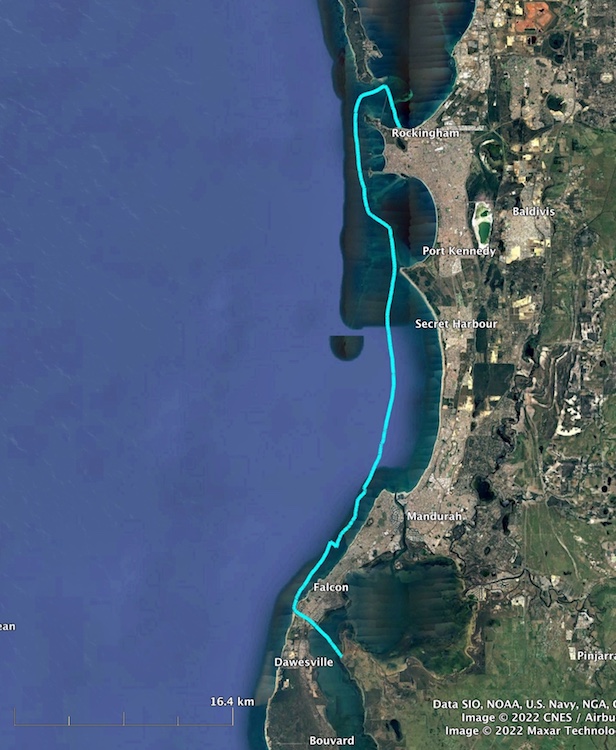 My welcome home was starting already. As I walked back to my boat a fellow Gaffer, Pauline, who lived locally, greeted me with a bottle of port and a couple of glasses! We sat on the beach in front of my boat and enjoyed a celebratory drink. Cheers!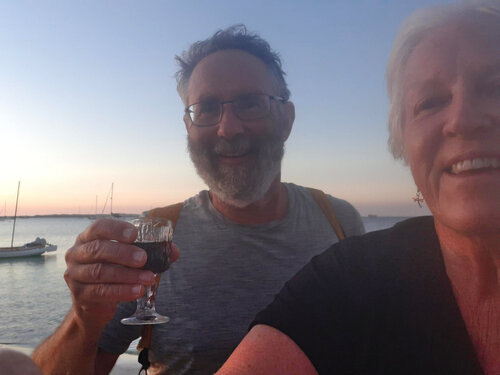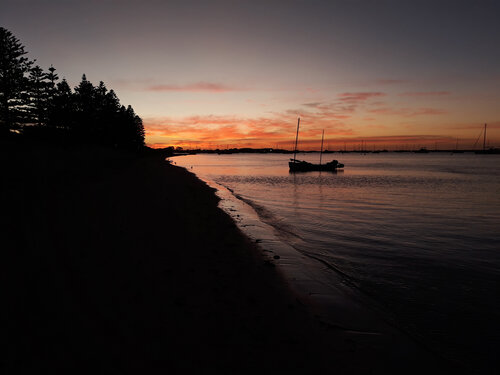 Home
Not the best forecast to get home. There was going to be an easterly which would start out strong but progressively die out through the day with nothing really to replace it. It was a easy close reach up Cockburn Sound though I was a bit over powered as I had taken my reef out a bit early.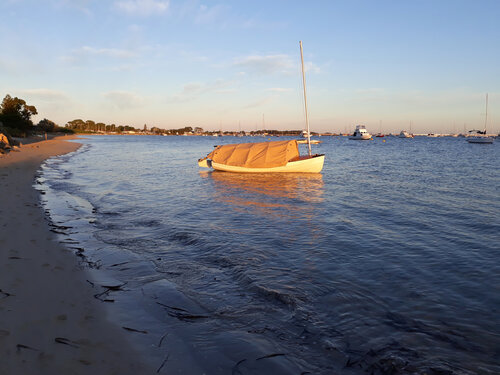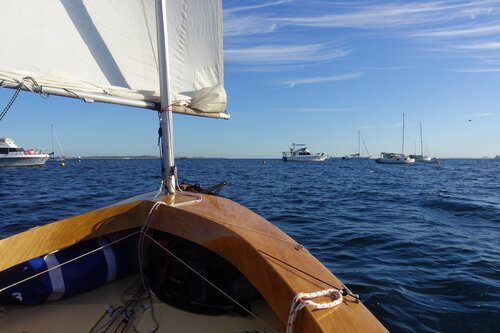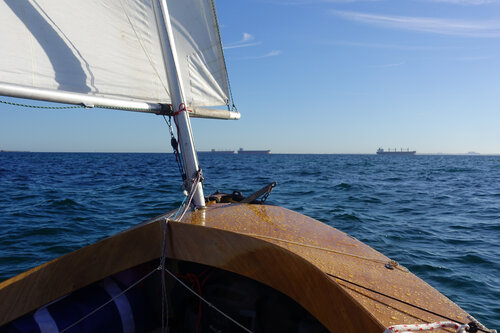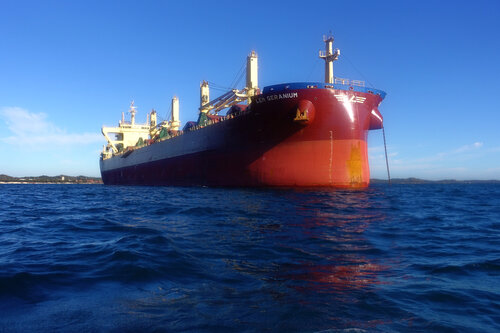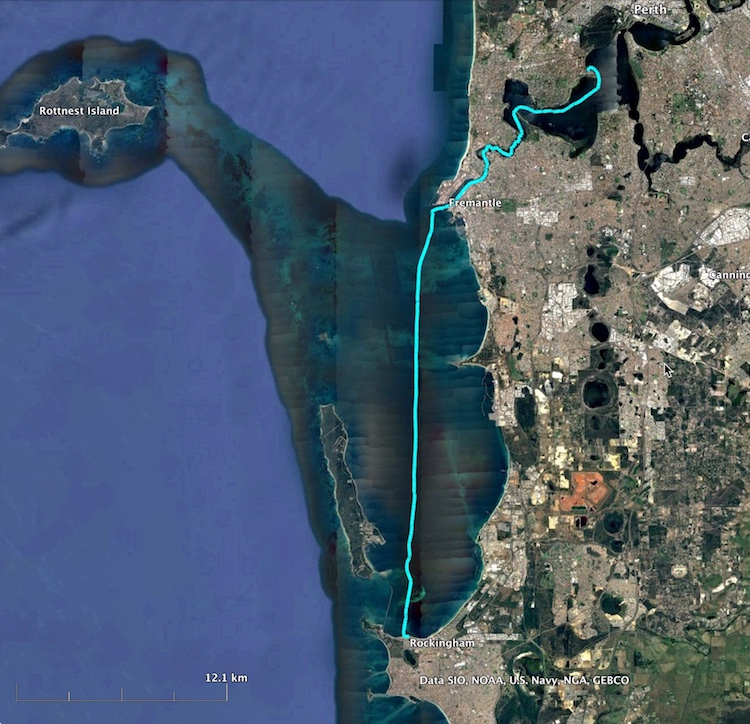 Just short of South Mole an official looking power boat appeared and accelerated towards me. It was Guy from the Fremantle Marine Education Boatshed who had been following my trip. He was guiding a group of training boats out to Carnac Island. Greetings and photographs were excitedly exchanged before we parted on our respective missions.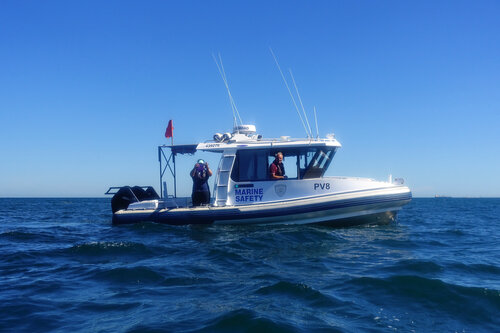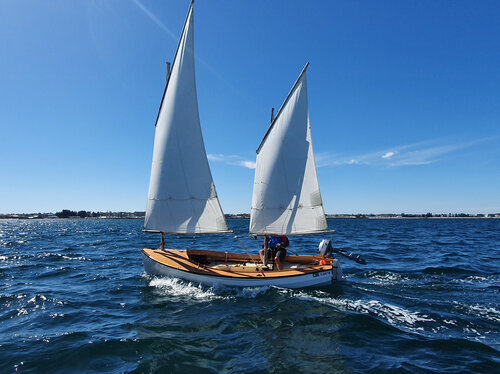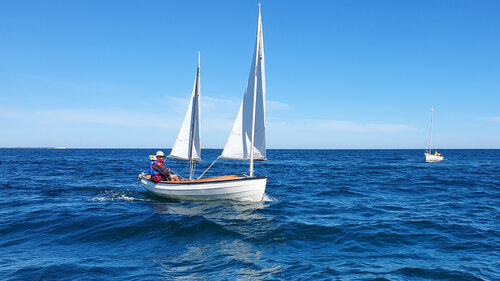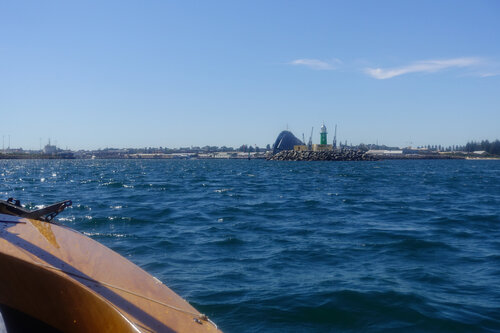 The wind was blowing strongly straight down the harbour towards me. I dropped sails, made sure the outboard tank had plenty of fuel, and motored my way in. Unknown to me Paul and Rachel were on the mole to greet me but unfortunately I was oblivious to their presence. Rachel later photographed me just upstream of the old traffic bridge. On the other side of the new traffic bridge I encountered Chris who had sailed all the way down from the Crawley ramp in his Bay Raider to greet me. I hoisted sails and we set out to work our way up Blackwall Reach. Meanwhile Stef was photographing us from the East Fremantle shore. Initially the rapidly incoming tide made progress easy but as we approached Point Walter it was clear the death of the easterly was imminent. As we limped past Point Resolution we were joined by Jim in his Ness Yawl. A few puffs of a hesitant sea breeze started to come through but they only got us as far as Nedlands.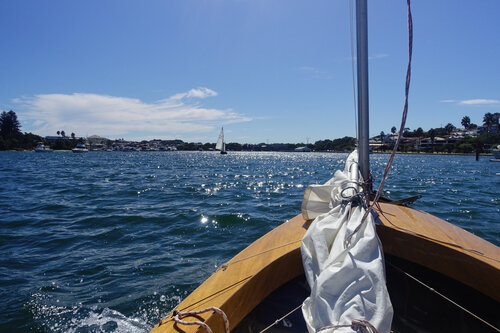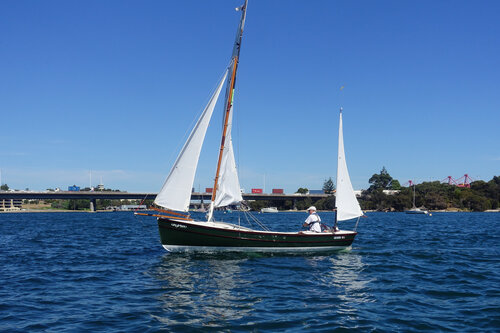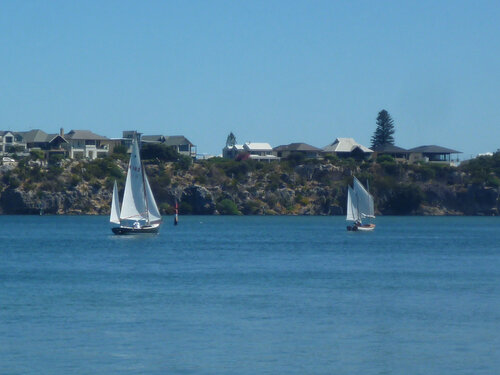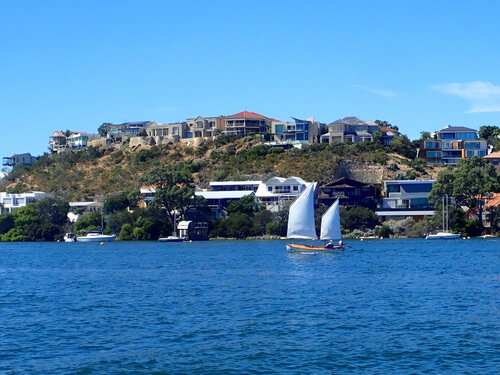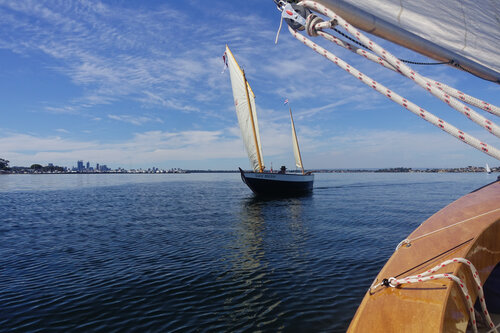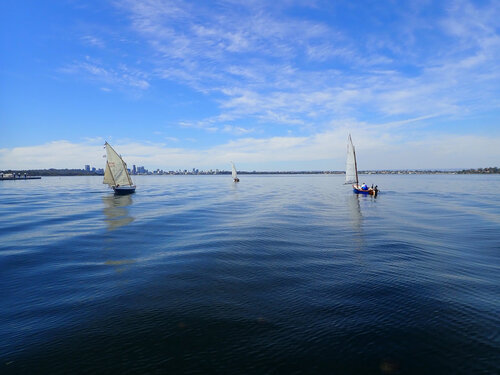 At this point I would have fired up my outboard but Jim only had oars. So I pulled out the oars that had been cluttering the cockpit for the whole trip and finally used them. Approaching Point Walter we were greeted by Owen on his beautiful yacht Canobie dressed in all her flags. What a reception!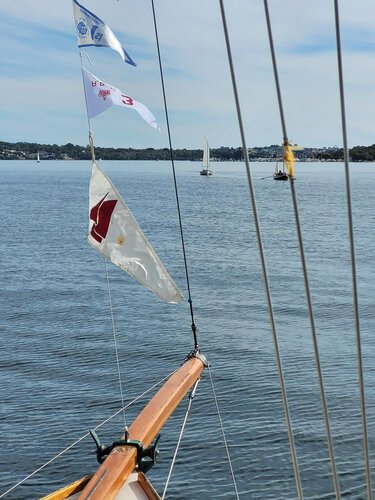 We rowed our way around the point sneaking inside the Royal Perth start line which was clogged with becalmed yachts hoping to start their Wednesday afternoon race. With a few more pulls on our oars we made our way into the beach by the Crawley Ramp where I was finally greeted by my wife and grandson.
It was done. I stood on the shore looking at the little boat that had been my home for the last 13 days.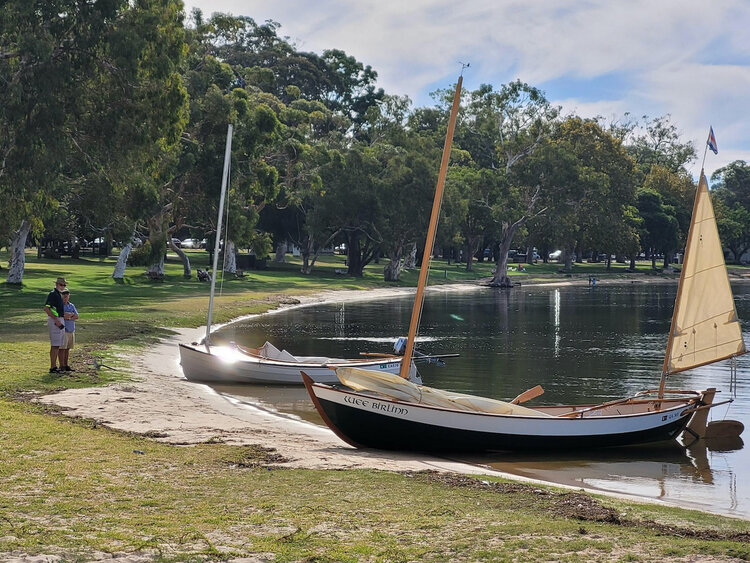 I had sailed to Cape Naturaliste and back.
---
Appendix 1: Distances travelled, times, and average speeds for each leg
Thurs 24th March
Matilda Bay to Port Kenedy
Distance:
53.9 km
Departure, Arrival:
08:05, 15:52
Duration:
7:47
Average speed:
6.9 km/h / 3.74 knots
Fri 25th March
Port Kennedy to Mandurah
Distance:
22.4 km
Departure, Arrival:
08:42, 11:36
Duration:
2:54
Average speed:
7.7 km/h / 4.16 knots
Sun 27th March
Mandurah to Point Grey
Distance:
12.8 km
Departure, Arrival:
14:40, 16:22
Duration:
1:42
Average speed:
7.5 km/h / 4.05 knots
Mon 28th March
Point Grey to Bunbury
Distance:
88.7 km
Departure, Arrival:
06:51, 18:14
Duration:
11:23
Average speed:
7.8 km/h / 4.21 knots
Wed 30th March
Bunbury to Dunsborough
Distance:
73.4 km
Departure, Arrival:
08:56, 16:38
Duration:
7:42
Average speed:
9.5 km/h / 5.14 knots
Thurs 31st March
Dunsborough to Cape Naturaliste
Distance:
14.9 km
Departure, Arrival:
10:47, 12:47
Duration:
2:00
Average speed:
7.5 km/h / 4.03 knots
Thurs 31st March
Cape Naturaliste to Dunsborough
Distance:
22.4 km
Departure, Arrival:
12:47, 17:20
Duration:
4:33
Average speed:
4.9 km/h / 2.66 knots
Fri 1st April
Dunsborough to Busselton
Distance:
28.6 km
Departure, Arrival:
9:35, 15:03
Duration:
5:47
Average speed:
5.2 km/h / 2.83 knots
Sun 3rd April
Busselton to Bunbury
Distance:
46.3 km
Departure, Arrival:
07:17, 14:28
Duration:
7:11
Average speed:
6.4 km/h / 3.48 knots
Monday 4th April
Bunbury to Point Grey
Distance:
90 km
Departure, Arrival:
06:49, 17:21
Duration:
10:32
Average speed:
8.5 km/h / 4.62 knots
Tues 5th April
Point Grey to Rockingham
Distance:
52 km
Departure, Arrival:
08:35, 16:02
Duration:
7:27
Average speed:
7.0 km/h / 3.77 knots
Wed 6th April
Rockingham to Matilda Bay
Distance:
41 km
Departure, Arrival:
07:47, 15:05
Duration:
7:18
Average speed:
5.6 km/h / 3.03 knots
Total distance:
546.5km
Total sailing time:
75 hours 57 minutes
---
Appendix 2: Safety
Safety is, of course, a crucial thing to consider on a trip such as this. Over the years my thoughts on safety for dinghy cruising have evolved a bit. The equipment I used on this trip and my current thoughts on safety can be found here.
---